Friends, Fish and Fun!
Girls getaway packages are a great way to explore Eagle Lake--and learn about muskie.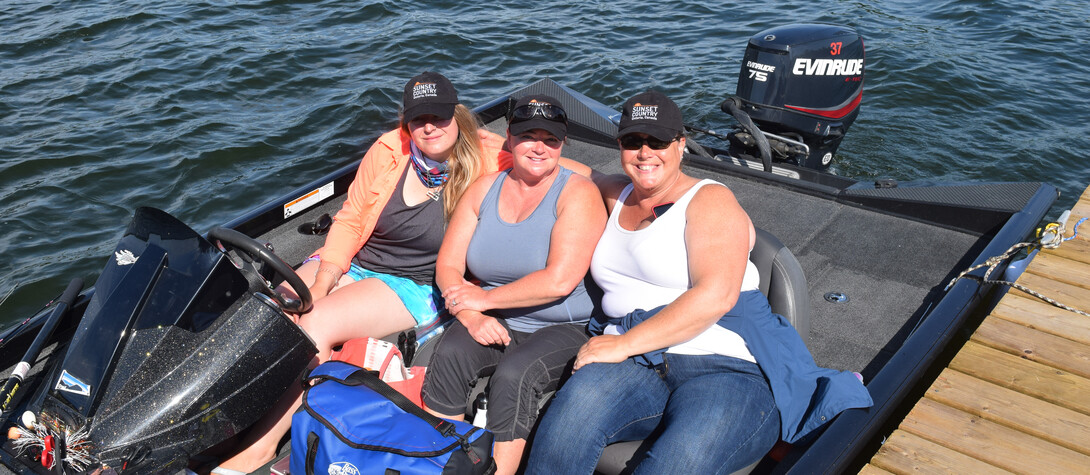 Last summer I went on a ladies' fishing trip to Eagle Lake Island Lodge near Vermilion Bay in Ontario. I'd seen a post on Eagle Lake Island Lodge's Facebook page promoting a getaway just for women and I knew immediately that I would be attending. I quickly connected with my fellow women anglers and signed up.
Great fishing, yummy meals, all drinks, guide service, cozy cabin with my girlfriends - how could I say no?
We arrived at Eagle Lake Island Lodge's Landing and were taken via pontoon boat for a quick 6 or 7-minute boat ride to the lodge. The pontoon boat was enclosed so there's no need to worry if the weather isn't great.
We were welcomed by the dockhand and brought up to the main lodge. What a beautiful island! Managers Charlene Snow and Jim MacDougall were fantastic hosts. Charlene had signs up to welcome our group as well as other guests. These small details did not go unnoticed! We were offered a drink and were introduced to some of the staff. Then we headed to our cabin, the Birch. The living area was in a cozy original log cabin and the bedrooms and bath were in a beautiful pine addition. While our package includes all meals, there was also a huge fridge and coffee maker which was a nice touch.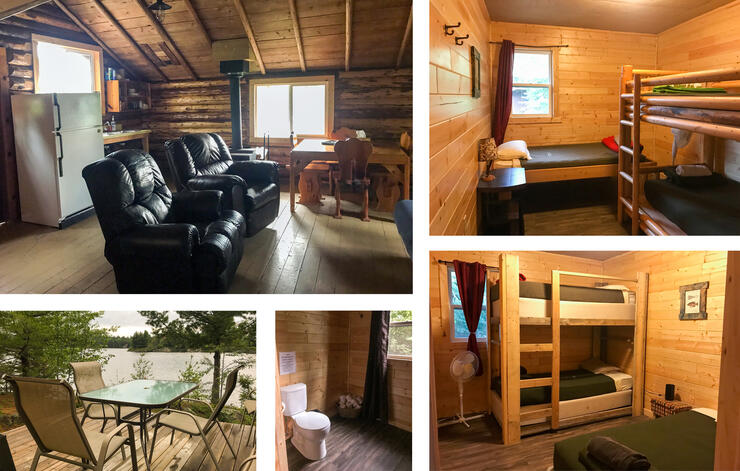 After supper, we headed out to do a little walleye fishing before it got dark. I used nightcrawlers with a bottom bouncer and spinner for the first time, and despite having flashbacks to high school when I was grossed out by dissecting a worm, they worked well!
The next morning after a huge breakfast, we headed out with our guide Adam and my friend Tracey in one boat and my friend Alyssa and me in another. We did some walleye fishing in the morning and caught some eaters. The fishing is great right near the lodge so we did not have to go very far.
After lunch, Chef Conrad Charron gave us a hands-on lesson on how to make Crème Brûlée which we ate later for dessert. It was so good! Thanks, Chef!
We headed back out on the lake for some muskie fishing. Alyssa is a muskie fanatic. Being on Eagle Lake, one of the best muskie lakes in the area, I was pretty stoked to try muskie fishing for myself. We cast along the shorelines and had a few follows. It's hard to contain your excitement when a muskie follows. The trick is to keep it steady when reeling your lure back to the boat and then to do a couple of figure eights with your rod before casting again. Alyssa had a really nice one follow her. 
We took a short break to head back to the lodge for a happy hour drink and supper. Jim, one of the managers seems like he is born to be behind the bar. He genuinely seems happy to get you a drink and hear all about your day. And he makes a good drink too! 
We headed back out on the lake for a few hours after supper. After spending the afternoon searching for a muskie, I was eager to get back out on the water and land one. It was my first-time muskie fishing and I was quickly becoming obsessed! Adam, my guide, and I had a few follows, but it was getting late and we had to head back before dark. Adam let me know that it was my last cast. A little disappointed, I took the final cast. About halfway back to the boat, a muskie hit. It was so quick and so hard!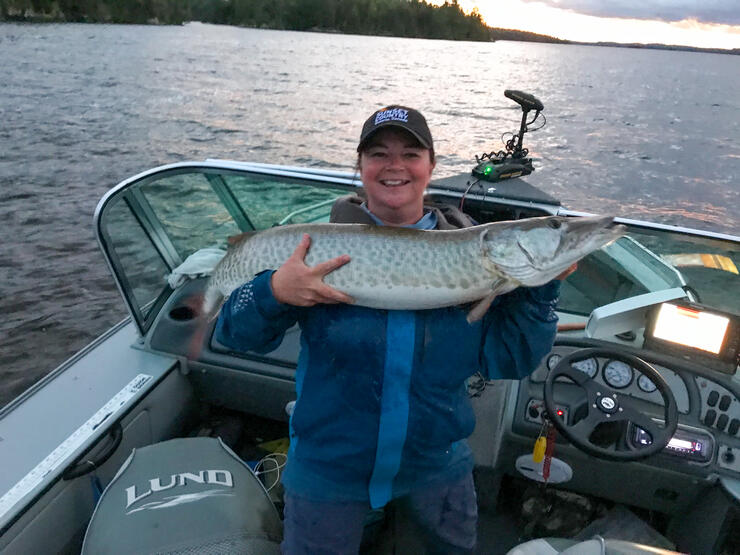 I screamed and think I scared Adam a bit with my excitement! I was able to land the muskie, photograph her successfully, and release her without incident. I'm short, only 60"  tall and the muskie was 48" long -- a mere 12 inches shorter than me! Talk about exciting!! Read all about my first muskie here. It was fantastic.
We celebrated that night in the lodge over some drinks. I went to bed exhausted and happy. 
The sun came out the next morning and we headed out on the lake. Today we were joined by angler Ty Sjodin, host of The Ontario Experience, and one of his friends, as well as Charlene, who was able to sneak away from her duties at the lodge. We hammered the walleye all day long. We used nightcrawlers and spinners for most of the day. I even put the nightcrawlers on by myself all day. And we caught a lot of walleye so that was a lot of worms!  I have no problem putting on a minnow on my jig but admit I was grossed out by the nightcrawlers. After you put on a few dozen, you're good to go!
Sunday was another great day. We got in some more fishing (we're diehards), a fish fry and enjoyed Eagle Lake some more before heading home. 
If you are from the United States, Manitoba, or are local, I highly recommend a ladies' trip. It was so great to get away for a few days with my friends, great hosts, and our guide Adam. We had a blast and really, you can make the trip whatever you like. We chose to fish a lot because we love fishing, however, we could have also gone on a sunset pontoon ride, gone swimming or visited the waterfalls. Spending time with my friends doing what I love was just what I needed. 
You can visit Eagle Lake Island Lodge's website for more information on their packages or visit Ontario's Sunset Country's Accommodation Finder to find a place for your next vacation. 
Join Ontario's Sunset Country Facebook group just for women and let's talk fishing!!