4 Taste Bud Tinglers to Visit in Superior Country
Road trips are great, food is great, so a foodie road trip? Amazing!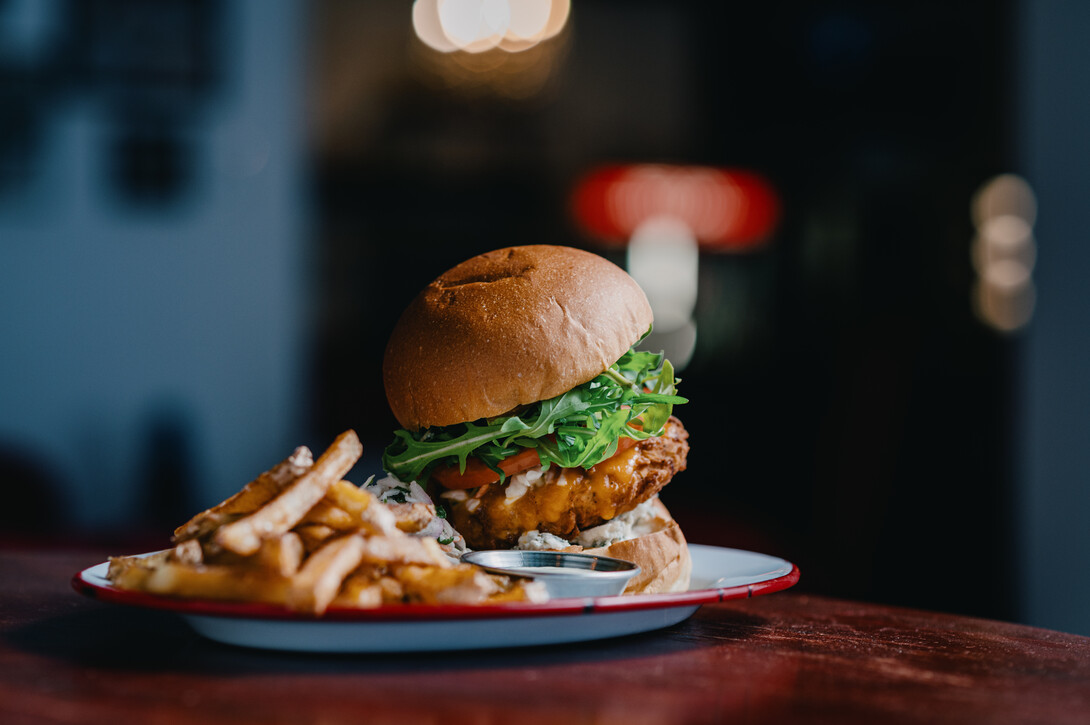 Prepare your taste buds for a mouth watering food frenzy! These Superior Country locations are no stranger to delicious flavors, comforting settings and ample surrounding activities to enjoy before or after a bite to eat. Warning: you might get hungry reading onward!
1.    Enjoy lakeside meals at The Wanigan
Comfort food is always a good idea—and when it's great comfort food served in a spectacular lakefront setting, you cannot go wrong. After 50 plus years of keeping their guests happy at Branch's Seine River Lodge, Lori and Quentin Branch finally got around to opening a restaurant and craft beer pub in late 2020. Called The Wanigan after a traditional piece of canoe gear that serves as a mini-camp kitchen, it's a spot that is popular with locals and visitors alike. 
You can choose from a variety of burgers named after area lakes, homemade pierogies, traditional French onion soup, the In-Seine Italian sandwich, poutine made with fresh Thunder Oak cheese curds and homemade gravy and so much more. The Wanigan is also home to the Quetico Brewing Company, so you can enjoy a fresh and tasty pint with your meal. 
Seine River Lodge is not far from Quetico Provincial Park, an iconic wilderness class park that is renowned for its rugged beauty, towering rock cliffs, majestic waterfalls, virgin pine and spruce forests, picturesque rivers, and lakes. It's also a world-famous destination for backcountry canoeing with over 2,000 lakes! Did you know as of February 23, 2021, Quetico Provincial Park was officially designated as an International Dark Sky Park by the International Dark Sky Association? 
Also nearby is the "Naturally Wild" town of Atikokan, known as well as the Canoeing Capital of Canada and The Gateway to Quetico Park. So you might want to plan some adventures beyond those of the culinary kind. 
Heading East, you'll want to stop in the village of Kakabeka Falls, home to its namesake falls, known as the "Niagara of the North" in recognition of its status as the second highest waterfall in Ontario. After a stroll on the boardwalk that wraps around the falls, a hike on the park's trails or some fun on the sandy beach, you'll be looking for refreshment and the Metropolitan Moose will more than fit the bill. Hosts Steve and Julie Miles serve food that is bright and uncomplicated with a side of warm Northern hospitality. 
With its flavors influenced by the couple's love of Cuba, the Cuban panini with roast pork, ham, Swiss cheese and pickles is the restaurant's most popular item, followed closely by Julie's famous butter tarts that earned her the title of one of Canada's top ten bakers in 2007. They also serve a wide variety of panzerottis, wraps and pizzas along with a long list of teas and coffee drinks such as the crowd-pleasing maple latte. 
You can also find Steve and Julie serving up great Cuban food, churros, cappuccinos and lattes at the Thunder Bay Country Market. Pst... they have Coney Dog specials every Wednesday at The Market!
3.    discover the woodside bar at Goods & Co Market
Also in Thunder Bay, the new Goods & Co Market has stirred up a lot of excitement among shoppers and diners in the city and the region. Its retail section is an adventure in its own rights and is packed with vendors selling local produce, beer, art, and the work of numerous artisans.
Its Woodside Bar has become to local place to be with a great selection of alcoholic and non-alcoholic beverages. Surrounded by food kiosks offering sushi, Mexican food, charcuterie, salads and more, it's a bright and sunny spot to chase away the blues. 
Not far away, the Red Lion Smokehouse smokes it slow and low and invites you to wash it down with a craft beer or two. With 14 taps and over 100 craft beer options, you'll have trouble choosing.  All the Red Lion's food is made in-house with fresh ingredients that are locally sourced whenever possible. Their menu is a mix of classic British pub favorites with a smokehouse twist, and they always have lots of vegetarian and kid friendly options as well as daily and seasonal feature dishes. Smokehouse favorites include the brisket and blue sandwich with the brisket being smoked for eight hours and then topped with blue cheese and tomato salsa. Also popular is their fish and chips with traditional British mushy peas and the barbecue platter. 
The Smokehouse caused a stir this winter when they opened their patio. Equipped with three electrical heaters and two fire pits that can be lit after 4 p.m., fleecy blankets and cushions as well as Muskoka chairs to curl up in, the patio has been open as general rule when it's minus six or warmer. They've created some cozy offerings on the menu as well such as the spiced orange, a warm beverage made with locally roasted Rose N Crantz coffee, Spicebox whiskey, triple sec and bourbon cream. Pair that with their amazing smoked chili around a roaring fire and your heart and your innards will be warmed. 
These suggestions are aimed at getting you planning your Ontario's Superior Country culinary adventure, but we've only scratched the surface, check out Hikes, Bites and Sights Atop Lake Superior - Nipigon and Hikes, Bites and Sights Atop Lake Superior - Terrace Bay for more food-driven adventures to take in Northern Ontario's Superior Country!