A Superior Winter Wonderland
From the Lake Superior ice caves to Canada's best ice climbing—seven winter experiences to add to your Northern Ontario bucket list.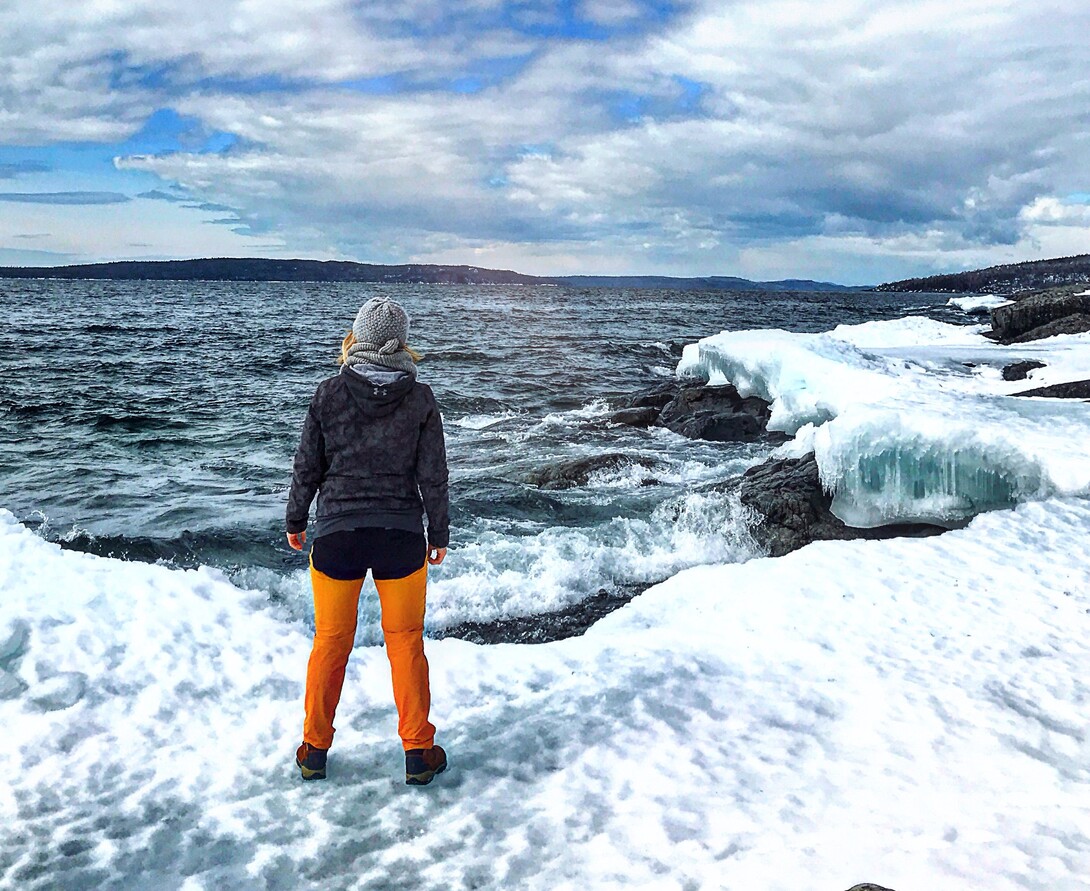 As the temperatures drop, sparkling ice forms, and snow covers the landscape here in Northern Ontario, new possibilities for adventure arise.
Here in Superior Country, the arrival of winter ushers in a whole new world to explore—and love. While we may have some chilly temperatures to contend with, we also enjoy exceptional access to winter activities that will excite, inspire, and awe you–as long as you remember to bundle up.
Ice Climbing the palisades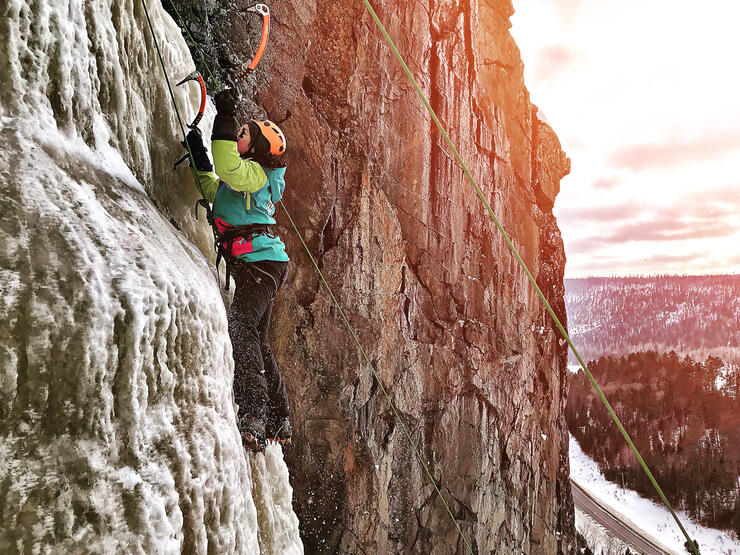 Imagine hanging from a frozen cliff with giant axes in your hands and metal claws on your feet—the feeling of exhilaration and accomplishment as you ascend into an icy world high above the ground. This is winter in Superior Country, which has some of the most accessible ice climbing in Canada.
Climbers from all over the world make the trip to the frozen Pijitawabik Palisades in the Orient Bay area of Greenstone. Boasting the most amount of climbable ice east of the Rockies, the area has 110 frozen waterfalls that have helped to make the region a must-do destination. More advanced climbers can check out nearby Kama Bay, and Thunder Bay has a host of options as well.
For a guided adventure, Outdoor Skills and Thrills is the region's leading rock and ice climbing guiding service and offers programs for all levels of climbing. Aric Fishman, founder and lead guide, is a knowledgeable and patient leader with a passion for climbing—book an outing with him and become a lifelong convert. 
With beautiful vistas and plenty of options for beginners and advanced climbers alike, ice climbing is a bucket list adventure for winter thrill seekers. 
To learn more about ice climbing, register with a local chapter of the Alpine Club of Canada. This inexpensive yearly membership will give you access to many opportunities for outdoor adventure and put you in contact with knowledgeable climbers who can offer guidance.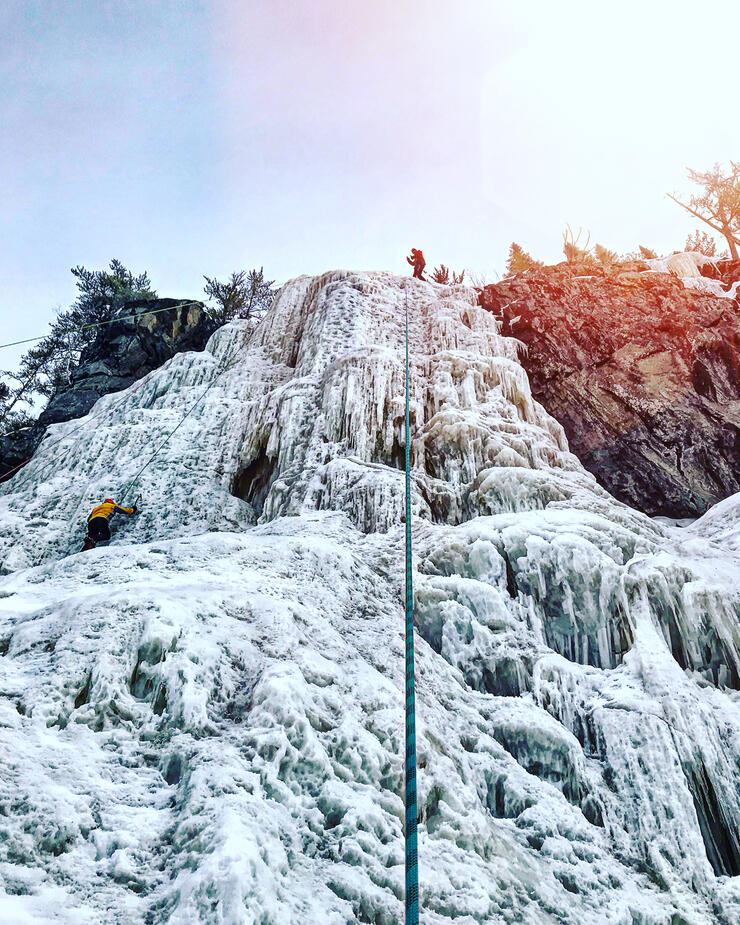 explore superior's famous ice caves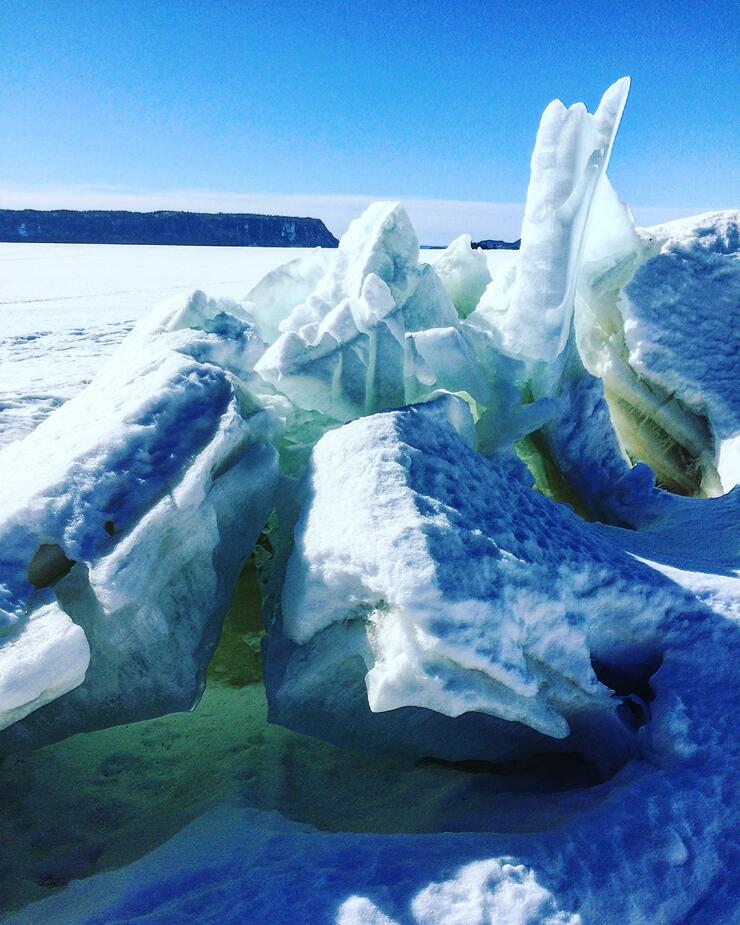 Lake Superior provides adventurers with a unique and breathtaking experience as her waters freeze along hundreds of kilometers of shoreline. Structures emerge from her icy surfaces, lining the coast with frozen sculptures crafted by mother nature. Lake Superior's famous ice formations and caves are one of the region's top winter attractions—the New York Times listed the ice caves as a must-see attraction. Red Rock, Wawa at Old Woman Bay, Alona Bay, Sawpit Bay, and Coppermine Point all offer access to the spectacular caves and formations.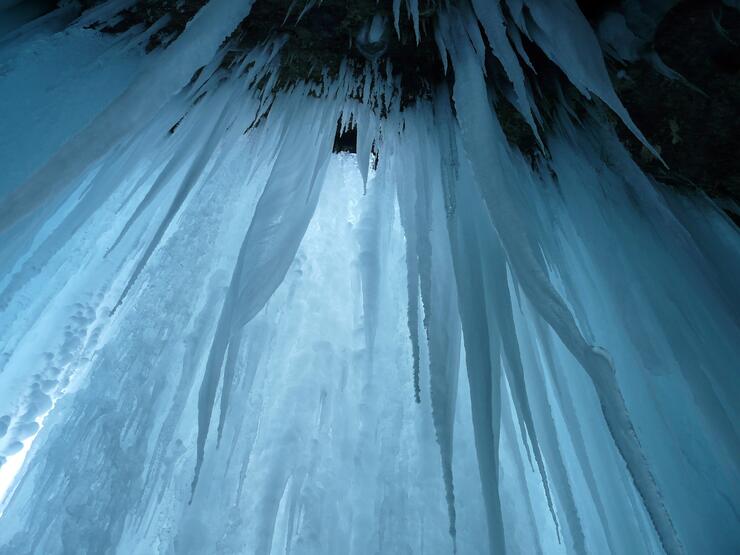 Each year offers different opportunities for exploration as ice conditions vary depending on temperature, waves, and wind. Some years, the water doesn't fully freeze and conditions for exploring can be dangerous. If you are out exploring ice formations and caves please take precautions, and always explore with a friend or group.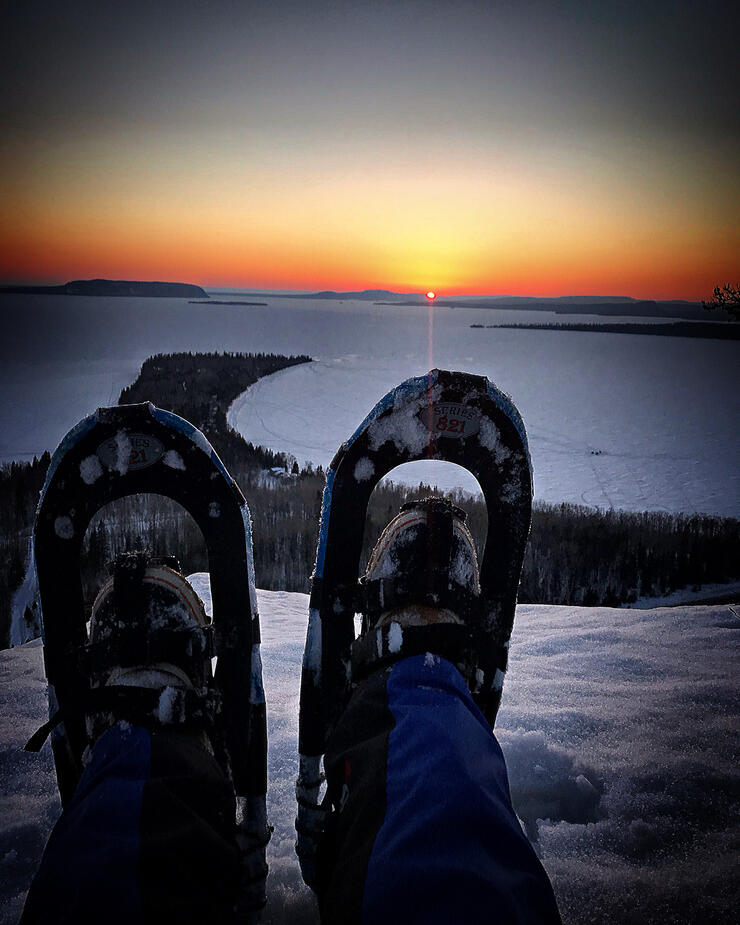 There is nothing more sublime then the sound of snow beneath your feet as you move across wild places. A harmonious and splendid cross between a soft crunch and squeak, a sound that you can get lost in while exploring Superior Country's thousands of kilometers of established trails.
Provincial parks for snowshoeing and winter hiking include Rainbow Falls, Ruby Lake, Quetico, Neys, Kakabeka and Sleeping Giant. Make sure that if you are utilizing trails for hiking or snowshoeing that you stay off groomed ski trails. You can also check out ice hikes—these are trails that are only accessible in winter, and  are accessed by traversing frozen lakes and waterways on foot.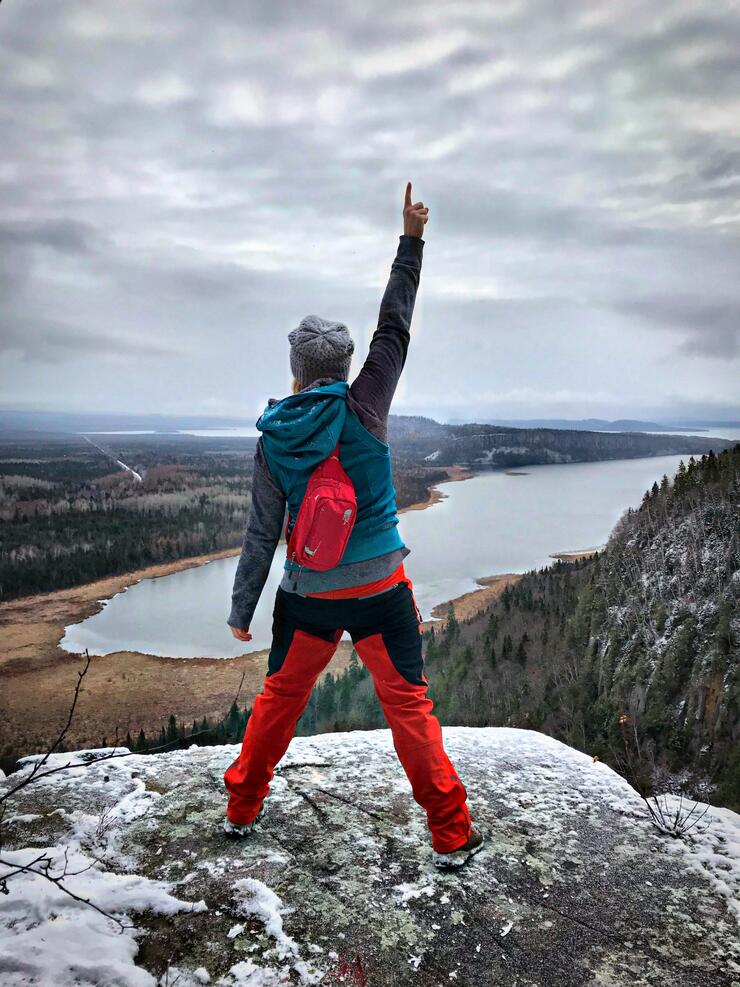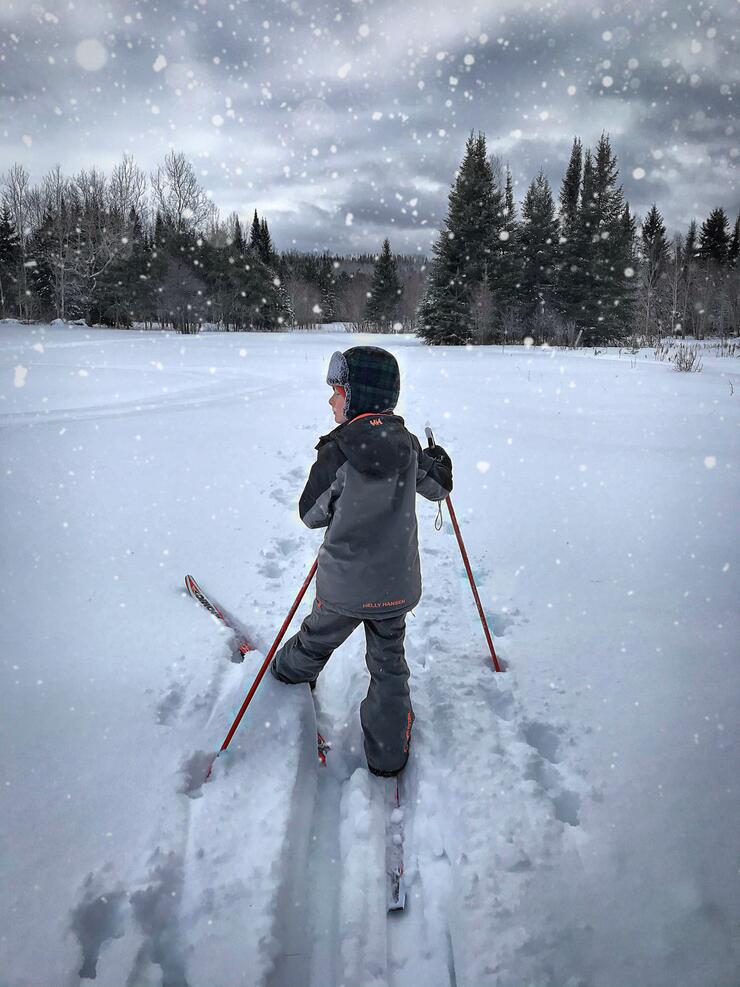 The beauty of secluded forest trails with fat snowflakes falling from creamy skies. A -35 degree day on a frozen lake when the sun is high and reflects from the surface like millions of diamonds. A day on the trails where you can see your breath and little icicles form on your eyelashes (which, by the way, make for the best selfies). These are the Nordic skiing experiences that create joy, mitigate stress, and allow us to connect to the frozen world outside. 
Whether you're seeking a relaxing outing on groomed trails, an adventurous jaunt in the backcountry, or a scenic tour along a frozen shoreline, Northwestern Ontario offers thousands of kilometers of opportunity that suits your skill level and desire.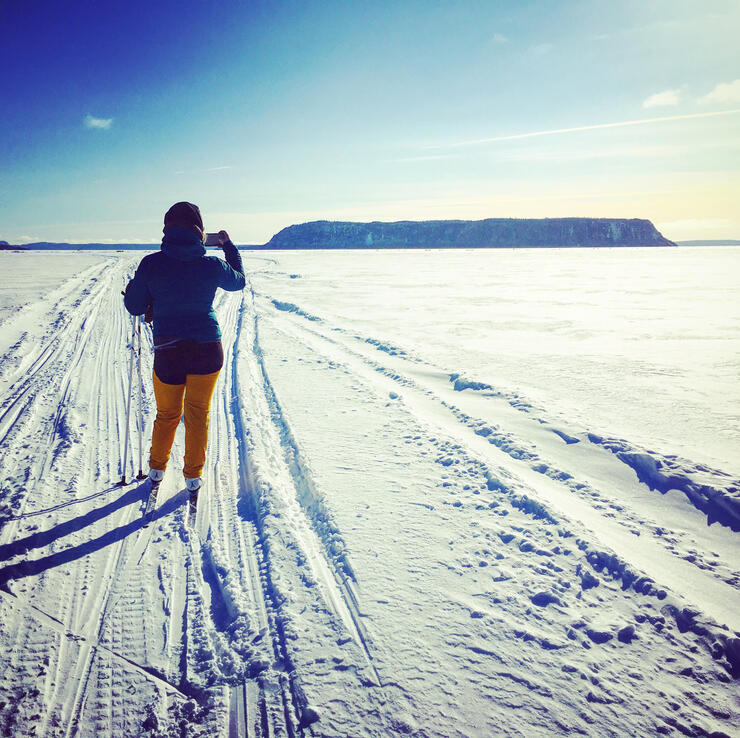 There are plenty of clubs and groomed trails all across Superior Country. The Beaten Path Nordic Trails in Atikokan, Rendezvous Cross Country Ski Trails in Nipigon, Lappe Nordic Ski Centre, Kamview, Sleeping Giant, and Kakabaka in Thunder Bay, Marathon Cross Country Ski and Snowshoe Club, and many others.
All the downhill things: Skiing, Snowboarding, Tubing

At the top of a snow-covered precipice, looking down to the world below. The anticipation building before you launch yourself forward and downward. Whipping through the snowy abyss with a childlike joy starting in your toes and surging through your entire body. The best downhill skiing is happening right in your own backyard—no plane ticket required. 
Whether you have skis, a snowboard, tube, or toboggan beneath you, nothing is as exhilarating as flying downhill in Superior Country. We don't have west coast mountains here, but we have amazing vistas and beautiful opportunities that meet your needs whether you are an athlete, beginner, or a kiddo (or kid at heart).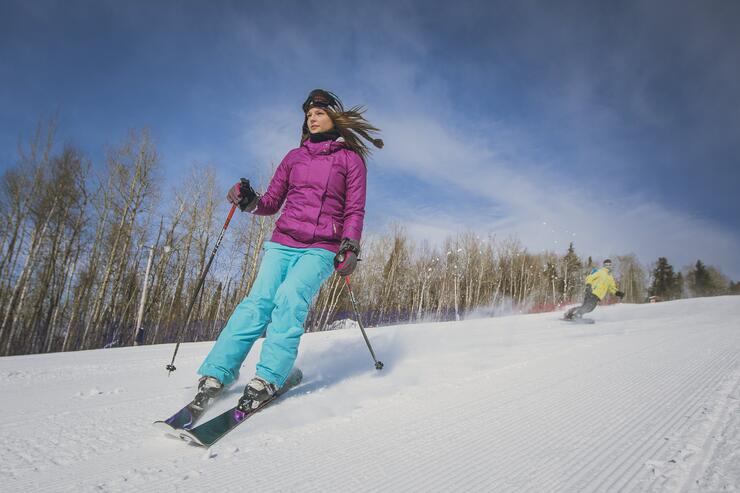 There are plenty of opportunities here for downhill sports, Mount Fairweather in Atikokan, Kiwissa Ski Hill in Manitouwadge, Trestle Ridge Ski Hill in Terrace Bay, Loch Lomond Ski Resort and Mount Baldy Ski Resort both located in Thunder Bay. So, strap something beneath you and heave yourself down a snow-covered mountain—you won't regret it.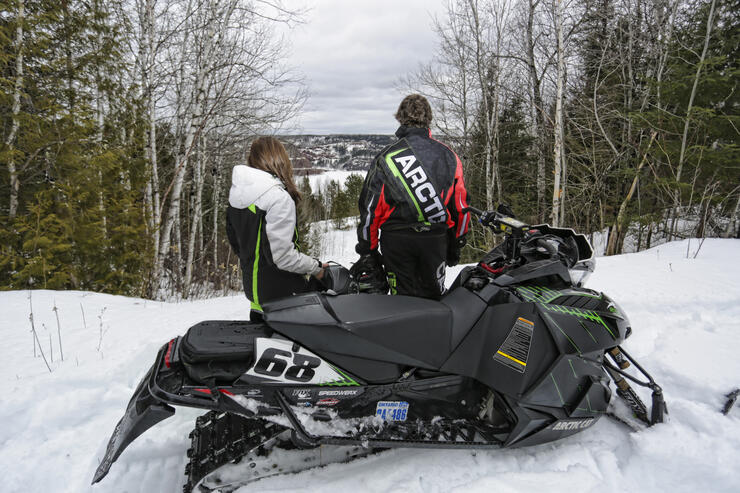 Snowmobiling is an exciting and versatile way to explore Superior Country in the winter. Covering endless snow-covered trails on a powerful sled is one of life's greatest pleasures up here in Superior Country—every outing offers access to amazing scenery, isolated adventure, and the thrill of the ride.
Ontario's Federation of Snowmobile Clubs (OFSC) has an established trail network of more than 30,000 km. For up-to-date trail information, consult the OFSC Interactive Trail Guide or download the app. We are also fortunate to have access to an enormous geographical area that offers riders backcountry trails with fresh opportunities for exploration. Whether you're doing a day loop or a multi-day ride, snowmobiling in Superior Country is always an adventure. 
Be sure to buy your trail permit before you ride. 
enjoy Ice Fishing with friends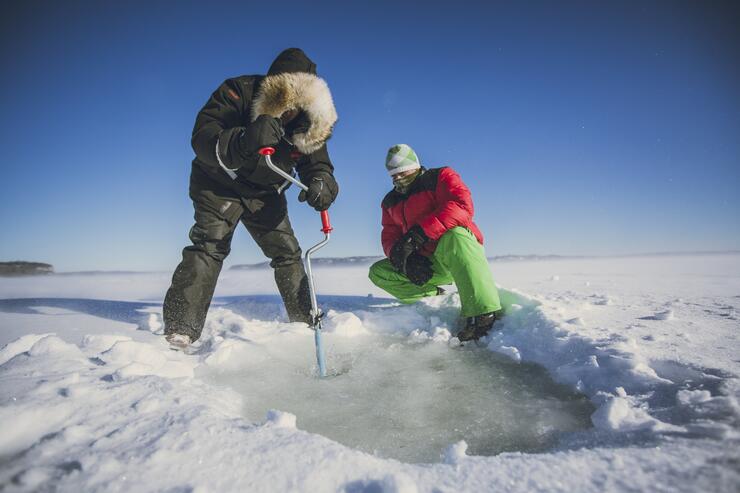 Can you think of anything more enjoyable than sitting fireside on a frozen lake with a strong coffee in hand, monitoring fishing lines moored in the icy water? The excitement when a bite hits, running to a line and pulling up a massive catch—it's the quintessential ice fishing experience.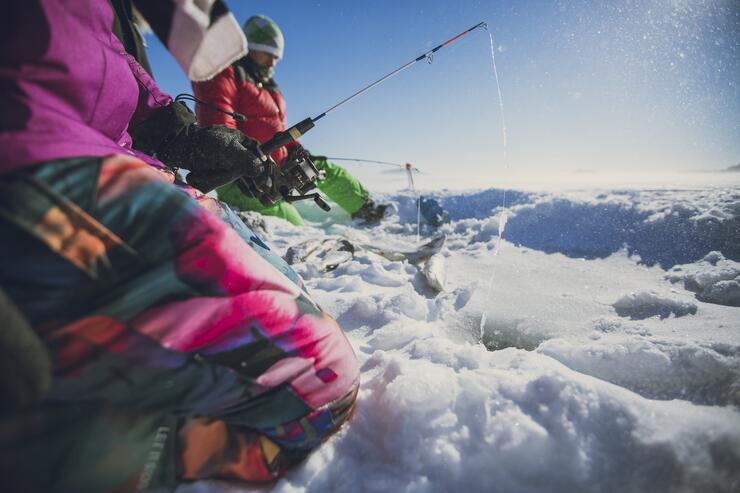 Ice fishing can be as simple as spending a day out on the lake enjoying nature and connecting with friends, or it can be multi-day experience—an opportunity to explore remote lakes and stay at cozy lodges with modern amenities. In Northwestern Ontario, there is unlimited access to frozen lakes offering walleye, perch, northern pike, or trout. For ease of planning, opt for an experienced outfitter like Pasha Lake Cabins in Jellicoe, Windy Pine Cottages in Nolalu, or Bear Trak Outfitters on Black Bay near Dorion. These amazing facilities offer support and a wealth of experience, so guests can sit back and enjoy the fishing. You can also explore countless inland lakes and as well as Lake Superior itself where the opportunity for adventure is endless. You may even discover a secret fishing spot to call your own.
embracing winter in superior country: it's all about the attitude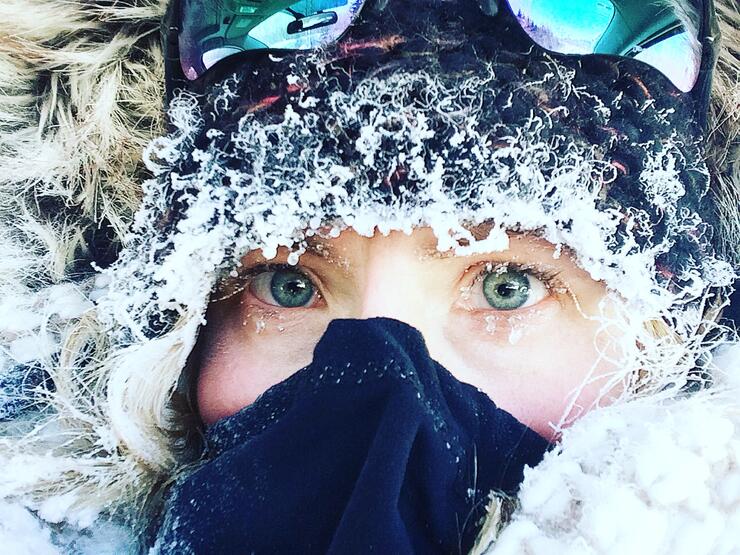 I love the quote "there is no such thing as bad weather, only bad choices for clothing." It is a mantra I live by. Winters in the north are long, cold, and we have more snow than we know what to do with. We need a positive outlook to get us through until spring. Luckily, there are so many amazing opportunities to get outside and play this winter in Superior Country. There are a few things to remember, however, when planning a Northern Ontario adventure. 
Dress in layers. A thermal base layer that wicks moisture away from skin, a middle layer to contain body heat and insulate (on super cold days, you can add a second layer) and a wind and waterproof jacket.
Thermal headwear and gloves or mittens.
Synthetic or wool winter socks.
Good winter boots.
Hand warmers. Also a lighter or matches in case you want to light a fire to warm up.
Always let someone know where you are going and your estimated return time.
Travel with a buddy, especially if your adventures bring you over frozen lakes or rivers.
Have fun. Go play in the snow and find things to do outside that drive your passion and bring you to a happy place.
For more information on planning your winter trip to Superior Country, visit us here.