Winter Hiking in Northern Ontario
Winter hiking in Northern Ontario is a great way to enjoy the outdoors during the colder months. A fresh coating of snow offers more of a challenge on the trails, but also makes the scenery much more beautiful!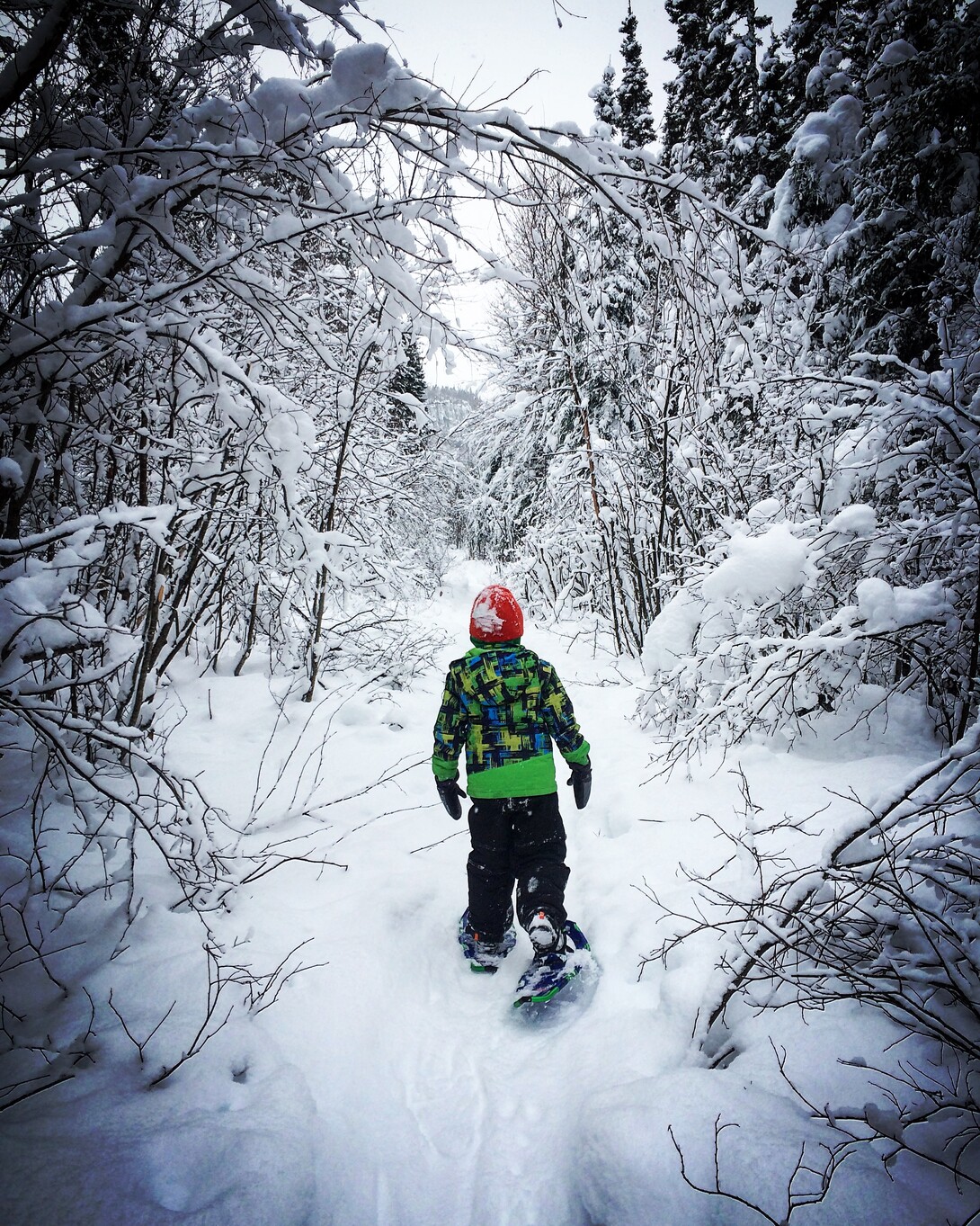 The alarm went off at 6:45 am.  My eyes opened slowly, as my attention gently drifted from a lovely dream world to the reality of a dark winter morning in Northern Ontario's Superior Country. The first thing I noticed was not anything I saw, it's what I felt: cold. My immediate reaction was to remain under my toasty blankets and bury my head into a mountain of fluffy pillows.
But today I had adventuring to attend to. Today I would be winter hiking in Northern Ontario!
I jumped up and went straight to the coffee machine. Power on, brew, consume. The warm, delicious, potion entered my body and gave me the encouragement I needed. I looked out my window to check the temperature: a balmy -35 degrees. Definitely a day for my warm weather gear. 
Winter socks, my favourite base layer tights, long sleeve shirt and snow pants. I added a wool sweater, a neck warmer, and my winter coat. I grabbed my warmest mitts and my beautiful green toque (complete with giant fur pom-pom). I was ready. I grabbed my snowshoes, jumped into my car and set off for my favourite winter hiking destination, Ruby Lake Provincial Park.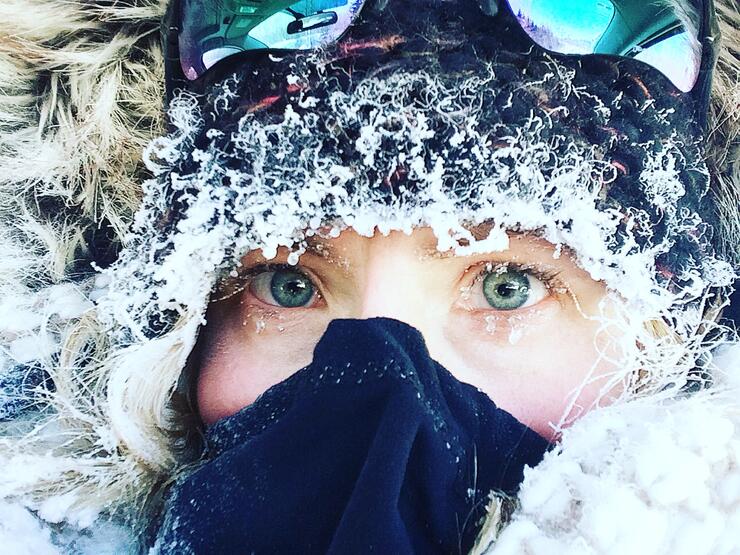 snowshoeing in ruby lake provincial park
On the trail the sun was rising and illuminated white icy diamonds on tree branches. My breath was coming out in thick clouds as I secured my snowshoes to my boots. The cold was evident, but my careful preparation and toasty layers helped to insulate my body heat. I was comfortable and happy. I took a deep breath and set out on my adventure into a magical winter paradise.  
To my grateful surprise, the trail was broken in! The sparkling trees hugged the edges of the path insulating me further from the morning wind. Moving through the protection of the forest I could feel my body relax and my mind shift. I began to pay attention, to explore the beauty around me. I got lost in the sublime and unique sound of snow beneath my feet as I moved across this wondrous place.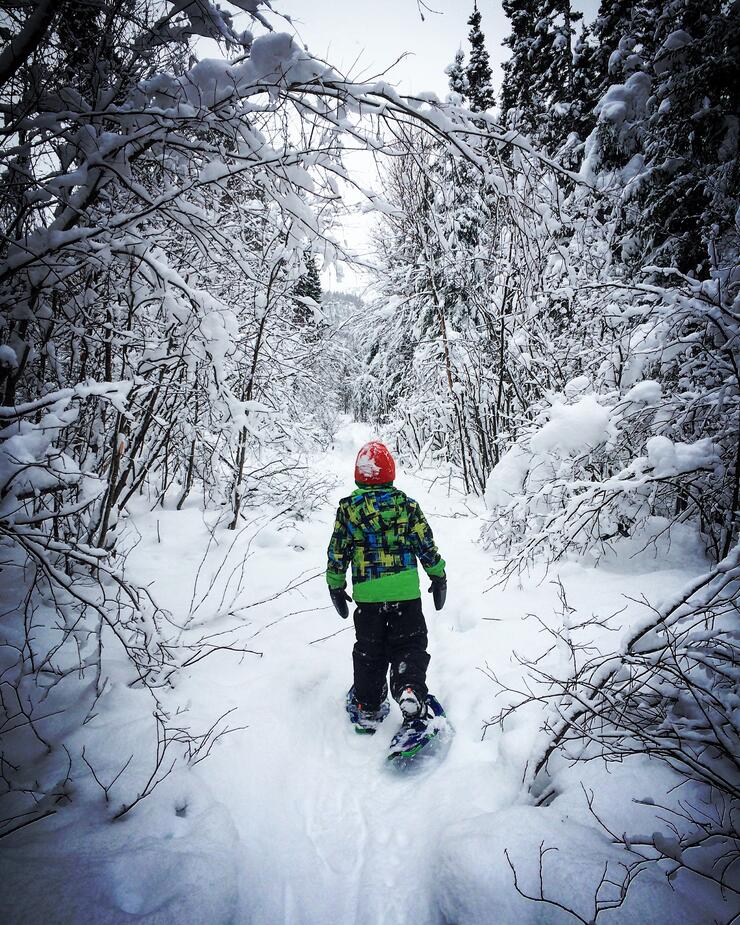 The trail took me to the base of Ruby Lake Mountain. The tracks in the snow came to an end and I started my ascent to the lookout by breaking trail. The incline was almost immediate and with each step I could feel my body heat increase. Every footstep through deep snow going higher and steeper. My heart rate increased, and I started to sweat. I whipped off my neck warmer and unzipped my jacket and continued to climb.
Eventually the terrain levelled out, but the snow remained deep and fluffy. I continued to make my way through naked deciduous trees and snow-covered pines. The sun continued to illuminate the forest floor, bouncing off snowflakes and giving branches a golden glow. Soon the trail started to open up, my excitement building as I anticipated the reward of my icy adventure.
I emerged onto the cliff's edge and the world burst open into glorious, bright and vibrant exquisiteness. Directly below lay a frozen Ruby Lake, and beyond that the palisades of the valley that held it. Lake Superior yonder, all of it white and pristine and sparkling. Winter cold brings an indescribable sharpened clarity to the world on sunny days. The perfect reward.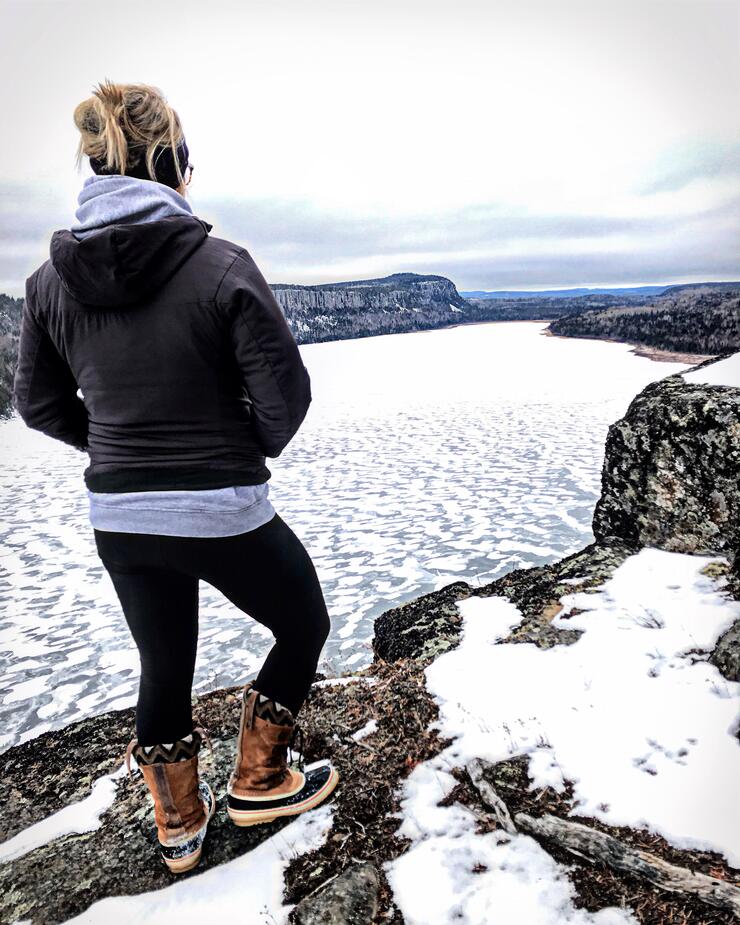 Winter in Superior Country is long and cold! The days get shorter and darker and it can be easy to lose motivation to get outside. It is also easy to get caught up in winter blues or shift into hibernation mode—even though there are so many amazing things to do!  It is important to adjust to our mindset and radically accept the lower temperatures and darker days, because hiking and snowshoeing in the winter in Superior Country is truly glorious. Not only is it a fantastic and inexpensive way to stay active and healthy during the darker months, but there are endless opportunities to explore stunning places that give us a completely unique perspective as the world freezes.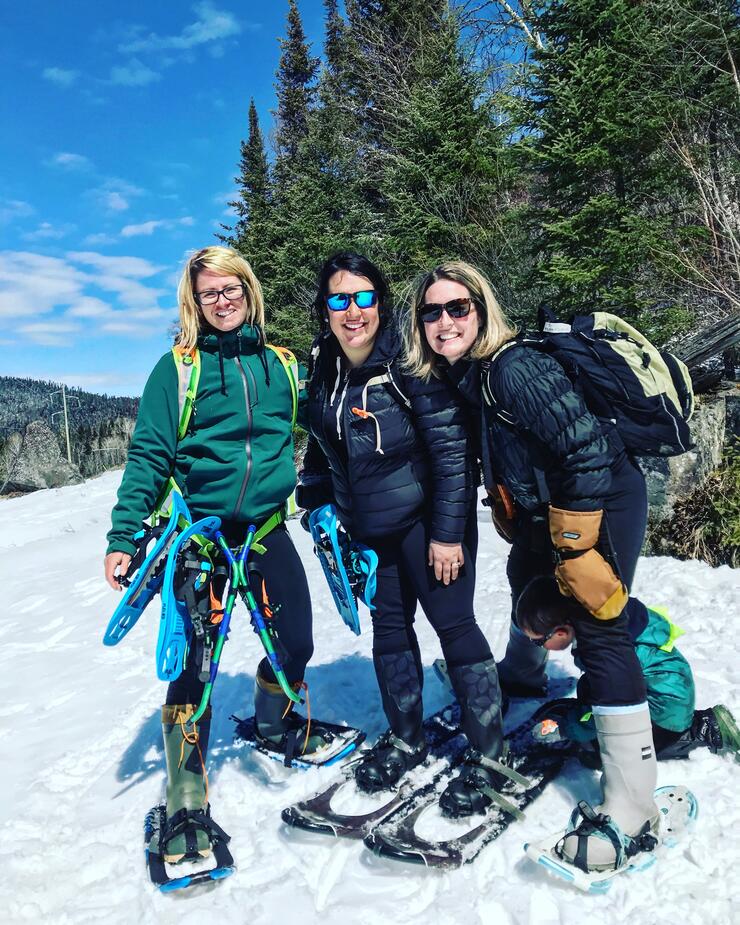 best places for winter hiking in ontario
There are plenty of established and well-travelled trails to explore for any fitness level. You can also trudge through the back country for epic adventures or get a workout as you climb up steep vistas to beautiful lookouts. Hiking delivers physical benefits and spending time outside boosts your mood, increases energy, motivation and improves mental health.
Great places to check out are provincial parks including Rainbow Falls, Ruby Lake, Quetico, Neys, Kakabeka and Sleeping Giant. Make sure that if you are utilizing trails for hiking or snowshoeing that you stay off groomed ski trails. If you decide to venture out on frozen lakes and rivers, please be sure to practice caution. Not all frozen water is thick enough to walk on!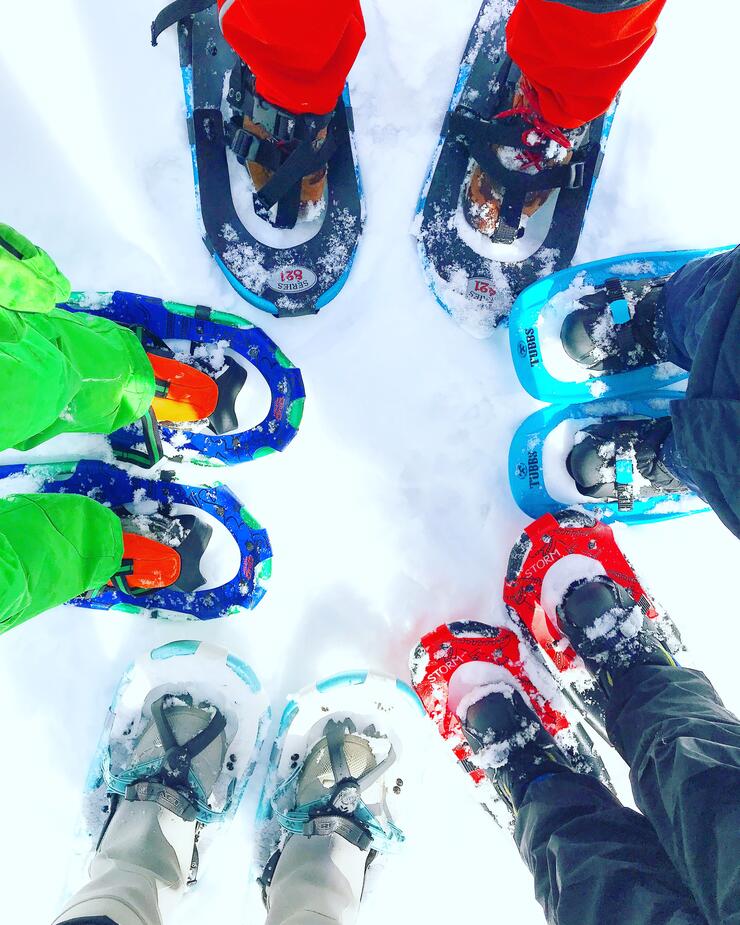 Winter offers incredible beauty for those who are prepared. Know the forecast and trail conditions and plan for them! Dress warm, stay hydrated, and bring the right gear. It is easy to navigate weather when you are prepared! Without doubt, facing the chill is worth every single second. These are the places that create joy, mitigate stress and allow us to connect to the frozen world outside. 
Bundle up and start winter hiking in Northern Ontario!