Cross Country Skiing in Northern Ontario
Cross country skiing in Northern Ontario is an amazing winter activity because it requires little previous experience. Enjoy a relaxing low-impact outing on groomed trails, through some of Ontario's most beautiful landscapes.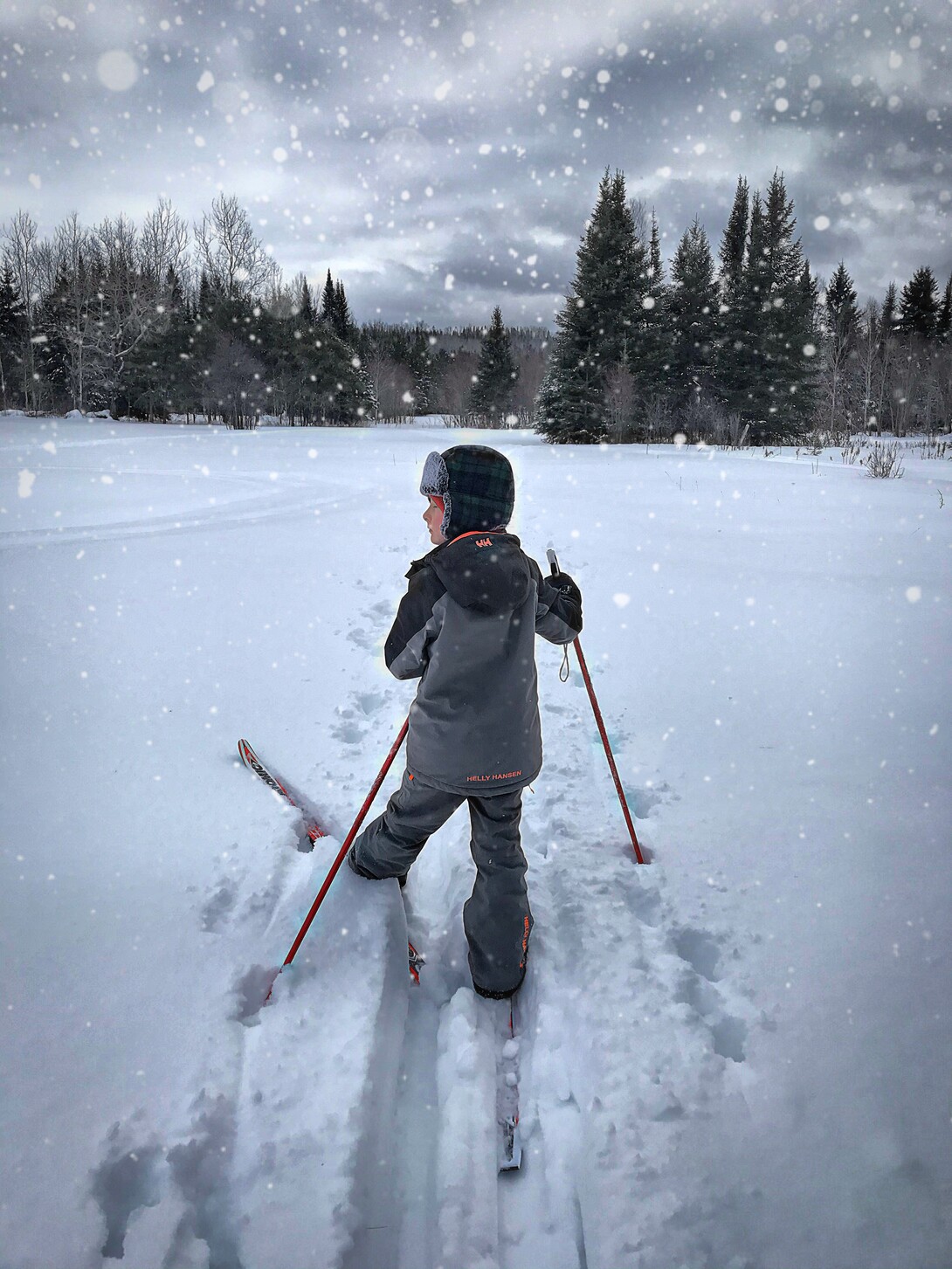 I remember my very first year cross-country skiing. I clearly recall the first time I attempted the Moose Loop at Rendezvous Ski trails in Nipigon. It was glorious.  The trail was incredibly beautiful because you meander along the base of a small mountain snugly surrounded by birch and pine and poplar trees. Even on the coldest days, the embrace of the forest keeps you warm and comfortable. I was having a wonderful time gazing around appreciating the tranquil beauty until I found myself standing at the top of an impossibly ginormous hill. Peering down at the trail below, I thought to myself: Isn't cross country skiing supposed to be serene and low impact? I didn't know it was going to be an extreme sport! The hill itself was nothing an experienced skier would have bat an eyelash at, but for a newbie it looked as big as a downhill run at Revelstoke.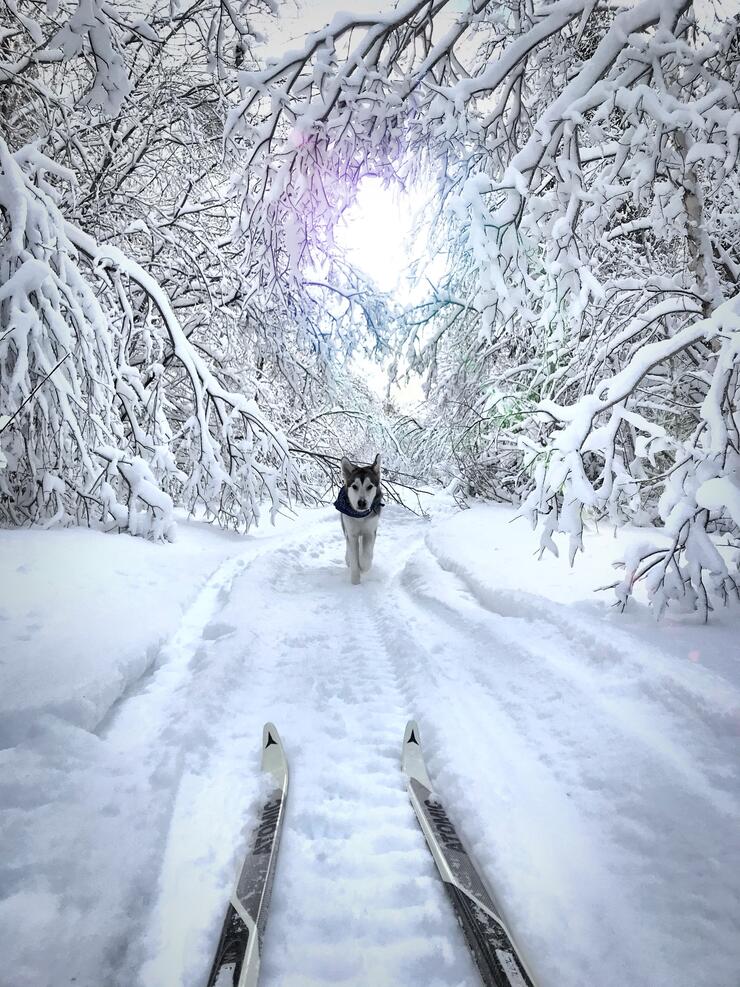 Despite my exaggerated perception of the slope, I felt excitement bubble up. An eagerness mounting as I shifted my weight forward and the tips of my skis peeked over the edge. They hung out for a moment with open space below and I gently leaned forward as gravity took me. The sound was distinct and clear under my skis swoosh! My scream of whoo-hoo alarmed the resident chickadees and squirrels. It was over quickly, and I found my-self at the bottom, proud. I looked back for a moment with a keen sense of victory while I got the stink eye from a squirrel, whose peaceful morning routine I obviously interrupted.
Why cross country skiing is so amazing
Cross country skiing (also called Nordic skiing) is an amazing winter activity because of its versatility. You can enjoy a relaxing low impact outing on groomed trails, through a magical forest, weaving between trees and across picturesque landscapes. It can be a soulful experience that doesn't require a high level of athleticism to start. It really is a beautiful balance between exercise and magic and when you get into a good rhythm it feels like floating.
Groomed, established trails are incredibly thrilling to navigate. Winding routes across interesting terrain, big hills and challenging inclines. You can often select your own adventure as most ski clubs have a variety of trail systems for different abilities.  Even if you are looking to improve skill, speed and technique as an athlete, Northwest Ontario hosts thousands of kilometers of high quality groomed trails and well-established clubs that offer opportunities for any skill level.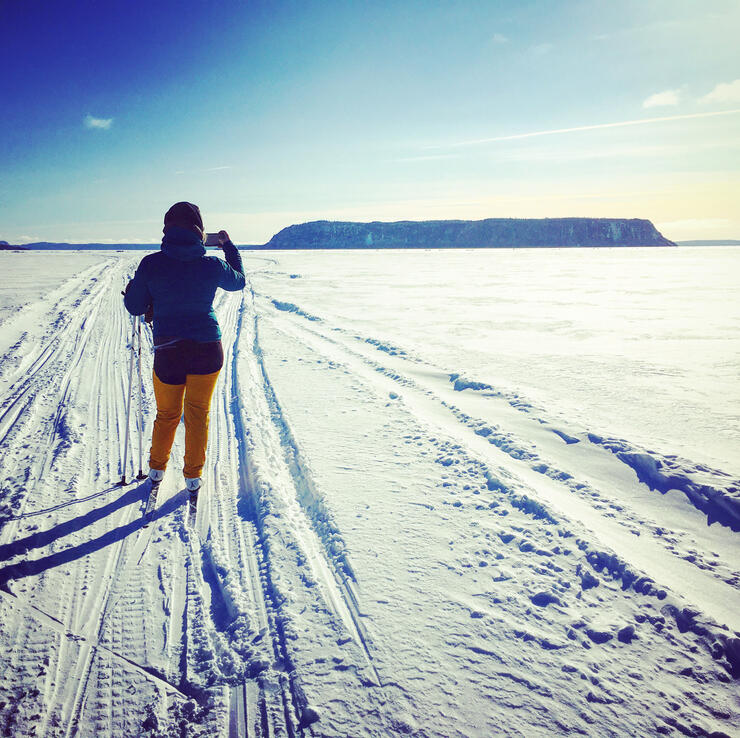 You can also partake in an adventurous jaunt in the backcountry. Whether exploring shoreline on a frozen lake or river, breaking trail down isolated country roads or in the little mountains of Ontario's Superior Country. There are countless and virtually limitless possibilities if you are willing to go off the beaten path. Cross country skiing in the backcountry offers adventure and excitement, and the freedom of exploration.  You do not have to be bound by a trail and can float over brush and rocks to find hidden treasures that are inaccessible until glorious blankets of snow cover the landscape. This type of seasonal exploration has a particularly magnificent draw, because it allows unique access through a short, frozen window of opportunity.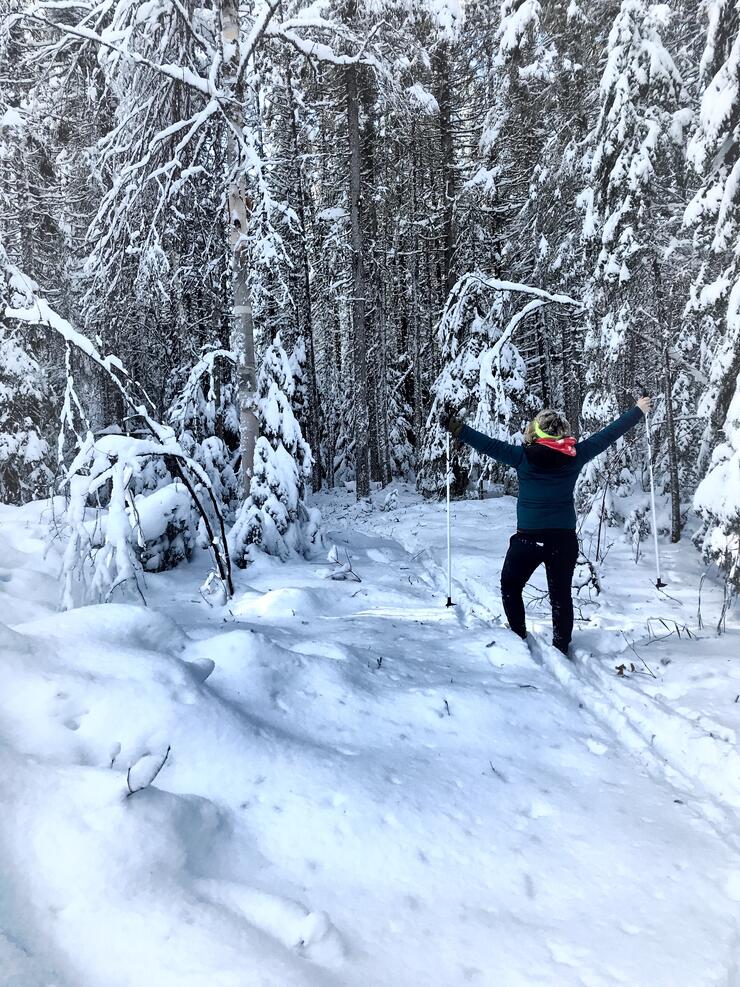 One of my favourite ways to discover the winter world is on top of Lake Superior. I absolutely love skiing along pristine shorelines or booting across frozen bays to explore islands. It opens an entirely new world, typically only accessible by boat! At Ruby Lake Provincial Park, you can ski down Ruby Creek to meet Lake Superior. Often there are incredible ice formations artistically composed by mother nature. You can navigate across the bay to LaGrange Island and ski around the beautiful sheer cliffs that rise out of the ice. It is a 13-mile excursion that is certain to challenge, awe and inspire!
get to know your local ski clubs
There are many clubs that do an astounding job of establishing and grooming ski trails across Superior Country. The Beaten Path Nordic Trails in Atikokan, Quetico Provincial Park trail systems, Rendezvous Cross Country Ski Trails in Nipigon, Marathon Cross Country Ski and Snowshoe Club, Lappe Nordic Ski Centre, Kamview, Kakabeka Provincial Park, Aguasabon Nordic Ski Club, in Terrace Bay, Superior Cross Country Ski Club, that has 10km of groomed trail in Rainbow Falls Provincial Park, and Sleeping Giant Provincial Park all located close to Thunder Bay in Ontario's Superior Country Region. Sleeping Giant Provincial Park offers a yearly ski competition called the Sleeping Giant Loppet. It is internationally recognized, and it takes place on the first Saturday of March. Some provincial parks even offer year round accommodations in rustic cabins and yurts providing the unique experience of a weekend skiing adventure. Go to the park websites to check availability.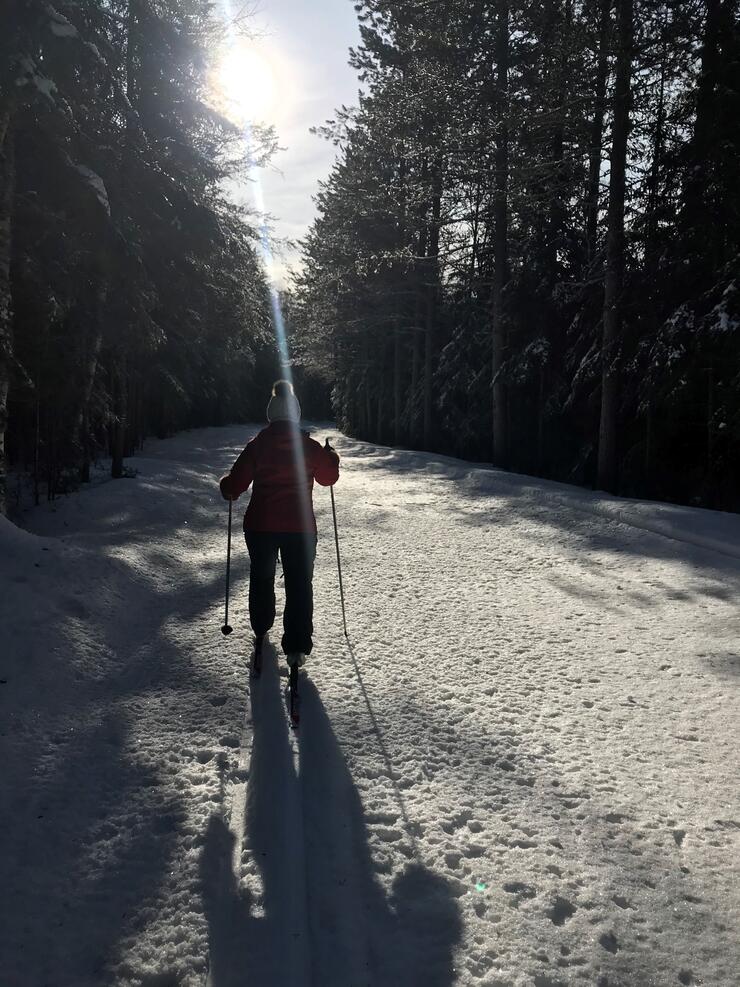 strap on your skis and explore ontario this winter
Skiing cross country offers up a wondrous opportunity to explore and enjoy the exquisiteness of mother nature in the winter. You can find connection to the outdoors by setting out solo on a secluded forest trail with fat snowflakes falling from creamy skies. You can connect with a group of friends and set out in the back country for a fire, hot chocolate and hot dogs. You can explore islands on a frozen lake when the sun is high, and light magically reflects off the surface.
Winters in Northern Ontario can be long and cold, so it is important to find activities that get you moving, connect you with other people, help you see the beauty in the winter months and contribute to your mental health and wellbeing. Seek out the experience that speaks to your desires and meets your ability. There's so much to explore in Northern Ontario this winter—and there's no better way to do that then with a pair of skis attached to your feet!