Ontario Crown Land Camping
Camping on Crown land (for free) is a right afforded every Canadian citizen. Learn how this incredible experience in nature can benefit your mental health.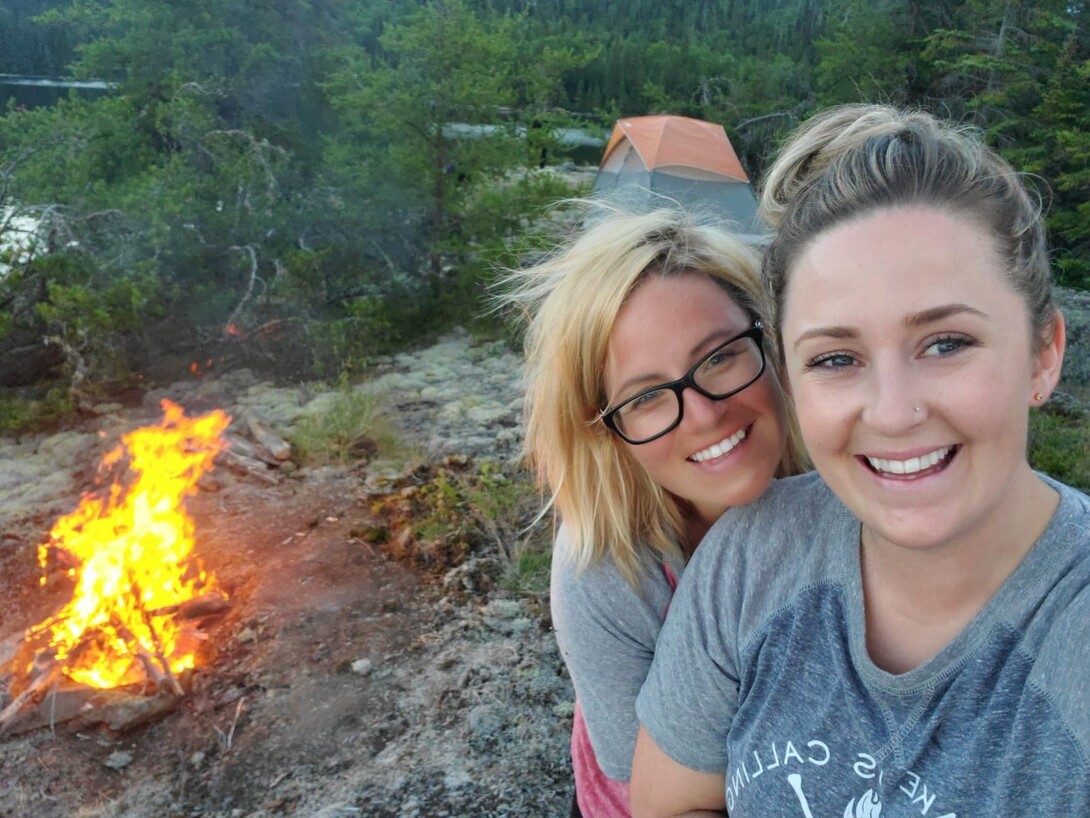 We sat high above the water on a cool summer night. The sun was sinking and quietly settled onto the horizon of Forgan Lake. We had small fire burning and little plumes of smoke drifted above us into the purple and pink palette of the evening sky. The smell of summer: a mix of burnt cedar, crisp, clean air and pine needles baked in the hot sun. The only sounds were crackling wood and Neil Young's "Harvest Moon" gently serenading us in the background. No automobiles, no boats, no voices. It was calm. Perfect conditions for deep reflection and practicing gratitude. I looked around and tried to absorb every second, every sensation. Our very own deserted island removed from all other people and from the worries of real life. This is paradise.
I had one of my favorite humans, Casey, visiting from out of the region this summer. I wanted to give her an authentic experience of Northwestern Ontario, to show her the unique, rustic, unbridled beauty of Superior Country. We hit up some incredible hikes like Mazukama.  We went chasing waterfalls at Wolf River, rock climbing up the Dorion Tower with Outdoor Skills and Thrills and stand up paddleboarding on Lake Superior. It was incredible to watch someone experience this region with fresh eyes.  But there was still one essential adventure I wanted to share with her. 
The thing I love most about this area is the connection to nature you experience when you are camping in remote areas. So, we decided to do an overnight paddling adventure on Forgan Lake.
Camping on Crown land is free to Canadian citizens, requires no booking ahead, and there's no reservation system. So we were ready to start our adventure! 
an overnight kayak and camping adventure
We left Nipigon early in the morning and drove about 30km north up Highway 585, more commonly known as Cameron Falls Road, to the Pine Portage hydro electric dam. We launched our two kayaks packed with overnight gear and paddled up river. Around  90 minutes in we caught site of a beautiful rock island that rose high out of the water. There was a large clearing at the top and we both knew that this was going to be our home for the night. We set up camp and decided to spend the afternoon paddling in the sunshine around the little islands. We didn't see another soul. We had the place all to ourselves and we were free to explore.
After a beautiful evening and peaceful sleep, we packed up and paddled back just ahead of a storm that brought big wind and waves. When we hit shore Casey turned to me and said "I can't believe how peaceful it is here. You are so lucky to have this place. Anywhere else it would be crawling with tourists, you would be fighting for a campsite or have to book a reservation a year in advance." It made me realize how fortunate we are, and it made me wonder: Why don't I spend more time camping on the beautiful isolated places in Superior Country? It's easy to do–and if you're new to camping, check out our beginner's guide to camping.
Why camp in wild places? 
Camping on crown land gives us the opportunity to unleash our inner explorer. Every experience is unique. Unlike provincial and national parks, there are no amenities, avoiding crowds is easy, there are no booking or reservations necessary, and you have more freedom to be spontaneous. There is opportunity to seek out new places and problem-solve through the challenges that nature throws your way. Having your cook stove break half way into a backpacking trip, losing your matches, or having to navigate a thunder storm gives you a chance to engage your creative muscle. Facing challenges in nature is a primal and incredibly rewarding experience. It can increase self-confidence and can help keep you engaged, stimulated and inspired.
Camping in the absence of structure, away from crowds allows us to unplug. The remoteness of Crown land allows us to disconnect. This has a significant impact on well-being. Being free from a constantly refreshed news feed, responding to messages, 'liking' social media posts and the constant barrage of information and news allows us to de-stress in the absence of technology. It gives us the opportunity to establish real a connection. With nature and with the people we explore with.
Crown land is territory that is managed by the Ministry of Natural Resources. It is generally unmaintained, isolated and remote. However, in Superior Country it is incredibly accessible because more than 95% of Northern Ontario is Crown land.
Canadian citizens are able to utilize these areas and camp for free up to 21 days on any one site in a year. This time limit ensures that more popular locations aren't monopolized and helps reduce environmental impacts. Non-Canadian residents looking to camp on Crown Land in Ontario will need a non-resident camping permit and be aware of some of the other rules and regulations which can be found HERE. If you want more information on where Crown land is located, you can access the Crown Land Use Policy Atlas.  It contains information on permitted activities for land use areas in Northern Ontario.
It is essential that we utilize Ontario Crown land responsibly and act as custodians of nature in order to conserve and protect the natural environment.  We all play a role in ensuring that these beautiful places are pristine and can be used for generations to come.
A few things to remember
Mother nature is not your mother. Clean up after yourself, pack out litter and properly manage waste. Yes! This means your poop.  
Don't light the bush on fire. Follow local regulations and pay attention to fire bans. Don't leave a campfire unattended, utilize existing fire pits when possible, and make sure campfires are completely extinguished.
Don't screw up someone else's home. Stay away from delicate habitats and environments. This includes sand dunes, wetlands, streams, and caves. Don't harm, kill, take or collect plants, trees, or other wildlife. Leave things the way you found them and minimize your ecological footprint. 
Be respectful. We all share this place. Don't be a nasty camper.
Here are some more tips on camping if you're new to the experience.
Camping in remote areas encourages us to explore, problem solve, and witness beautiful moments in the wilderness. Whether it's a colourful sunset, a glorious waterfall, giant waves on a big lake, a thunderstorm in a tent, or a clear sky with billions of stars, camping allows us to witness the awe-inspiring wonder that is Ontario's outdoors. These moments aid us in the reduction of stress, allow us to be present and mindful, and give us glorious, positive experiences to reflect upon (that are helpful when real life presents us with loss, conflict or challenges). So, get out and explore the land we share. Do it responsibly and have amazing adventures.
In acknowledgement, the term Crown Land has a heavy and complex meaning in our country. I recognize the experience of Indigenous people throughout history and the impact of colonization on their traditional land.
I honour and thank the Ojibway people and Metis Nation of Ontario as the original inhabitants of the lands we live, learn, work, enjoy, play on and share. I acknowledge the contributions of the Indigenous ancestors who came before us and thank the generations of Indigenous people who have cared for these lands.