Discover Greenstone
Fall hiking and fishing. Winter skiing and ice climbing. Spring golfing and summer paddling. Each new season up here offers a new adventure.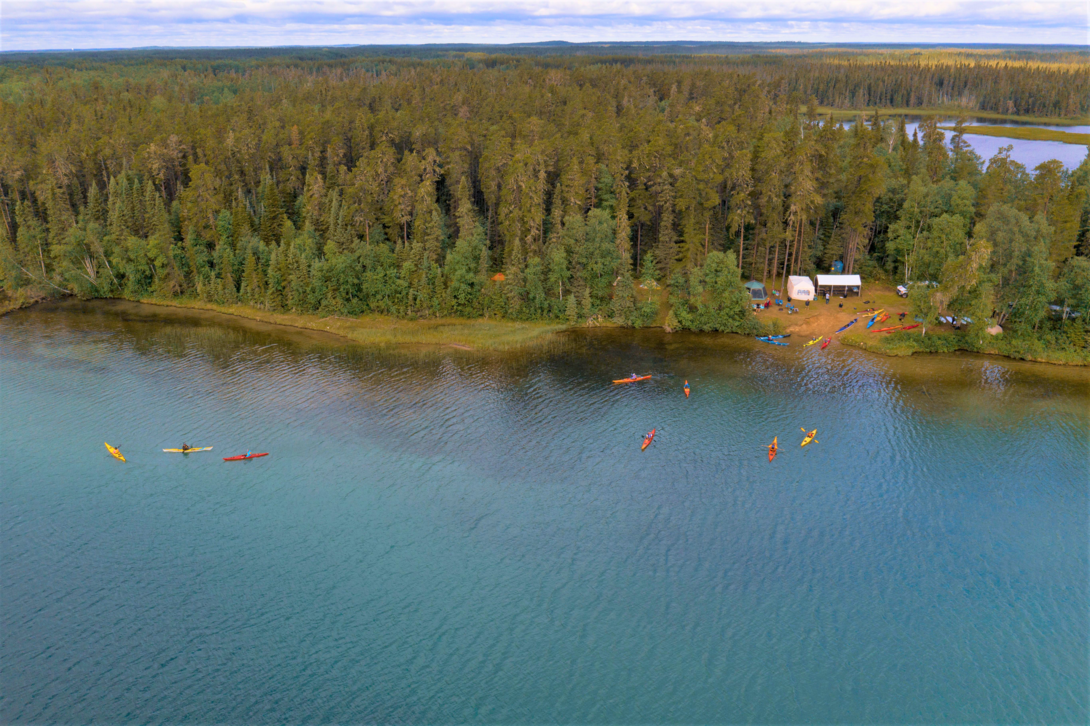 The Municipality of Greenstone lies deep in Superior Country, Northern Ontario–a region widely known for its vast wilderness, world-class fishing, hunting, snowmobiling, and hiking. The municipality was in fact created in 2001, after the amalgamation of several small towns. Through this process, Greenstone became the second largest municipality in Ontario by land area (3,172 sq. km / 1224 sq. mi) and the sixth largest in Canada.
With its vast size, pristine natural landscapes filled with waterfalls, lakes, and rivers, and with a relatively small population of just 4,600 residents across eight communities, it is no wonder Greenstone hosts some of the best outdoor activities in Northern Ontario!
Just a short 2-hour drive north from Thunder Bay, Greenstone lies along Highway 11, with easy access to the many outfitters and lodges found there. Whether you are looking for a weekend getaway on the water, a hidden waterfall down a partly covered trail, an ice-climbing adventure, or to simply reconnect with yourself through nature, Greenstone is the perfect place for you! You won't find any bright city lights or crowded places here, but we welcome you to indulge in clear starry nights and an abundance of wide-open spaces.
warm locals are ready to welcome you no matter what the season 
Greenstone is not only the place that will give you unique experiences and bring you closer to nature, it's also a group of communities (Caramat, Longlac, Geraldton, Nakina, Jellicoe, Beardmore, MacDiarmid and Orient Bay), whose friendly residents will welcome you and include you in their local activities.
The residents here appreciate the joy of being able to experience nature and fishing whenever they please. The locals are friendly, warm, and helpful, and they understand the lure of the outdoors that has drawn you to the region and why you will want to come back again. Their willingness to share their passion for their surroundings will enhance your experience. Greenstone folks have the same passion for outdoor adventure as you and will share their expertise and maybe a secret lake or fishing spot!
Fall and winter
spot the northern lights and try snowshoeing
Greenstone, nicknamed Nature's Home Town, is a relaxed, natural place, where one can turn their back on pressure and just enjoy the outdoors. As the weather cools and the snow hits the ground in late fall, check out the Nakina Snowshoe Trail. Cross country skiiers can explore any of our groomed trails with over 60 kilometres across two clubs–the Longlac ski club and the Geraldton Nordic ski club. Out on the trails, you'll find Greenstone is a place where people can appreciate each other and relax into the beauty of their surroundings. A place where the line-ups are few, but you can always find someone to give you a hand should you decide you need one. A place where the quiet is deafening, interrupted only by nature's pure sounds. Visitors up for a bit more adventure should check out the Pijitawabik Palisades for some epic ice climbing on 500-foot cliffs.
True wilderness and adventure are waiting for the thrill seeker as well as those who just want to escape the everyday humdrum of life. Greenstone offers a unique personal connection to the outdoors, just you and nature, and overzealous commercial operators have not "enhanced" nature's pure beauty.
spring and summer
Fishing has, and will always be, a main draw for locals and visitors alike. Avid veterans can get their maximum trophy catch, and novices can learn and expand their fishing skills and understanding with any one of the 45 outfitters and lodge owners within the Greenstone region. These outfitters offer drive to, fly in and charter fishing on some of the best lakes and rivers around including (but certainly not limited to) Lake Nipigon, Kenogamisis Lake, Long Lake, Onaman Lake, Cordingley Lake, the Albany River and the Ogoki River, among others. Skilled and well-informed operators are here to offer equipment, supplies and expert help when you need it. Greenstone is a place where travel details can look after themselves, however, if extra attention is needed, someone is there to look after them.
For those more inclined to hit the links than the lakes, the 18 Hole Kenogamisis Golf Club offers fantastic views and a full-service clubhouse. Hikers have lots of options here as well–the 5km Nipigon Shoreline Trail offers wild blueberries and two lookout spots.
a destination for all seasons
In Greenstone, you can experience all four seasons as they change throughout the year. With each new season, comes a new adventure, a new attitude, and an appreciation for all that surrounds you. Greenstone is not only the jewel in the crown of Canada's Northland, the best of Canada's great outdoors, but it's also for anyone who wants a special spot where they can say they have emotionally "Gone Fishing." Whatever your activity and whatever the season—fishing, hunting, golfing, exploring, paddling, hiking, climbing, snowmobiling, or just hanging out–you will find the perfect spot in Greenstone.
We look forward to welcoming you to Nature's Home Town!
For more information on what Greenstone has to offer, please visit our website or the Greenstone Tourism Facebook page.