Pie: A Lake Superior North Shore Love Story
The days are getting cooler, the leaves are changing, and pies of all kinds are lovingly being baked all along Lake Superior's North Shore. Which ones will you try?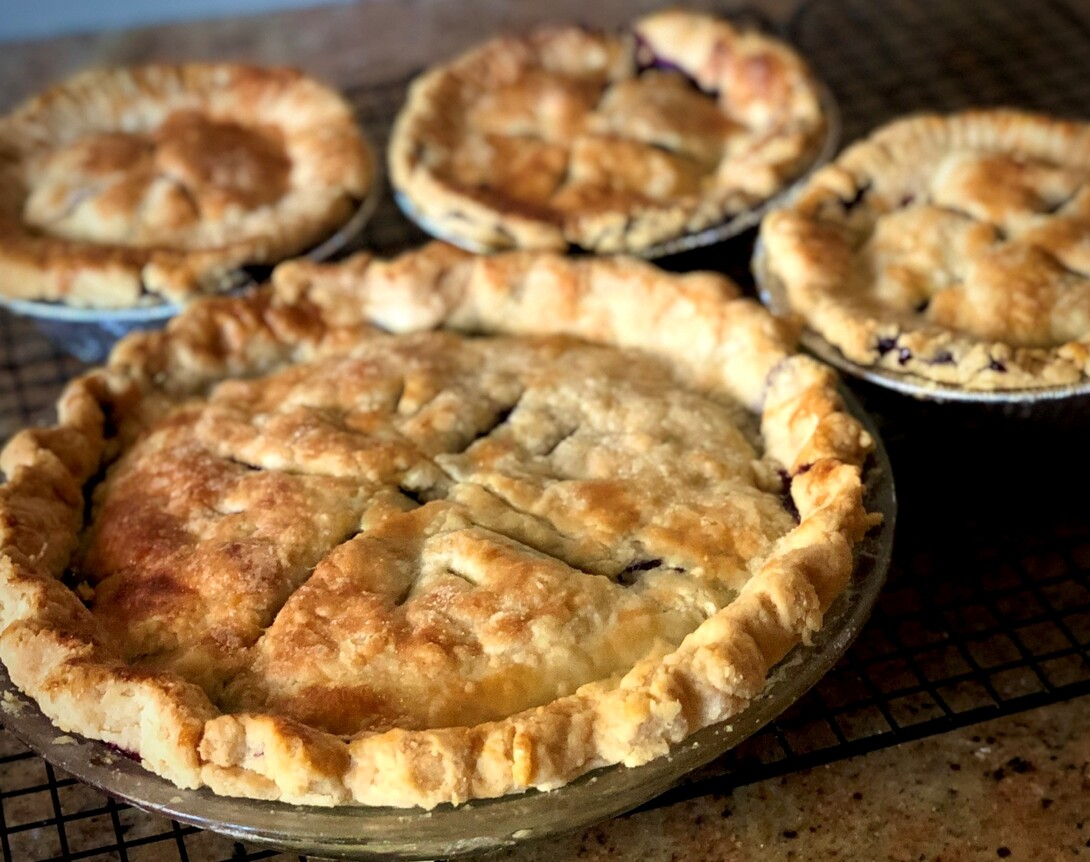 The Lake Superior Circle Tour is well known for its pie culture and what better place to start your search for some of the best pies ever than in Thunder Bay and along Northern Ontario's Lake Superior North Shore?  After all, the region is the home of the mythical Pie Island. How can you go wrong?
Follow your nose to the tantalizing aromas found at the Thunder Bay Country Market, the largest producer-based market in Northwestern Ontario, with an average of 6,000 people visiting weekly to shop for local meat, cheese, eggs, produce, baking, meals, and crafts.  The market is a fun and welcoming spot any time of the year but perhaps more so in the fall when the booths are still brimming with fresh produce and the aroma of fresh baked goods and locally roasted coffees fill your senses.  A cup of java and some pie?  Yes, please!
Start downstairs at The Little Pie Shop (booth #3) where vendor Tami's pies are a taste sensation not to be missed.  Whether you're feeling like a luxurious treat such as her coconut or banana cream pies or one of her own signature creations like the blackberry peach, The Little Pie Shop will not disappoint.  Tami was raised in a Ukrainian household where she began cooking at age five and, from then on, she's had a passion for cooking and baking – and it shows.
Next stop is Pie.ology upstairs at booth #6. You'll find it hard to choose from the wide variety of fresh or frozen hand pies.  The breakfast pies are really popular as well as hand pies for lunch and dinner including a ploughman's pie, mac and cheese and ham and Swiss.  There are also numerous dessert pie options with only fresh seasonal fruits such as strawberries and blueberries from the region's best growers and foragers.  Vendors Malcolm and Amanda Hope will give you a true taste of Northern Ontario.
Lake Superior's North Shore region is a spectacular drive, so you'll want to head east from Thunder Bay in search of some great scenery and some equally wonderful pies. 
The Fish Shop in Shuniah, known by generations of locals and visitors as the best place to buy fresh and Finnish-style smoked local fish, is located a short drive east of Thunder Bay. Opened in 1970, the shop has expanded over the years to encompass more of owner Liisa's Karkkainen's Finn heritage. You will find ready to heat Finnish meat pies and Karjalan piirakka (savory rice pudding pie) as well as blueberry, apple and/or rhubarb pies featuring local ingredients.
The village of Silver Islet is a hidden gem along the North Shore.  Quaint and beautifully scenic, it's located at the tip of the Sibley Peninsula right on Lake Superior, adjacent to Sleeping Giant Provincial Park and not far from the famous Sea Lion rock formation.  Since 1871, the hub of the village has been the Silver Islet General Store, which has been recently renovated and is now operated by Sandy and Jeff Korkola, daughter and son-in-law of the former longtime owners. 
The store's Tea Room has been known for Sandy's mom's homemade pies since it opened in 1993 and she taught Sandy and her sister how to make her own mother's recipes when they were kids. Sandy will continue the tradition with those same pies including homemade apple, wild Northwestern Ontario blueberry, lemon meringue, pumpkin, rhubarb, and the house specialty, the four-fruit pie (blueberry, rhubarb, strawberry, and apple) that was featured in Food & Drink Magazine a few years back. She will also offer mini versions of each, what she calls "cutie pies," enough for two, but a special treat for one. Check out more things to do in Silver Islet.
Home to the Paddle to the Sea Park, the Bridgeview Lookout Tower with a 360-degree view from Lake Helen to the landmark Nipigon River Bridge to the marina and beyond, murals, a Group of Seven site and loads of outdoor adventure experiences, Nipigon is a must stop on your North Shore adventure. While you are there, make the time to head to Ducky's Diner where owner/chef Cory is launching his fall menu featuring (you guessed it) pie, in this case a mile-high, personal size apple pie seasoned with brown butter and cardamom, available for pickup or dine in, à la mode or with a slice of sharp cheddar. Discover the best things to do in Nipigon while you're visiting. 
Dubbed "Ducky" by his mom since childhood, Cory Ralke says that pies are both a process and a labour of love and that he's been fascinated with pie making since he saw the movie Snow White and saw her making pies with the birds.  His new fall menu is solely focused on the idea of being home and being a kid again, with beef Bourguignon, pop tarts and pierogi included in the offering.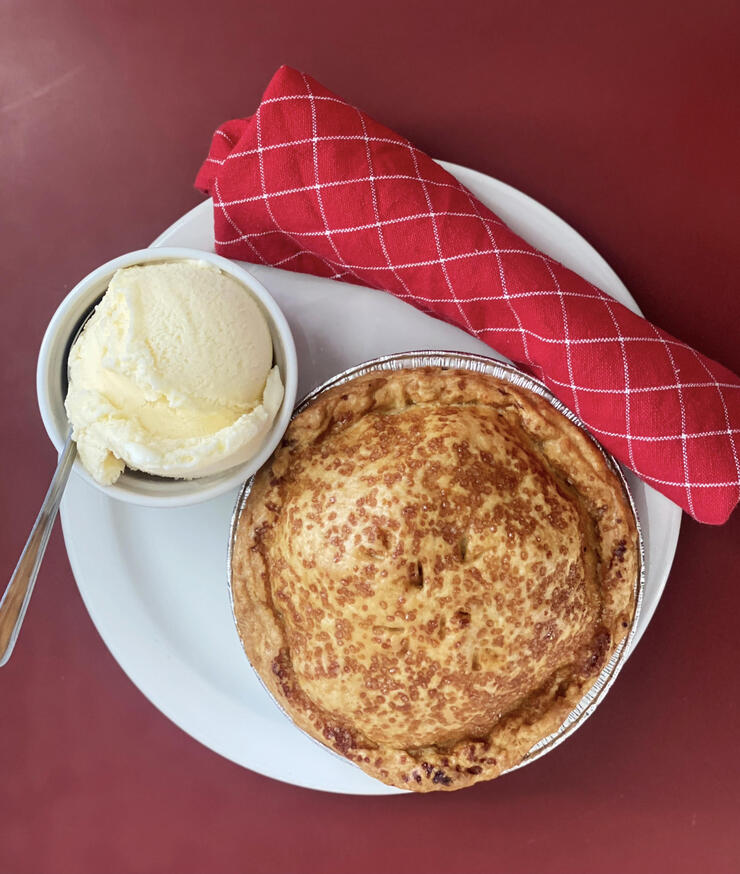 Terrace Bay is a beautiful North Shore community with a gorgeous waterfront, amazing views, friendly people, great hiking trails and lots of good things to eat.  For a twist on a traditional slice of pie, pay a visit to Drifter's Restaurant in Terrace Bay and order one of their delicious, homemade apple turnovers. Deep-fried, laden with apples, dusted with cinnamon sugar and topped off with caramel sauce and two scoops of ice cream, it's one of their most popular desserts and not to be missed. 
Everyone is raving about Best Friends Bakery and Coffee Shop in Manitouwadge – and that's no exaggeration. With a "5 out of 5" ranking on TripAdvisor, it's been praised for its "remarkable selection of delicious sweet and savory snacks and more" and is "as good and better than any coffee shop in a major city."  Another reviewer said, "The portion sizes let you know that this ain't no Toronto-centric eatery, but a friendly Northern Ontario establishment…A wee jaunt north off the Trans Canada…definitely worth the trip".
For dessert, apart from their divine butter tarts, they have cheesecakes, their best-selling carrot cake, chocolates, brownies, cookies and more. Also worth the trip are Manitouwadge's outdoor adventure experiences, from ATVing, camping, canoeing, kayaking, fishing, hiking and mountain biking to snowmobiling, downhill and cross-country skiing and snowboarding to burn off those calories.
The days are getting cooler, the leaves are changing, and pies of all kinds are lovingly being baked all along Lake Superior's North Shore. Which ones will you try?