In Search of Sunshine and Sandy Beaches
A busy beach in our neck of the woods is still uncrowded.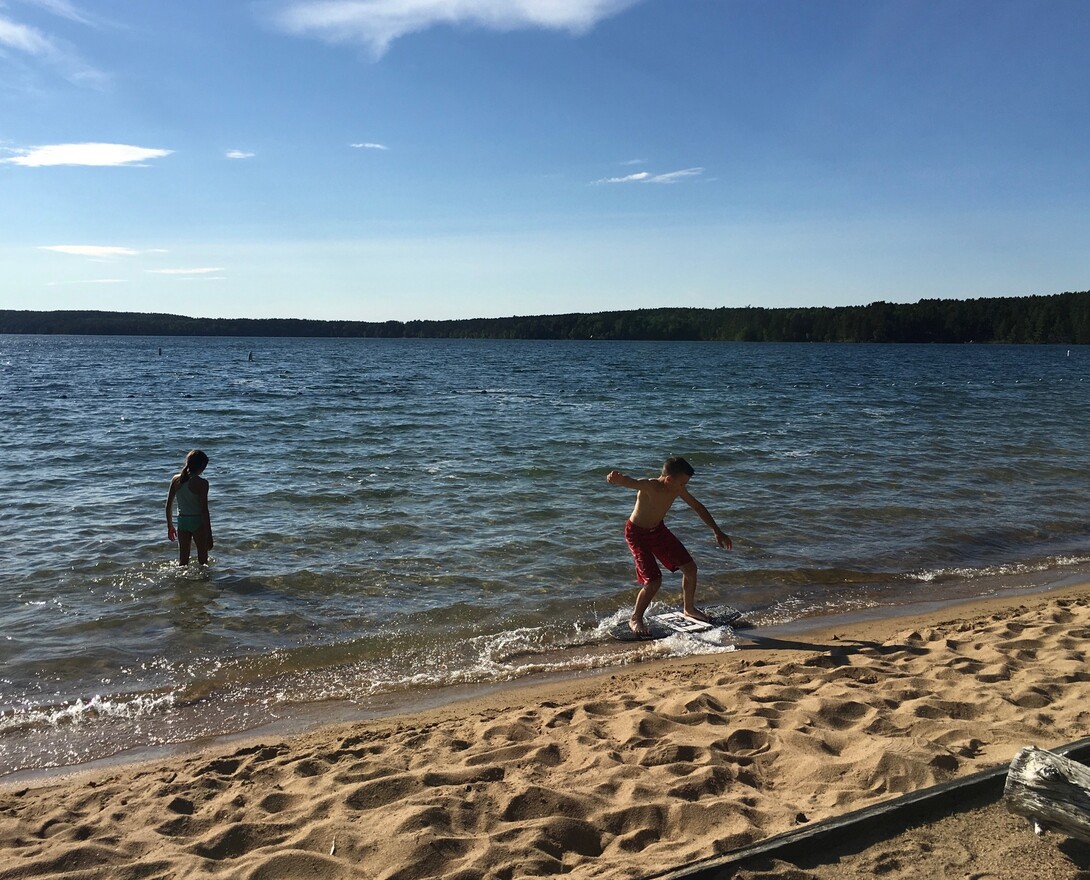 Beaches have a way of rejuvenating one's spirit and, in Northwest Ontario, we are fortunate to have hundreds of them, ranging from rugged and windswept to sandy and serene. A busy beach in our neck of the woods is still uncrowded because there is plenty of sand to go around. Here are six beaches that are easily accessed from the Trans-Canada Highway and make a great detour or destination.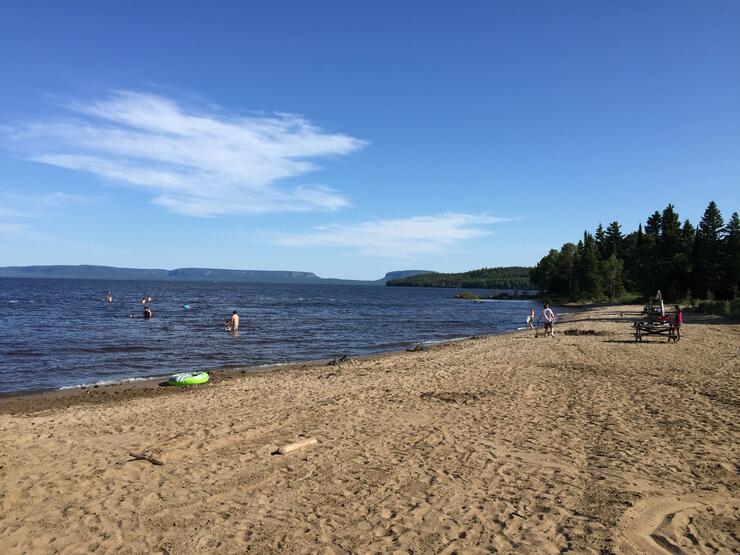 Sandy Beach, Chippewa Park
Sandy Beach is a gem located within the City of Thunder Bay, though it feels somewhat remote because it is located across the Kaministiquia River next to Fort William First Nation. This Lake Superior beach is cool early in the season, but warms up to comfortable temperatures by mid-July (depending on the summer, of course). Along with a view of the Sleeping Giant, Sandy Beach is supervised and is a short walk to Chippewa Park which has amusement rides, a playground, sports fields, campground, cabins, and a concession complete with summer favourites, like hot dogs and ice cream.
 
Kakabeka Beach, Kakabeka Falls Provincial Park
The beach at Kakabeka Falls Provincial Park is often overlooked, as most people stop at the park to take in views of the waterfall (and rightfully so—it is the second largest in Ontario, hence the nickname "Niagara of the North"). With fine sand and a gradual drop-off, the beach is ideal for families. Swimmers are advised to stay within the buoyed area as the Kaministiquia River has a strong current, particularly when water levels are high (park staff post warning signs as needed). The village of Kakabeka is a short walk from the park and offers amenities such as ice cream shops, restaurants, and camping supplies.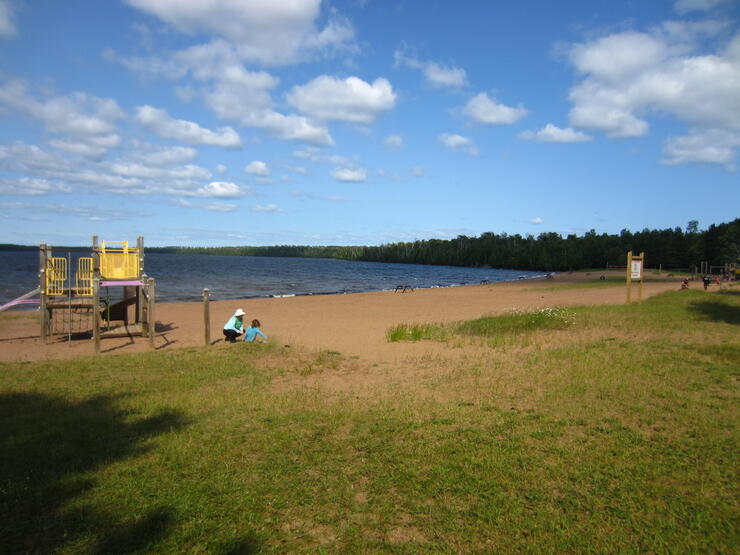 Lake Marie Louise Beach, Sleeping Giant Provincial Park
Sleeping Giant Provincial Park is a popular weekend getaway for families from Thunder Bay as it is just shy of 90 km east of the city. In addition to its beautiful campground with lakefront sites and impressive interpretive centre, the park is well known for its backcountry hiking and camping. The sandy beach on Lake Marie Louise is a short walk from the campground and there is plenty of parking for day users. The beach has a playground, beach volleyball nets, and a picnic area. Canoe rentals are available for those who would like to explore beyond the buoys.


Neys Beach, Neys Provincial Park
Neys Provincial Park is located just off Highway 17, about 26 km west of Marathon. The 2-km sandy beach is bookended by the Little Pic River and billion-year-old volcanic rocks, and invites barefoot strolls and watersports, such as skimboarding and kiteboarding. Paddlers can explore the Lake Superior shoreline and the meandering Little Pic River. Neys beach has amassed a tonne of driftwood and people often build impressive forts and sculptures or, in the case of my daughter, a makeshift teeter-totter.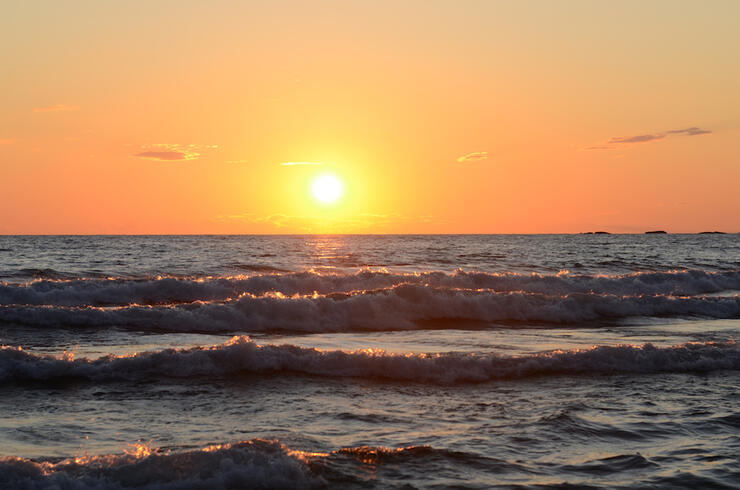 Horseshoe Beach, Pukaskwa National Park
Pukaskwa National Park is located on the north shore of Lake Superior and is the only national park in Northwestern Ontario. The park is part of the largest stretch of wilderness coastline in the Great Lakes and is about a 20-minute drive southeast of Marathon. Pukaskwa has multiple sandy beaches and one of the most accessible is located at Horseshoe Bay, a short walk from the campground. The bay is nestled in the rugged shoreline of the Canadian Shield, and the beach is perfect for building sandcastles, watching the sunset, and taking in the splendour of Lake Superior.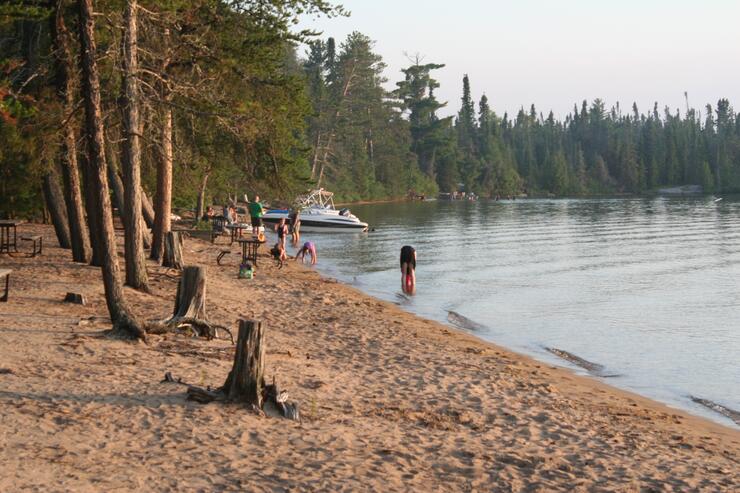 Blue Lake Beach, Blue Lake Provincial Park
Blue Lake is a gorgeous lake with crystal clear water and a one-kilometre-long sandy beach that is located in Blue Lake Provincial Park just over 8 km north of Vermillion Bay. There is a large buoyed swimming area (bring your snorkel!) where only non-motorized vehicles are permitted; the rest of the lake is open to motorized vessels. There is definitely plenty of room for everyone both on and off the water. The sprawling beach has multiple playgrounds and picnic areas, including a large covered area with hibachis. Canoes and kayaks are available for rent.