The Niagara of the North, Kakabeka Falls Lives Up to Its Billing
I didn't like the cliché about it being the "Niagara of the North," but figured I'd check it out anyway.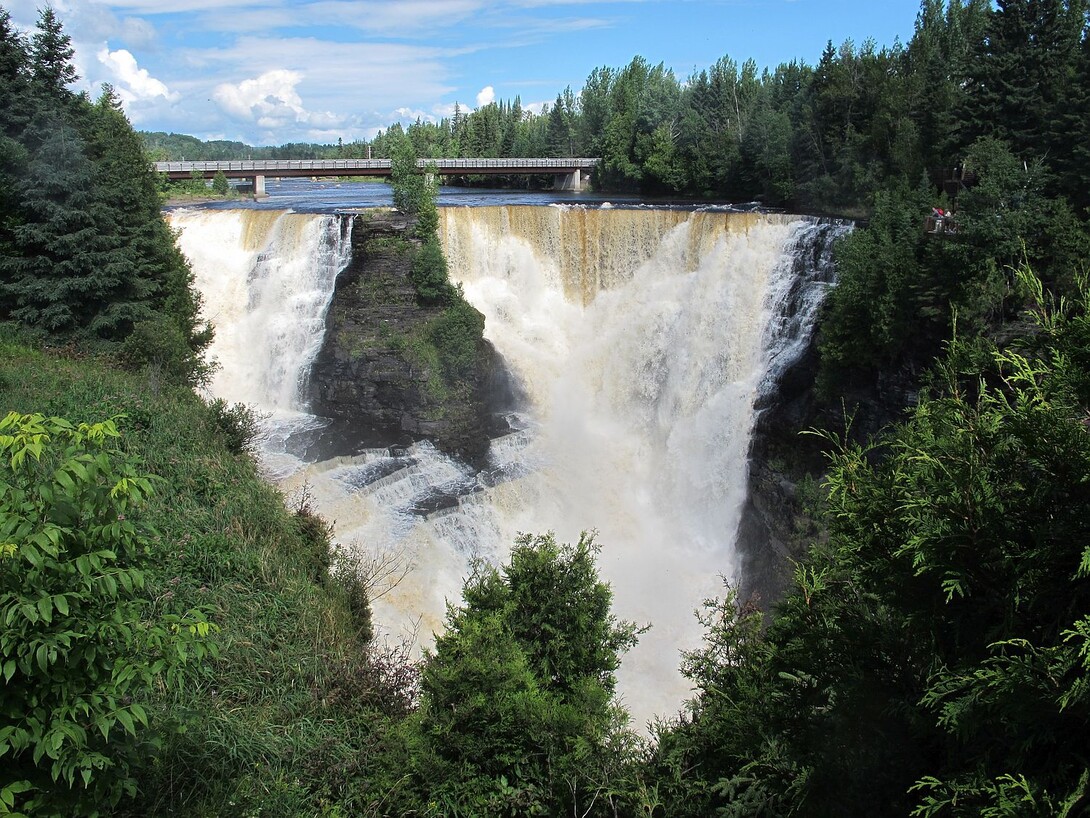 There are few things in the world better than something that gets undersold but over-delivers.
It was a feeling I was to discover many times over a few days touring along the shores of mighty Lake Superior in Northern Ontario.
The first one was one of my favourites, a visit to Kakabeka Falls Provincial Park near Thunder Bay.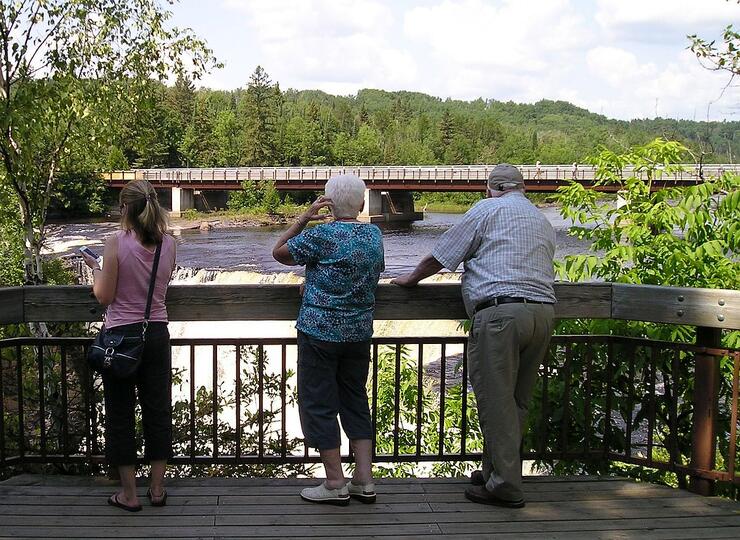 Before making my first ever trip north of Parry Sound (and sorry about that), I'd been given a good deal of material about what I should see and do on my trip. All the brochures and tour books I received mentioned Kakabeka Falls, just west of Thunder Bay, as something worth seeing.
I didn't like the cliché about it being the "Niagara of the North," but figured I'd check it out anyway.
I was in a great mood before I even got there, listening to hurtin' music on the radio and rolling past postcard-perfect farms. I laughed at the turnoff for Jelly Road and Wing Road and snapped a photo. As I approached the falls, I drove past old-time motels with names like The Pines and made a mental note of a chip truck selling hot dogs for $1.25.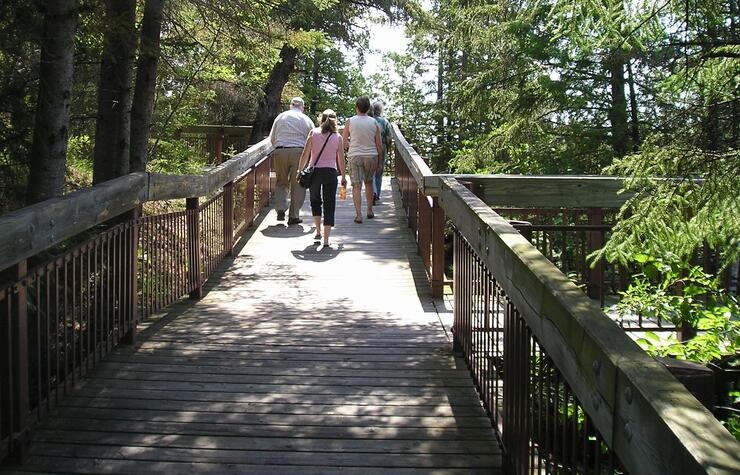 I pulled into the parking lot for the falls and spotted a couple motorcycles and perhaps three cars. But I could hear the roar of the water. Within seconds (unlike Niagara, you don't have to park a 10-minute bus ride away and spend $10 for the privilege), I was standing alongside a hugely impressive, thundering waterfall in a pristine northern setting.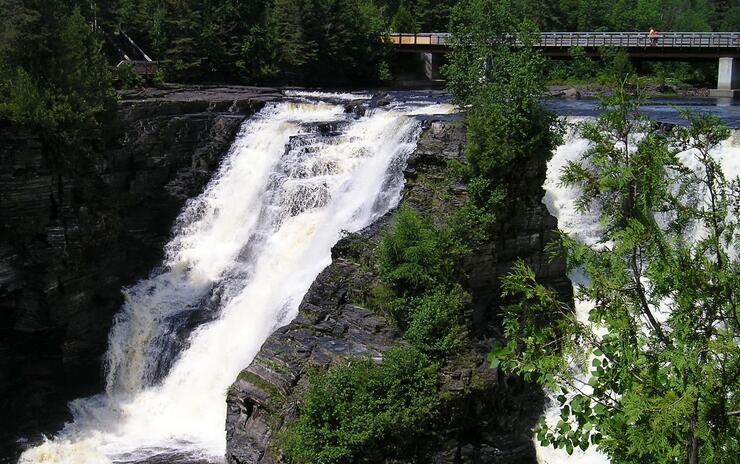 The water from the Kaministiquia River cascades a couple dozen metres on either side of a giant, roughly triangular shaped slab of black rock. Small trees cling precariously to life and are nourished by the heavy mist.
After dropping in boastful, wild fashion, the water then spills gently over a series of small steps before dropping into a stunning, deep canyon of black, brown, red, white, and rust-coloured rock.
There are several platforms and a nice boardwalk with safety rails for viewing the falls from both sides. If you come from the east and Thunder Bay, pull out of the parking lot after your initial viewing and drive or walk over a bridge over the river and check out the small but pretty visitors' centre, where they have displays set up on the history of the area, including native culture.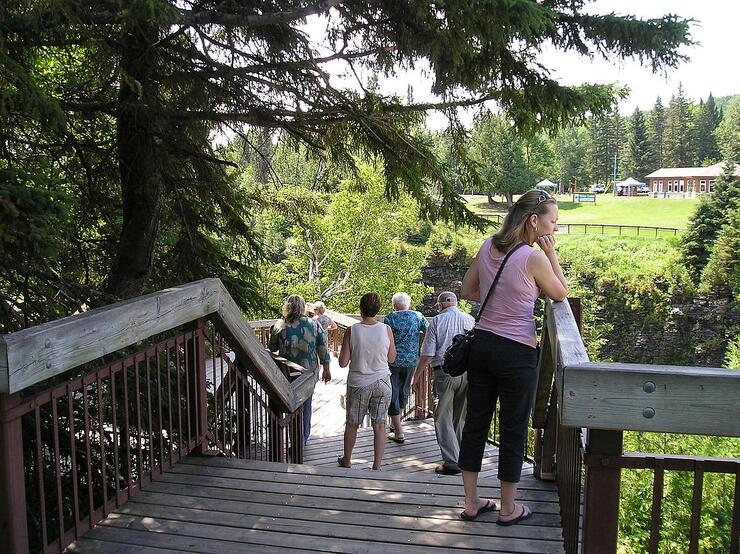 I had to charge the battery for one of my cameras for a half hour, so one of the young women at the centre when I was there suggested I take a short walk on an old portage trail along the canyon while the charger did its job.
It's a peaceful, short, easy to navigate trail through lovely woods; flat enough and wide enough for a woman to push her stroller with two babies. The canyon is pockmarked with small caves, where the local Ojibwa believed that evil spirits lived.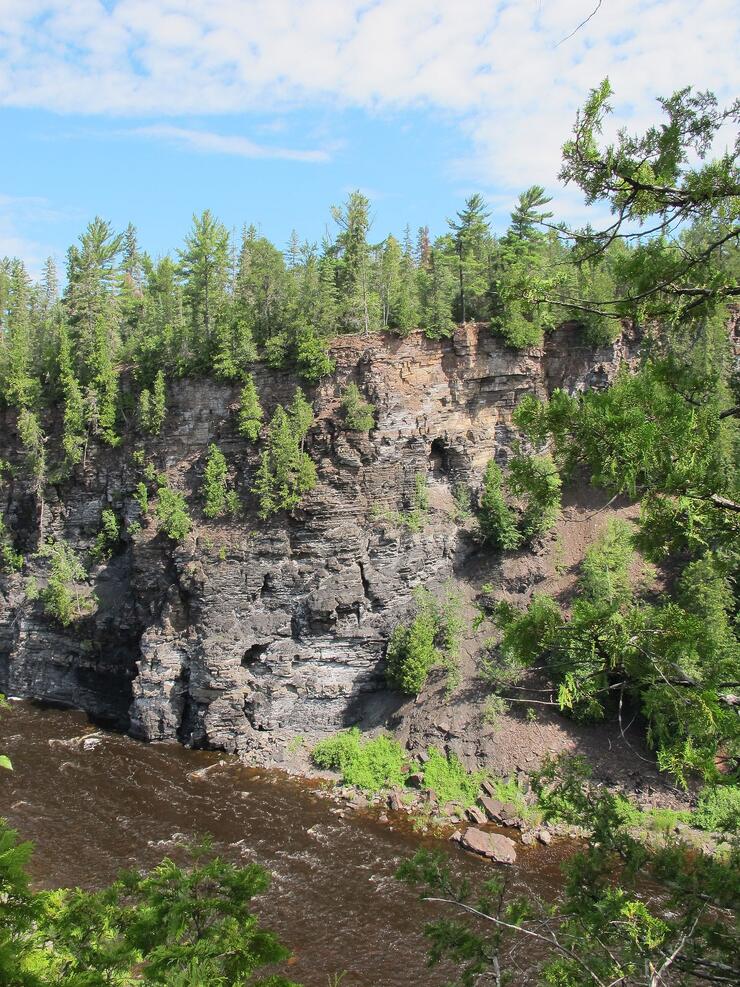 They might have been right, but this day was so peaceful and serene that all I could think about the was beauty and the joy of seeing a waterfall like this in the company of perhaps a dozen other tourists.
As I walked, I spotted a great sign on the trail that talked about the first road built through the area. The path was surveyed by a fellow named Simon J. Dawson and was apparently an incredible endeavour given the rugged, virgin forest and ancient rock. The sign I saw talked about the route that was chosen for the road and had a great quote from a worker: "pitched our tents, had supper and went to bed having first cursed old Dawson."
How great is that?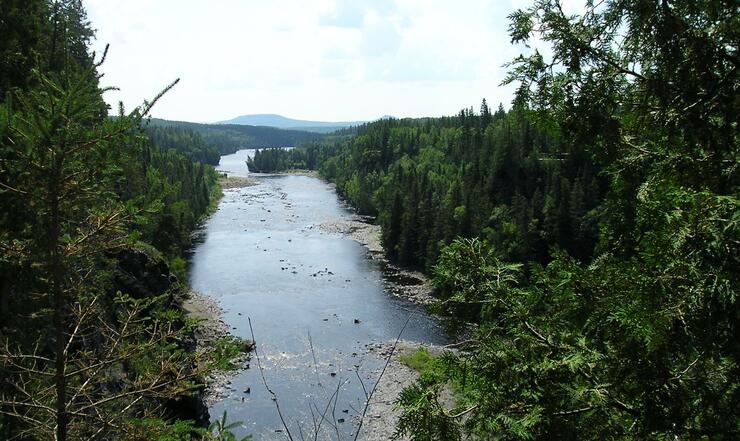 I got to take a smooth road, of course, and enjoy a fine visitors centre and soak in the beauty of one of Canada's top waterfalls. Maybe the best thing of all? Not a wax museum in sight.
Oh, and a pretty good hot dog for a buck and a quarter.