5 Ways to Create the Perfect Mountain Bike Vacation in Thunder Bay
Bike T-Bay with these insider tips on the best trails, events, and bike-friendly spots.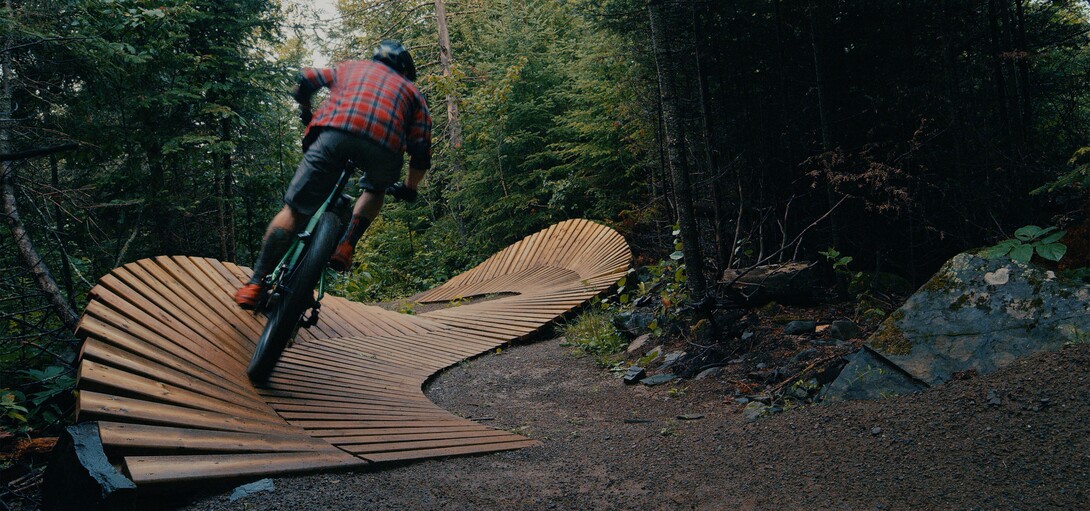 Nestled within the world's largest contiguous boreal forest. On the shore of the planet's largest freshwater lake. On the traditional lands of the Anishnawbae Peoples of Fort William First Nation and with a history of connectivity to the natural environment that dates back thousands of years. It's no wonder that Thunder Bay is regarded as one of Canada's premier outdoor cities and an emerging urban basecamp for all types of year around outdoor and cultural experiences—including mountain biking.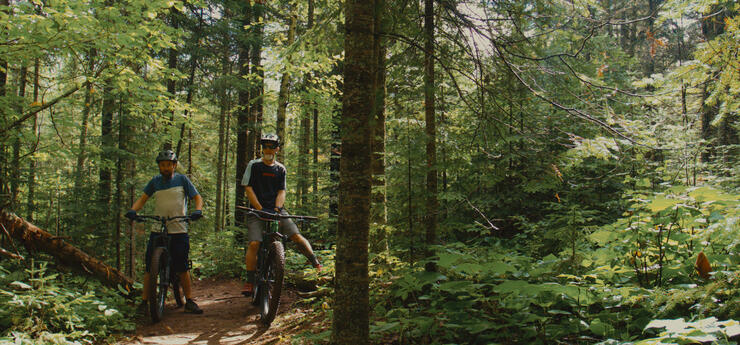 Whether you travel with your own bike or are travelling light and seeking out rentals, the city's growing cycling destination reputation is a must-visit for those seeking an accessible mountain biking bucket list vacation. 
Boreal Forest Riding at Its Best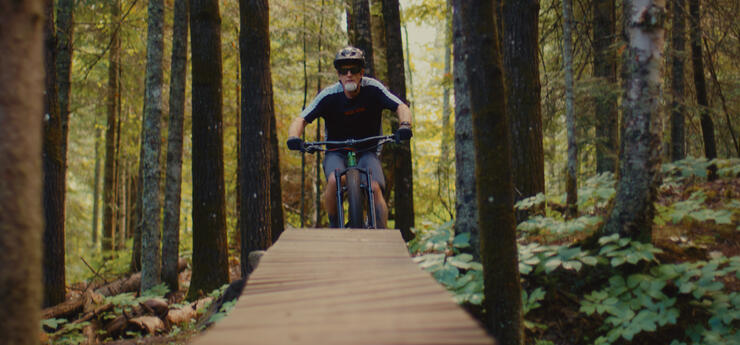 Shuniah Mines, located within the Trowbridge Forest, offers over 70 km (45 miles) of single track riding for all skill levels just minutes from the city's Waterfront District.  The municipal trail system, developed and maintained in partnership with the local Black Sheep Mountain Bike Club, is a must ride for locals and visitors alike.  Following the picturesque Current River, the trail network offers lots of elevation changes and single track bridges under the canopy of dense boreal forest.  In 2021, the park added over 20 km (12 miles) of new trails and a new skills park at the Trowbridge trailhead parking lot.  It's the kind of trail system riders will want to come back for and explore every day on their T-Bay Cation. Locals on the trails are always happy to share and talk mountain biking and give you some tips for a bike shop or great après ride meal.  You may even run into the legendary Old Greg!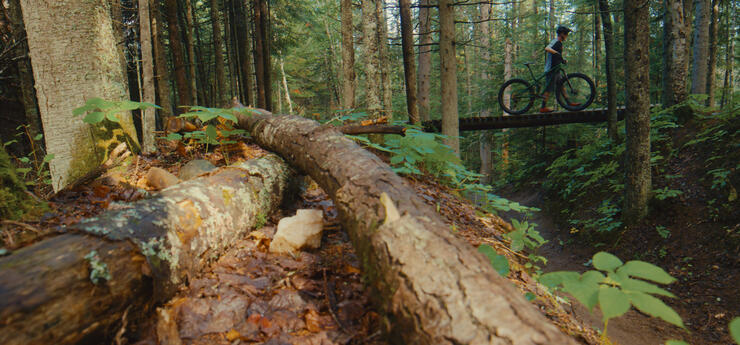 Bike a Giant

Sleeping Giant Provincial Park is another popular destination for mountain bikers looking to make the most of a day visit to the park. "The Giant," as locals call it, is one of Canada's most well-known provincial parks and geological guardian of Lake Superior's Thunder Bay. With cliffs over 600 feet tall, (the tallest in Ontario in fact), it's the go-to for visitors looking for expansive views of Lake Superior. Many park visitors prefer to ride their mountain bikes from the trailheads to the base of the Giant itself, chain up to a tree and hike the winding trails to the top of the Giant. Bring water and a picnic lunch to celebrate your ascent. Don't forget to make time to stop by the 151-year-old Silver Islet General Store for fresh baking or ice cream with a side of history with the local characters.  You may even spot the spectacular Viking Octantis at anchor off of Silver Islet on one of its seven visits to the City in 2022. 
Talk Cycling with the Locals at the Bike Shops
For the avid riders, a visit to the local bike shops is a must in any destination to get the intel on the best riding, seek out repairs or treat yourself to some new gear. Thunder Bay's cycling community is teeming with great well-stocked shops to help keep you on the trails.  Fresh Air and Petries are two Thunder Bay cycling staples, rounded out by 3 Ride, located in Goods and Co, Rollin' Thunder, and Community Spokes. Most offer bike rentals to help you explore the trails without the worry of packing your bike.
For the Competitive Types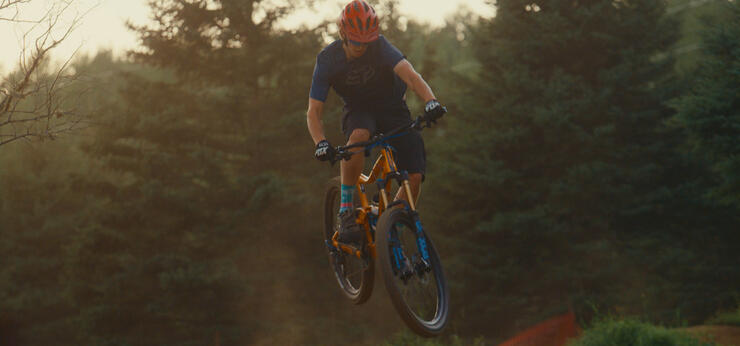 For cyclists with a competitive edge, there's nothing like planning your vacation around an event.  The Shuniah 40 Miner is a two-day celebration of Thunder Bay's mountain biking trails located at Kinsmen Park in the beautiful Trowbridge Forest each September. The feature event is an XC Marathon mountain bike race and the weekend event offers 48, 24, 12, and 5 km racecourse for every skill and age level.  If you love fall riding and making new friends, this is the weekend to make your T Bay-Cation cycling plans.
Play Hard and Reward Yourself
A day of riding great trails under the canopy of the boreal forest deserves a celebration.  Thunder Bay's culinary scene features dozens of locally curated experiences, a strong farm-to-table scene, and international influences to satisfy any appetite.  Pair your dining experience with one of the city's five craft breweries including Sleeping Giant Brewing Company, Dawson Trail, Lakehead Beer Company, Prospector Brewhouse, and One Time Brewing Company.   
You'll sleep well after an active day or weekend out on the trails feeding your body, mind and soul and Thunder Bay doesn't disappoint.  With over 2 500 hotel, motel, B and B and hostel accommodation rooms to choose from in the city, there's no shortage of options to rest your head and booking online locally is easy.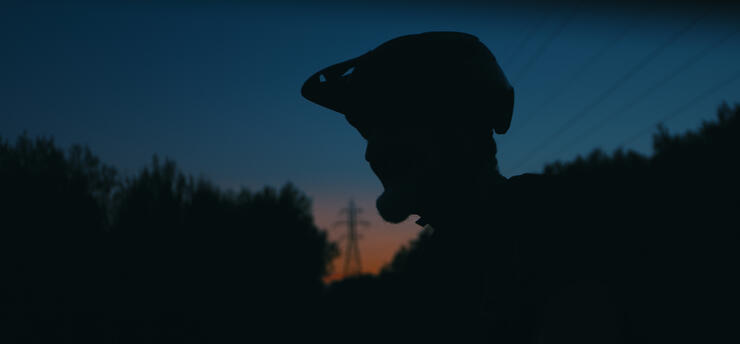 There's so much to see and do in Thunder Bay to round out your perfect cycling vacation including a visit to Fort William Historical Park, the legendary Kakabeka Falls Provincial Park, or the Thunder Bay Country Market. Visit Thunder Bay can help you plan it all out.