Go Here, Not There
From Caribbean-blue waters, surfing hot spots, world-class cycling opportunities, and even French cheese, there's something for everyone up here.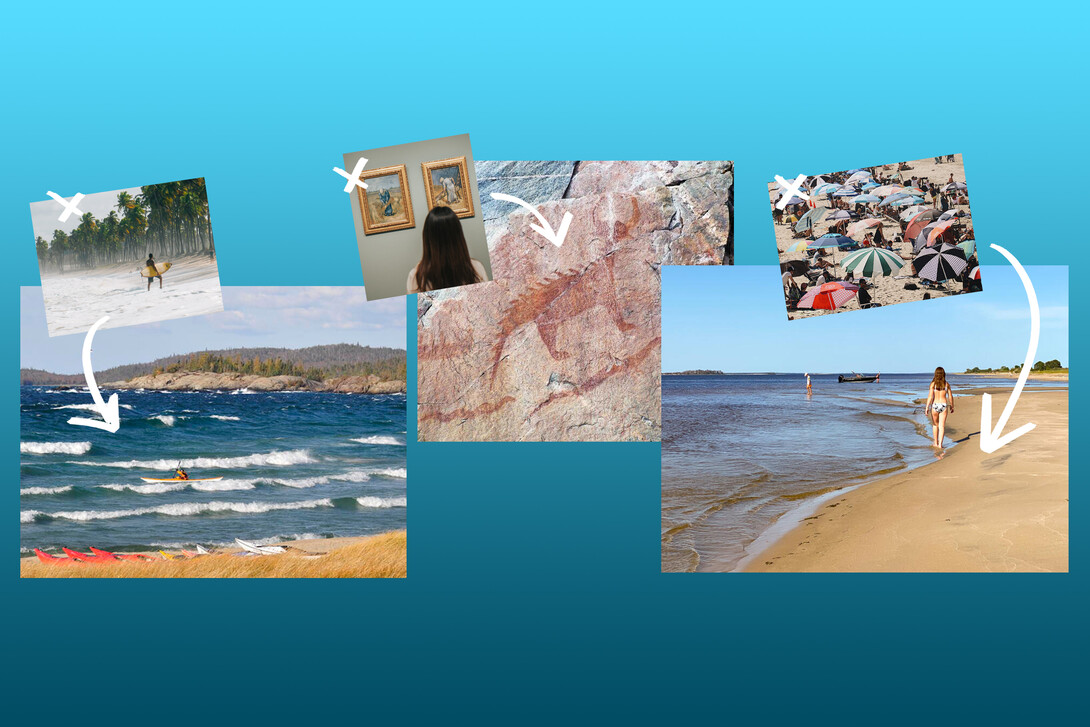 Travel is a feast for the senses and a tonic for the spirit. Experiencing the food, landscape, art, sport, culture, and language of another country creates lasting memories. And since our passports are still in the drawer, how about exploring some local alternatives? Northern Ontario offers a huge variety of intriguing destinations that may remind you of some of your favourite international spots—with a special close-to-home twist.   
Can't go to Bermuda or the Caribbean this summer?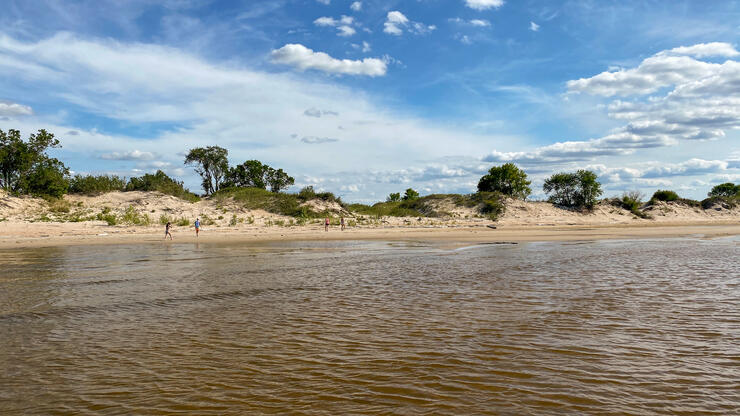 The Sable Islands at the southern end of Lake of the Woods, between Kenora and the Minnesota border, are home to long, shallow sandy beaches filled with powdery light sand and rounded dunes. With wide-open blue skies and clear water, you'll feel those Caribbean vibes. Stroll the beaches, look for interesting driftwood, do some birdwatching, and pack a beach-worthy picnic. Read more about the Sable Islands here. For more beach ideas check out these other sandy offerings right in our own backyard.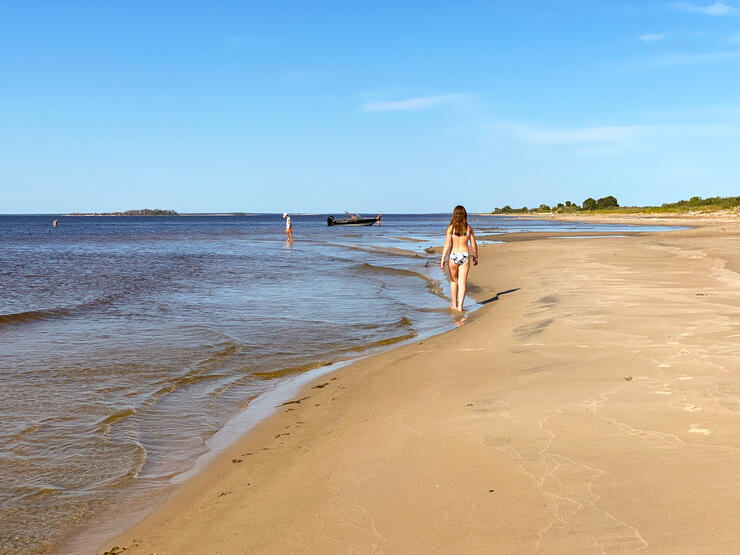 Missing the Mediterranean's rocky cliffsides and sandy beaches?
The drive between Sault Ste Marie and Wawa is only about 225 km via TransCanada highway, but it's one you'll want to savour. The smooth, curving highway hugs the shore, with the incredible blue waters and rugged islands of Lake Superior on one side and soaring rock cliffs on the other. Stop at the frequent overlooks to take in the spectacular views, and make some time to explore the area's cobblestone and sand beaches too, complete with crashing waves. Check out Sand River Falls, Katherine Cove, and Batchawana Bay to take advantage of those European-feeling views. 
Looking for a place to take your private float plane, yacht, or helicopter? 
If the Hamptons or Carolinas were usually on your summer list, head to Killarney instead. Killarney, southwest of Sudbury on the north shore of Lake Huron, is renowned for its abundant waterways, white quartzite mountains and remarkable natural beauty. Killarney Mountain Lodge is a waterfront resort within Killarney, promising rustic luxury, fine dining, and lots of opportunities for boating, hiking and even parasailing. Private float planes landing in the channel by the lodge are a common sight here—but it's easily accessible by car, too.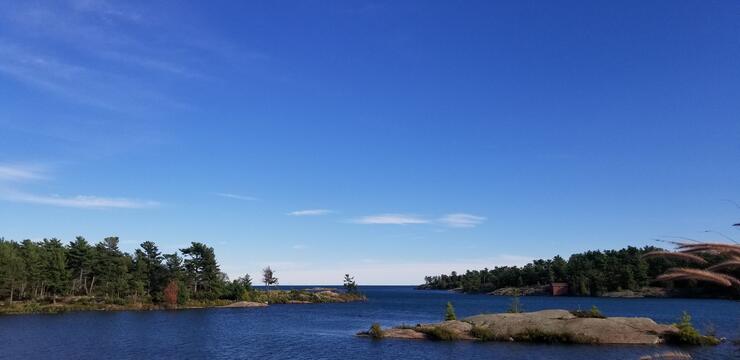 Nostalgic for the roadside attractions in the States? 
There's just something about seeing the quirky signs and even quirkier by-the-road attractions on a road trip. Plus, the selfie opportunities are epic! Here in northern Ontario you can check out a giant moose or musky, spot a teeny-tiny chapel or iconic float plane, visit a sheep farm and more. 
Speaking of weird and wacky, missing your annual pilgrimage to Roswell?
check out Canada's own UFO capital: Moonbeam
Moonbeam, Ontario was so named after a number of residents saw mysterious flashing lights in the sky one evening in the early 1900s. Was it moonlight reflecting off freshly fallen snow? Or perhaps lights from the Ontario Northland railway that ran nearby? Another explanation is that it was simply an overactive display of the Northern Lights. True believers, of course, know that Moonbeam was the location of one of Canada's very first UFO sightings. Regardless of what you believe, Moonbeam is a great spot for hiking, biking, relaxing, and of course, alien watching. Lucky visitors can stock up on alien merch at the local welcome centre, and take a few photos with the town's very own flying saucer.
Thinking wistfully of the rolling countryside (and delicious eats) of Southern France? 
Check out Temiskaming Shores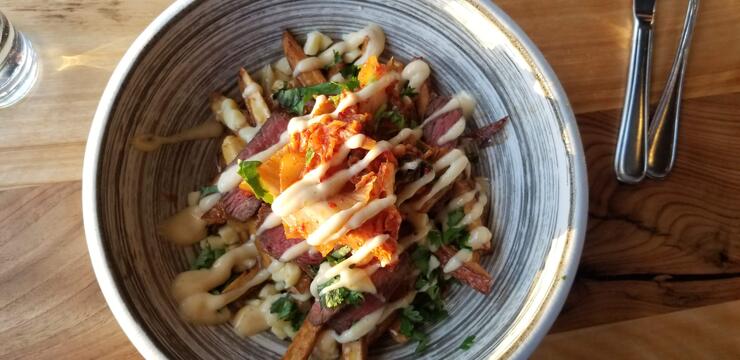 Temiskaming Shores is a small, attractive community with a population of about 10,000 in northeastern Ontario, about five hours from Toronto and next door to Quebec. Discover unspoiled golf, hiking, and fishing areas and discover why it's quickly become a culinary destination thanks to its numerous farms providing local chefs with fresh meats and produce. Be sure to explore the famous Thornloe Cheese and taste its artisanal butter and cream, aged cheddars, creamy blue cheeses, and delectable ice cream.
Longing for your yearly cruise? 
Check out our Great Lakes boats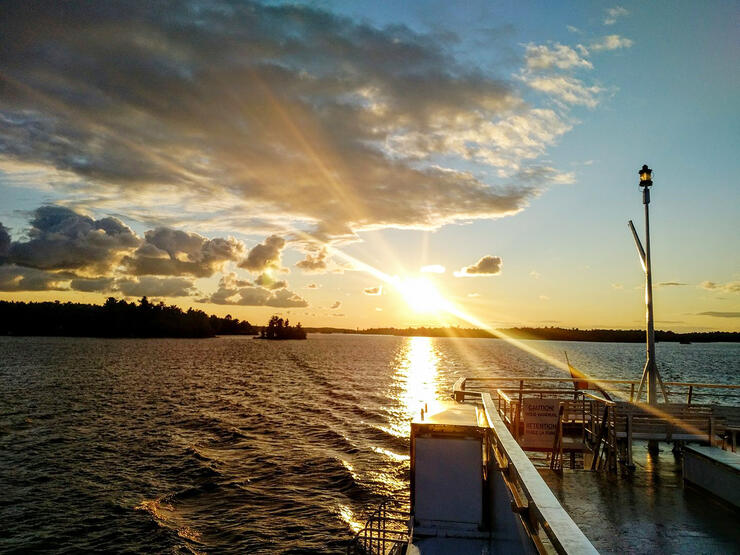 The MS Chi-Cheemaun, or "the Big Canoe," is a 648-passenger ferry that travels the 40 km between the beautiful community of Tobermory to equally beautiful Manitoulin Island on Georgian Bay during the summer season. Relax on the upper deck and take in the northern landscape, have a glass of wine, a craft brew or a cocktail in the lounge or check out the on-board art gallery. Or cruise the French River and Lake Nipssing in the North Bay area on the Chief Commanda II. Further north, you can book a sailboat, catamaran or Zodiac ride in Thunder Bay, or, new in 2021, Sault Ste Marie, via Sail Superior. Choose from a variety of options including a wine and cheese sunset sail, a birding cruise in the Welcome Islands or short harbour tours for an unforgettable experience on the big lake. 
Had to cancel that European cycling vacation? 
Ontario's northern roads are ready for you
If you want winding roads, urban routes or epic mountain biking trails, we've got lots! Cycle your way through the lakes, rocks and trees of the north, with lots of opportunities for stops along the way to check out local food, art and attractions. To get prepped, read an overview of northern cycling. You can also discover hidden gems on St. Joseph's Island, provincial parks, or northeastern Ontario or match your route to destination gelato and ice cream shops. 
Craving a world-class art gallery featuring the greats?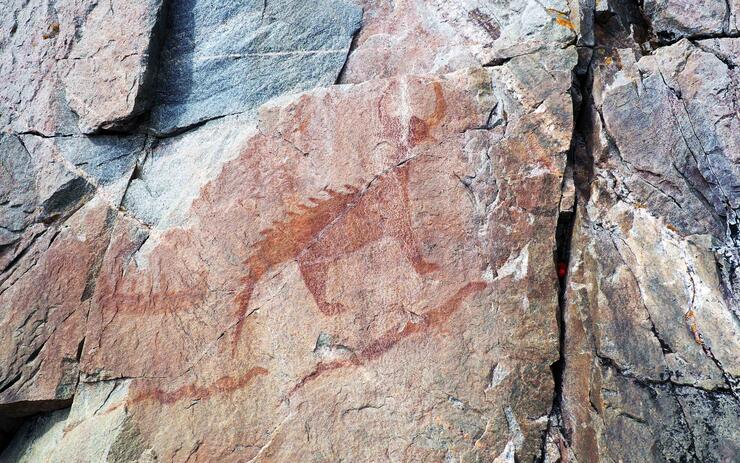 Tour the outdoor sites where Canada's renowned Group of Seven actually painted, through the Grand Algoma Drive that loops northward from Sault Ste. Marie along the shore of Lake Superior and into the northern interior. Along the route, you can explore interpretative panels to learn more and forge a connection to the art and the artists. Another option: at Lake Superior Provincial Park, south of Wawa, visit the Agawa Rock Pictograph site to view 35 stunning red ochre pictographs created by Indigenous artists generations ago, on a sheer rock cliff overlooking the great lake.    
Wish you could catch a wave in Hawaii or California?
Go kayak or SUP surfing in ontario!
At Michipicoten Bay, west of Wawa, you can surf the inland sea of Lake Superior. The shallow, sandy shores and southwest winds offer fantastic kayak and SUP surfing experiences, plus a public beach with a boardwalk that winds through carefully restored native dune vegetation and a lake view that's hard to beat.
Want the adrenalin rush of a New Zealand or Costa Rican zip line?
You can play in the treetops—or even over a vast canyon—in a variety of northern spots. Near Dorion, east of Thunder Bay you can take a ride on Canada's highest, fastest and longest zipline over a deep, ancient canyon. That site is also where you can take a deep breath and walk over Canada's longest suspension bridge, 600 feet long and 152 feet high over the canyon floor. Or, explore some of the many aerial parks scattered throughout Barrie and Muskoka cottage country.
Northern Ontario is immense, interesting and exciting—and right on your doorstep to safely explore.