What Does Fishing Have to do With Motorcycle Touring?
This question leads to: where and how do you strap a seven-foot fishing rod to a motorcycle?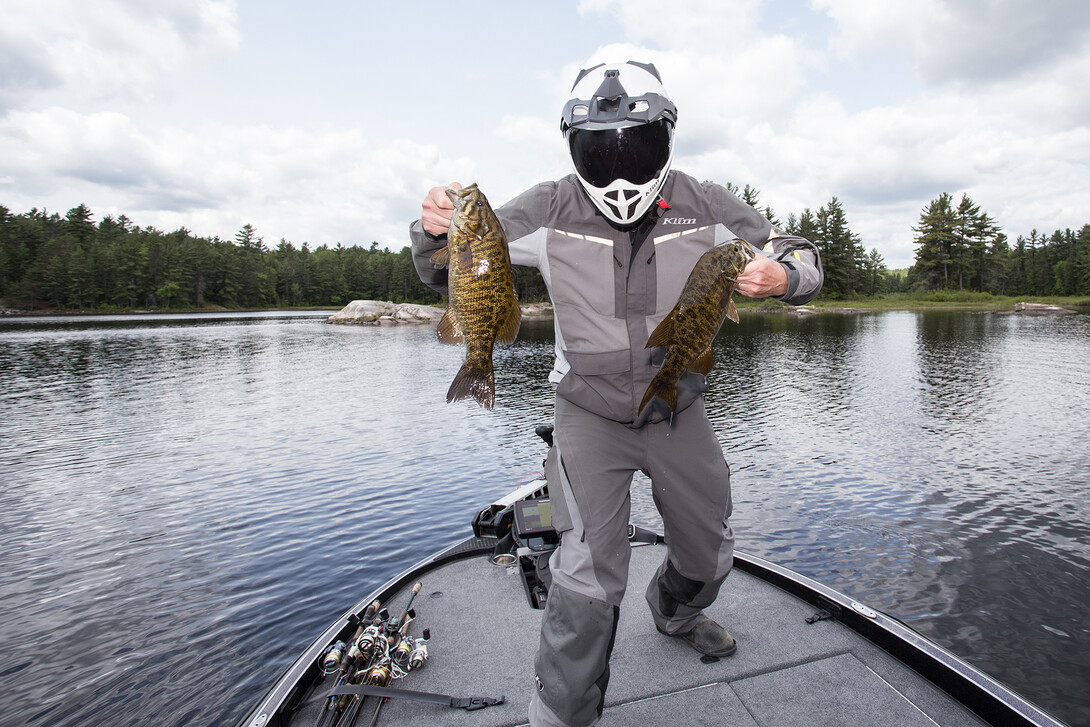 The Laurentian Lodge, Algoma Country. The day begins like so many in Northern Ontario, with a perfect sunrise reflection over a glass calm lake. The difference on this day is the accompanying rumble of a twin-cylinder boxer engine. On the moto touring agenda for today is the Deer Trail Loop. The 328-km collection of twisty roads is one of Algoma's most popular rides. Our early start to the day has nothing to do with ride anticipation, but everything to do with Algoma's other claim to fame activity: fishing.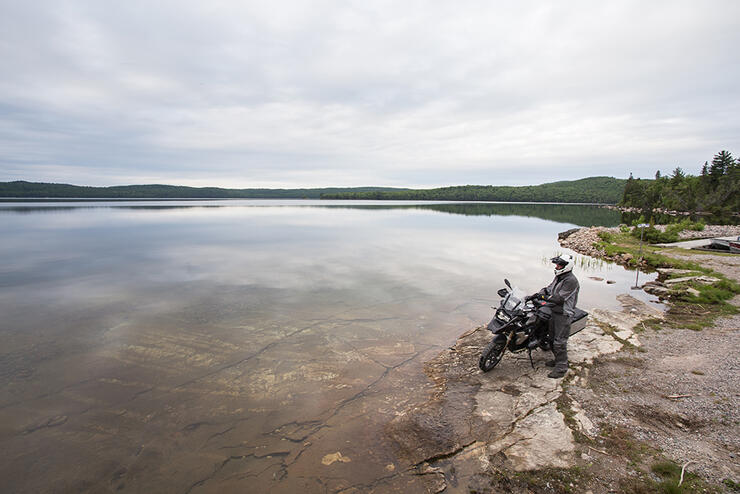 What does fishing have to do with motorcycle touring? Absolutely nothing. Confused? Allow me to explain. As a fan of exploring by motorcycle, when I get a regional travel guide in my hand, I feverishly flip through the pages to get to the moto trip planning info I'm after. In this case, the region is Northern Ontario's Algoma, and to get to the goods I flip through page after page of smiling faces and big fish. A light bulb goes off in my brain.
"Wouldn't it be awesome to get in a day of fishing on our next tour?"
Of course, one question leads to another: where, why, and how do I strap a seven-foot fishing rod to a motorcycle?
Enter Frank Clark—lifetime Algoma resident, pro fisherman, and fishing guide who the good folks at Laurentian Lodge simply describe as "the best." Most importantly, he is the owner of a big, shiny fishing boat full of fishing gear, and a honking big motor strapped to the back. About 45 minutes into our ride, we trade the rumble of our BMWs for that of a Frank's Mercury.
I think we would be happy just cruising the lakes in the boat, but five minutes in we come to a stop. Frank hands me a fishing rod and instructs me to cast in the direction of a submerged tree; a couple of turns of the reel and bam, fish on. Now I do fancy myself a beginner fisherman and have tossed a lure or two; as for my riding partner, not so much. Luckily Frank is what you call an instructional fishing guide—a few pointers and it's game on.
We spend the next six hours exploring a chain of lakes that we have all to ourselves. The breathtaking scenery is matched by the fishing action: a pile of rocks, smallmouth bass; weedy bay, another northern pike in the boat. All along, we enjoy the spoils of a guide who deals with hooks and tangled lines and even rolls out an impressive lunchtime spread—such a good day.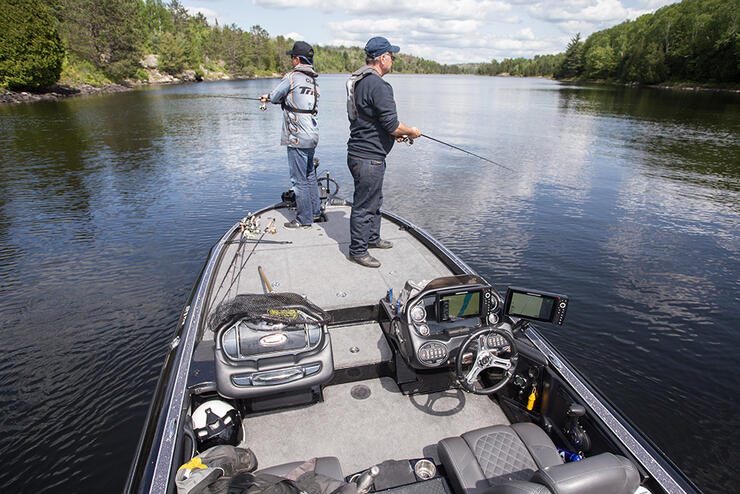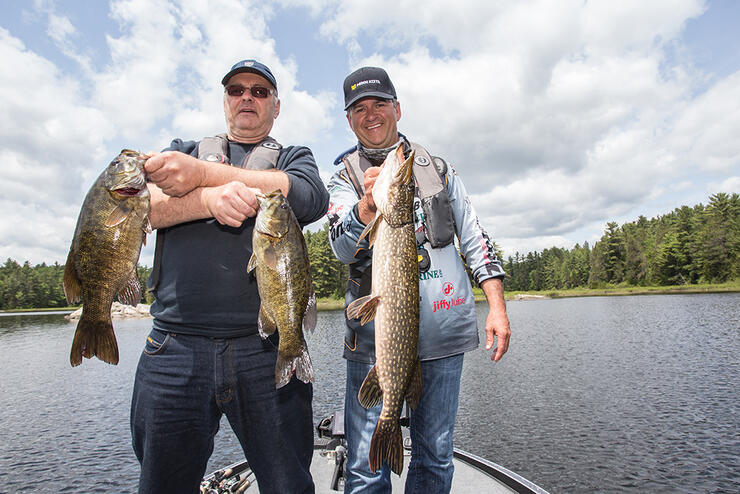 Back on the bikes, it's not over till it's over: we still have around 250 km to go. We stop for a coffee in Bling River and top up the gas tanks in Iron Bridge, then it's back to the lodge along Highway 546. A road we share with nobody for its 80-km length.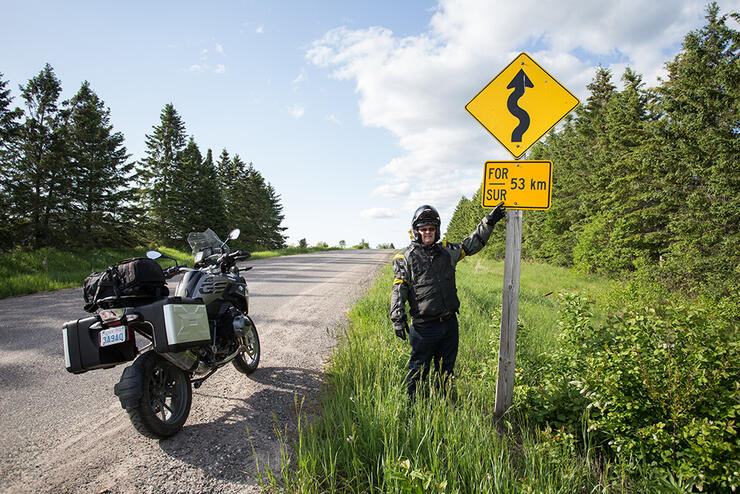 We step into the dining room just as the kitchen is closing. When you're late to the table, you can't be choosy. We leave fate in the hands of the chef, who in true Northern hospitality style whips up a delicious burger that hits the spot.
All that's left is a nightcap on the deck overlooking the lake. As the wind dies down, the lake calms and the sun returns to where it started this morning, dipping behind the horizon. What an awesome day. Who would have thought—bikes, boats, and fish: we might just have stumbled on Algoma's ultimate adventure.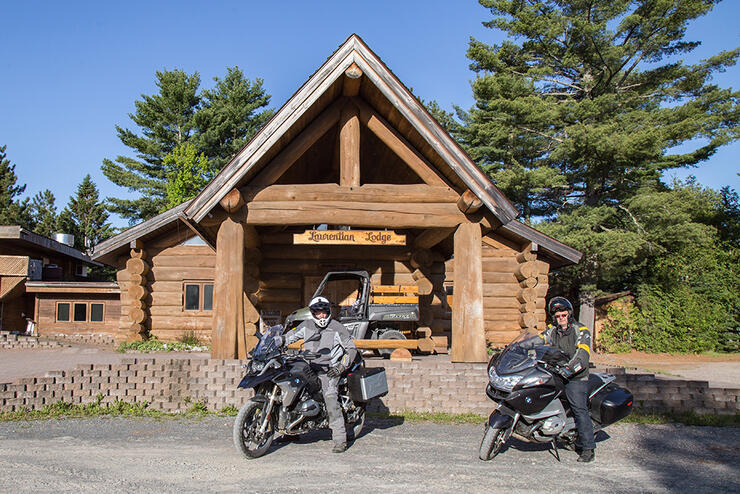 Notes from the Road
I can't say enough about the Laurentian Lodge. Awesome location, facilities, and hospitality. From cottages to rooms, there is an option for groups of all sizes. You can expect delicious food and a licensed dining room—what you can't expect is cell phone service or even WiFi in your room (there is WiFi at the main lodge).
There is actually good fishing right at the Laurentian Lodge. There are boats for rent, but you need your own fishing gear.
Be sure to drive with gas in your tank—it's 80 km west to the nearest gas station and probably half of that heading east.
A typical guided fishing outing has room for two and includes all gear and most of the time, even lunch. All you need to bring is your fishing licence.