Ride & Ice Fish This Winter
Lake trout, whitefish, and walleye await at these ATV-friendly lodges in Ontario.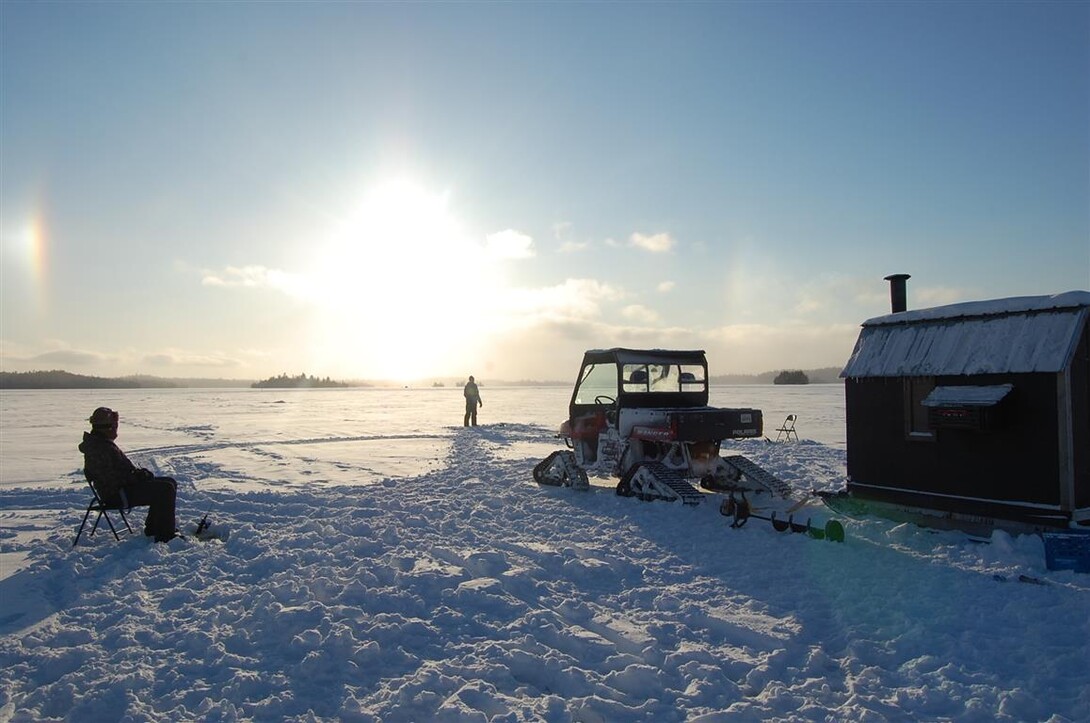 The legendary all-terrain vehicle (ATV) is an incredible machine and premier people mover for those who seek otherwise inaccessible wilderness—even during winter months. With Ontario winters, of course, comes my favourite cold weather activity: ice-fishing! What a beautiful marriage these two make! Imagine cruising across a blanket of snow and ice towards a winter fishing honey hole and, following a great catch, returning to a comfortable lodge for the night. Sounds like dream to me!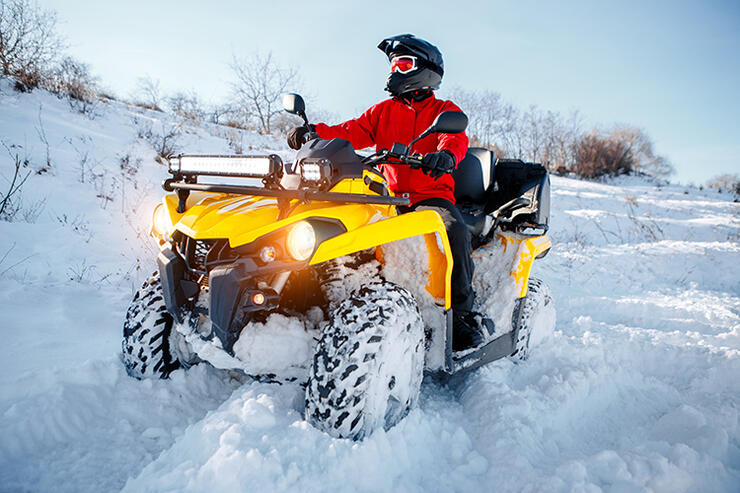 As luck would have it, a handful of Northern Ontario lodges cater to both ice-fishing and ATVing and eagerly await your visit during a truly picturesque time of year. Talk about the perfect one-two punch for enthusiasts who seek winter wilderness adventure while also requiring comfortable accommodations. 
Here are 3 Ontario lodges with top-notch ATV and ice-fishing opportunities.
1. Mattawa Adventure Camp
Located in Ontario's famous near north region is Mattawa Adventure Camp, a lodge with, you guessed it, tailor-made packages for ATVers and ice anglers in mind. Their current ATV All-Inclusive Package includes a fully equipped cottage with wood stove and firepit. The package also includes delicious home-cooked meals and non-alcoholic drinks, breakfast or brunch, and a tasty three-course dinner. Live evening entertainment is also available. Rate per person per day: $120.00 plus tax. Rate per person for two days: $ 115.00 per day plus tax. Mattawa Adventure Camp is situated in the epicentre of thousands of lakes and rivers with superb winter fishing, also very close to the Voyageur Multi-use Trail System (VMUTS).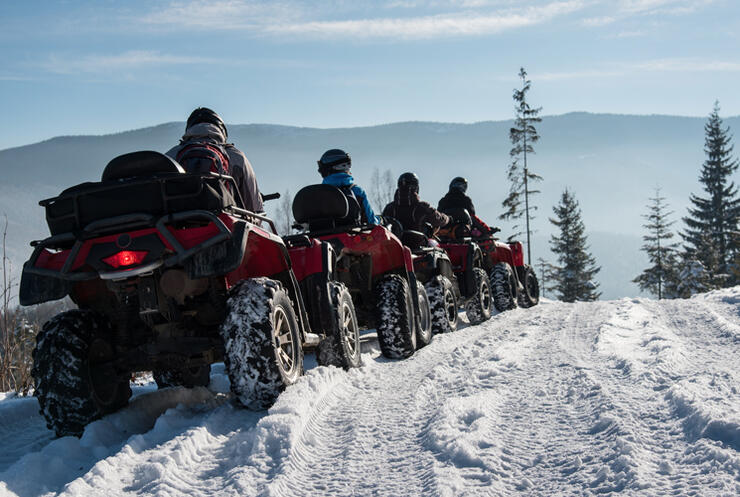 Voyage Voyageur Multi-use Trails
The Voyageur Multi-use Trail system (VMUTS) boasts a network of trails running between the Algonquin Highlands and the Laurentian Mountains. This fabulous trail system incorporates old logging roads, forest paths, and open fields. Every part of the trail is marked with an off-roader skill set in mind, identifying levels of difficulty. VMUTS is ideal for enthusiasts who need access to lakes and rivers with winter fishing opportunities.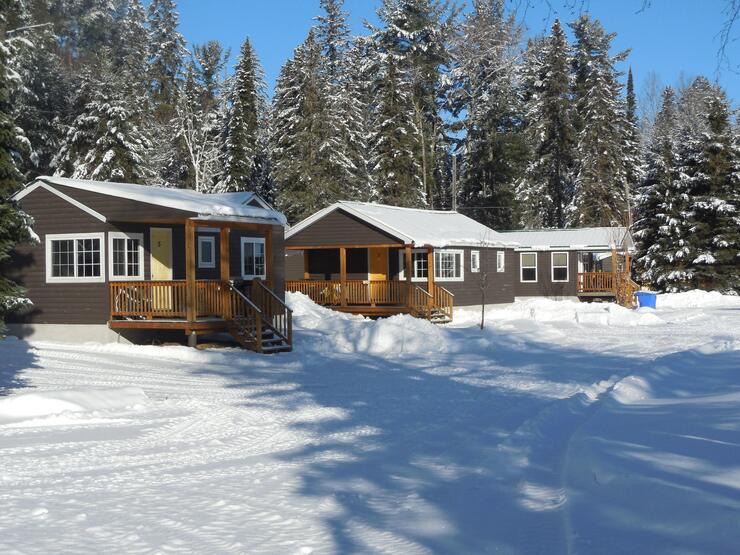 Another resort that understands the beauty of an ATV/ice fishing combo adventure is Edgewater Park Lodge. Edgewater is in the Almaguin Highlands and benefits from its proximity to hundreds of miles of ATV trails. This winter Edgewater is offering a wonderful private 3-bedroom, 2-bathroom cottage with ATV anglers in mind! The cottage, with a dining area large enough for 6 people, also has a corner propane fireplace, open concept kitchen, and living room. The winter cottage package includes satellite TV with Wi-Fi and a large yard for parking your truck and ATV trailer. It also has a covered porch with BBQ, a campfire pit and backup generator, just in case. The cottage has access to ATV trails only 0.5 KM away. Rates start at $390/night plus HST with a three-night minimum. Weekly rates start at $2380 plus HST. Contact Edgewater for more information.
Temagami Shores Inn is a family-run operation and another lodge that loves its winter clientele, especially ice anglers and ATV enthusiasts. Located on the northeast arm of Lake Temagami—an expansive body of water (and ice) around 60 km in length with 4800 km of shoreline and 1259 islands. The lake is extremely deep with lake trout, whitefish, and walleye being the top winter catches for anglers. Staff at the lodge will outfit clients with ice-fishing huts that boast wood-burning stoves, and one heated with propane. Each ice hut comes equipped with a stationary table, 2 seats, a bench, cooking supplies, and a rack to warm your clothes. Anglers can arrange with staff at Temagami Shores to prepare hot meals in advance such as pots of stew, chili, or soup each day to heat up in the ice hut while fishing. Give Temagami Shores Inn a call for more information.
plan your ontario ice fishing and ATV lodge adventure today 
Before heading off into Ontario's north country this winter, be sure to consult with the Ontario Fishing Regulations regarding winter angling rules and license requirements. ATV owners also remember your machine needs to be plated, and you must carry valid liability insurance under a motor vehicle policy. ATVs must also meet motor vehicle safety standards prescribed for restricted-use motorcycles in the Motor Vehicle Safety Act. 
Enjoy a wonderful ATV-fishing combo trip this winter at one of these three awesome lodges. Be safe and have fun!