Explore Elliot Lake by ATV
With 300 km of wilderness trails, Elliot Lake is made for all levels of ATV adventuring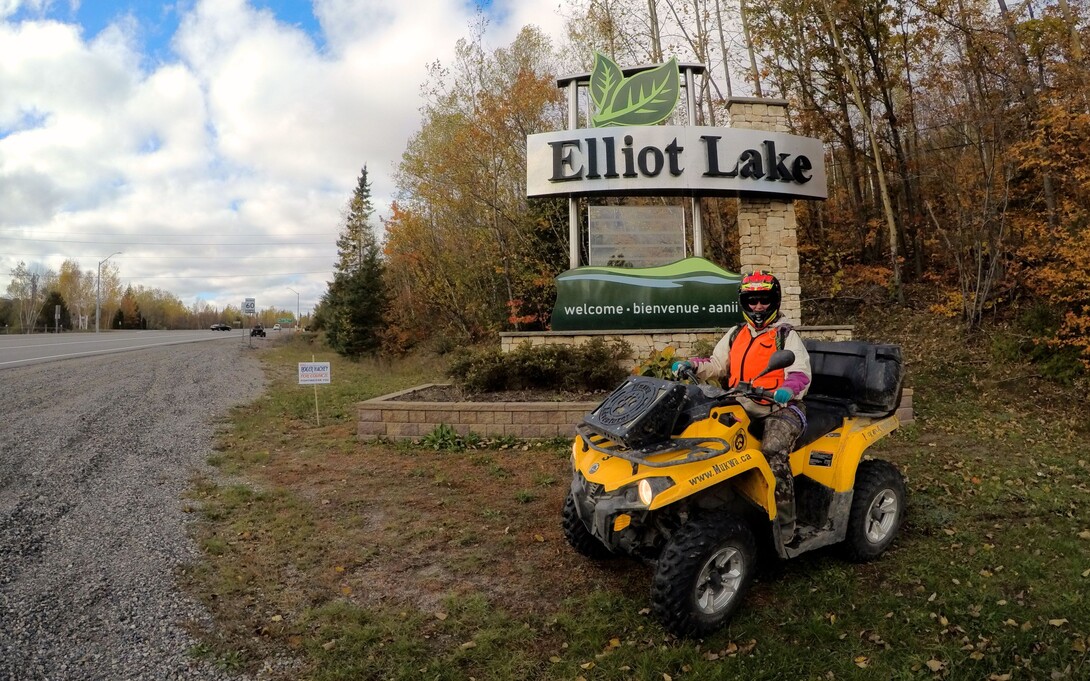 If you're on the hunt for ATV adventures in pristine Northern Ontario wilderness, Elliot Lake's 300 km of trails will take you on a ride through boreal forests and along the shores of lakes and rivers.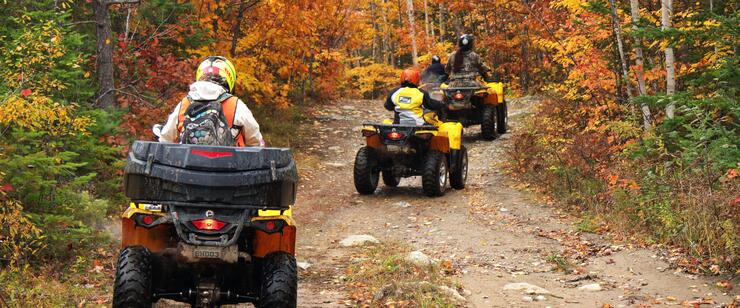 Located between Sudbury and Sault Ste. Marie, Elliot Lake is part of the Algoma region, with Lake Superior to the northwest and Lake Huron to the south. Dotted by more than 4,000 smaller lakes, the area is known for its rustic outdoors, where the dense, old-growth forest parts to reveal some of the best trails and trout-stocked fishing waters in the province. Maintained by the Elliot Lake ATV Club, the looped trails are part of a shared-use program with the snowmobile club, walking club and mountain biking club. 
As the hub of the trail system, the city of Elliot Lake is optimized for ATV riders, allowing road use and offering ATV-friendly accommodations, restaurants, outfitters, and other amenities that make riding off the beaten track and into the wilderness even easier. 
Elliot Lake ATV Club at your service
At 110 members to date, the club has become an integral part of the Elliot Lake community. Members flock to club rides every Wednesday and Saturday and monthly trailer rides out of the city, but they're just as keen on their fundraising coffee club and volunteering at events that raise funds for the local hospital's CT scanner. 
"It's not just an ATV club," emphasizes Elliot Lake ATV Club president Tony Morano. The club hosts several ATV events throughout the season, including the Elliot Lake ATV Club Fall Run—a daytime event that ends with a BBQ steak dinner and door prizes—and participates in ATV club events across Northern Ontario to help promote their trail systems. 
All Elliot Lake trails traverse the rugged Canadian Shield, with some proving more challenging than others. With rivers and lakes around every corner, expect to get wet in spring and fall. Pick up the club's ATV trail system map and ATV permits at the City of Elliot Lake Welcome Centre, housed within the Lester B. Pearson Civic Centre. The map includes trail details, ratings and GPS coordinates.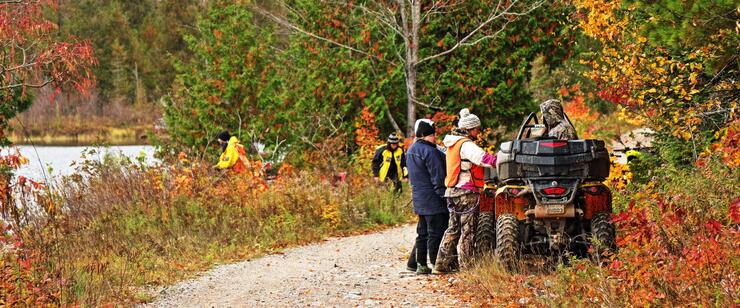 "If there's anything else that ATVers need to know, they can give me a shout," says Morano. "I'll usually just ask them 'What are you looking for?' because not everyone wants to ride a simple trail. If you want to do some extreme rock riding or playing in the mud we have that, or if you want to go for a nice daily cruise we have those trails as well. We have a trail for everyone."
Not only are Elliot Lake ATV Club volunteers around to provide trail tips, but they work throughout the season to consistently sign, maintain, and clean up every trail, keeping the system safe and pristine. "We take pride in our trail maintenance, and the group we have out there is fantastic," says Morano, adding that club membership and trail system permit fees are the main funds the independent club has for maintenance, with some input from the municipal government. "We're out there ourselves with the backhoe clearing the big rocks and trees; we want it to be safe."
Trails and expectations
An AVT tourism "hotspot" in the north, Elliot Lake's reputation draws riders from Manitoba to Michigan, Illinois to Ohio.  "We like to meet up with riders from out of town, give them our advice and then hear their feedback on our trails," says Morano, adding that "it's 99% positive feedback. They love that the trails are well-maintained, the signage is good, they're not worried about getting lost out there. Riders feel confident on the trails."
For a scenic day out, take the 60-km May Lake Loop, an easy-to-moderate trail that still gives riders access to rugged wilderness from rock cliffs with great views to wide bridges and quiet lakefront rest stops. On the other end of the ATVing spectrum, Portage Run takes advanced riders on a challenging 49-km loop through rough, muddy and rocky trail. 
Portage Run is an extension of the easy-to-moderate Boardwalk Run, one of the first scenic trails developed by the Elliot Lake ATV Club, featuring water crossings and views across Horne Lake and Elliot Lake. Another Portage Run extension, the Boreal Forest Run, leads from a wide and smooth power line trail through to old growth pine and birch forest. Explore the system's other trails to discover more terrain and lakes, rivers and wildlife along the way. 
The 300+ km trail system is also insured, meaning that if you injure yourself while on the trail system, you're covered by insurance. The trail map, good signage, and maintenance lessen that likelihood, directing all levels of rider to the trails that are right for them.
Natural and historic sights
One of the many places of interest in the area, located along the popular 120-km Deer Trail Touring Route, the Elliot Lake Fire Tower Lookout and Heritage Centre is just minutes from the city off highway 105. There you'll see a 360-degree view of the city of Elliot Lake and beyond to the North Channel of Lake Huron and Manitoulin Island. If you're interested in mining history, a map at the lookout points out former mine sites—for all the details, stop by Elliot Lake Mining Monument and Memorial Park, with incredible views from the shores of Horne Lake, and the Elliot Lake Nuclear and Mining Museum and Canadian Mining Hall of Fame, illustrating the history of the area from First Nations communities to the legacy of logging and mining.
The Elliot Lake area is also teeming with wildlife, including deer, moose, bears, porcupines, and raccoons. "They call it being 'bear-wise' up here, but you need to be moose-wise and deer-wise too," says Morano. While most animals scurry at the sound of a motor, you'll still have to keep your eye out, especially if you're stopping to see a view or do some fishing. Avoiding animal collisions is another reason to stick within speed limits. 
If you're into spending some time off your ATV, the protected Sheriff Creek Wildlife Sanctuary provides more chances to see the variety of birds, mammals, and reptiles that live in the area's waters, fields and forests, while the 12,000-acre Mississagi Provincial Park, 25 minutes north of Elliot Lake, gives visitors the opportunity to hike along cliffs, walk through valleys, paddle spring-fed lakes, and do some backcountry camping. 
ATV-friendly places to stay
For a small city, Elliot Lake offers a choice of ATV-friendly accommodations. Located on Dunlop Lake, 15 km north of Elliot Lake, Dunlop Lake Lodge provides direct access to the trail system and offers breakfast and group packages. Offering chalets with two to four bedrooms, Laurentian Lodge is 32 km north of Elliot Lake and adjacent to Mississagi Provincial Park. 
The Hampton Inn by Hilton Elliot Lake is located right in the city for visitors who prefer a hotel stay, while the Red Rose Bed & Breakfast is a homey place to stay on centrally located Porridge Lake. Or if you're driving up in a trailer or ready to set up your tent, Elliot Lake's two campgrounds just north of the city happily hosts ATVers—they're right on the trail system too. For all the details on accommodations, including wilderness lodges and camping, see the City of Elliot Lake site.
If you're looking for some impressive Canadian wilderness packed with expertly maintained ATV trails not far from all the creature comforts, Elliot Lake has you covered. 
Check out our series on Ontario's best ATV trails: