The Ultimate Guide to Winter ATVing
ATVing in winter is an amazing way to get outdoors and enjoy the snow. Here's a guide on what you need to know before you go—from where to ride to what to wear. Have fun!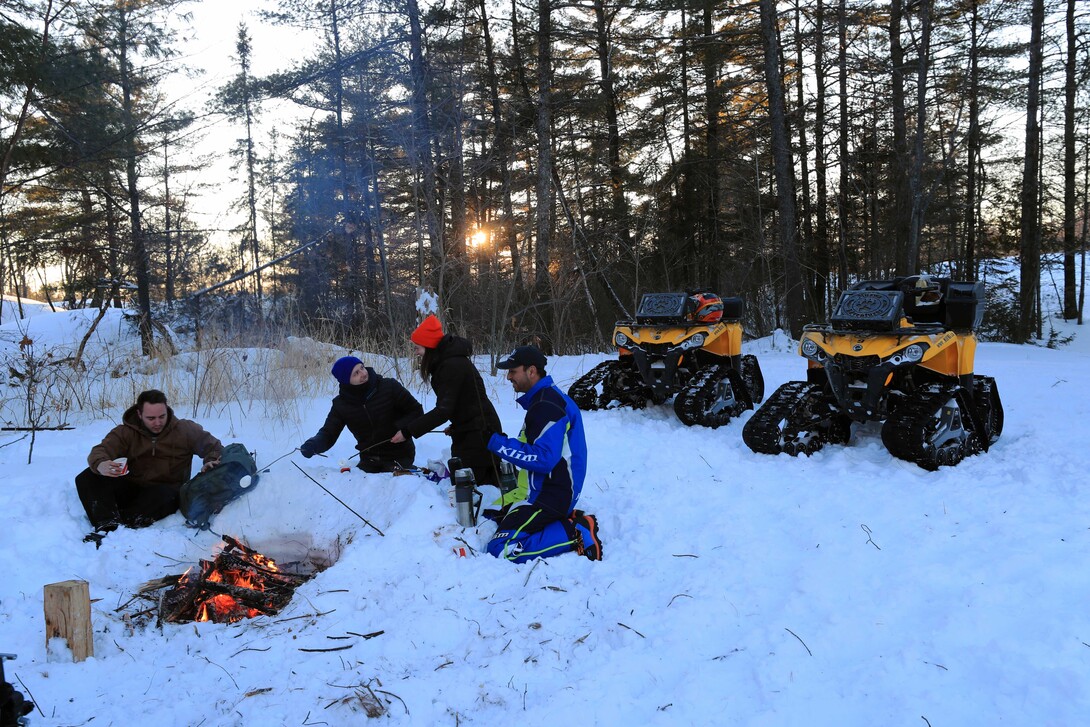 Winter ATV/UTVing is quite fun, and it's a great way to extend your riding season in Northern Ontario. So this winter, here's why you should keep your equipment mobile and ready to go instead of storing the batteries and bike. It's also cost effective because your ride should be already licensed and insured, so unlike snowmobiling, winter ATVing means no additional expenses necessary (unless you choose to track up your ride—more on that later). Anything short of having a snowmobile, licensed and with an OFSC pass to boot, can be just as much fun on an ATV!
Winter ATV/UTV riding is a great option for you to consider. So just get out there and enjoy the great Ontario outdoors!
Wheeled versus tracked ATVs
There are distinct differences between riding a wheeled ATV (all-terrain vehicle) or UTV (utility terrain vehicle or side by side) in the winter and riding tracked equipment. Knowing the limitations of your equipment, and riding within them is critical for the safety of everyone.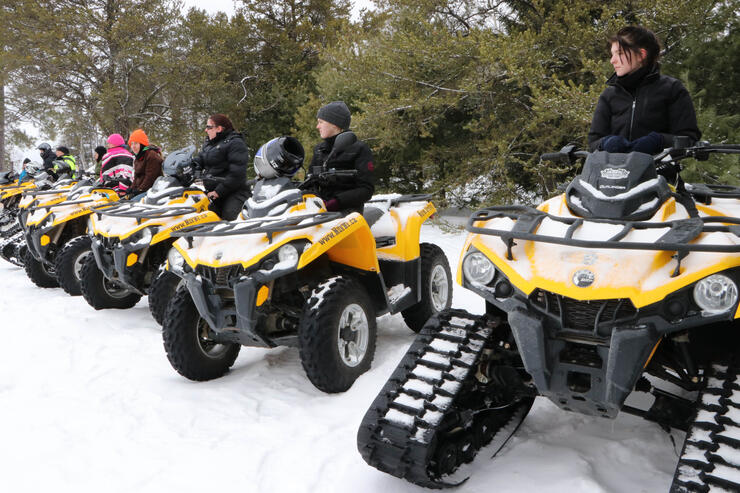 While wheeled ATV/UTVs are great riding after a light dusting, they can struggle in deeper snow—anything above 6-8" depending upon snow density. With this much snow, your ATV will have increased difficulty getting up hills, etc. Some people choose to use tire chains to solve this issue. This is decent for shorter rides out to say, a fishing spot on the ice, but chains really force you to drive at slower speeds all the time. Another option is to purchase studded tires which are great in icy conditions, and they do help overall, but they also have their limitations in deeper, heavier snow.  
Tracked equipment, however, "floats" atop snowy surfaces—performing as well as, or even better than snowmobiles in some cases. The best way to enjoy winter ATVing, If possible, is to invest in a track kit for your bike. Tracked is definitely the way to go.
9 top tips for safe atving this winter
Winter ATVing is an amazing experience, but it's important to stay safe while out on the trails. All standard equipment maintenance issues apply in the winter—in fact, they're extra high priority. The need to dress warmly is another obvious difference between summer and winter riding—keep warm with snowmobile or other similar gear, especially when it's very cold.
1. Choose your helmet wisely
Snowmobile helmets are preferable, full face, with double layer visors to reduce fogging, heated visors are also possible if you rig your bike for them. UTVs with full cab/heat won't have this problem, and their summer helmet is likely fine.
2. Invest in weather-proof boots
Get a pair of waterproof high boots rated for temperatures between -40c to -70c.
 3. Don't forget those gloves
Warm snowmobile or ski type gloves are needed, I also have grip and thumb warmers on both our bikes that I put on aftermarket, great for fall and spring too! Brush guards on the grips really help with the cold wind on your hands/gloves. 
4. Bring a winch (or two)
Winches are a must for any real winter riding, along with extra tow straps, I carry two extra tow straps, they are very useful. Using the extra strap to tie the winching ATV to a convenient tree gives them much more pulling power for those special situations. They are also the best way to tow a disabled unit around.
 5. There's safety in numbers
Having two or more bikes in a group are important to ensure safety, particularly when riding in areas where it's too far, or too cold to walk out of. Be sure and keep all parties in your group close, and within easy sight. Rearview mirrors are a great asset that helps reduce neck issues.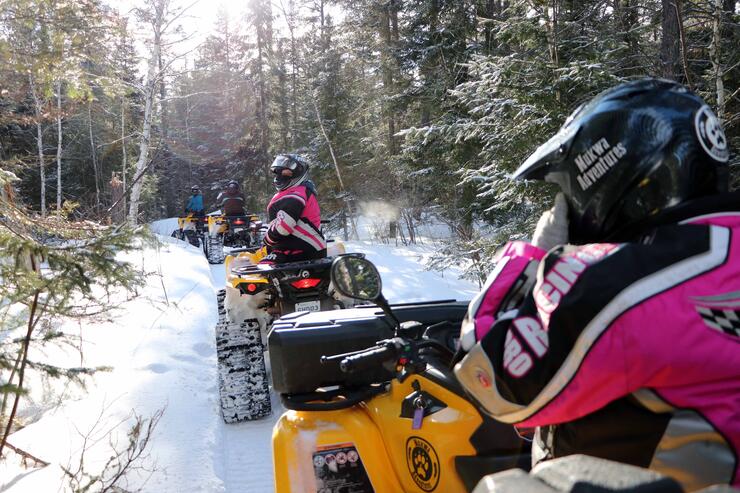 6. Do a dry run
You need confidence that your equipment will start outdoors in the wind and cold, such as after hours of ice fishing, etc. I suggest leaving your equipment outside in the wind and serious cold at home first, and make sure it will start reliably. Any weak link, like an old and tired battery, will manifest itself in bad conditions, and leave you stuck at the worst possible time. 
 7. Bring a toolkit and spare equipment
I always carry a battery powerpack, starter fluid, and jumper cables in my toolbox for emergencies, and to help others as well, along with a healthy tool kit.  This is more important for ATVs / UTVs than snowmobiles, because snowmobiles usually still have a pull start, and most ATVs/UTVs don't.
 8. Be extra cautious when lake riding
Lake riding requires extra caution, knowing ice conditions, where you are, and how you will get off the lake at all times. Heavily travelled and hard packed areas on the lake are preferable, soft / slushy areas are anathema to ATVs / UTVs with tires particularly as it's really easy to get stuck, and quite hard to get out of, with the extra serious risk of equipment freezing in the ice should you fail to get it out. Lakes with staked OFSC trails are the very best because they have been drilled and tested for thickness every few hundred feet, and the stakes are pulled when the ice gets iffy later in the season. If you don't know, don't go!
9. Respect covid guidelines 
Covid is our new problem to deal with this year. So while riding with other members of your family is an excellent opportunity to get out and enjoy the great Ontario outdoors, it's important to respect the communities you're visiting and obey local guidelines. The rules seem to change every week, so please refer to the Ontario Covid website for local restrictions and travel restrictions before you leave your designated area.
best places to go Winter ATV / UTV riding in Ontario
Many local clubs have had a few seasons of winter riding, but only Haliburton Forest and the Lake of Bays ATV club have been able to make it stick over the longer term and they both groom hundreds of kilometres of trails for ATVs, and Lake of Bays has loads more trails not groomed, and meant for tracked ATVs and UTVs. Both options are in the Haliburton region, 2-3 hours from the GTA or the Ottawa areas. 
Lake of Bays ATV club has a brand new groomer for the ATV/UTV trails, and they have been making an impressive effort on their winter trails for quite some time.  They have groomed trails for vehicles with tires, or tracks, and ungroomed trails as well for tracked vehicles only. All valid pass holders from Lake of Bays ATV club, Haliburton ATV club (HATVA) and Algonquin West ATV club (AWATV) get to ride LOB trails in both summer and winter. Sorry, OFATV passes do not work there. It does not appear that the OFATV operates winter trails anywhere within their system. A winter trail pass will run you $50, or $125 for a year-round pass that includes winter riding, and that pass also works at all the listed clubs above. A map that identifies groomed and ungroomed winter ATV/UTV Lake of Bays trails is available here. Please do the right thing and buy the correct pass, these trails, bridges, and grooming don't just "appear," so we need everyone to do their part. Many of us also like to just ride down the "road" etc. and out to the lake and spend the day ice fishing, etc. The best part? It's pretty much free. 
Check out the Lake of Bays ATV Club for more info: https://www.facebook.com/BaysvilleATVClub
Haliburton Forest is 100,000 acres of really beautiful land, with 400 kilometres of groomed trails for ATVs and snowmobiles, it is the only place in Ontario that permits sleds and ATVs on the same trails at the same time. Note: UTVs are not permitted here. It's a classic stop as it gets early snow, open to sledders long before other trails, because of their early snowfalls being on top of the Algonquin Dome, and the fact that they are also the only ones I have heard of with mobile snowmaking equipment they take out on the trails to fill in weak spots, etc. They only let in 100 ATVs / sleds per day, so reservations are essential. Lodging, a restaurant, and even hunt camp spots out in the bush are all available for you to enjoy. ATV's ride year-round, and snowmobiles when the grooming is ready. Check their website for trail conditions.
Check out the HATVA / Lake of Bays map that identifies groomed trails (tires or tracks) and ungroomed trails for tracked ATV/UTV. 
Head further north, into Ontario's Algoma Country, and we've got Mukwa Adventures. For about five years now, they've been taking riders of all experience levels (including complete newbies) on ATV tours. Their winter tours are especially popular. Working in collaboration with various lodges and resorts in the area, they bring their mobile fleet of machines and all the safety gear to wherever it is you want to explore. This means they have access to thousands of kilometres of trails. 
Get in touch to see what kind of tour they can put together for you.
Plan your winter ATV/UTV trip to northern ontario now
Now that you're prepared with some important tips for winter ATV riding, start planning your winter getaway now. For more in-depth info on all-season ATVing all over the province, check out OntarioTravel.net.