ATVing in Ontario - By Region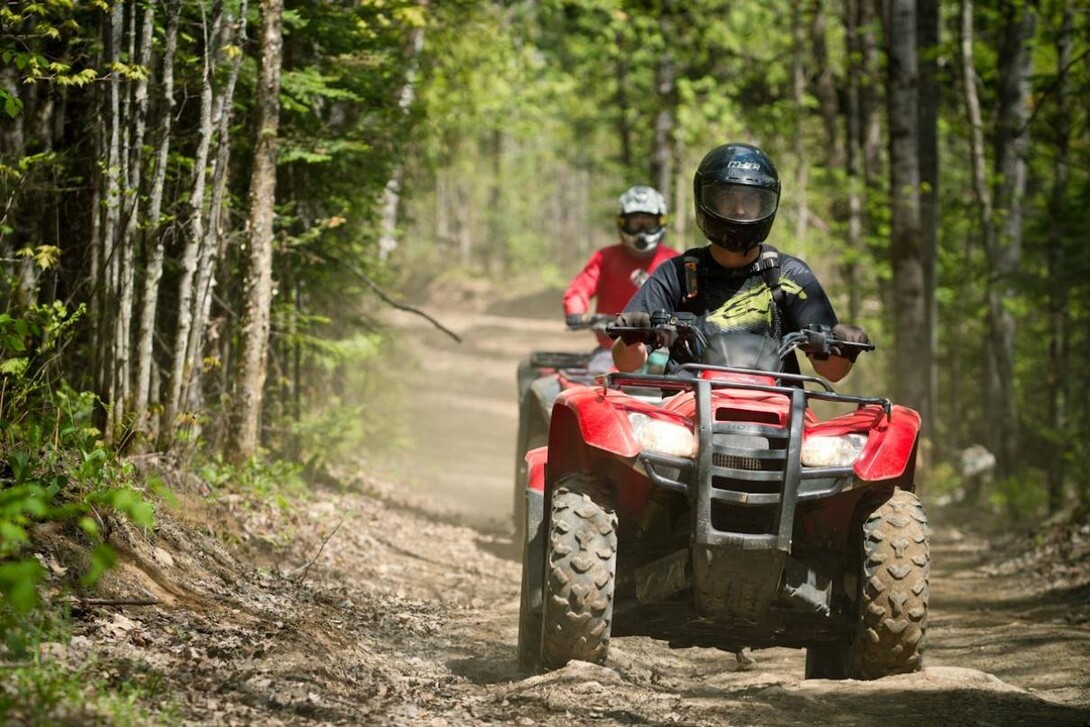 PLEASE NOTE: This article is a work in progress, currently being updated. If we've missed anything, feel free to comment below, or email us at ian@thenewbusiness.ca
Whether you prefer to explore the wilderness on your own or take a guided tour, Ontario has thousands of miles of trails and unlimited destinations to challenge and inspire you. Ontario's ATVing experience is as big and diverse as the province itself, with world-class trails set along a backdrop of unparalleled scenery. Awesome communities like Elliot Lake, Haliburton, Parry Sound, Mattawa and Cochrane, not to mention large parts of Eastern Ontario, make Ontario a premiere destination for ATVers.
1 - Ontario's Southwest
2 - Niagara 
3 - Hamilton, Halton and Brant
4 - Huron, Perth, Waterloo and Wellington
5 - Greater Toronto Area
6 - York, Durham and Hills of Headwaters
7 - Bruce Grey Simcoe
8 - Kawarthas and Northumberland
9 - South Eastern Ontario
10 - Ottawa and Countryside
11 - Ontario's Highlands—Haliburton Highlands to the Ottawa Valley
12 - Explorers' Edge—Muskoka, Parry Sound, Algonquin Park
13 - North Ontario Region:
Northeastern Ontario
Algoma Country
Sunset Country
The Niagara region is full of natural beauty and wonder, making it a great place to go ATVing as well. The Quad Niagara ATV Club operates locally, promoting ATV culture both on private property, as well as Quad Niagara/OFATV legal trails.
About an hour west of Toronto, you can find sun-drenched beaches, canoe along the Grand River, and visit picturesque heritage towns.
 N/A
 N/A?
Bruce Grey Simcoe is a wonderful area to go camping, fishing, golfing and taking in festivals and events. Bringing along your ATV just adds to the experience!
No matter what your preference, there's lots to make you smile in Kawarthas Northumberland. Ganaraska Forest has earned a reputation as a hotbed for ATV and dirt riding, offering some 11,000 acres to explore. Visit Fenelon Falls, or check in with the Kawartha ATV Association to help enhance your ATVing experience. 
If you're going ATVing in the Ottawa area, the Ottawa Valley ATV Club is probably a good place to start. Keep in mind, also, that from the Ottawa area you're only about an hour away from the Calabogie Motorsports Park. For non-motorized activities, the region is also a fabulous place to go mountain biking.
There's an entire world of rugged terrain just waiting to be discovered in the region. ATVing in Ontario's Highlands, whether self-guided or by guided tour, offers a great way to experience nature with family and friends, exploring the landscape and freedom of the trails.
ATVing is fast-becoming one of the best ways to explore broad stretchs of natural landscape, with the popularity of the sport growing each year. This region has a lot of options in store, from the Old Nipissing Road and Ahmic Lake trails to the excellent Park to Park trail and many more.
13 – North Ontario Tourism Region
With thousands of kilometres of trails and roads, surrounded by unspoiled wilderness, this is a place where your inner ATV explorer can truly be discovered. 
In Mattawa, you can enjoy the well-maintained splendour of the Voyageur Multi-Use Trails system (aka VMUTS). Loop trails and packages are available between Sportsman's Lodge and Auld Reekie Lodge.
In early summer, the Wikwemikong trails and the Wiky Mud Run are the place to be. Along the Powassan trails, you'll find rolling terrain, pines and mountain.
As you're wending your way along the well-marked trails in Northern Ontario's wild back country, you'll discover the places that your ATV was built for. A variety of resorts and outfitters offer maps and other helpful information and resources, including equipment rentals and areas to do combined ATV and fishing trips. Elliot Lake is one of the best-known ATVing nodes in the area, and you can also transport your ATV via the rail line to lodges located along the line to ride.
Sunset Country in Northern Ontario is home to some of the best outdoor travel in the world, covering an area of some 60,000 square miles in the Canadian Shield. Aside from fishing and boating, the variety of outdoor adventures here is a little piece of paradise.