The 11 Best Burgers in Northern Ontario
From locally-sourced bison burgers to doughnut buns and special sauce–add these to your burger bucket list.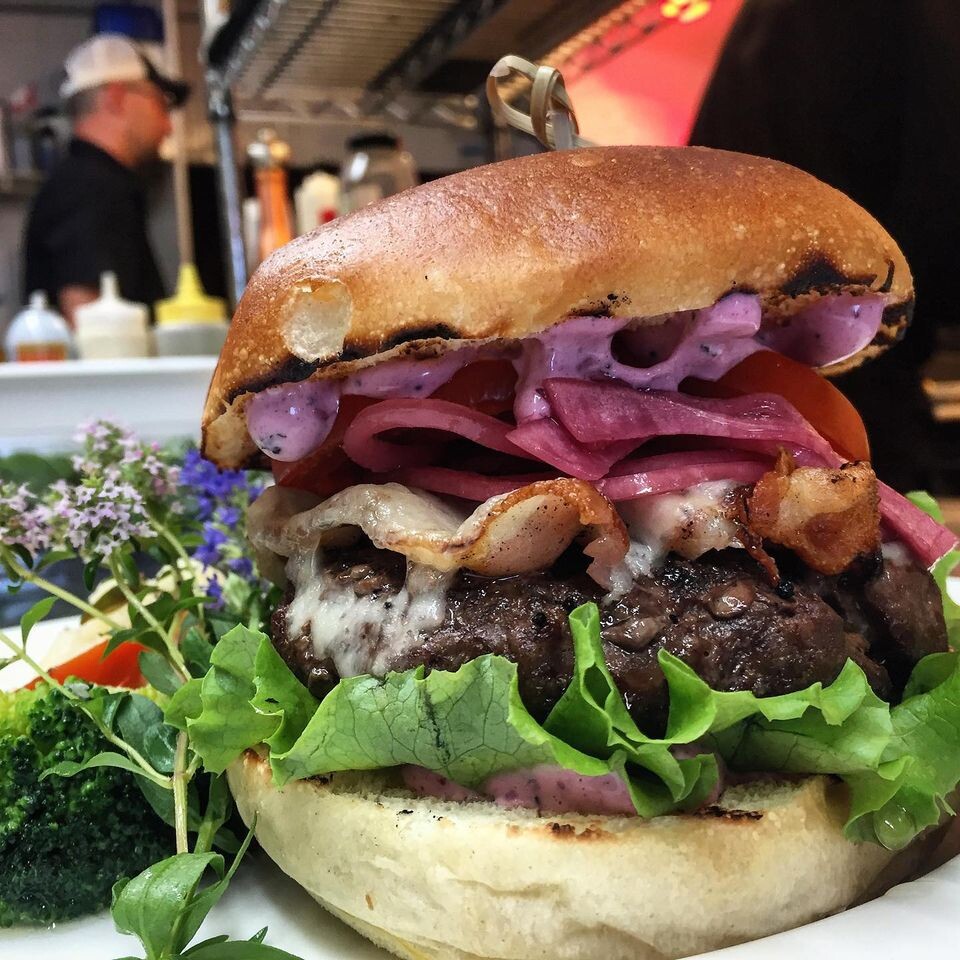 Whether it's an unfussy smash patty topped with a few simple condiments or a juicy round of ground beef piled high with inventive toppings, sometimes we all just need a good burger. Fortunately, Northern Ontario's diverse restaurants offer a burger to satisfy every kind of craving. Here are 12 delicious takes on the beloved meat-and-bun combo that belong on your burger bucket list. 
Local ingredients are the secret to the top-notch burgers served at Tap That Bar and Kitchen. Their patties are made from locally-raised, grass-fed beef and topped with cheese from nearby producer Thornloe Cheese. Tap That offers standards like cheeseburgers for those who prefer the classics, or you can kick it up a notch with their Jim Beam Burger, which is doused in a house-made whisky sauce. 
2. Burger Don, Sault Ste. Marie
At Burger Don, Sault Ste. Marie's prohibition-themed burger joint, diners build their own burgers by customizing every ingredient, from bun to patty, and choosing from dozens of different toppings. If you prefer to leave your burger to the experts, however, you can go for one of their specialty burgers, such as the decadent Doughnut Burger, which swaps out the traditional burger bun for a grilled honey-dipped doughnut. 
Hoagie's Diner serves its locally-sourced beef burgers with a side of nostalgia. At this 1950s-themed diner, customers nosh on juicy, 6 oz chargrilled burgers while enjoying throwback tunes and retro wall art. If you have a serious appetite, take the diner's burger challenge and attempt to conquer a whopping five-patty burger with a double bun. Burger lovers who can finish the feast in one hour win a commemorative t-shirt.
Head to Beefcake's Burger Factory when your craving calls for smash burgers, a burger style that sees the patties flattened onto a griddle to add crispy edges and a boost of flavour. At Beefcake, coarse ground 4 oz beef patties are seared to order and finished with fresh, pickled, or roasted veggies and house-made sauces. The result is a no-frills burger done right. Don't skip a side of freshly cut fries, which are made from potatoes sourced a 30-minute drive away at B & B Farms. 
At Lake of the Wood Brewing Company in Kenora, you can wash down your burger with beers from Ontario's northernmost brewery. Their Standard Burger sees a ⅓ lb certified Canadian ground chuck patty loaded with cheddar, bacon, lettuce, tomatoes, red onion, pickles, and — the key to its unique flavour — the brewery's signature hammer 'n sickle sauce, which tastes like a mash-up between Thousand Island and Russian dressings.
Opened in 2015, this down-to-earth burger joint stands out for its simple, high-quality ingredients. The restaurant grinds the meat for its burger patties daily, using a blend of beef from local supplier Penokean Hills Farms. The standard Stackburger comes with cheese, lettuce, tomatoes, onions, and their signature Stack Sauce. Complete your meal with their twice-fried fries and a hand-spun milkshake.  
Dida's keeps diners on their toes with its ever-changing line-up of imaginative burgers. The most recent burger feature at this homey restaurant was the Haskap Maple BBQ Bison burger, made with locally-sourced Rocky Ridge grass-fed bison. The Ringer Burger is a long-running favourite, topped with local cheese, smoked bacon, house-made bacon jam, onion rings, lettuce, and tomatoes. Can't decide? Most of Dida's burgers also come in mini-slider form, so you can sample a few different options.   
At Bob's Burger Bar, there's something new to try every time you visit thanks to their rotating Crazy Burger special, which changes every week. In the past, Crazy Burger toppings have ranged from avocado cream cheese to a root beer marinated patty. Stop by on Tuesdays and enjoy their signature Fat Bob Burger, loaded with tomatoes, onions, lettuce, mustard, mayonnaise, chili, and pickles, for half price. 
Burgers are made in-house at this cheerful family-owned restaurant in North Bay. The BBQ Bacon Cheeseburger is a favourite with regulars, featuring a grilled 4 oz beef patty layered with swiss cheese, two pieces of bacon, Forty Creek BBQ sauce, fried mushrooms, lettuce, tomatoes, and crispy onion strings, which are made in-house. 
At Red Lion Smokehouse, an inviting, British-influenced restaurant in Thunder Bay's waterfront district, almost everything on the menu is made from scratch and their hearty burgers are no exception. Burgers are shaped in-house using beef from local butcher Maltese and come with a trio of house-made sauces — BBQ, aioli, and miso mustard — as well as coleslaw, which is made fresh daily. Their maple bacon and smoked cheddar burger is a particular standout, topped with bacon and cheese, both of which are smoked on-site. 
Located on Crimson Ridge Golf Course in Sault Ste. Marie, Embers Grill offers a sophisticated take on the fast food classic. Embers' burgers are made with steak cuts from nearby Penokean Hills Farms, which are aged for a minimum of 45 days and then ground in-house. The burger is layered with house-cured pork and beef brisket bacon, aged white cheddar, house-made honey BBQ sauce, lettuce, Cajun-fried onions, and roasted tomato relish.  
Great ready to enjoy the best, heartiest, and most creative burgers Northern Ontario restaurants have to offer! Which one of these amazing Northern Ontario burgers are you going to try first?