The Best Place to Ride in Northern Ontario is Watershed 144
We asked our most avid motorcycling friends to tell us definitively: What's the best place to ride in Ontario? Here's what they said.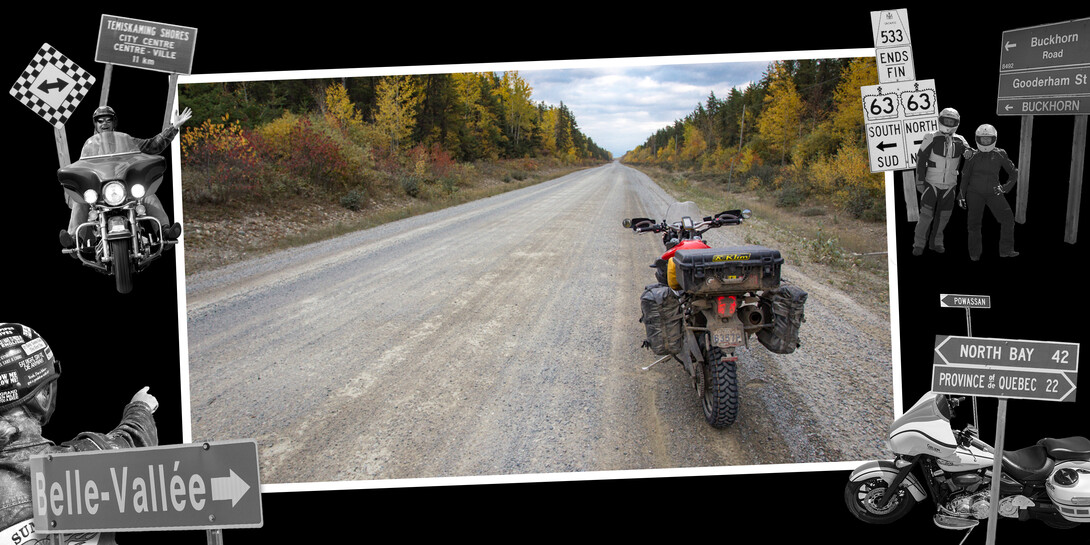 We love riding in Ontario. And we love debating the best routes, roads, and destinations. To finally settle the score, we reached out to our most avid motorcycling friends and asked them to tell us definitively: What's the best place to ride in Ontario? We got a lot of passionate replies—from a truck stop to a city of waterfalls. Which one is your fav?
What's the best place to ride in Northern Ontario?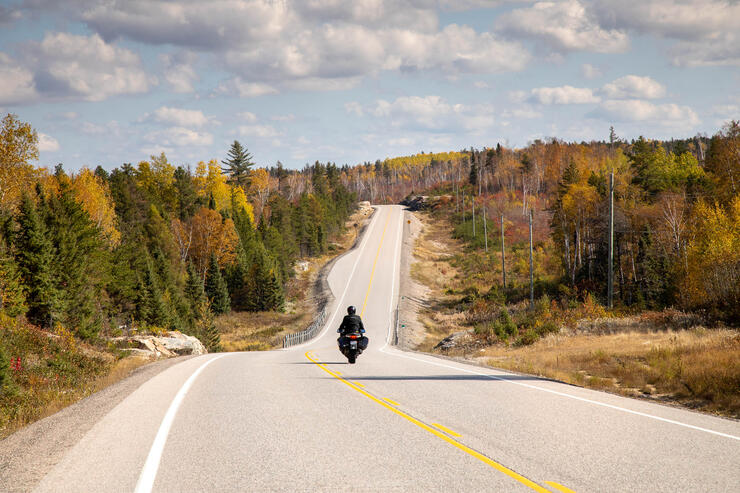 Hmmm, a straightforward question, not an easy answer. Would it be the north shore of Lake Superior? Man, those views! Maybe a couple of days twisting and turning through the Ontario Highlands? Perhaps a quick day trip in Muskoka? All potential choices, but the more I think about it, the place that keeps coming up has nothing to do with a memorable destination but much to do about getting there, and that place is the Watershed 144. 
Located at the crossroads of Highway 144, 560, and the Sultan Industrial Road in Gogama, Ontario, the only reason for being here is because you are on your way somewhere else. As implied in the name, this is also the location of Ontario's Watershed, so I would like to say, "welcome to the top of the world," but with the lack of a grand view in any direction, I'd say it's more "welcome to the crest of Ontario." (The official Arctic Watershed 144 Rest Area is a few kilometres north along Highway 144) 
Yes, Watershed 144 is a truck stop. (And a restaurant, gift shop, tuck shop, LCBO, RV park, and motel). Dominated by a large dirt lot bumped up by the constant flow of trucks, from pickups to log hauling goliaths. Its primary purpose is to refuel the machine and body, and it seems my every arrival required just that. 
My first time here was at the end of a long day of gravel and trail, making our way from Wawa east along the Trans Canada Adventure Trail (TCAT). We just had the pleasure of having the Sultan Industrial Road all to ourselves as the day faded to night. Tired and hungry, it was prime rib night at the Watershed 144 and man, was it good. Reenergized, we searched for a room for the night in Gogama. Eventually, we settled on a lakeside campsite which turned out to be perfect. As I remember, the Milky Way was spectacular that night. 
Then there was that time riding from Toronto to Timmins via the Bruce Peninsula, MS Chi-Cheemaun, Manitoulin Island, Highway 6 and 144, such a good ride. An unexpected downpour left me soaked, and the Watershed 144 offered up a perfect place to drip dry over coffee before the final stretch to Timmins. 
The last visit was during a 3-day late fall ride north, before this COVID mess. We made our way from Toronto to New Liskeard along Hwy 11, where we set up home base for a couple of nights. Day two looped us further north and back for a chilly but amazing 600 kilometres of fall colours and twisty roads. Of course, the fried chicken at the Watershed 144 was a definite highlight of the day. 
What makes Watershed 144 so special? 
It's all about getting here—adventure bike, sportbike, cruiser, everybody is happy. 
The ideal amount of time to spend on this ride? 
From GTA, no matter the route, it's a solid day's ride. So I would say two days minimum, and more is better. 
Where's the must-stop place on the way to Watershed 144?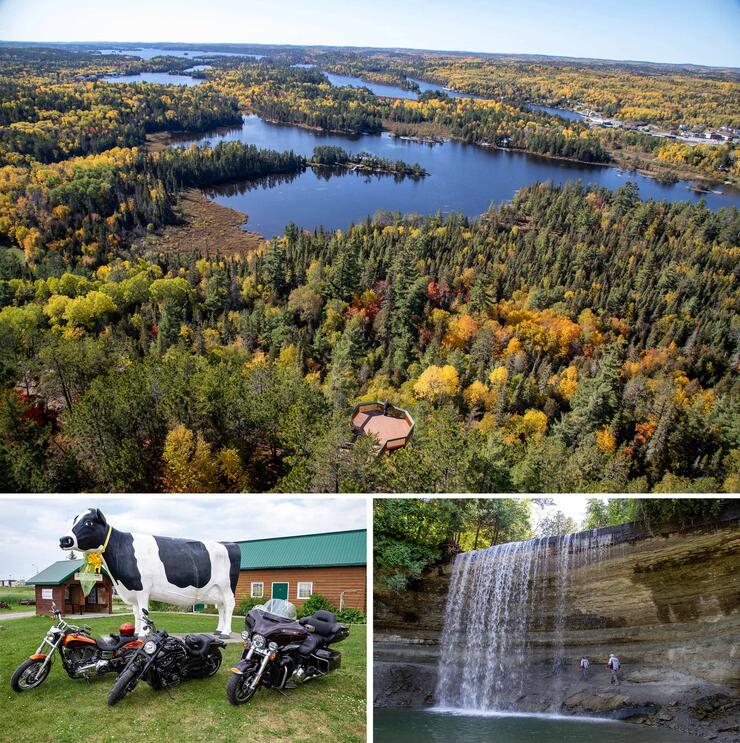 Along Hwy 11, the Fire Tower in Temagami is a must-stop in the fall. Ms. Claybelt, the giant cow in New Liskeard, Bridal Falls on Manitoulin Island along Hwy 6 and of course the Arctic Watershed 144 Rest Area. 
Best spot to grab a bite? 
Ahhh, Watershed 144. 
If you stay overnight, where do you stay? 
Some rooms are available at the Watershed 144, but I never stayed, so I can't speak to that. Always enjoy a stay at the Quality Inn in New Liskeard; I am a motel fan and love parking my bike by the room door. In Gogama, you can camp at Minisinakwa Lodge & Campground. The Cedar Meadows Resort and Spa in Timmins is fantastic, and if in a group, the cabins at Elk Lake Eco Resource Center are very cool. 
If you could pick a soundtrack that captures the experience of this ride, what would it be? 
I'm not one to ride with music playing, but if I did, it would probably be a long list of alternative hits from the 80s and 90s.
Any other tips for riders? 
Time is your friend—don't rush it and never pass up a chance to top up your gas tank when touring the north. 
Watershed 144
Hwy 144 & Hwy 560, Gogama, ON
P0M 1W0, Canada
+1 705-829-9990
info@watershed144.ca