The Best Motorcycle Roads in Ontario—The Big List
We asked our riders to pick favourites and here's what they delivered. These are the roads that Ontario riders revere.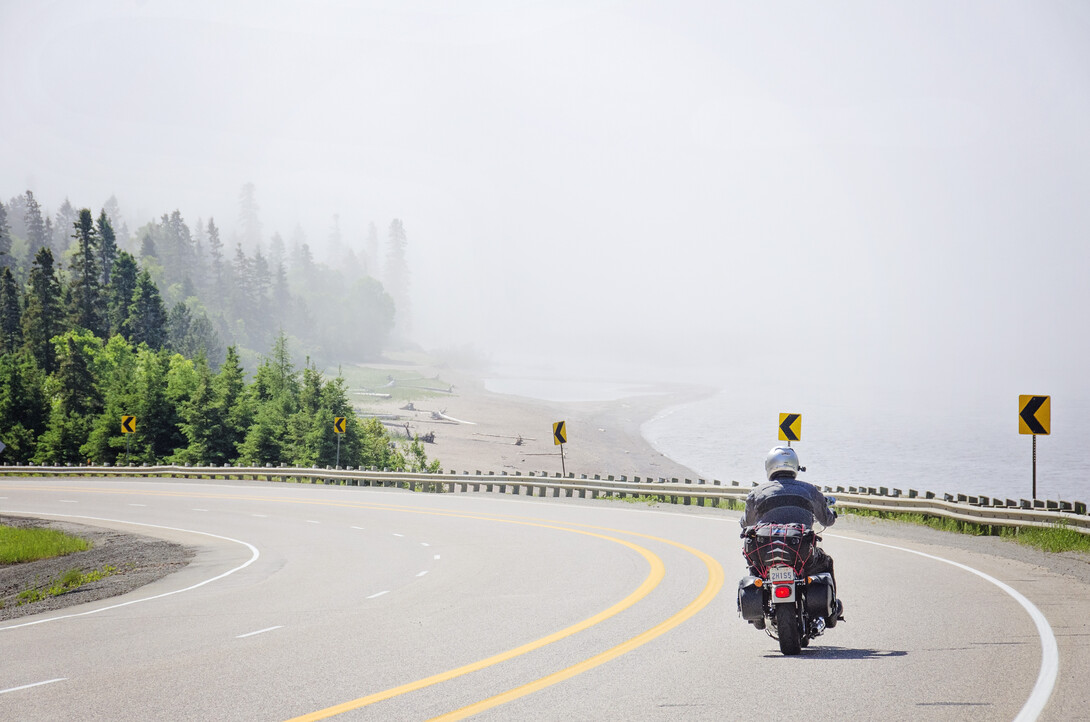 In the last 10 years we at What A Ride have managed to ride every inch of paved and unpaved road in Ontario. There's nowwhere we haven't been. And it's a phenomenal place to be. From nearby thrills to far-north chills, the possiblilities are endless.
Below are the roads that are closest to our hearts. The ones we go back to each year and never get tired of. These are the roads you have to know if you're going to know riding in Ontario. Dig in!
Here are the best roads to ride in Ontario on your motorcycle 
Algoma's Highway 129
No frills, no extras: this remote 200-km stretch is all about the riding. It's roads like this that motorcycles were built for.
Region: Algoma Country
Snake Road: Best in the South?
Snake Road offers close to two kilometres of winding road, stretching across the Niagara escarpment. While it's a shorter road, the switchbacks make up for this. It's quality versus quantity right?
Region: Hamilton, Halton and Brant
Highway 141—The Backbone of Cottage Country
The best way to get from Muskoka to Parry Sound has everything a rider could ask for.
Region: Explorers' Edge
Highway 60: A Slice of Paradise
This Algonquin Park road is a beauty, especially in the fall.
Region: Explorers' Edge and Ontario's Highlands
Highway 507—The Buckhorn
One of the best-loved motorcycle roads in the province and a perfect gateway to the Ride the Highlands routes.
Region: Ontario's Highlands
Highway 17: A Northern Ontario Gem
A long day's ride along the shore of the world's biggest freshwater lake is a destination unto itself.
Region: Algoma Country
Forks of the Credit Day Trip
The best motorcycle road that's anywhere near Toronto is short but it sure delivers. You've got to ride the Forks of the Credit.
Region: Greater Toronto Region
Highway 71 Visited
This northwesterly route has gorgeous views, smooth roads, and selfie stops aplenty.
Region: Sunset Country
Ride the Highlands' Highway 35
Beautiful scenery, plentiful services, and lots of sweet curves: this road has it all.
Region: Ontario's Highlands, Peterborough & The Kawarthas, and Explorers' Edge
Less is More on Highway 522
The freshly paved stretch of this "simple Northern road" offers more than meets the eye.
Region: Explorers' Edge
Muskoka's Southwood Road
With 33 km of uninterrupted twists and turns, you barely get a chance to take in the incredible scenery whizzing past you.
Region: Explorers' Edge
Take a Boogie on the 'Bogie
There isn't a gas station, restaurant, hotel or any reasonable place to stop on it. Yet the Calabogie Road, known also as Black Donald, Centennial Lake or Highway 508, might just be the best riding road in Ontario.
Region: Ontario's Highlands
Highway 118 Through Haliburton County
Ideal for fall touring, this beautiful and twisty stretch of road between Bracebridge and Bancroft is a favourite for riders throughout motorcycle season.
Region: Explorers' Edge and Ontario's Highlands