Ride the Highlands' Highway 35
Beautiful scenery, plentiful services, and lots of sweet curves: this road has it all.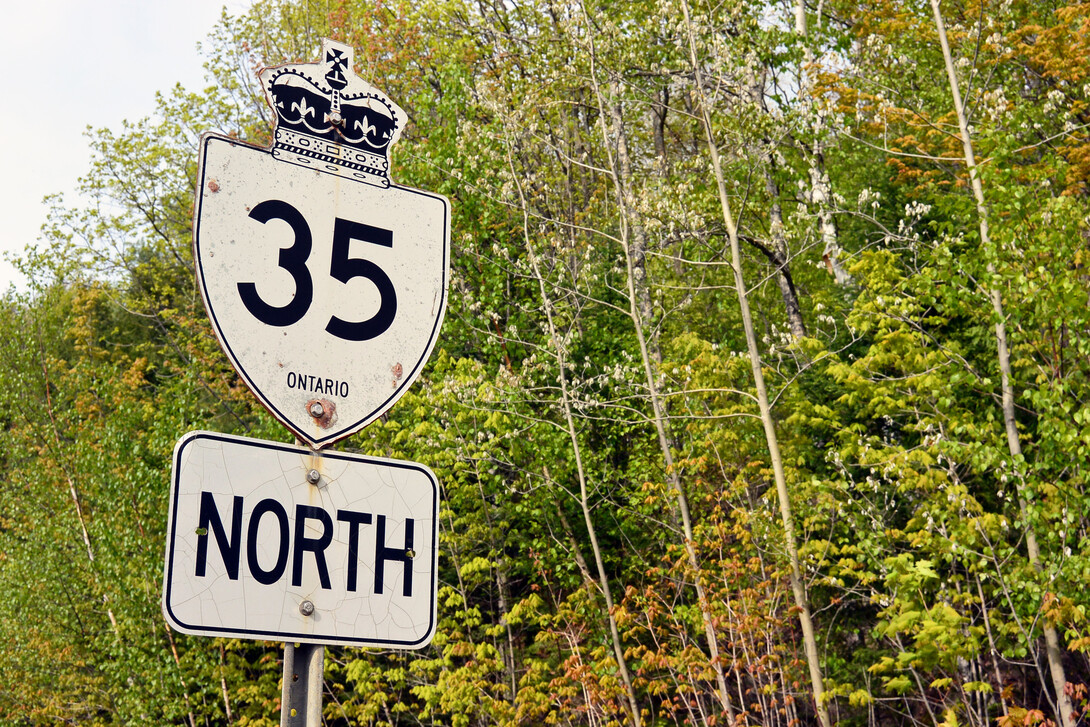 A great motorcycle road should contain as many of the following elements as possible: Curves, elevation changes, scenery, good pavement, as little traffic as possible, fuel, and food. Lucky for you, there are many roads in Ontario with all these features, such as Highway 35.
Where is Highway 35?
The King's Highway 35 isn't just the corridor to many great routes in the Ride The Highlands, Peterborough & The Kawarthas, and Explorers' Edge areas; it is a destination road itself, as well as an ideal road to enjoy the fall colours.
Highway 35 joins the Macdonald-Cartier Freeway (more commonly known as the 401, or "the Four-oh-one") to the south and the Frank A. MacDougall Parkway (aka. Highway 60) to the north. Riding the 196 km length of it from bottom to top, you will encounter the Oak Ridges Moraine, forests, lakes, farm fields, and the Canadian Shield where you will leave the worries of the city behind.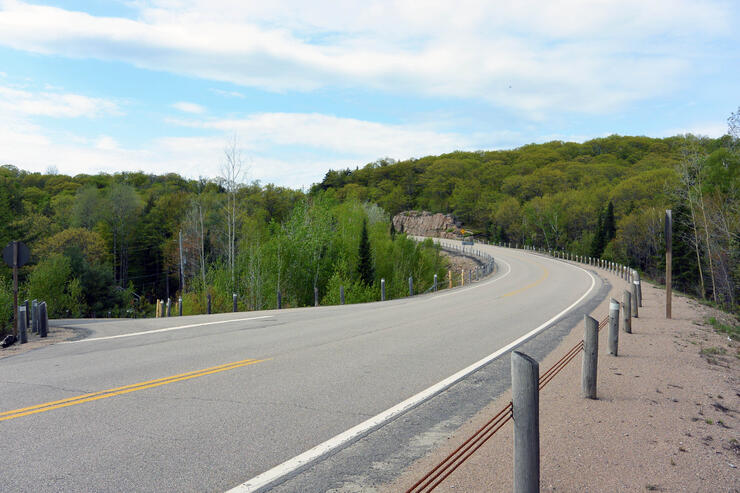 From there, the fun factor ramps up: straight tarmac gives way to curves and beautiful scenery as you cut beside lakes, forest, and rocks of the Canadian Shield. After you fill up in Minden and point your front wheel towards Highway 60, you'll realize the last section was just a warm-up! The road gets twistier (especially right after Carnarvon), but the scenery is just as beautiful. You'll really get your lean on and scrub out those chicken strips while cruising around Boshkung Lake. One of the best parts of this road is that the pavement quality is generally very good throughout.
Where to Stop on Highway 35
There are many great places to stop and enjoy the view; two of the best are Panorama Park in Minden (especially during fall colours) and Dorset Lookout Tower (very crowded on weekends during the fall colours, but has the best view in Southern Ontario in my opinion). Gas stations are plentiful too—in Clarington, Lindsay, Minden, Dwight, and many other spots in between.
Food & Drink
And there's no need to go hungry on your ride. If, like me, you think ice cream is okay for lunch, head to Kawartha Dairy in Minden. Don't be afraid of the lineup, it moves quickly. They are best known for their "Moose Tracks" flavour, but "Bear Claw" won't disappoint either! And, their milkshakes are made with real ice cream. Or if you prefer sit-down restaurants, there's Boshkung Brewing in Minden, and Rubarb Restaurant in Minden Hills/Carnarvon which gets great reviews and has a view over Mirror Lake to boot.
In Dorset, you'll find Trading Bay Dining Company has a great patio right on the narrows. Once you reach Highway 60, you deserve a treat—Henrietta's Pine Bakery on Highway 60 (the sticky buns are the bomb, but she is often sold out of those). Or if you want to have an authentic rural Ontario experience, grab some food at roadside chip truck along the way.
Where to Stay on Highway 35
You can't pack in all the riding, views and activities into a single day. Plus there's nothing like relaxing with your feet in the water or enjoying a crackling campfire where the sky is so dark you can see the stars, or falling asleep to the lonely call of loons. There are many options for accommodations such as Sir Sam's Inn in Eagle Lake; cabins at the Haliburton Forest; camping at any number of private or provincial campgrounds.
Looking more to do off the bike? Grab a photo by the big cow at the top of Kawartha Dairy in Minden, visit Canada's Smallest Jail in Coboconk, climb the Dorset Lookout Tower in Dorset, learn a bit of history at the Haliburton Highlands Museum in Haliburton or Lake of Bays Marine Museum in Dorset, or walk in the clouds at the Haliburton Forest (Canopy Tour, Wolf Centre, hiking trails, and more) in Dysart.
Highway 35 has so much to offer for the motorcyclist—make sure you ride it tip-to-toe at least once.
Check out our series on Ontario's Best Roads: