A Motorcycle Route Built for Two
Re-ignite the passion with your moto partner. The Rideau Ridge Loop is the perfect centrepiece for a weekend of exploring winding roads and fun-filled nights in Ontario's Highlands.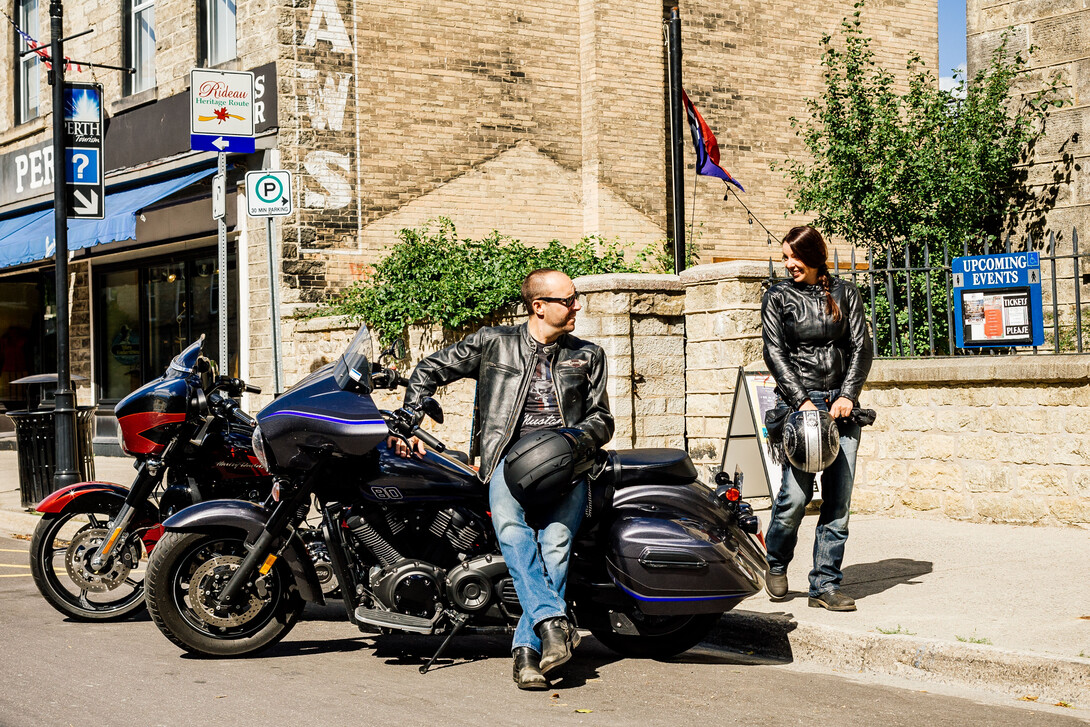 With riding season finally here, motorcyclists across Ontario are out in full force exploring some of the province's best roads and destinations. The freedom of the open road is ours for the taking, and the ride and destination can be anywhere we want it to be.
Thousands of kilometres of roads span our great province, so how do you possibly choose? Are you a "stay-near-home" rider, a "weekend trip" rider or a long-distance, "get me the heck out of here" rider? Either way, there is a trip and a destination for you that fits your lifestyle.
For those who enjoy travelling with a partner in crime (or maybe I should say "partner in moto?"), the Ride the Highlands tours, specifically the Rideau Ridge Loop, is the perfect place to cruise. It offers top-notch riding, in addition to great towns and stops to rest your head, take in premium entertainment, and enjoy some good grub. Imagine you and your partner, cruising through rolling farmland and down winding roads all day. When you finally stop at your destination, you sit down to a nice meal and enjoyable evening in a quaint town before packing up and heading out again. It sounds like a great plan to me!
Growing up in a family of riders, I often saw my parents take off on their Harleys to go for a couples ride. For them, it was a nice way to escape from work, and to enjoy each other's time while reconnecting as a couple. It's important to take this time for each other, and what better way to do it, than by doing something you both enjoy like riding a motorcycle?
I took the time to ride the Highlands routes and explore some towns along the way to give you the first-hand experience of what to expect and how to plan. Teaming up with Viktor Radics and his wife, Sam (founders of the MotoSocial events), and moto-journalist Dustin Woods, for this adventure made for the perfect group to cruise with.
Day 1 - Toronto to Perth
We packed up and departed Toronto on a Friday afternoon just as a rain warning was taking effect. For those of you who can take a Friday off work to extend your weekend, I strongly recommend it. Giving yourself extra time allows for some fun stops along the way, such as at the Hidden Goldmine Bakery in Madoc (located on Highway 7) or North America's Smallest Jailhouse in Tweed (located off of Highway 37), is always a plus.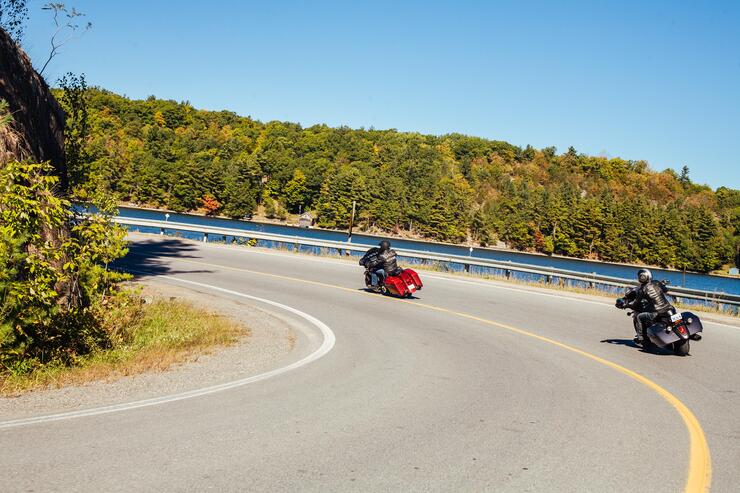 Our ride took us through Frontenac National Park, and then along the shores of Wolfe Lake via Westport Road. The views as we cruised through the 280-degree West Port bend were unreal and something I can't even explain to you, other than by saying that they were breathtaking. We arrived that evening at the Best Western Plus in Perth, Ontario, where we quickly parked the bikes, threw our gear in our rooms and walked to the nearby Golden Arrow Pub for dinner and some live music.
A hot meal was the perfect way to end our solid day of riding, while we excitedly chatted about the day and prepared for the next day's ride to Westport.
Coffee is my ultimate kick-start to the day, so we started our second day off right with an amazing cup of coffee at Coutts Coffee, located just across the street from our hotel. Rather than sitting inside, we took our cups of Joe to Stewart Park and enjoyed the scenery while gradually waking up and planning our route and stops for the day. As a side note, did you know that the park hosts a major three-day music festival mid-July each year with three different stages? Perhaps that could be your destination for a ride this summer.
Day 2 - Perth - Smith Falls - Merrickville - Westport
On top of my list of places to visit for day two was the Rideau Canal in Smiths Falls, a place I've seen pictures of but have never actually been. Awake and ready to rock after two cups of coffee, we geared up, hopped on our Harleys (with me on a Yamaha V-Star 1300 Deluxe) and toured towards Smiths Falls as our first stop.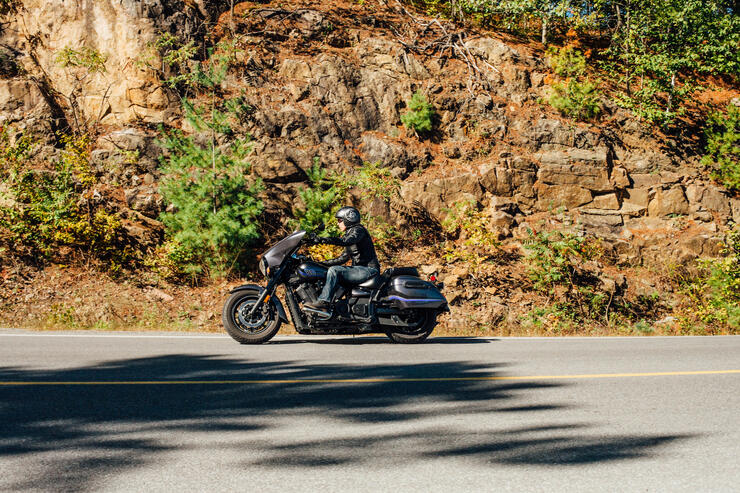 The V-Star was an incredibly comfortable ride for this trip, and the side cases offered plenty of storage space for extra gear and clothing.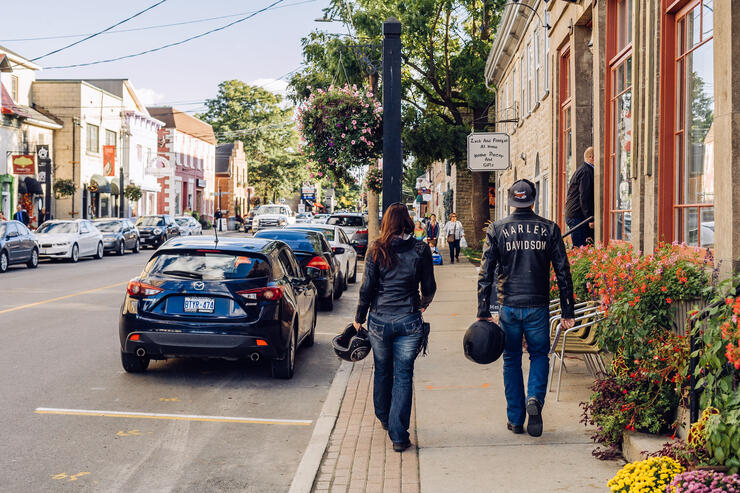 Our next stop was the quaint town of Merrickville, which is characterized by lots of great shops, ice cream places, and of course restaurants. I recommend the Yellow Canoe Café for lunch, or you can just stop for ice cream if you have a sweet tooth like me. Merrickville is also a great place to check out the Canal Locks on Main Street or the Blockhouse Museum as well if you are a history buff.
Our afternoon offered more solid riding along Highway 15 and then 42 to Westport where we then checked into the charming Cove Country Inn. Westport and the Cove Country Inn was my favourite stop of the trip. The small town, located next to the Upper Rideau Lake, offered such picturesque views of the water, including a beautiful sunset which we could view from our room in the private bed & breakfast, located across the street from the main inn.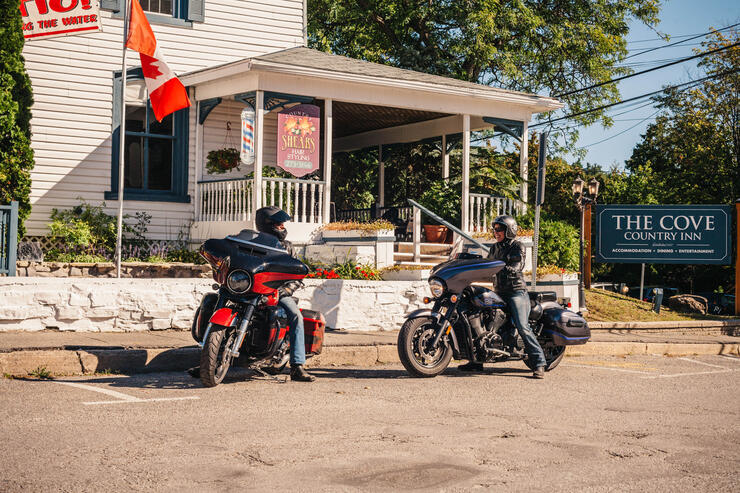 I changed into my "nice clothes," consisting of clean jeans and a plaid shirt, for dinner, and met my group in the dining room for a delicious meal. We certainly stood out as bikers but were welcomed with smiles and what seemed like a shared appreciation for vacationing and the simpler life by our fellow guests.
While we were tired from the full day, our energy was renewed just by talking about the ride and sharing our impressions of the different places we visited. Our group varied in terms of age, motorcycle experiences, and backgrounds, but we all revelled in our shared love of motorcycling and exploring new areas.
Dinner gave us a second wind, which led us to the bar area of the inn where we danced the night away with other guests and locals. I even met someone from my own small town, located in Ontario's Southwest. What are the chances that we would all wind up in the same tiny town on the same weekend? It's funny how travelling brings people together.
Day 3 - Westport to Toronto
Sad that the adventure had come to an end, we stayed positive by talking at breakfast about the next trips we wanted to go on. We then packed up and cruised to another small town called Godfrey, and then to Verona, Ontario, where we dined at Mom's Restaurant for lunch before heading back to the city with full bellies, and another experience under our belt.
It's true that riding brings people together; it fosters new friendships and strengthens existing relationships. I've always said that a family that rides together stays together, and so I feel the same applies to friends and moto couples too.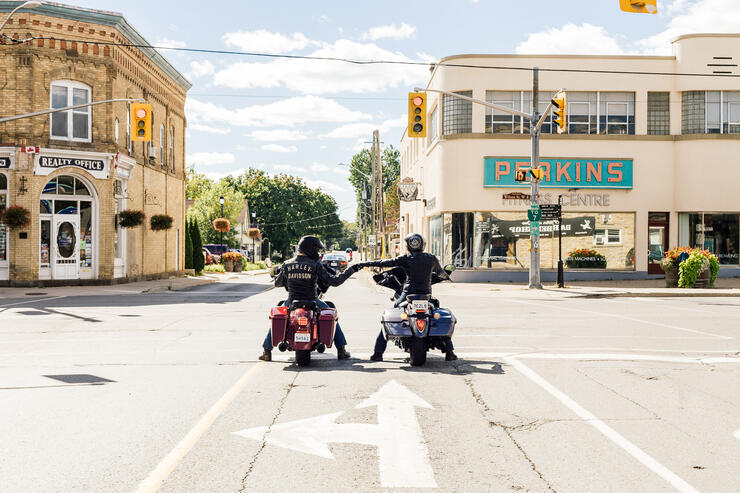 The Routes
To plan your own route using the Ride the Highlands interactive map, click here.
Summer events in towns along this route