Moto Revere: Toronto's DIY Motorcycle Garage
The downtown option for where to repair your bike when you don't have a garage.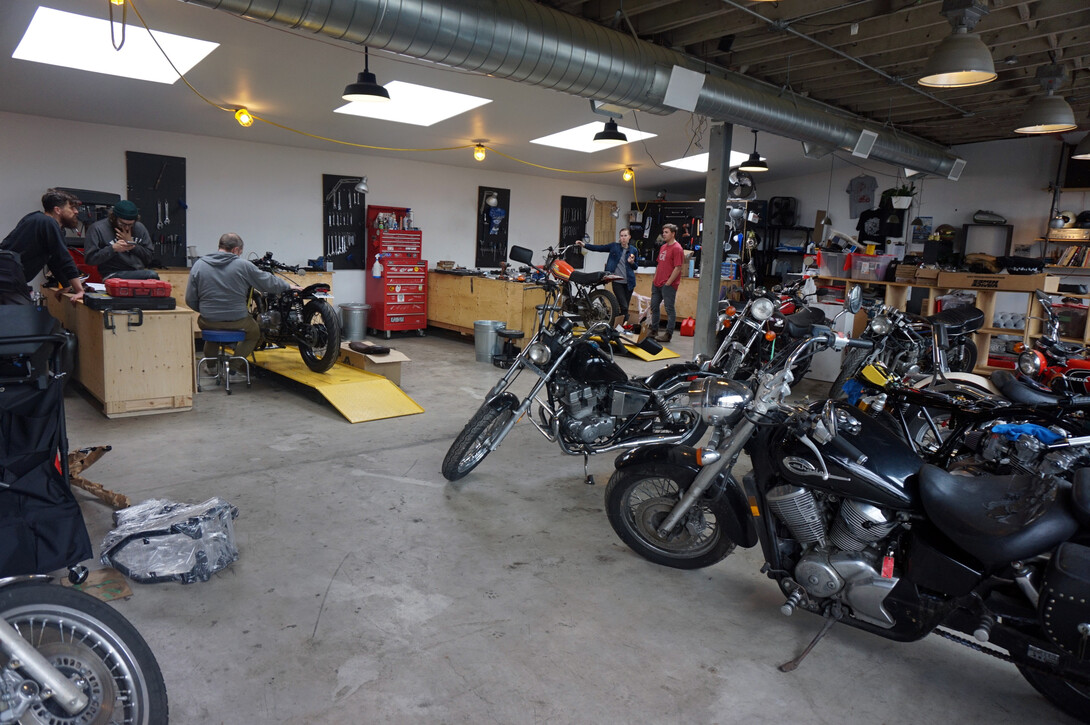 It's not hard to make owning a bike in the city work. You can push your bike to the side of your apartment or sneak it into a parking spot somewhere in your complex. Some may have a space behind the house or in a little garage. Others are a bit creative and roll their travel companion into the living room for the winter or find parking on the street with a good cover.
Living in the city and trying to wrench on your bike can be another story. With skyrocketing prices for housing in Toronto, landlords charge whatever they please for an inconvenient 50-year-old non-heated garage. If you're lucky, pitch in with a few friends on an alleyway garage space with electrical. Things can get crowded, costs add up and of course, you have to deal with finding the tools.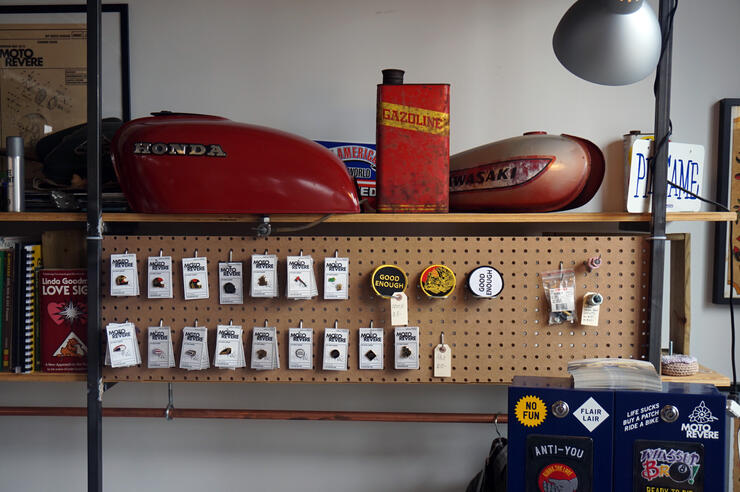 Maybe you have a basic wrench and socket set. Personally, doing the basics like tightening a chain and changing oil, replacing spark plugs or taking a wheel off can be done anywhere, just follow your manual. But when you're missing one or two essential tools or lack a lift or specific machinery for bigger projects, things can get frustrating. Maybe you bought a bike that's in pieces or you scored a great barn find.  A great bike covered in dirt and oil usually needs to be stripped and overhauled. 
All your moto needs under one roof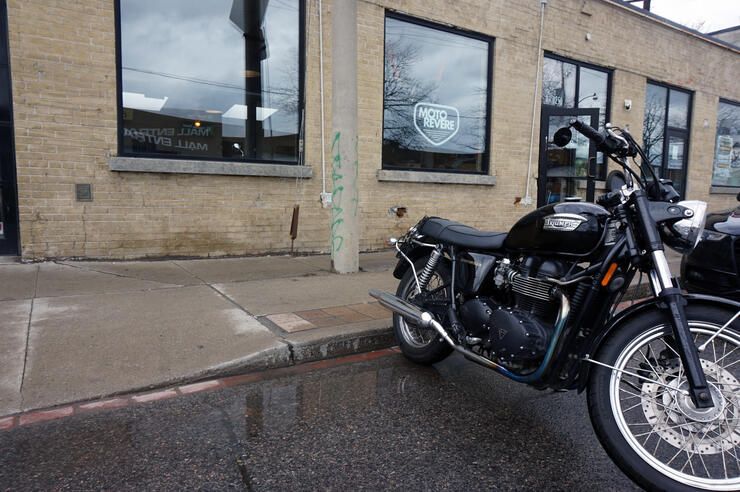 If only there was a place where you could do all your moto maintenance and fabrication under one roof... Enter Moto Revere, your second home for you and your beloved motorcycle.
Located conveniently at Dufferin and Dupont—there's a Shell fuel station just down the road and a mall across the street for easy-to-grab quick snacks—this place is your next stop for moto daycare.  
There are 4 workstations at the garage and they not only have all the tools, machines and lifts you'll need, but they can also order parts. All under one roof. Riders can choose from signing up for a monthly membership or daily drop-in. Rates start at around $20 an hour. Special orders, small fab work, or simple tunes up are the norm. They also have winter storage available with their off-site space.
Currently, there are 40 members and growing.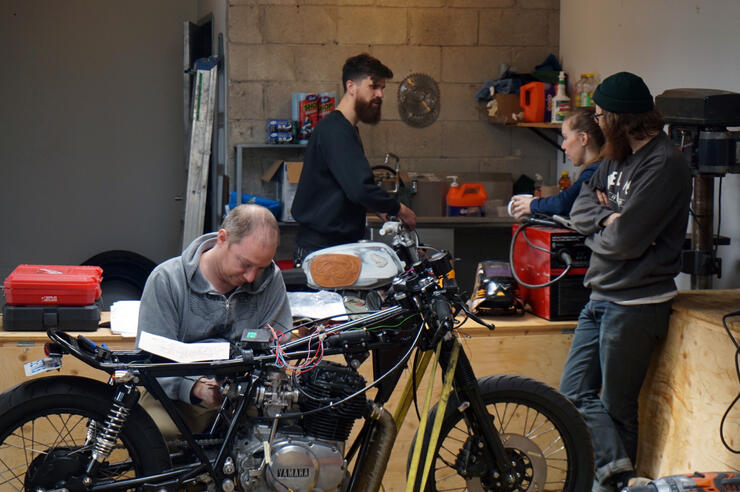 If You Build It...
Moto Revere opened its doors a year ago, in May 2016 when Peter Redford moved from Calgary to Toronto. His first bike purchase was an xS 400. Stoked to have a bike again, he still had one major problem—no place to work on it. He found this was a common theme among most of his friends so he and his partner, Andrea Lothrop, decided to do something about it.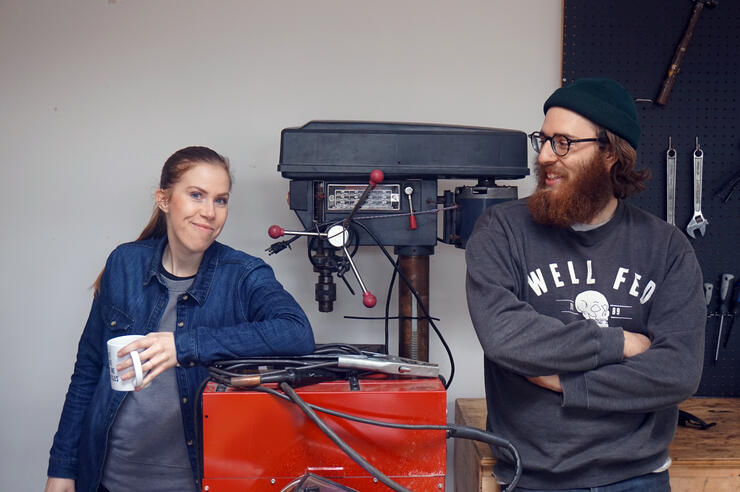 They spent nearly four months looking for a space, peering through the windows of vacant warehouses and hunting down a vacant spot to realize their dream. Finally, the moto gods smiled down and they scooped up the west end garage space they currently have.
They've created an easy-to-use, friendly and communal space that accommodates all the wrenching needs of the urban motorhead. In the process, they've also brought together a vibrant moto community.
Now, as we know, every rider is in it for different reasons. Some want to drop their bike off at a mechanic, hand over the keys and let them figure things out. With a trusted mechanic, you'll get a happy, safe bike ready for summer cruising.
Others have a vision and a desire to do the work themselves, to learn about their bikes with their own hands, face challenges and solve them. There's nothing like the feeling of getting your hands dirty and riding away on a bike that was designed and maintained with your own blood, sweat and tears.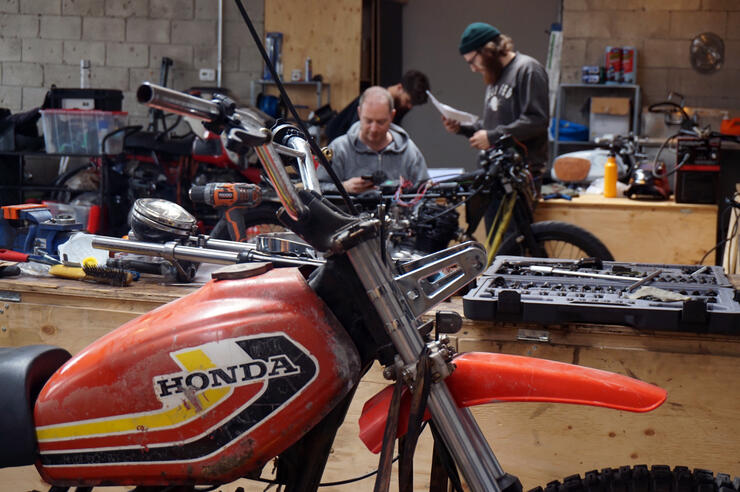 Moto Revere Events
This past winter they were hosting monthly 'how-to' workshops. Members and non-members can also sign up for winter storage as well.
Beginning in late spring this year, every Saturday the shop will host a coffee and doughnut pit stop where they'll be supplying maps of rad routes to explore in the GTA and abroad. There will surely be lots more going on, click here to keep up to date on events at Moto Revere.
This Saturday (May 13th), Motor Revere will be hosting a the Moto Market, a swap similar to a communal garage sale from 11am to 5pm.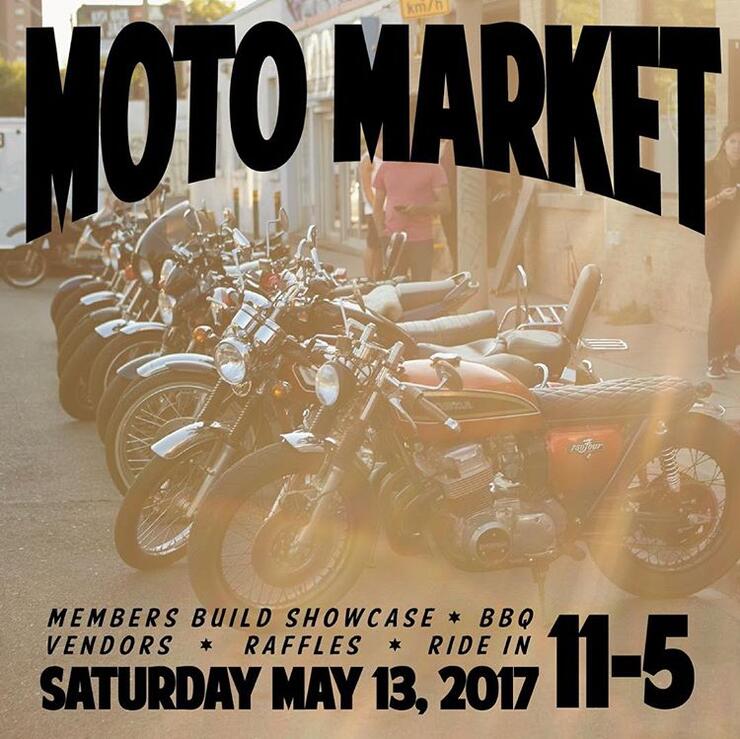 Folks have been dropping parts off all week. There will be good vibes and good peeps coming in from all around the GTA. 
The barbie will be a blaze, raffle prizes from local designers like Drifter Goods, Station Cold Brew Coffee and more will be up for grabs. Bikes will be lining Dupont Street so get there by 11am for a good parking spot! Top builds will be out for display. Come on out, eat a dog, win a prize, have a chat and buy some parts.
I'll see you all there!