5 Reasons You've Got to Ride This Motocross Track in Atikokan
These free-to-the-public AMX tracks on an old mine site are one of the best places to get dirty in Ontario.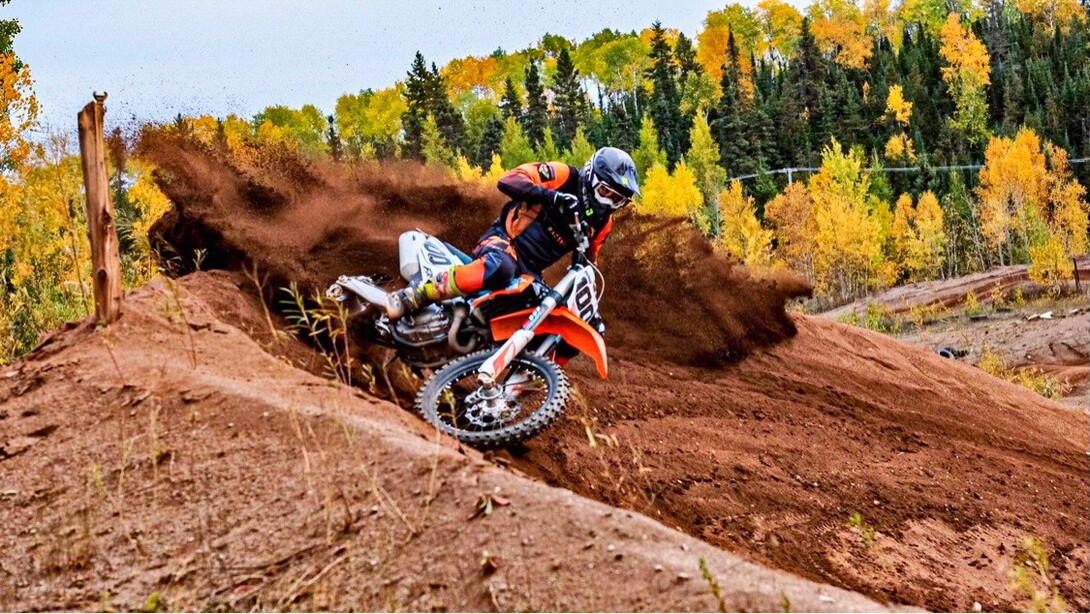 The Charleson Recreation Area is on the north side of Atikokan, in Northwestern Ontario. It's a fun and creative use of the former Canadian Charleson Iron Mine site which operated in the late 1950s and early 1960s. When the mine shut down, the dirt bikes moved in and the area was used informally from the 1970s on. In 2005, local residents formed the Charleson Recreation Area (CRA) committee to develop a multi-use outdoor rec area. Today, it's a scenic network of trails, trees, and lakes, set off by the area's distinctive red soil.
If you're into motocross, the CRA is a must-visit. Here's what you need to know. 
1. It's free and easy to get to
There is no charge to use the site, which is open to the public. (It's always best to call ahead in case there is a race weekend scheduled or the track is being maintained.) Unlike many motocross sites, that are often located in remote areas away from communities, Charleson is on the edge of town, just a minute or two from the amenities of Atikokan, notes Rob White of the Atikokan Motocross Club. When entering Atikokan, just follows the big signs for Charleson Recreation Area.
2. There are two tracks
For young riders, there is a mini track for 50 cc to 70 cc bikes and quads. "It's their own separate race track with starting gates. A lot of times when you go to tracks they'll just have a little part of a big track, but this is their own race track so they get to practise," says White. The second track is the "Big Bikes" track, described as "challenging but safe" for 65 cc and up bikes and quads. It has a 24-position starting gate with lights. Safe for beginners, it's also challenging for even the most veteran rider: singles, doubles, woop sections, table tops, and lots of corners and jumps throughout. It's a two-minute lap time for intermediate 450 cc riders.
3. It's well-maintained
"Our track is hard-packed sand," says White. "It loves rain and soaks it up. No matter how much it rains, as soon as it stops raining, you can ride." Other sites, he notes, get bogged down for days in wet clay and mud. During dry, hot weather, the Charleson track is watered via a system of irrigation sprinklers, to keep the dust down and increase safety and visibility. Check out the Atikokan Motocross AMX Facebook page for updated track conditions. There's also an on-site water tank for a pressure wash hookup to clean your ride, and a large pit area for camping. During events, there's a canteen for snacks, plus permanent washrooms with running water and an outdoor shower.
4. There are other activities too!
CRA offers a variety of outdoor rec opportunities. Hop on your mountain bike and check out the extensive single- and double-track mountain bike trails and former logging roads, some of which lead to refreshing lakes and rivers. One especially scenic route takes you around the former Caland and Steep Rock mines. There are also signed horseback riding trails with striking views to explore. Permanent pens and stalls are available, or users can set up their own portable fencing for their horses if they wish. A small nearby lake is an ideal place to cool down on hot summer days. 

Plus, there are annual 4x4, canoe, snowmobile, and ATV events. Head to the "Recreation Groups" page for more details. 
5. You can check out local amenities
The Atikokan area is home to a beautiful 9-hole golf course, trails to Little Falls, plenty of fishing opportunities and a variety of restaurants and shops. And, there is camping, canoeing and hiking at nearby Quetico Provincial Park, a world-renowned wilderness park. 
If you love to ride, be sure to put Atikokan's Charleson Recreation Area on your summer list! Atikokan has some of the best motocross riding in Ontario! 
For up-to-date track info and questions about riding call: AMX President Rob White (807) 598 0074 or Gord Martin (807) 597 8397.
Charleson Recreation Area
20 Charleson Pit Road
P.O. Box 1330
Atikokan, ON
P0T 1C0
P: (807) 597-1234
www.charlesonrecreationarea.com