9 Motorcycle Videos That Prove Ontario is the Best Place to Ride
From Highway 17 in Algoma Country to Lake Superior's North Shore—if you know, you know!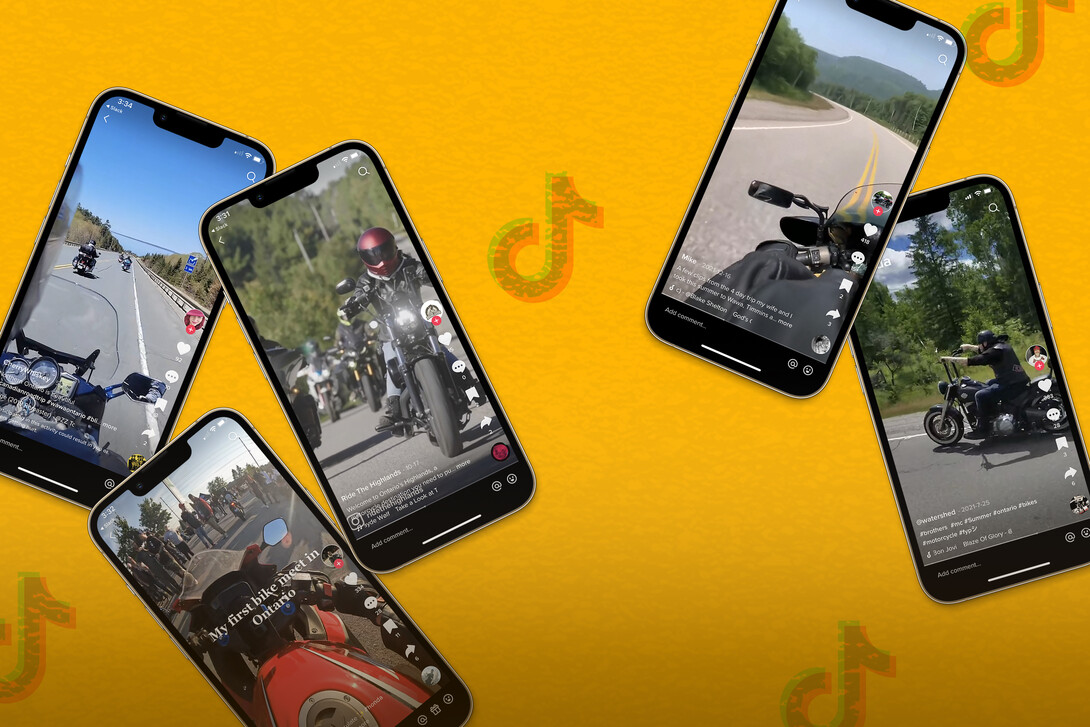 Riding in Ontario should be on everyone's bucket list. And judging from the number of amazing motorcycle videos on TikTok—I'm not the only one who thinks that. 
Keeping in mind the key criteria is that each video features a ride in Ontario (and preferably outside of The GTA)...
Here are 9 Ontario motorcycling videos that prove why our province is the best place to ride. And to get you excited for summer! 
1.
The first video comes to us from the elite summer weekend destination known as Muskoka, where wealthy Torontonians flock to spend their summers. What really jumped out to me about this post was the lack of production, no funny dances or lip-syncing—just purely un-adulterated motorcycle riding on a perfectly paved road with a brilliant blue sky overhead, and the various exhaust notes dominating the senses (Heavy ASMR on this one).
2. 
This easily wins the best production value and it should because it was produced by the province to promote motorcycle touring in The Ontario Highlands! Not much I need to add here as the picturesque visuals do all the talking.
3.
If you checked out my post on amazing Ontario ATV videos, you may recall how prevalent the use of the 360 camera was. Well, 360 is back! The creator appears to be new to riding and has built up a pretty nice following while she documents her riding adventures. 
4.
Motorcycle meets are a huge part of two-wheel culture, especially in Ontario. Riders get a chance to mingle while showing off their pride and joy. The coolest part about local meets is you have people from all walks of life in attendance and the common love of riding is what bonds everyone together. This creator does a good job of capturing what their first experience was like attending one this summer.
5.
The caption pretty much sums it up "1 min motorcycle ride thru Buckhorn Ontario." Sure there isn't much to it but the funky Grande Theft Auto style soundtrack laid over a clip of a guy casually cruising through a quintessential northern Ontario town while on a 360 camera, ticked all the boxes for me.
6.
I'm unapologetically not a country music fan, but with that aside,@baconglide captured some stellar POV footage riding his Harley on Highway 17 in the Algoma region. The ride north to Wawa from Sault. Ste. Marie boasts some of the most scenic roads in the country as they meander around the deep blue water of Lake Superior.
7.
Another POV touring around the North Shore of Lake Superior. This short clip is a scene that plays out thousands of times from May to September. It's beautiful in its simplicity.
8.
If you've ever wondered what it would be like to cruise with a motorcycle club, wonder no more. "Blaze of Glory," ape hanger handlebars, and Highway 17—need I say more?
9.
@turbobryan took advantage of the gorgeous and unseasonably mild weather we experienced in Ontario this past fall riding his BMW K1300 GT out to Sioux Lookout. Cool intro, with a solid soundtrack and interesting 360 camera work make this the perfect post to round out the list.
Happy riding! Don't forget to take a vid or it didn't happen
For more ideas and inspiration on where to ride this summer, check out these resources for motorcycle touring in Northern Ontario.