The Planet D Ride Ontario
It doesn't get much more ambitious than this: two riders who just got their licenses months before embark on a trip around the massive Lake Superior. How did they do it?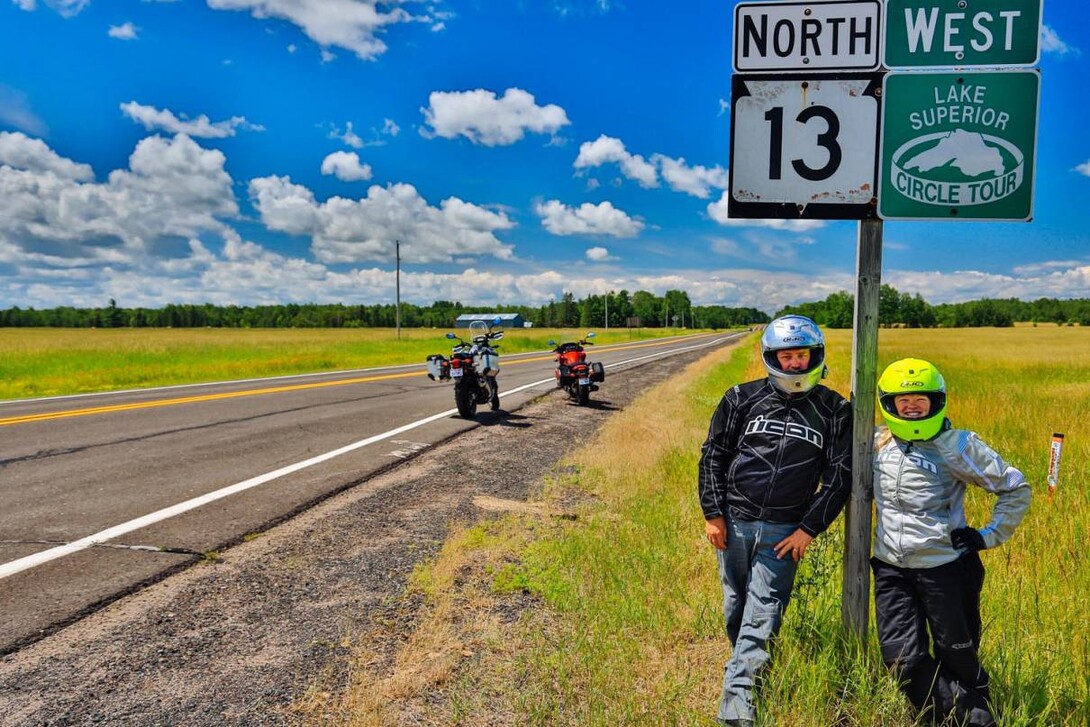 After months of preparation (and with several shorter rides under their belts) the big one was finally here. Dave and Deb from the Planet D would embark on their most ambitious two-wheel adventure yet, with their sights aimed squarely on conquering the infamous Lake Superior Circle Tour. This truly epic voyage spans three U.S states (Michigan, Minnesota, and Wisconsin) and a good chunk of Ontario's Algoma Country, snaking its way along the coastline of the largest freshwater lake in the world. It's a rite of passage for any die-hard motorcycle enthusiast and seemed like the perfect culmination to a fantastic first summer of motorcycle riding for The Planet D. You can watch their epic road trip around the big lake in the following two videos:
The Lake Superior Circle Tour is no slouch by motorcycle touring standards. Stretching just short of 2,100 km, this would be Dave and Deb's most challenging ride of this series and their lives. The biggest goal of this whole "experiment" was to see if it was possible taking two people with no experience on bikes and transforming them into confident motorcycle touring riders in less than one full season.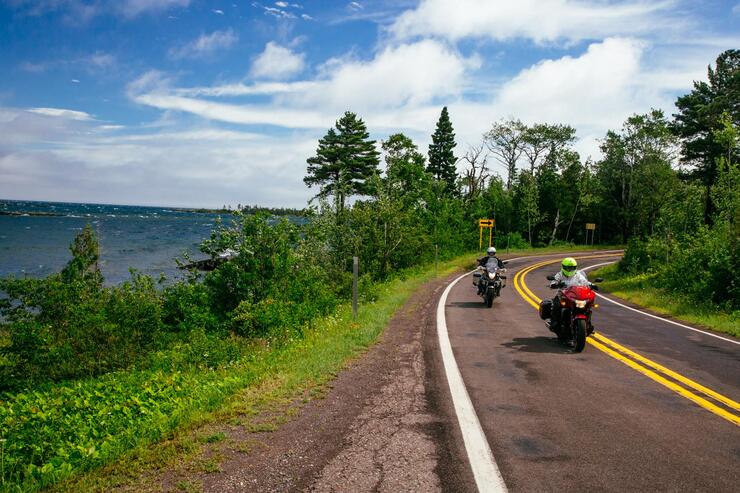 On all the other rides we had either an instructor or a more experienced rider with us to add a level of comfort and safety for Dave and Deb. "The Circle Tour" would mark the first time The Planet D would be going it alone (with the exception of the camera crew, consisting of myself and the videographer there to document every inch of the trip).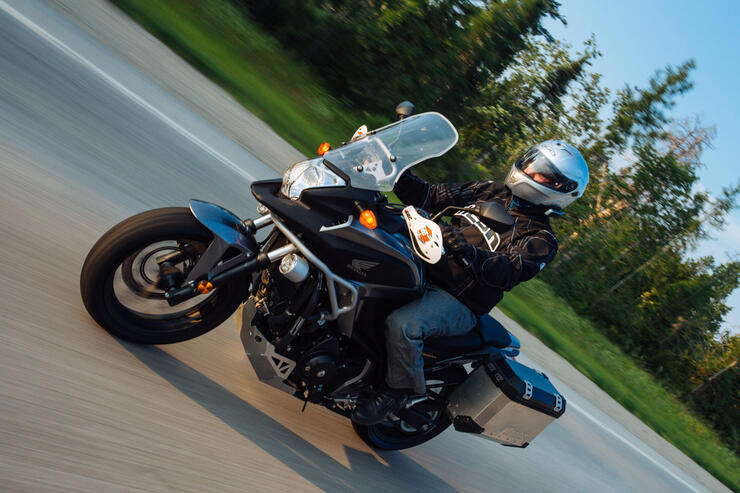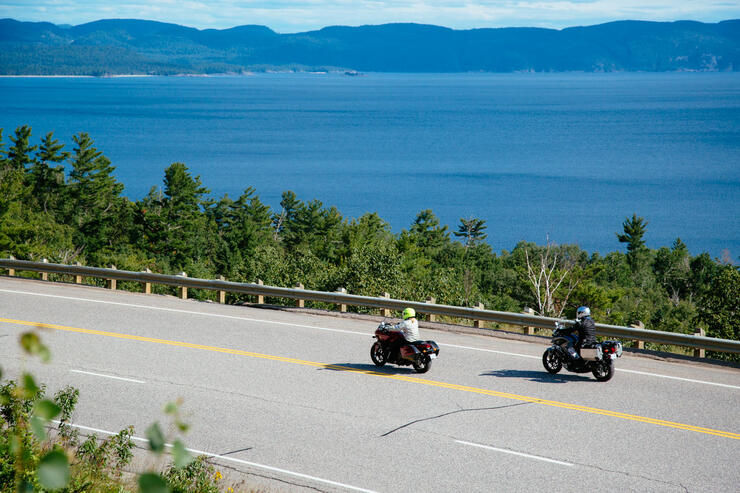 We met up with Dave and Deb in Sault Ste. Marie, ON. Our carefully plotted route would have us doing the loop clockwise starting on the American southern side first. We'd head northwest visiting some of the great spots in Michigan, Wisconsin and Minnesota to eventually end up back on the Canadian side. With only seven days blocked off to complete this adventure and several stops and attractions along the way, we knew staying on time would be key. We'd culminate the trip back in the Sault where it all began, complete with a press conference at The Bushplane Heritage Museum. 
After a smooth crossing at the US border in The Sault, we beelined it for Whitefish Point, MI to check out the Lighthouse Point Ship Wreck Museum. It was packed with tourists from all over the Great Lakes area and had several historical buildings on the grounds, all of which were accessible to the public. In addition to the museum, there were several elevated lookouts including a lighthouse. Adventurous tourists could take a winding staircase up for a better view of the lake (which none of us did with all our gear on). We didn't spend much time on the grounds as we were anxious to head to our next destination: the Tahquamenon Falls State Park.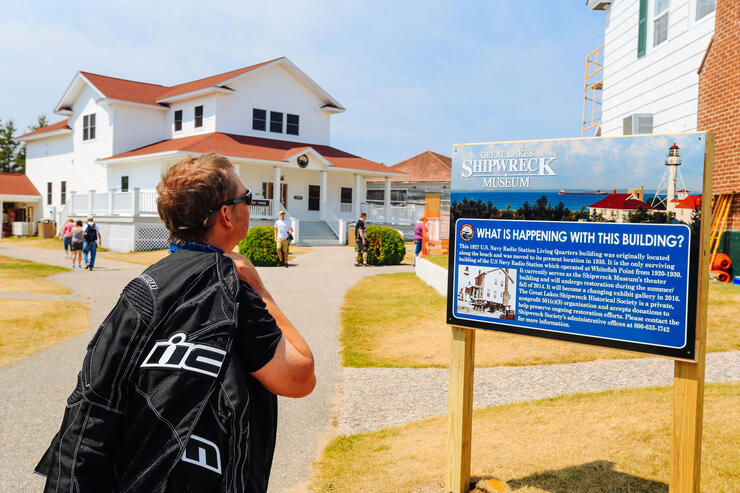 We were told about the beautiful waterfalls that had to be seen. In our confusion, the first set of falls we came to seemed more like rapids, it was at that point we realized there were two sets of falls and these were just the first ones. While small in height, the lower falls did have several boats to rent, and one could explore the falls up close and personal. We had our sights set on the upper falls though, and once we arrived we were not disappointed. It looked more like something you'd expect to see in the Amazon jungle than Northern Michigan.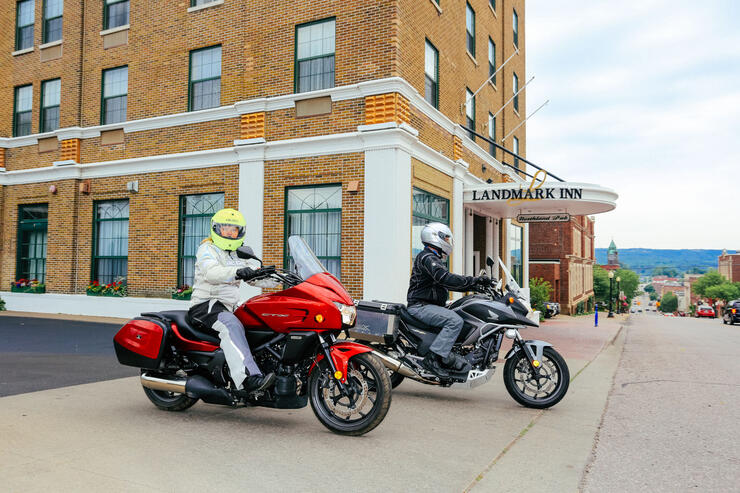 After a few choice photo ops, we were back on the bikes and headed for our first hotel of the trip; the historical Landmark Inn located in downtown Marquette, MI. The elegant and rich history of this 80-plus-year-old structure could be seen in every fine detail from the rooms to the dining hall. We arrived late and the staff was very accommodating, helping us unload all of our gear.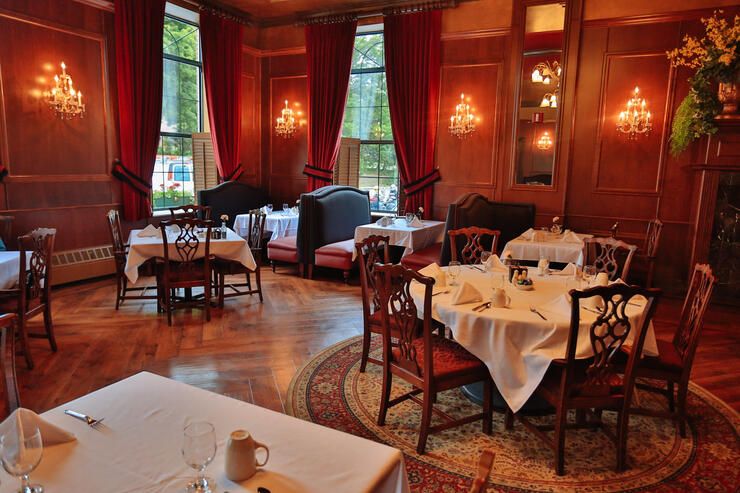 One thing that really struck me about riding on the Michigan side was the quality of the roads. For all the talk of infrastructure problems in the capital city of Detroit, you'd never know it by the upper part of the state. The pavement was like textured glass and much of this section snaked its way just feet from the deep blue waters of Lake Superior, providing me ample photo opportunities.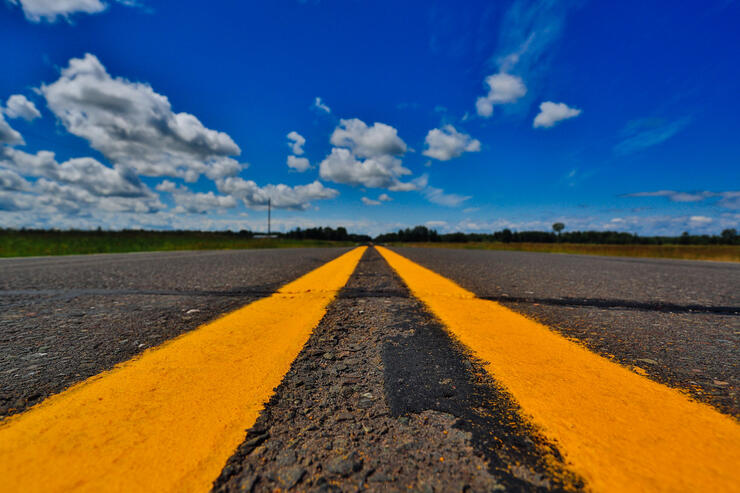 The most memorable portion of Michigan had to have been in the Copper Harbor area. There was a solid stretch of interstate leading into Copper Harbor (probably 50 km) that was a non-stop winding road with continuous tree canopy coverage throughout, giving it a tunnel effect. Once we were spat out the bottom of the chute we had to take a breather just to get our bearings. The four of us remarked how hypnotic this section was, almost lulling you into a drowsy haze—which could be deadly on a motorcycle. The combination of switchback turns and canopy coverage blocking out the sun, no doubt created this feeling.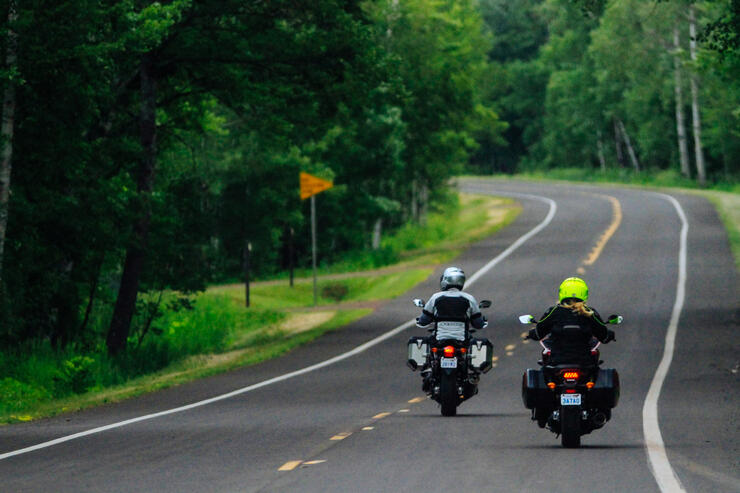 Keep a sharp eye if you ride this section, as Deb had a close one midway through. Trying to keep pace with Dave at one point, she went way wide on a corner, and if there had been oncoming traffic to greet her it would have been ugly. Thankfully that was the only close call we had thus far.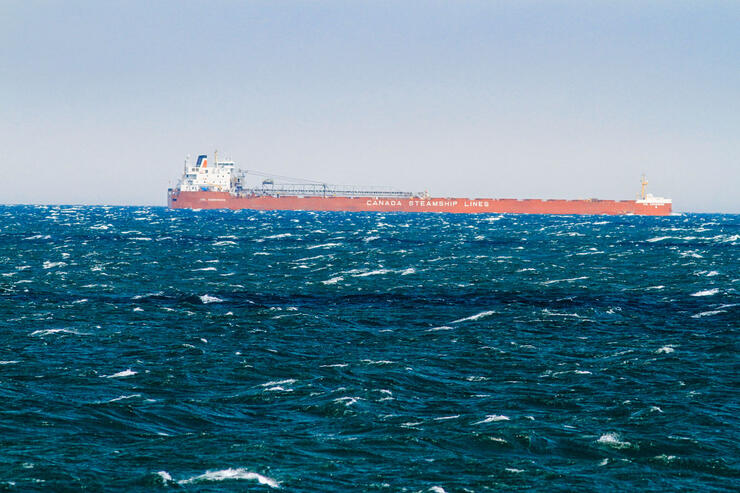 Our next stop was Bayfield, WI, which was a good haul from Copper Harbor, so we booked it trying to get there before dark. Dave and Deb were much more comfortable riding in the daytime and I didn't blame them. Fortunately, we made it at dusk, and this gave us time to check into The Bayfield Inn overlooking the harbor and have a nice sit-down dinner at Maggie's Restaurant.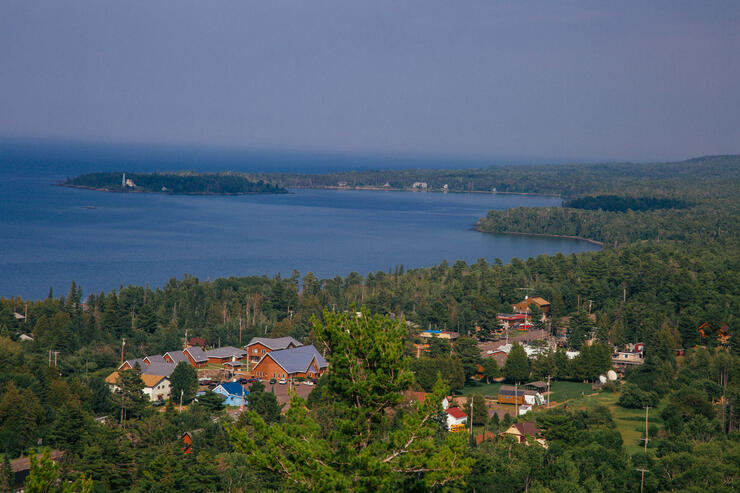 It was a funky establishment with cool décor and service to match. This was the best food of the trip for me, with generous portions. The next morning we awoke to glorious sunshine overlooking the picture perfect town of Bayfield, buzzing with tourists.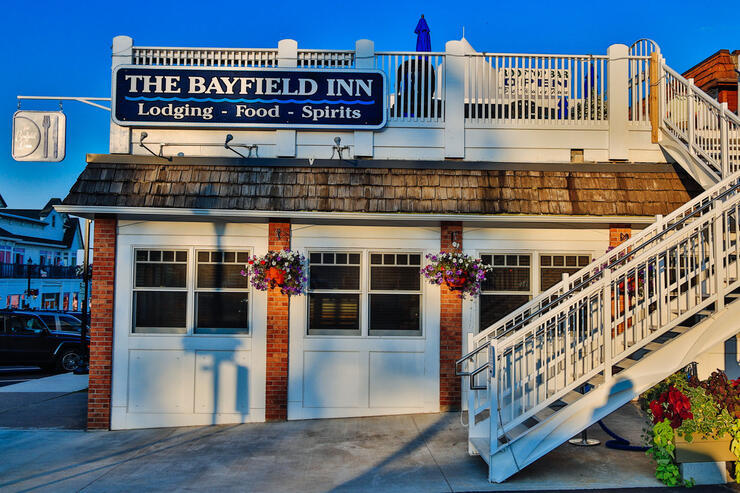 We checked out the marina before heading out on the next leg of our voyage.
Bayfield, WI to Duluth, MN was a very scenic ride, with a good portion of it going away from the lake but taking us through some cool tunnels surrounded by granite rock. There were also some random waterfalls that we spotted right on the highway that would make for good photo ops.
Once we arrived in Duluth, we were surprised by what a happening city it is. My only experience with it has been from an annual snowmobile race that takes place there in winter and I can assure you it surprised me. It has a bustling downtown core with a great main drag with various restaurants and shops. We had dinner at Grandma's, situated right by the well-known Aerial Lift Bridge.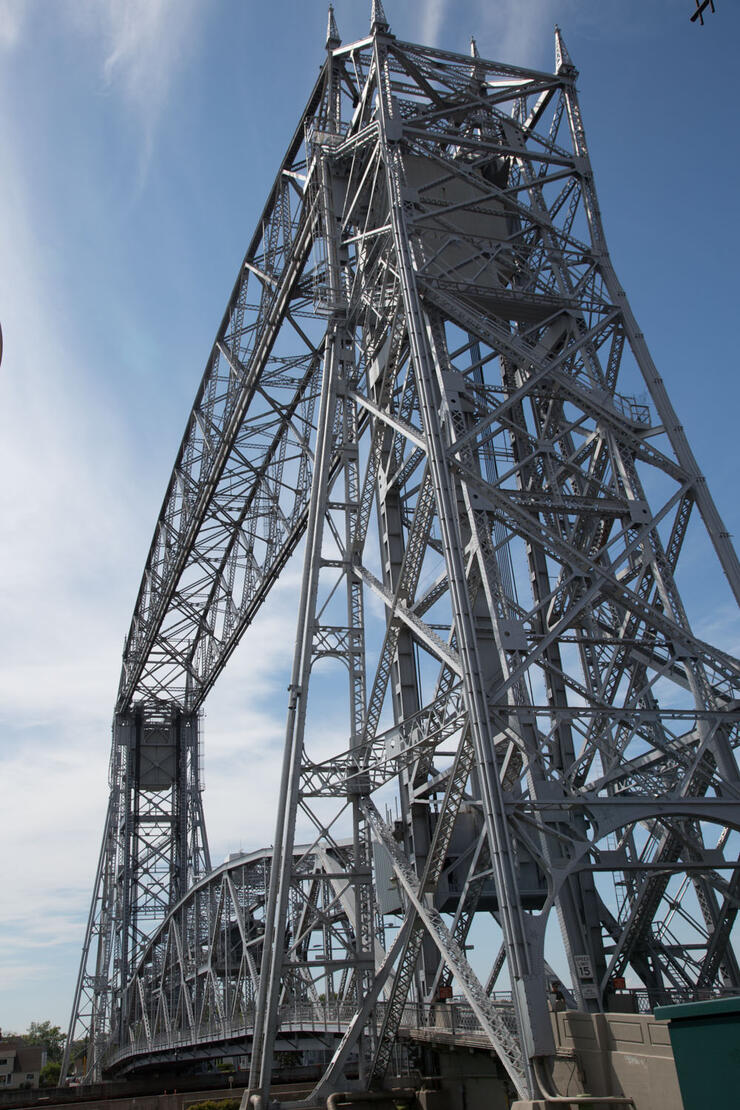 The massive structure is a key part of the nautical life in Duluth, catering to all kinds of marine traffic from sailboats to 1,000-foot supertankers. Numerous times throughout our meal the sirens would wail and the bridge would quickly ascend 80 feet above the harbour for another boat passing below. We were fortunate enough to go up with the lift master the next day for a demonstration of how the bridge works while getting some epic panorama shots of the lake and city from above.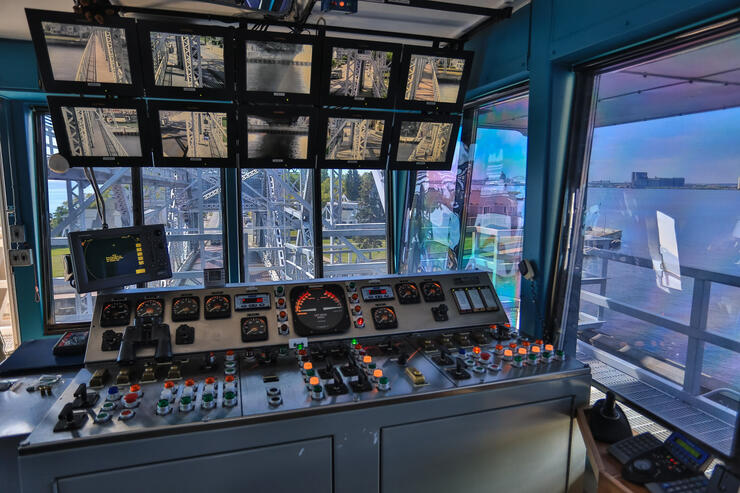 With 50% of our trip completed, it was time to head back to Canada—we set our GPS units for Thunder Bay. I was ultra impressed by Deb and Dave thus far. With the exception of Deb blowing the corner in Michigan, they had travelled over 1,000 kilometres incident-free and the reality is, this trip covers a lot of road. For the two of them to have very little experience riding solo and to be doing as well as they were I really believed this experiment could be a success. This leg was our longest in a single day at 334 km. Much of it was spent inland so I suggested hauling to Thunder Bay because the Canadian side offers the most stunning views on the tour.
As we approached the signs reading "Canada Customs," a sense of home washed over us. Sure the US side (and people) were great, but there really is no place like home. As we passed through the border crossing a second videographer and Paul Pepe from Tourism Thunder Bay greeted us. (Paul had arranged with Canada Customs to actually film us crossing through in real time, which was pretty rare to capture).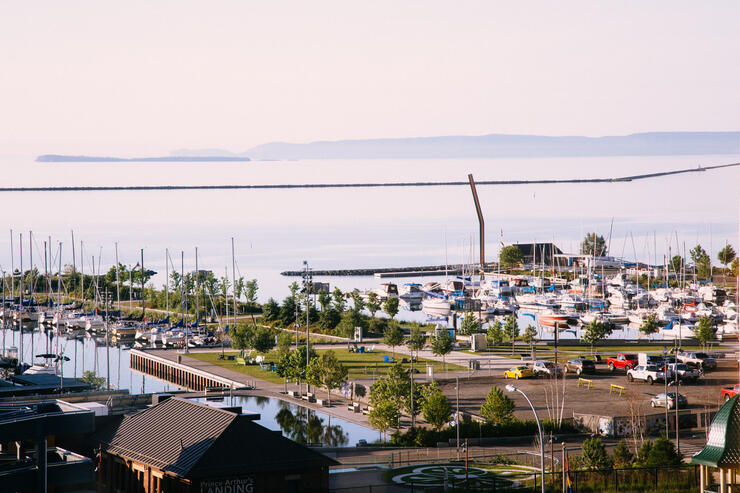 The last time I was in Thunder Bay was 2011 on another Ontario Tourism motorcycle ride. I couldn't believe how much the city had changed in just three short years. Condos were sprouting up all over a newly renovated waterfront thanks to a multi-million dollar cash injection from the city. With Deb and Dave getting some much-needed downtime at The McVicar Bed and Breakfast, Paul took the film crew out to dinner at Thunder Bay's newest chic eatery, Bight Restaurant and Bar. The food and service was five stars, and the modern, trendy design made it tough to differentiate from something in downtown Toronto.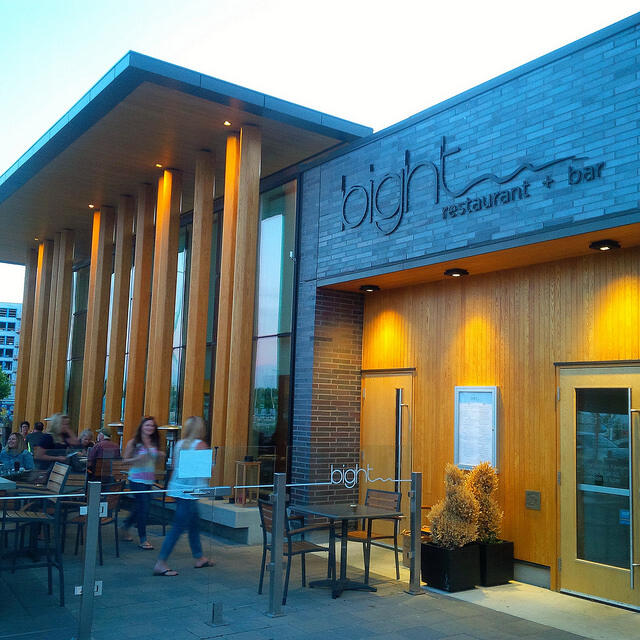 The next day, we set out to visit the Terry Fox Memorial located just outside of the downtown core, off The Trans-Canada Highway. When we rolled up on the bikes, I was surprised to see how busy the site was. People of all ages seemed to be there, taking in some history of one of Canada's great inspirational figures.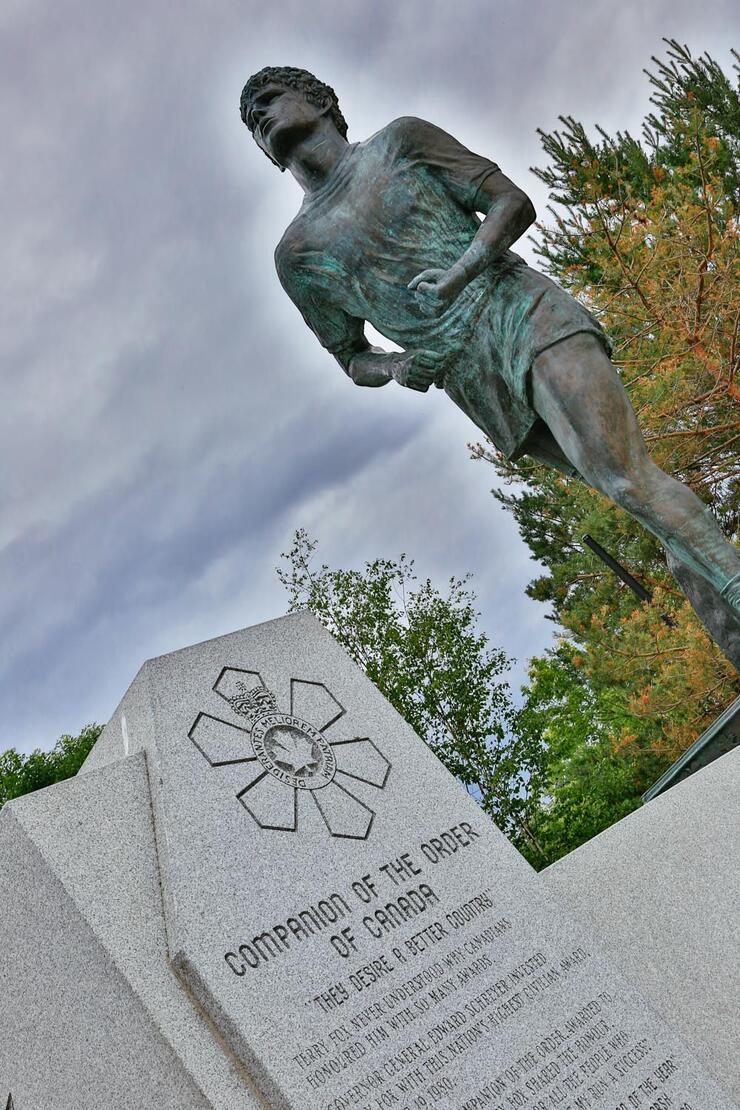 We grabbed photos and a quick interview and then were back on the road headed for Terrace Bay. Heavy thunderstorms and thick fog delayed our departure the next morning for Wawa, but once we finally got on the open road we were treated to the best scenery of the trip.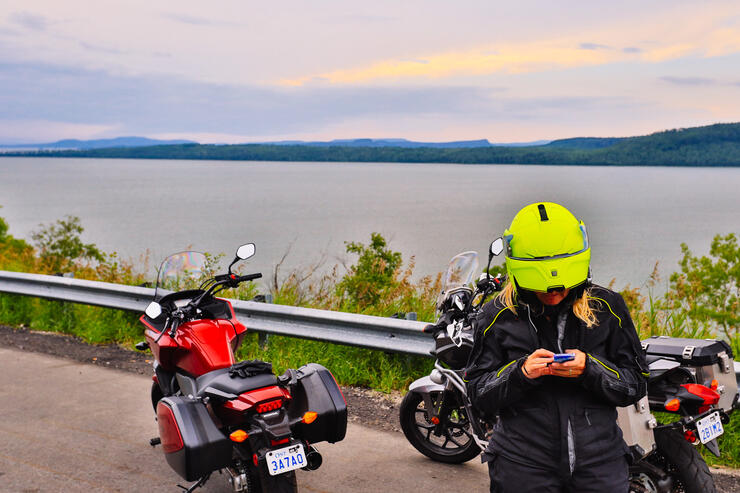 This region, known as Algoma Country, meanders its way around the lake, providing stunning views of sheer rock cliffs several hundred feet in height, feeling more like Ireland or Labrador. In addition to the cliffs there are numerous bays with pull-offs and white sand beaches to stop for a picnic, or just take in the beauty that is Lake Superior. Truth be told, it was hard as a photographer to not make the crew stop every five minutes for photos, so I ended up shooting a ton from the chase vehicle.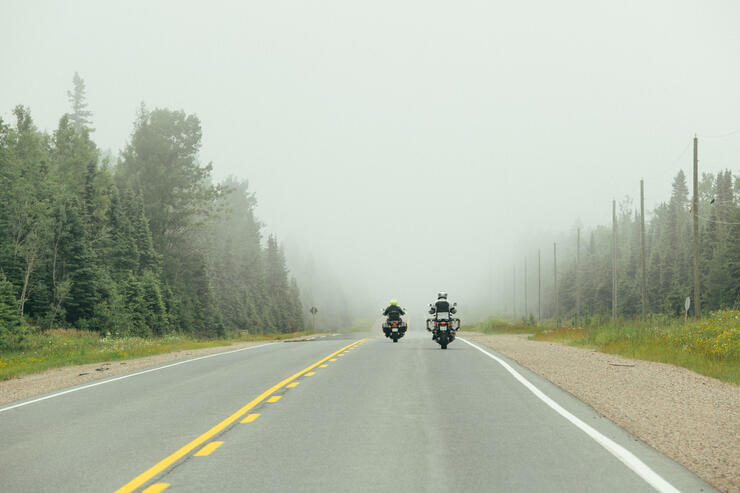 One of the last stops before heading for Batchawana Bay (and ultimately back to the Sault) was the incredible pictographs located in Lake Superior Provincial Park. I'd never heard of these, but luckily our video guy Ryan was a local in the area, and he insisted we check them out. We were grateful we listened to him because these natural wonders blew my mind.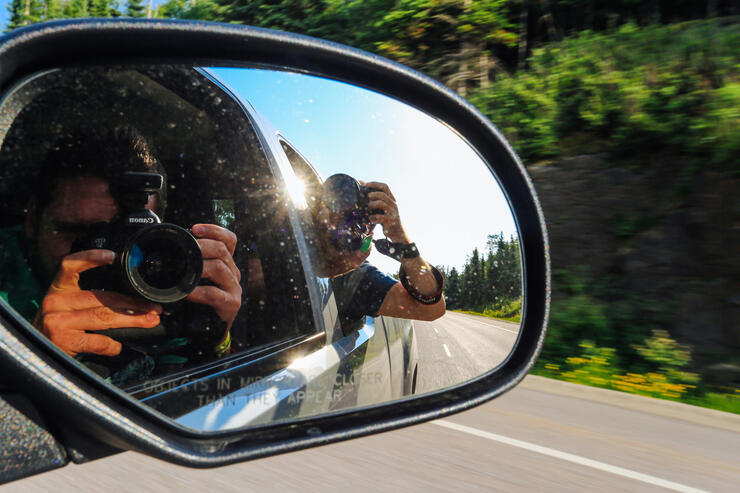 The pull-off doesn't give much hint at the beauty you are about to have bestowed on you. A walk through picture-perfect forest with marked trails led down to the water and ultimately the pictographs. (Pictographs were drawings literally painted on sheer frock faces by ancient civilizations inhabiting the area that have stood the test of time to current day).
I felt like I was staring at the pages of National Geographic and couldn't believe the sight before my eyes. The feeling of complete isolation with massive rock faces and the immensity of Lake Superior was beyond humbling. All I could do was shoot, as many photos as possible, hoping my camera would do justice to what was before my eyes.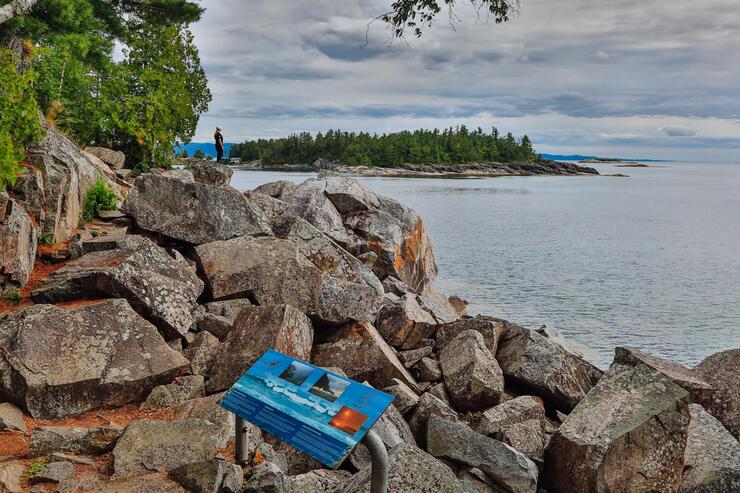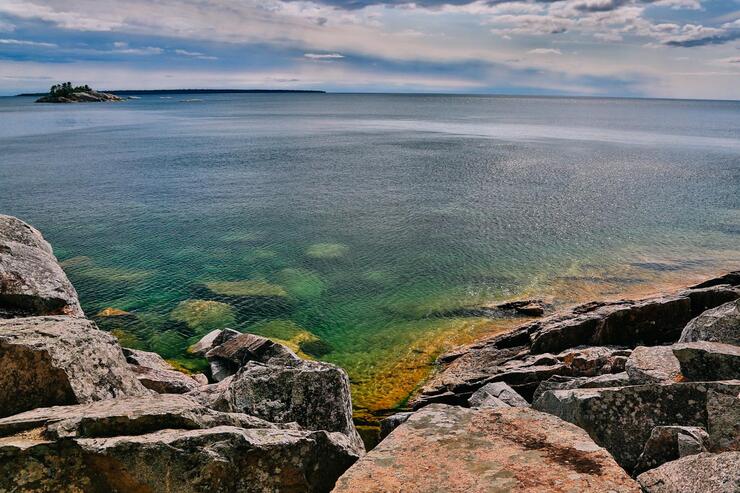 With time counting down and the "circle" almost complete, we were on our way to The Lakeshore Salzberg Hof Resort in Batchawana Bay for one last night before heading to Sault Ste. Marie.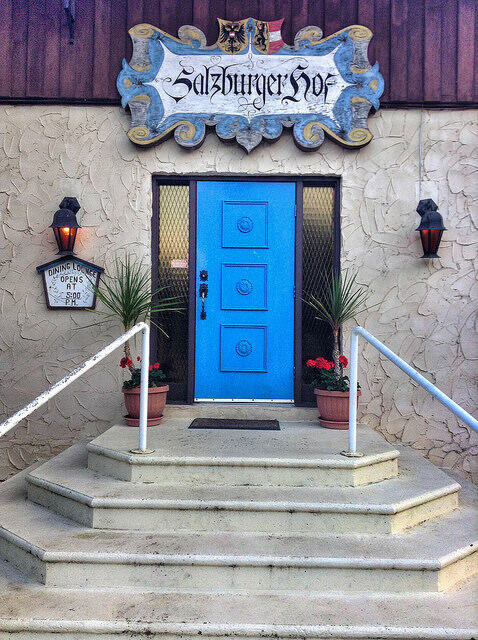 The crew really enjoyed our night at the Salzberg Hof. Our cottage was located right on the lake, complete with our own shuffleboard in the backyard. Any time you put three competitive camera guys together and throw in an activity you can compete at, it's trouble. We played a modified version of shuffleboard using our feet, and it was a blast.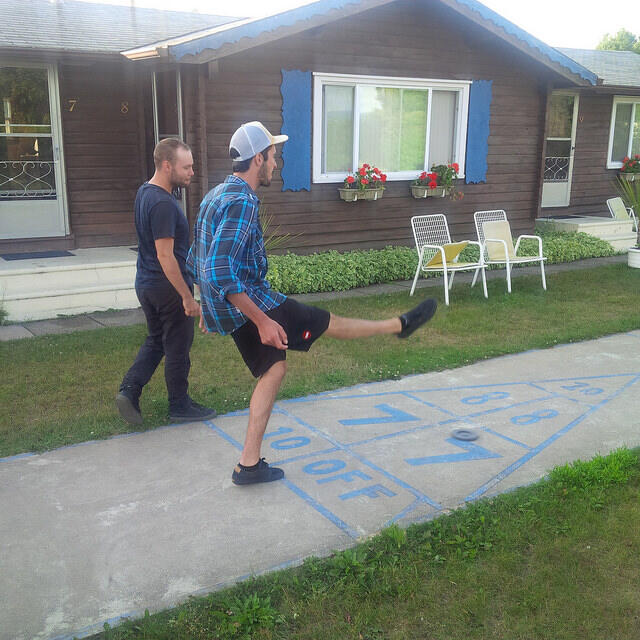 We all met in the dining hall for what would be our last meal as a group. It ended up being the most enjoyable dinner of the adventure. By this time we were all comfortable with each other, and the jokes and Seinfeld quotes were flying. My stuffed chicken with sautéed veggies was a home run.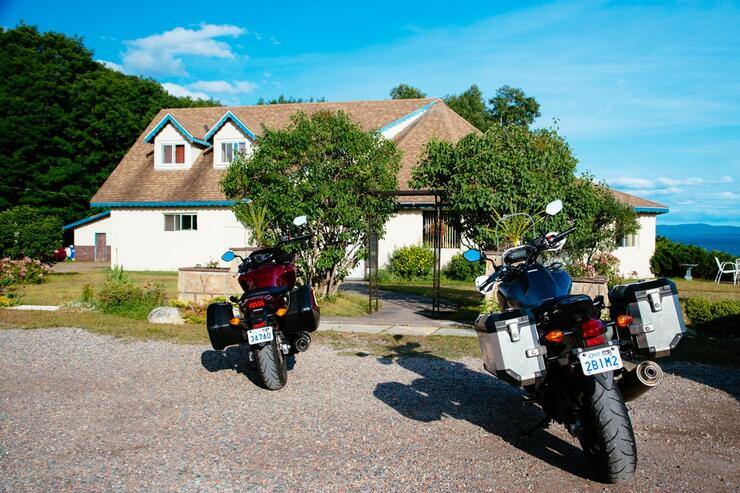 With another day of brilliant sunshine, we packed up the bikes and chase vehicle and hauled butt to The Bushplane Museum. We had a 9:30 am press conference there starring The Planet D and, with local media and many of the Ontario Tourism heavy hitters in attendance, we couldn't be late.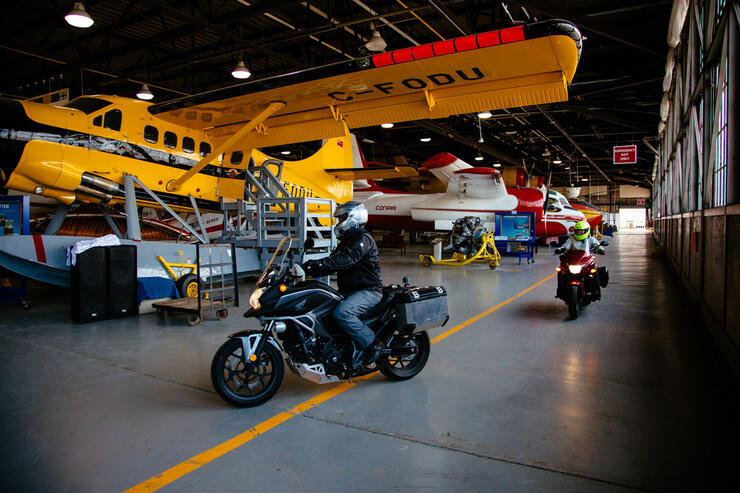 In true rock star fashion, Dave and Deb rolled up to the podium in full riding gear (located inside the hangar of the museum) on their trusty Honda motorcycles, ready to greet the media. As they shared their experience of the last seven days, you could really hear it in their voices that they now had a genuine passion for riding motorcycles. It's official: The Planet D are now full-fledged motorcycle touring riders! Congrats guys, you earned your stripes.