Top 10 Motorcycle Routes in Ontario for 2020
If you're already dreaming of summer and your next big road trip, this is the list for you.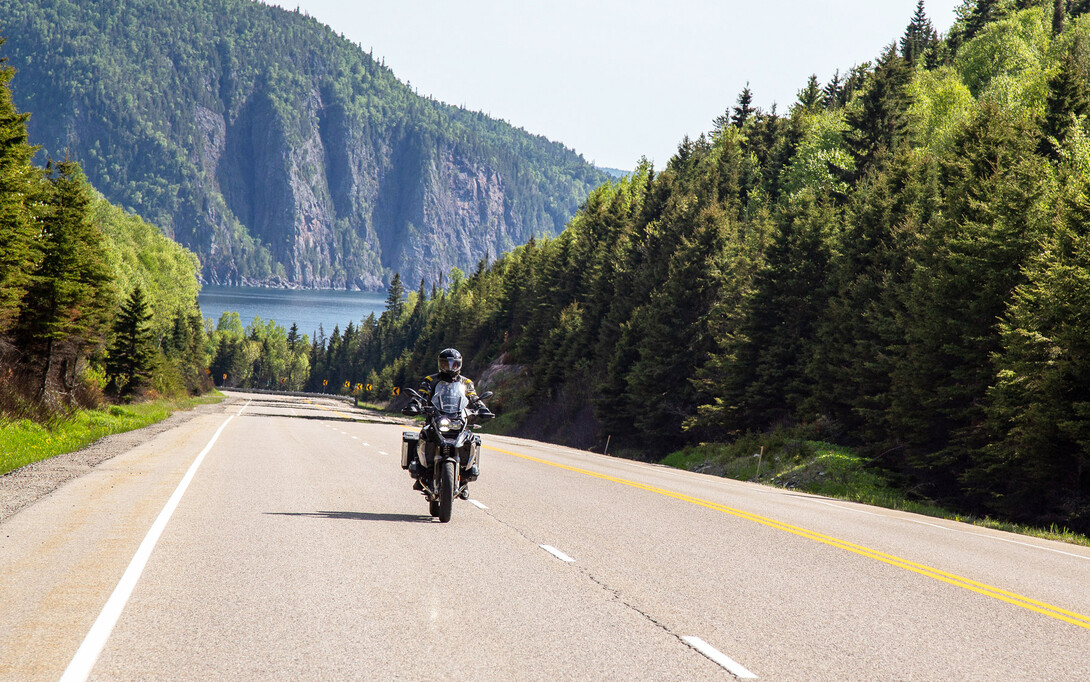 Every year we review the list of official motorcycle routes in the province of Ontario to determine what the best tours are for visitors coming from all over North America.
This year, we're making a special welcome for riders from Michigan and Minnesota, and have ranked these routes against how close they are to these states, as well as any improvements the regions have made to the routes, the quality of the ride from the pavement to the views, and access to the necessary amenities like hotels, gas, and restaurants.
If you have any questions, or need any help trip planning, reach out to us on Facebook and ask us about any of these routes—if we don't know, we'll connect you with the people who do. And if there's one thing that's true about Northern Ontario, it's that the locals here love to help.
If you're looking for a shorter trip, check out our list of the top 30 roads in Ontario. If you just want to meet other riders, check out Ontario's list of motorcycle events. For big old epic road trips—read on!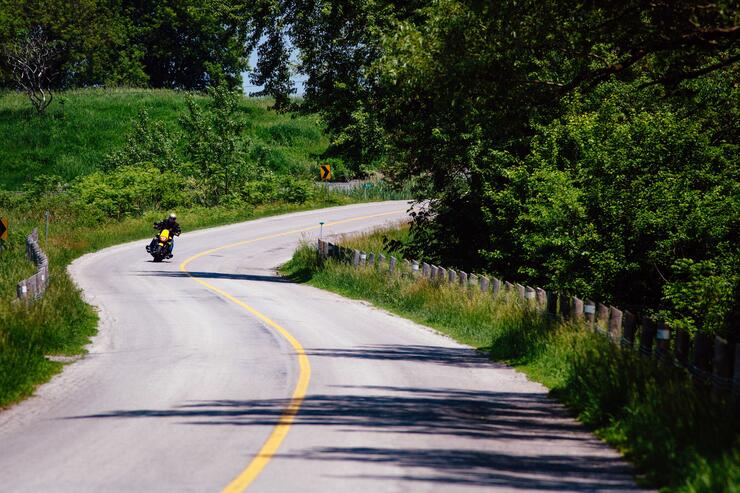 Do you love great local food? How about a delicious craft beer at the end of a long, satisfying ride? Or want to experience Canada as it was 100 years ago? Look no further than Ontario's Southwest. Spanning from Detroit to Niagara falls, this area has been ridden by US riders for decades, and with good reason. You can do a day ride, or jump in for a weekend. There's plenty of cool local hotels and B&B's and lots of beautiful sandy beaches on Lake Erie, so bring your swim trunks! There are 12 official routes on the website, so take a look!
Cross the Border At: Detroit or Niagara Falls
Distance From Border: 0 miles—routes start as soon as you enter the province from either side
Not so much a huge route, and technically part of the Cruise the Coast set of routes, this one gets it own separate mention because of just how crazy fun PD13 is. For those of you who don't know, Port Dover's Friday the 13th Motorcycle Rally is the world's largest single-day motorcycle event. Hundreds of thousands of people come from all over the world to attend this event, and the riding in this part of Ontario is pretty fantastic. If you want to stay in the area you'll need to book well in advance, however, the event happens every Friday the 13th, even in the dead of winter—so you'll always know when to go!
Cross the Border At: Detroit or Niagara Falls
Distance From Border: 3 hours from Detroit, 1.4 hours from Niagara Falls
What we love about this route is that it takes riders through four states and one province, all with incredibly cool things to see, places to eat and great roads along the way. The Ontario side makes up about half of the trip (Ontario is BIG) and is known for its sandy pleasant beaches that see thousands of families every year, and generally have ample parking and amenities for picnics—even if you're not going swimming.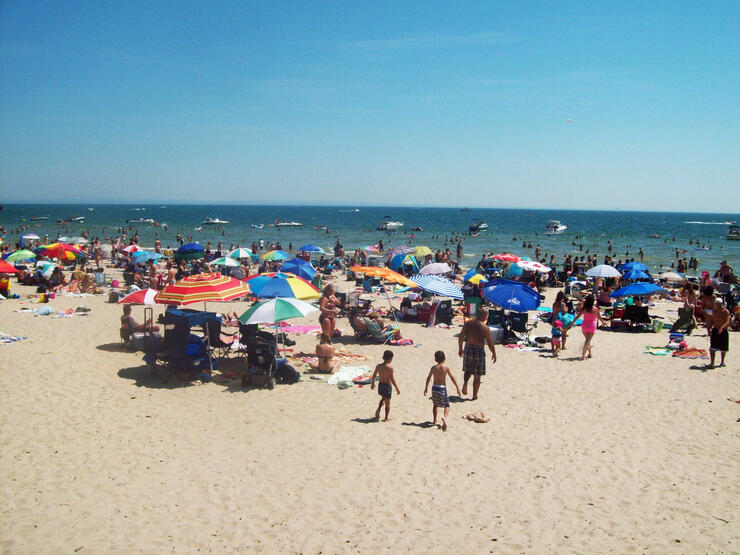 Quiet backroads through farmland and clearly marked signs for the waterfront trail make it easy to navigate, and you'll always end up back home without having to ride the same roads twice!
Cross the Border At: Detroit or Niagara Falls
Distance From Border: 0 miles—routes start as soon as you enter the province from either side
In the heart of Ontario's Cottage Country are some of the most accessible, and easy, cruising roads in Ontario. Because the surrounding area is home to wealthy doctors and lawyers, the roads are generally well-paved, with a few notable exceptions. But the geniuses at the Great Canadian Wilderness tourism office who are responsible for these routes send a rider out every May to evaluate the roads and redraw them if anything is in poor condition.
The routes themselves consist of some amazing sweepers through beautiful lush forests, dotted with hundreds of lakes and iconic Canadian cottages. There are plenty of great places to stay overlooking the Muskoka Lakes, but the routes also pass through Ontario's most renowned provincial park—Algonquin. It doesn't hurt that the highway here is stunning and just freshly paved.
Cross the Border At: Port Huron/Sarnia or Detroit/Windsor
Distance From Border: 4.5 hours from Port Huron, 5 hours from Detroit     
Bruce Country is a sweet spot in Ontario—nestled between two giant bodies of water, Lake Huron and Georgian Bay. It's technically part of the Niagara Escarpment, which means you'll see lots of elevation changes. While the roads are relatively straight, the scenery is epic. You'll see wonderful rolling farmland meet up with azure waters on the bay side, and massive wild beaches on the lake side. You can also connect up with the Northern parts of Ontario through the Chi-Cheemaun Ferry in Tobermory. There are five tours to choose from, but you could probably do them all in a weekend.
Cross the Border At: Port Huron/Sarnia or Detroit/Windsor
Distance From Border: 4 hours from Port Huron, 4.5 hours from Detroit
This just might be the perfect ride for Michiganders looking for a long weekend in Canada on their bike. The eastern side of the bay is incredible, with hundreds of tiny inlets all over the glacier carved rocks, it's most beautiful when you take any of the side roads that lead down towards the waters of Georgian Bay. We highly recommend stopping in Parry Sound for the evening—the beauty of the waterfront here can be enjoyed from any of the great restaurants and you'll see the iconic railway trestle that runs through town. Check out the three-day itinerary in this new trip planner:
Cross the Border At: Port Huron/Sarnia or Detroit/Windsor
Distance From Border: 4 hours from Port Huron, 4.5 hours from Detroit
One of Algoma's iconic routes, the Deer Trail is a day-ride from Michigan, but takes rides into some of the most beautiful backcountry of the Algoma region. This area is full of river valleys carved through deep rocks and resembles nothing else in Ontario. Combine this route with the exhilarating Grand Algoma to make a weekend of it, or just grab dinner at the Red Top Inn and head home!
Cross the Border At: Sault Ste. Marie, Michigan
Distance From Border: 1.5 hour ride
For years the Grand Algoma has been Ontario's top ride. And with good cause. Highway 129, which makes up half of the ride, is Ontario's "tail of the dragon" with tight winding curves, wide sweepers, and huge drops, all framed by cliffs and rivers. And on the other side of the Mississagi Valley is Highway 11, the Trans-Canada running south from Wawa to Sault Ste. Marie. Sailing down the undulating two-lane blacktop that winds back and forth against the shores of glorious Lake Superior lands you back in Sault Ste. Marie and ends the route on a high note.
And it's still a top ride. Directly across the river from the USA, and combined with other routes in the region for a longer ride, it was pretty much perfect. But this year we've felt that recent improvements in two other routes have warranted some serious attention. Make no mistake though, The Grand Algoma is a must-ride route in Ontario.
Cross the Border At: Sault Ste. Marie
Distance From Border: 0 miles – starts right at the border!
Sister route to Ride Lake Superior, the Nor'Wester never gets the attention it deserves, but we plan on fixing that now. The scenery on this route is unmatched, and the roads are sweeping, wondrous things that fly you over pristine lakes that twinkle in the sunset, babbling brooks and raging rivers pouring through craggy rock cliffs, and wild untamed forests with massive pines, spruce, and cedar. While it's not on a major lake, it's the two connecting highways that complete the loop—namely Highway 71, 622, and/or 522—that are truly spectacular. There are lonely stretches of highway, without any major towns on them, but the asphalt is good, the twisties are amazing, and the scenery is just killer.
Cross the Border At: International Falls
Distance From Border: 0 miles—the route starts as soon as you've passed customs.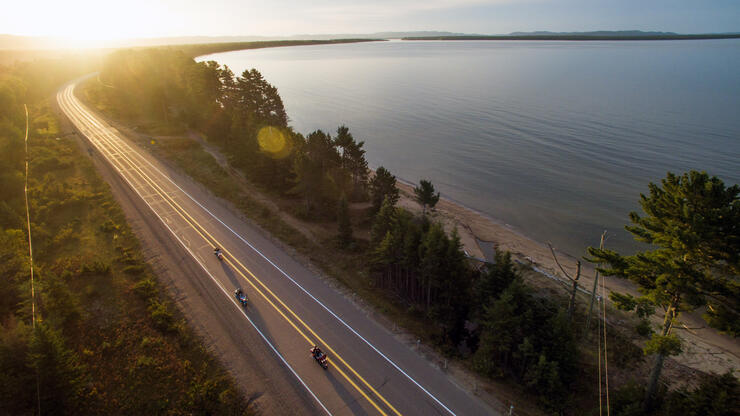 This is Ontario's bucket list ride. It doesn't matter if you're riding from Egypt, California, Sudan, or Japan—if there's one route you do in Ontario, make it Ride Lake Superior. The lake is more like an ocean, and it's not an uncommon sight to find massive freighters outside your hotel room.
While the US side has absolutely magnificent small towns, windswept dune beaches, and picture-perfect attractions, the Ontario side has jaw-dropping rockcuts and views of the mighty lake. And if you like being treated extra nice, most cities on the loop have motorcycle-specific parking at the hotels.
Cross the Border At: Sault Ste. Marie, MI or Pigeon River, just north of Duluth.
Distance From Border: 70 miles from Duluth, but the highway there is part of the route