5 Reasons the Best Sledding is Found in Northeastern Ontario
In a place where snowmobiles often outnumber cars, we know snowmobiling.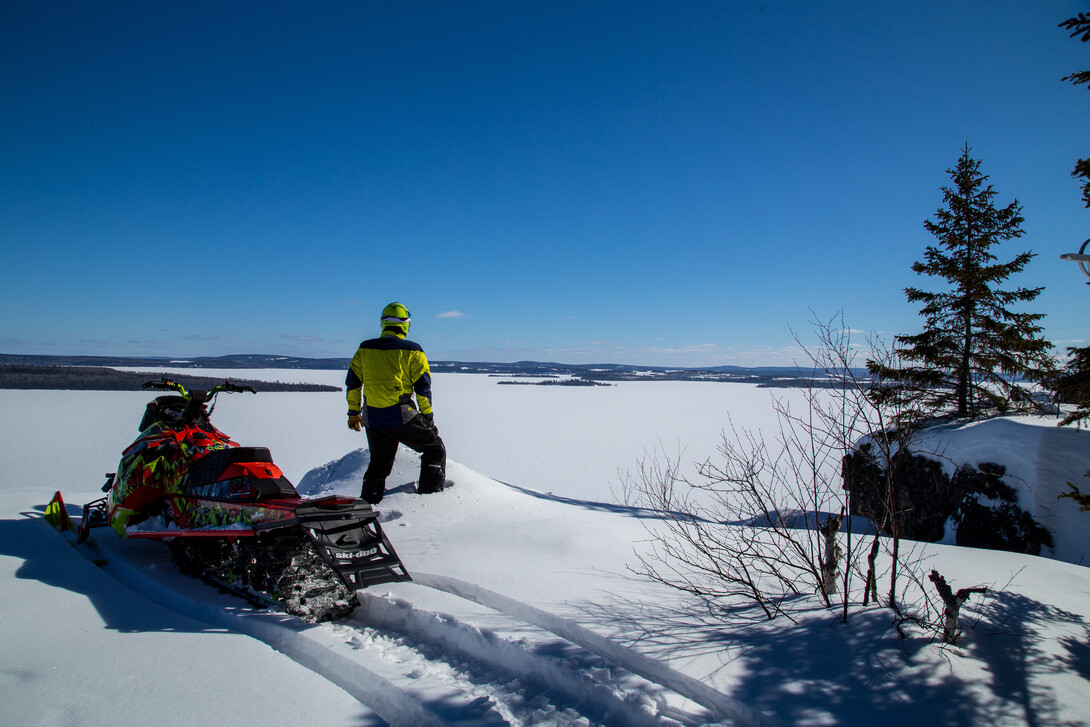 In case you haven't heard, winter is here and trails are starting to open across Northeastern Ontario. If the current weather is any indicator, we're looking at a doozy of a sledding season! While that may be considered bad news for commuters and warm weather enthusiasts, it's great news for snowmobile lovers throughout and beyond Ontario.
Remember to stay safe when you're on the trails, crossing roadways, and over bodies of water. And stick to this general rule: if you're not sure, don't go.
And now, for our top five reasons to choose Northeastern Ontario for your next snowmobile adventure, starting with... 
All That Gorgeous Snow
Enough said. Our winters start early and they run long—often well into April. With snow making an appearance in much of the region already, it looks like we could be in store for an especially snowy one. Music to a snowmobiler's ears! As the City of Timmins puts it: we measure snow in feet, not inches. You're pretty much guaranteed to find the white stuff if you head northeast.
Snowmobile Culture
In Northeastern Ontario, snowmobiling is more than a hobby—it's a way of life, and one of the best ways to make the most of winter. During the winter months, you'll often find the parking lots of local restaurants, attractions, and gas stations full of snowmobiles instead of cars.
This is a lifestyle and it means that snowmobile culture is strong in the north. You're guaranteed to meet a range of like-minded travellers that have come to experience it for themselves.
Eleven—Count 'Em—Eleven OFSC Designated Snow Tours
Northeastern Ontario is home to the largest number of Ontario Federation of Snowmobile Club-promoted routes. These self-guided routes showcase some of the province's best riding; they're well-mapped and marked, and bring you in close proximity to the services you'll need while on the trail. As the OFSC-promoted snow tours receive priority grooming, you'll also find the best quality riding—"all you have to do is follow the signs"!
Here they are: 
 
the Best Trailside Attractions & Staging Locations
Remember what we said about snowmobile culture? Well, it applies to our attractions and accommodations, too. Many are within a five-minute drive of the trail systems and cater specifically to snowmobilers.
Feel like a sauna or a soak after a long day on the trail? There's a lodge for that. In search of all-you-can-eat meals, satellite TV, and WiFi? There's a lodge for that, too.
We've done some of your homework for you, click here to see the lodges and resorts that offer packages for snowmobilers. 
Our Wilderness is Pristine, and There's Plenty of It  
We don't just have great trails, mountains of snow, and an entire culture paying homage to snowmobilers…. we also have big-time wilderness. There's something magical about being in the forest mid-winter. It really comes alive, and there's no telling what or who or what you might encounter. Riders have sent us photos of wolves, moose, deer, lynx, hares, a variety of birds, and other local wildlife!  
Check trail status and find services with the OFSC's Interactive Trail Guide. 
Before hitting the trails, make sure to buy your Trail Permit here.