6 Northeastern Ontario Trails to Discover This Fall with the Whole Family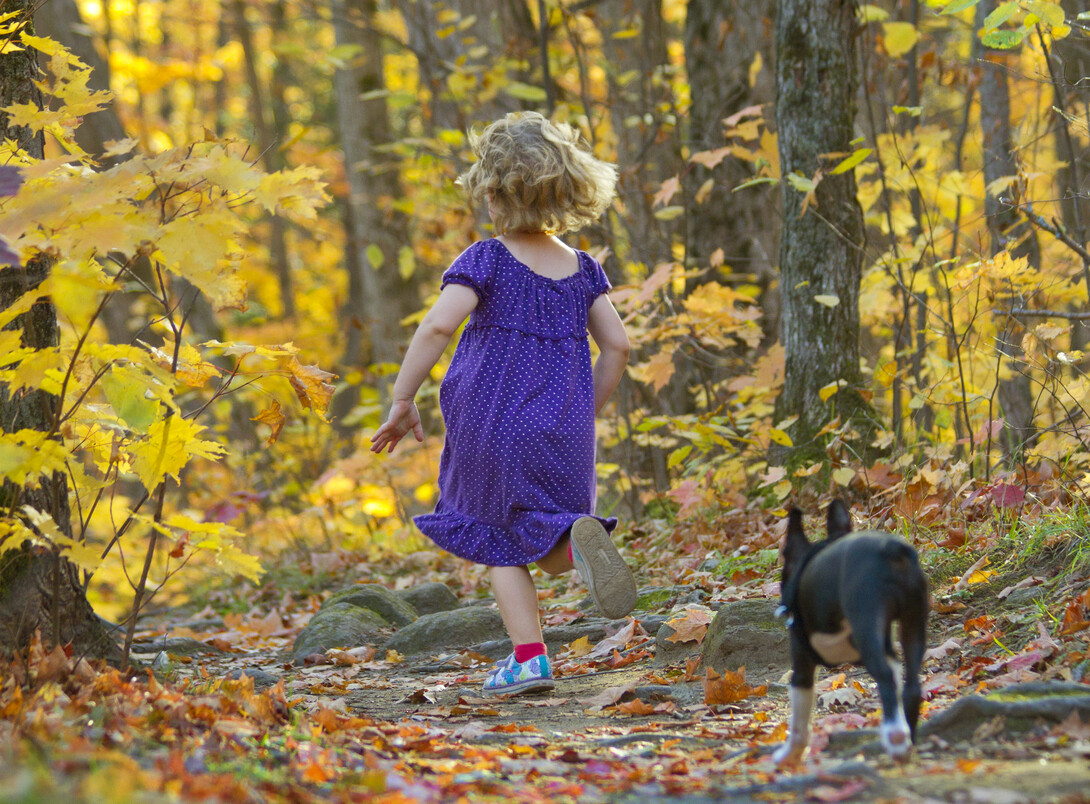 The hectares of fall foliage in Northeastern Ontario offer an unforgettable experience. It is also the perfect time of year to update those family photos! Take advantage of the colourful backgrounds and that crisp fall weather and get out to explore Northeastern Ontario's trails. Discover trails by foot through forests rich in history, or hop on horseback to explore the Talon Chutes. If you're looking for a group trip, there's a tractor-drawn wagon ride that will take you through acres of wildlife all while being surrounded by the changing fall colours.
Here are the best places to spot fall foliage in Northeastern Ontario. 
Located in the heart of the city of North Bay, this significant wetland provides a home to a variety of wetland and woodland creatures. The 10 km trail offers the opportunity for breathtaking scenery, wildlife viewing and the perfect lookout for a family picnic or those family photos! If you have any bird lovers in the family, this is the place to watch for them. There is truly no better time to embrace the northern scenery than in the fall surrounded by all the changing colours. Not to mention, no bugs!

For a unique and fun way to explore the trails of Northeastern Ontario this fall, take the family for a horseback ride! Von Doeler Ranch is the perfect place for all skill levels and has a variety of trails to choose from. Offering a tailored day and ride to each family. Ride to Big Rock, or to the Talon Chutes or better yet, make it a full day ride with a trip to see the cows and check out their Rough N Tough cabins, a truly adventurous day for your family or group!
This trail offers an accessible section and an additional "adventurer" trail making it perfect for all members of the family. A scavenger hunt game encourages youth trail users to play along and find minerals and native tree species along the path. A rock staircase and steep connector loop add a physical challenge component for the ones looking for a small challenge. The trail is shorter than others but a great place for kids to explore and get up close to the giant nickel! 
White Bear Forest is like no other here in Ontario, with massive old-growth red and white pines towering over the trails. These trees are commonly about 260-270 years old, with the oldest found being 400 years old! But this forest also has a lot of important history. The White Bear Forest's name comes from the last chief of the Teme-Augama Anishnabai tribe. Little has changed in this forest's landscape since the 19th century when Chief White Bear and his family used this forest for hunting and trapping. A perfect forest for the family to learn and appreciate the many years these trees have been around.
Bonus: Climb the famous Temagami Fire Tower for incredible views and great pictures! 
Rain or shine this wildlife tour is the best way to get the family out this fall! If you love wildlife and want to get up close and personal then this is the trip to do so. The tractor-drawn wagon might not be your typical way of hitting the trails but you'll appreciate it while you travel through the 100-acre wildlife park. Private tours can also be booked in advance with groups of 6-12. A perfect tour for all ages to enjoy!
Appointments are required for tours & walks
A trip to Dream Acres Alpacas Farm might be the perfect way to convince the whole family to get out this fall.. because who wouldn't want to meet alpacas!? The farm purchased its first alpacas back in 2008 and is now the proud home to 31 alpacas! They offer tours and walks throughout the farm and an up-close meet and greet with the animals. Perfect for all ages. To book your tour this fall, click here.