10 Spots to Discover the French River
Some of Canada's most famous adventurers explored this river. So can you.
The French River area of Northeastern Ontario has long been a favourite among outdoor enthusiasts keen on fishing, paddling, backcountry camping, and just plain relaxing, but its rich history goes back centuries. Long before explorers such as Étienne Brûlé and Samuel de Champlain, and long before the fur-trading voyageurs paddled the French, the river was a natural waterway for the area's Indigenous peoples as it flowed westward from Lake Nipissing to Georgian Bay.
The French River became a vital route for the logging industry in the late 1800s, as logs were floated down to saw mills located near the river's mouth on Georgian Bay. Its historical significance as a transportation corridor led to the French River's designation in 1986 as Canada's first Heritage River. The French River Provincial Park protects this historic waterway.
The French River Visitor Centre, located where Hwy 69 crosses the river, features an exhibit that takes you back in time. "Voices of the River" showcases the history, geology, and ecology of the area. The Centre received the Governor General's Medal in Architecture in 2010 for uniting nature and construction in a building that merges with the original landscape.
You will find another unique construction just a short walk from the Visitor Centre. The snowmobile suspension bridge that spans the French River gorge is the largest of its kind in the world, connecting a network of trails for snowmobile enthusiasts.
French River Trading Post
Founded by Bill Biggs and his parents in 1956, the French River Trading Post has grown from a small shop on a gravel road to a booming business complete with gift shop, restaurant, and—of course—the Hungry Bear! Now owned and operated by Bill Biggs' wife Diane and daughter Tracey, the French River Trading Post is known for its souvenirs that include Canadian-made moccasins, local handicrafts, and its famous cream and butter fudge. Along with its regular menu, the Hungry Bear Restaurant features your choice of 16 different flavours of ice cream at the Ice Dream Den.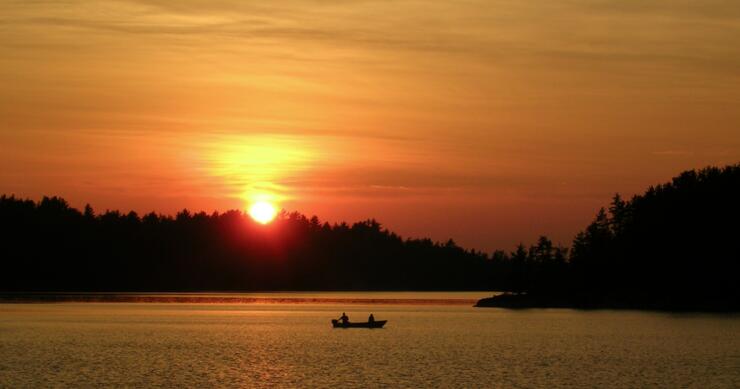 French River is home to many lodges and tourist operators that offer a variety of fishing as well as other outdoor experiences to make your BIG Northeastern Ontario vacation dreams a reality.
Crane's Lochaven Wilderness Lodge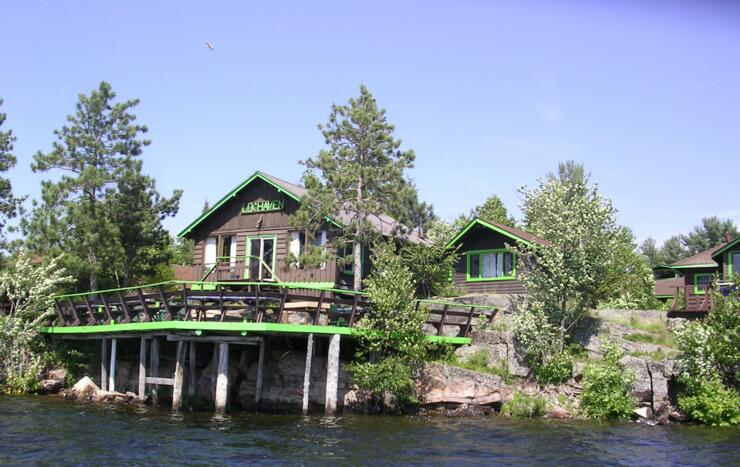 Located on a private island on the French River, Crane's Lochaven Wilderness Lodge is an American Plan fishing lodge that has been family-owned and operated since 1973. Your hosts Sue and Ed Crane and their staff offer outstanding hospitality and top-notch service in a wilderness setting that is nothing short of awe-inspiring. You'll soon realize why fishing on the French at Crane's Lochaven Wilderness Lodge is one of the most memorable experiences you'll ever have. Just ask their guests who keep coming back year after year.
Totem Point Lodge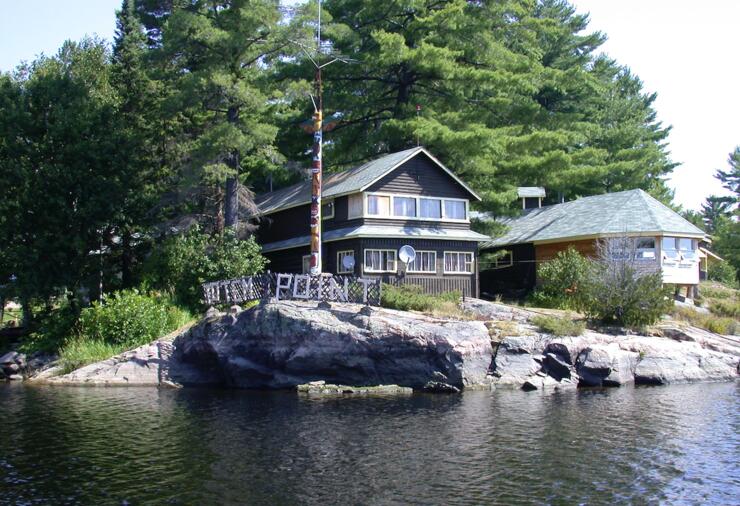 Family-owned since 1972, Totem Point Lodge on Wolesley Bay is a beautiful drive-in lodge that offers both Housekeeping and full American Plan packages. Totem Point Lodge caters to anglers and their families, with guests coming from as far away as China and for as long as 56 consecutive years. It must be the fishing that keeps them coming back—fishing for Walleye, Northern Pike, Muskellunge, Smallmouth Bass, and Largemouth Bass. The prize for the annual Fishing Contest is a week's free accommodation the following year.
Chaudière Lodge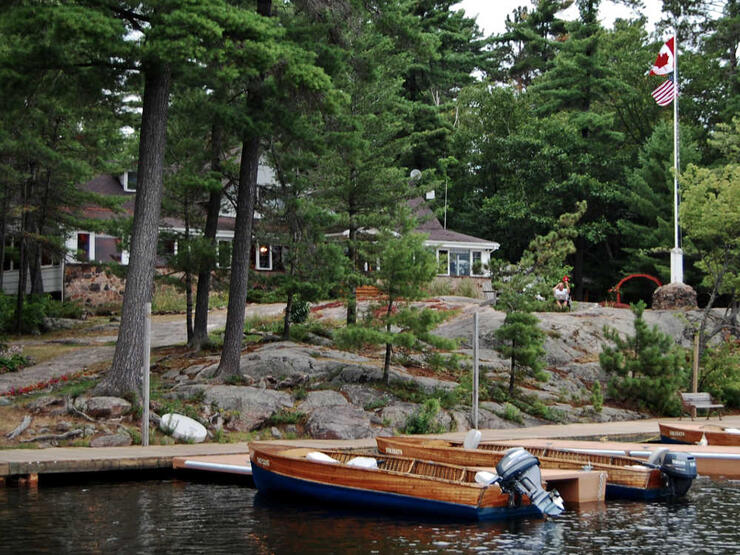 Located on an island on the Upper French River, Chaudière Lodge is a 17-acre resort established in 1905, boasting 14 well-maintained cottages spread out over the waterfront, and a main lodge that features a lounge and a professionally-equipped commercial kitchen. Chaudière Lodge offers world-class fishing, canoeing, kayaking, and photography in two very different environments. The French is sheltered with numerous bays, narrows, islands, and inlets perfect for canoeing, photography, and fishing. Lake Nipissing and the mouth of the French River offer a large body of water where the fishing is excellent. As they say at Chaudière, "you will leave with new friends, unforgettable memories, and an addiction that only a return trip will quench."
Wolseley Lodge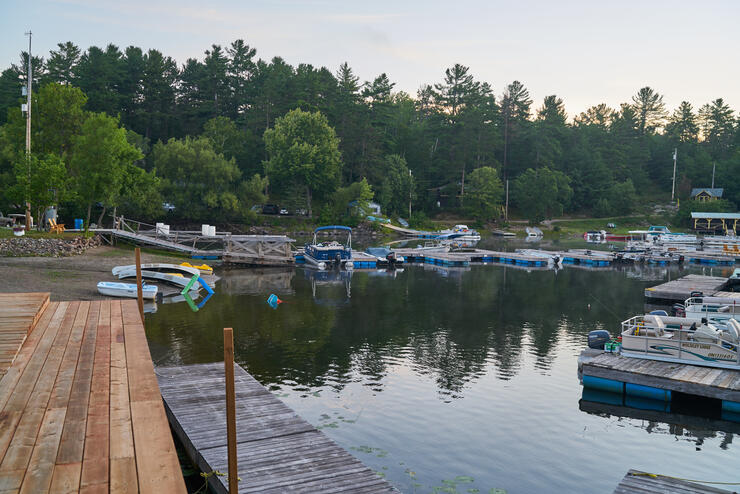 Wolseley Lodge has long been a home away from home for anglers, hunters, photographers, historians, and vacationers seeking a place to unwind. The Luttes have been welcoming guests since they took over the operation on Canada Day 2004. Whether you choose Housekeeping or the all-inclusive American Plan, Wolseley's accommodations are impeccably clean and comfortable, ranging in size from one to four bedrooms. Wolseley Lodge can also arrange guided fishing tours for you with guides who grew up in the area and have from 30 to 45 years of experience.
Hartley Bay Marina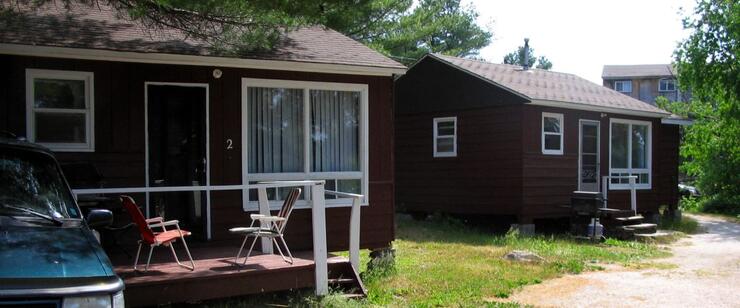 What makes Hartley Bay Marina unique is its direct access to the Georgian Bay part of French River Provincial Park. Guests can go wilderness paddling or enjoy motorboating and fishing on the historic French River. With a range of great accommodations and adventure services, the Palmer Family has been fulfilling vacation dreams for three generations. Two-, three-, and four-bedroom housekeeping cottages tucked in among the trees and overlooking the French River Delta will give you the opportunity to experience nature while still enjoying all the modern conveniences of home. The family-run marina has been providing customers with the perfect access point to the French River Delta since 1952 and to French River Provincial Park since 1989.
Bear's Den Lodge
Owned and operated by Art and Brenda Barefoot, Bear's Den Lodge is a world-class fishing and hunting lodge located on the French River Delta. Bear's Den boasts some of the finest fishing in Northern Ontario, with trophy Walleye, Northern Pike, Largemouth Bass, Smallmouth Bass, and BIG Muskies just a cast away. Accessible only by boat or by float plane, Bear's Den truly has something for everyone with offerings that range from a Photo-Tour Package or a Canada 150 Cultural History Boat Tour, to a Culinary Experience with Executive Chef Art Barefoot. 
French River Lodge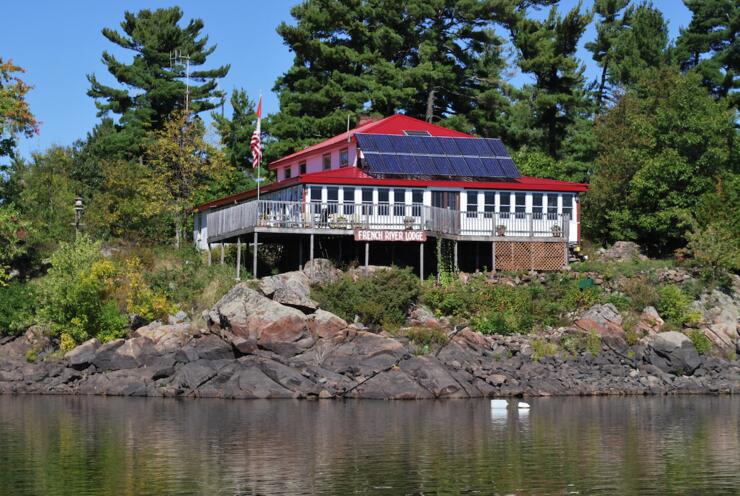 Guests of the French River Lodge are surrounded by a spectacular view of Ox Bay, where the French and the Pickerel rivers meet on their way to Georgian Bay. Located on a secluded wilderness island, there's no better place to get away from the everyday. Relax in the comfortable lounge area, pick up a book from the library and read by the open-hearth fireplace, or play a rousing game of ping pong. At end of day, enjoy the night sky showing off the starlit wonders of the universe. The lodge shop carries everything from groceries and souvenirs to tackle and tourist information, while the main complex includes a variety store. As for the fishing, your hosts Joe and Anne Ott recommend that you come prepared for some fast-action angling!