Where Will The Great Spirit Circle Trail Lead You? To Manitoulin Island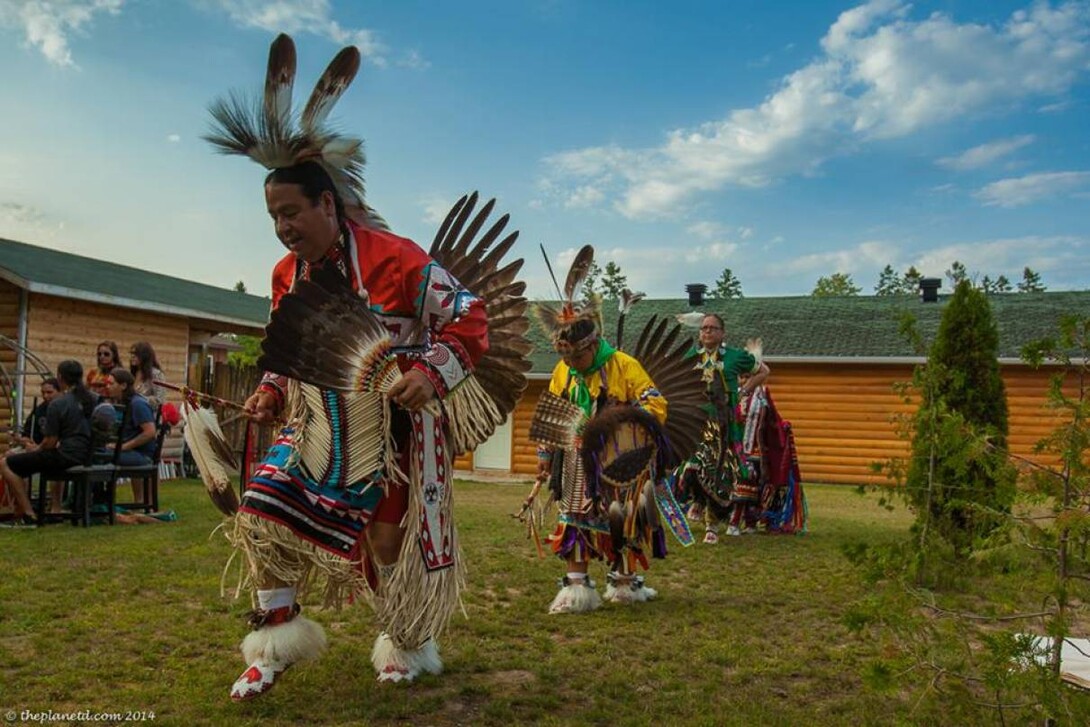 A visit to Manitoulin Island is so much more than a visit to the world's largest freshwater island. Yes, it is an outdoor lover's playground housing scenic waterfalls and spectacular views, but it is also a destination where one can discover and learn about history and culture.
Our travels around Manitoulin Island followed the Great Spirit Circle Trail, an aboriginal experience giving us a glimpse into the lives of the Anishnawbek people. There are 7 First Nation Reserves on Manitoulin Island, and if you have always wanted to learn more about this rich culture, this is the place to be immersed in Aboriginal traditions.
Our tour of the Great Spirit Circle Trail began at the Manitoulin Hotel and Conference Centre in Little Current. The hotel's design and concept is inspired by the culture of the region. As soon as you enter, your experience begins in a teepee shaped lobby decorated with traditional arts and crafts.
During our time on the island, we had different guides who were fun, informative, and welcoming. We felt free to ask them any question about their history and culture, and they were open to explaining their way of life. We instantly bonded with Steven, Bonita, Marc, and Falcon; the various guides we had on our trip. We enjoyed plenty of laughs and conversations around campfires and created memories and friendships that will last long after our Manitoulin experience.
An excellent start to the Circle Trail is a visit to the Ojibway Cultural Foundation Museum. It houses an art gallery, museum, and amphitheatre tracing the history of the Ojibway culture. Starting here sets the tone for your vacation. You will learn about the ceremonies and traditions that you will be taking part in during your stay, and you'll gain a better understanding of how the culture has evolved. It's not until recent years that it has been reintroduced and embraced by today's society. Much of the First Nation's culture was lost and buried for a very long time and it is now resurfacing. Old traditions, languages, and ceremonies are being taught to students and members of the modern First Nation's communities, and they are happy to share it with us.  The First Nations are the oldest and most vibrant culture in Canada and it is wonderful to see if flourishing. It's important to us learn about and understand their heritage.
One of our favourite days was taking part in the Song of the Drum at the Great Spirit Circle Trail's office. Its grounds are like stepping back in time. We walked through a display of functional teepees rented out for glamour camping, a wigwam, and an area to make traditional arts and crafts. We started our afternoon listening to guide Steven tell us the legend of the drum. A young girl entered the spirit world during a great battle and was told to bring the drum to the warring tribes to make peace. Ever since the drum has been an important part of ceremonies.
He and fellow guide Falcon then performed several different types of songs for us. Transfixed by their astounding vocal control, we listened and learned as they tirelessly played for us. Being able to make our own drums to take home was very special experience. Now we just need someone to teach us how to sing and play like Steven and Falcon.
If you don't have time for a drum making session, make sure to visit Lillian's Crafts in M'Chigeeng to buy authentic aboriginal arts and jewellery. The store sells an endless supply of crafts from moccasins to artwork. There is also a museum in the back specializing in giant collection of handcrafted quill boxes.
The highlight of our time on the island was most definitely having the opportunity to watch the Rolling Thunder Dance Traditions perform to the drums and intricate vocalizations of Genaabaajing Jr. They not only performed for us, they brought us into the celebrations by holding our hands and dancing with us. It was a very interactive performance where leader Tim McGregor talks between dances about the purposes of each dance and why they are performed. It was a relaxed and open celebration that uplifted our spirits and made us make note of attending the next Pow Wow that happens in our area.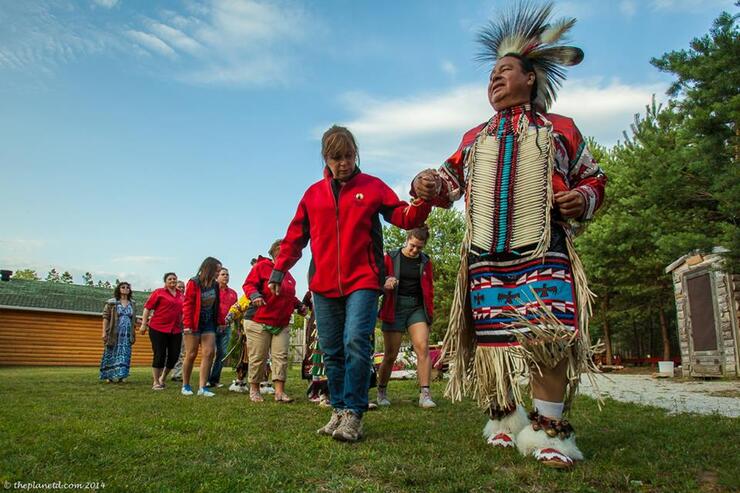 We had a First Nation's guide with us throughout most of our Manitoulin Island experience and it made our travels richer. During our time on the Cup and Saucer trail, Falcon told us stories and legends of the area. We ate banamick and berries while sitting on a high cliff and gave thanks "meegwetch" to Mother Earth through a tobacco ceremony. During our overnight camping and horseback trip we learned of the smudging ceremony to cleanse away bad energy that helped us relax during the rainy night. A memorable experience happened on our cruise to the Benjamin Islands. Our guide Marc gave us all raw tobacco to throw over the boat to give thanks for the friends we made and the good times we had. It was a very special experience and a moment we will never forget.
Taking in the Aboriginal experiences helped us gain a better understanding and appreciation of Manitoulin Island. But more importantly we came away with new friends and a new understanding of First Nation's culture. It was one of the most immersive cultural experiences we've had in all our travels and we highly recommend stopping at the Great Spirit Circle Trail to book one of your own aboriginal experiences too.