The Lake Nipissing Loop: An insider's guide to this scenic Northern Ontario tour
From breweries, French bakeries, and trading posts to museums and winter hiking—add this epic weekend road trip to your bucket list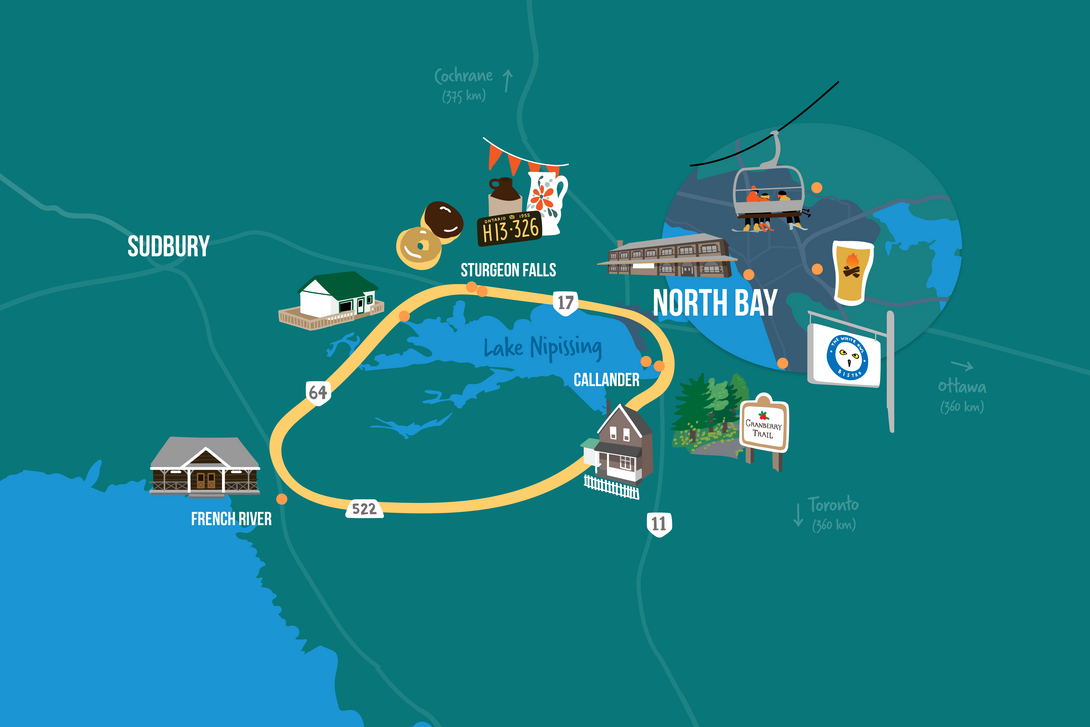 Lake Nipissing is a gorgeously large yet shallow lake surrounded by a city and many towns along its shores. Nipissing has been translated from its original Anishinaabe name "Nbissing," meaning "little water," as Indigenous traders compared its size to that of the Great Lakes.* Although small compared to those mighty lakes, Lake Nipissing is the fourth largest lake in Ontario and takes approximately three and a half hours to drive around, non-stop. While well-known for its beautiful beaches, great boating, and extraordinary sunsets during the summer months, Lake Nipissing is well worth a weekend driving tour during the late fall and winter months as well!
Explore a weekend itinerary by clicking the map below:
Where To Start And Where To Stay: North Bay
No matter which direction you are coming from, we recommend you make your homebase in North Bay, the only city on the shores of Lake Nipissing. When choosing accommodations, a view of the lake is always recommended. The Finch Beach Resort boasts gorgeous retro-style cottages with a micro resort feel. The Finch has a partnership with closeby casual fine-dining restaurant Churchill's for room service and provides complimentary snowshoes, a perfect way to explore the frozen lake. If a hotel-style stay is more to your liking, the Homewood Suites is located steps away from North Bay's Marathon Beach and walking distance from the downtown core. 
Visiting the Gateway City's Culinary Delights
Once you've settled into your accommodations, choosing your restaurants of choice and your drinks for the weekend are important next steps. If you're a craft beer fan, a good first stop is to pick up some delicious local brews. New Ontario Brewing Co. has a gorgeous pub style location with live music every weekend, while Gateway City Brewery has a minimalist warehouse-vibe taproom with a variety of pinball machines and picnic tables. A great breakfast or lunch stop is Terry's Place, which sticks out among the many breakfast restaurants of North Bay for its creative breakfast specials, such as the breakfast pogo or the Monte Cristo Eggs Benedict. Oak Street Eatery, located downtown, is an Indigenous female-owned and operated breakfast and lunch restaurant that focuses on fresh, delicious food. North Bay is also lucky enough to have amazing international offerings. If Mexican is a favorite, Mr. Pancho is the place to go! This Sinaloa-style, family-run restaurant brings Mexico to Northern Ontario with the most delicious items; notably the tostadas, gorditas and massive burritos. If eating with a couple people, My Thai Palace offers amazing family-style Thai food, with a cozy dining room. Local favorites include the Panang (peanut) curry, Pad Thai, and the spring rolls.
Exploring North Bay's Indoor and Outdoor Gems
Now that you've fueled up, it's time to explore. The North Bay Museum is a great first stop and excellent way to learn a bit of history about Lake Nipissing and North Bay. From the museum, a walk around downtown is a good next step. Some great stops include shops like the FARM, High Class Snax or North Bay Games and Hobbies, and art galleries like WKP Kennedy Gallery. If you're in North Bay on a Saturday, and you're looking to tap into local artisans and producers, then you must head to the winter indoor North Bay Farmers' Market, or head to 101 Experiences and search for an immersive local North Bay experience. If you're in the mood for outdoor adventure, Laurentian Ski Hill's gentle slopes located directly in North Bay with a panoramic view of the lake, or head to the Campus Trails for some cross country skiing and a stop at the Lake Nipissing lookout. If you're into fat biking or winter hiking, the Campus Trails are also great for these activities, as well as the Escarpment or the Monastery Tower Loop trails.
Hitting the Road to Sturgeon Falls
Once you've taken the time to explore the bay, it's time to hit the road. Head down Highway 17 to make your way to the lovely town of Sturgeon Falls. If you're a history buff, a necessary stop has to be the Sturgeon River House Museum to take in the local history. The museum is also the head to a few great forest trails that run along the Sturgeon River. If you're a treasure seeker, the Great Northern Flea Market is a year round staple of Sturgeon Falls and also hosts local producers and artisans. Once you're done shopping for treasures, the well-known Chez Jean Marc Bakery carries delicious baked goods from cookies and donuts to butter tarts and pies, as well as tempting savory items such as their famous cabbage rolls. Finally, before you head down Highway 64 for the next leg of your journey, make a stop at Twiggs Coffee Roasters, a local North Bay expanded franchise for a refreshment to take on the road.
A Pitstop On The French River
On your way around the Lake, if you need a pitstop, the French River Trading Post is a great spot for a bathroom break and a little shop, boasting locally and Indigenous-made giftwares and excellent fudge. For pizza, wings, and some evening entertainment, the Lavigne Tavern is a popular spot. Enjoy a pint of local craft beer on tap from Manitoulin, Stack Brewing, Lake of Bays, and New Ontario on the sunny patio or in the cozy, wood-panelled lounge. Also, if you're wanting to stay somewhere a bit off-grid, the Rainville Cedar Cottages is a year-round destination with two, three or four bedroom cottages with stunning views of Lake Nipissing. This is a perfect winter retreat for snowmobilers, ice-fishers or anyone looking to relax in the winter wilderness, or enjoy a snowshoe on the west side of Lake Nipissing.
Finishing The Loop at Callander Bay
As you come to the end of your Lake Nipissing loop, you're going to enter the spectacular town of Callander. As you come into the small town, you get a gorgeous view of Lake Nipissing's Callander Bay. If you're looking for an indoor activity, the Callander Bay Heritage Museum and Alex Dufresne Gallery is a great stop. Originally the home of Dr. Dafoe, the primary physician of the Dionne Quints, this museum tells the story of the area, and pairs well with the various installations of local artists in the gallery. Another great stop and local favorite is Vested Interest Trading Co. Vested Interest houses both sustainable and fair-trade wares and foodstuffs from both local creators and international artisan families from countries like Indonesia, Nepal and Thailand, and has been in operation for almost 30 years. It is recommended to allow at least an hour to explore this beautiful barn-style shop. If you're looking for some great outdoor fun, the Cranberry Trail is an ideal place to take a winter hike or snowshoe, with the trails leading you right to the shores of Lake Nipissing. Finally, to round out your lake tour, consider a dinner at 1886 Lakehouse Bistro located on Main Street in Callander. This cottage-casual restaurant includes a scenic view of Callander Bay with a delicious bistro-style menu featuring locally curated items.
Whether you're visiting the Lake for a snowmobiling trip, or you're looking for a winter wonderland getaway, the Lake Nipissing loop provides insight into why so many people call our 'small water' area home. Be sure to come visit our Gateway to the North!
* Oral history provided by Indigenous Knowledge Keeper Lynne Cormier