Lake Nipissing Fishing Hot Spots
Nipissing is one massive lake with plenty of fishing opportunities to keep anglers exploring.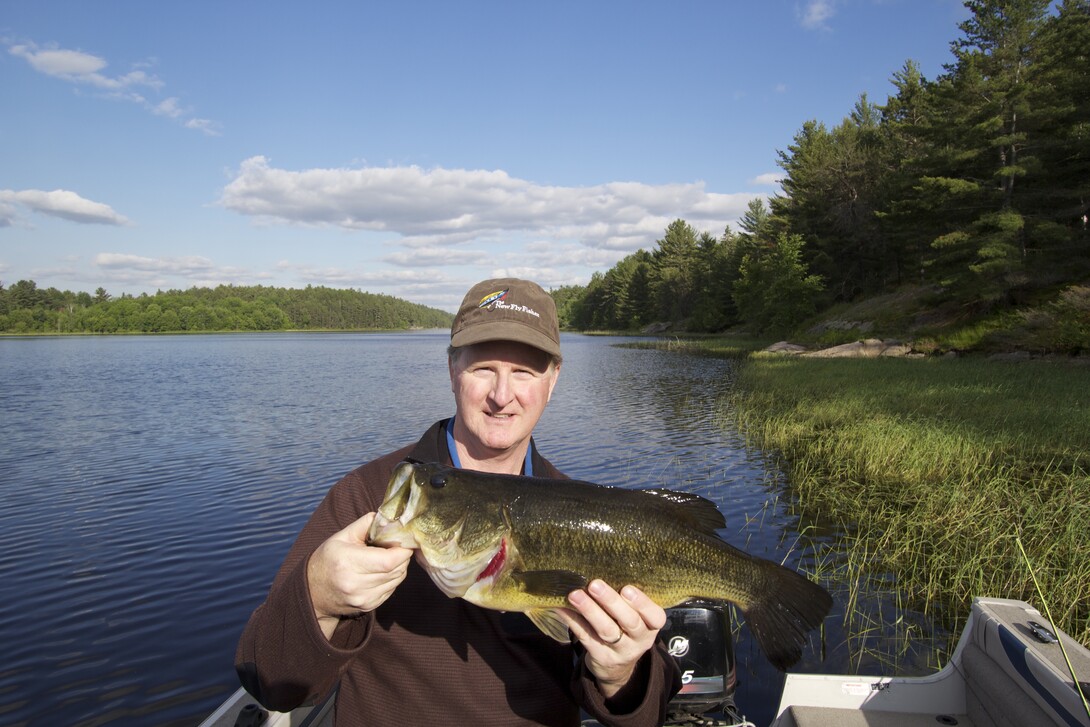 Lake Nipissing is located in Northeastern Ontario's Fisheries Management Zone 11. It has many towns, including North Bay, occupying its shorelines. This vast body of water is roughly 875 km2 (338 square mi.), 65 km (40 mi.) long from east to west, and 25 km (15.5 mi.) wide from its northern to southern shores.
Nipissing is one massive lake with a surprisingly shallow average depth of 4.5 m (15 ft.)—the maximum depth of 52 m (71 ft.) is found at the mouth of the French River. The shallow average depth makes this lake quite treacherous to navigate in some areas. All the shoals, clusters of islands, and abrupt depth changes require you to always pay attention when navigating at higher speeds.
The vast size of Lake Nipissing allows for winds from all directions to really pick up in a hurry as they cross the shorelines. Looking into wind direction and speeds can play a big factor on this lake and help to determine fishable waters on any given day. I have had wind completely ruin an otherwise perfect day on the water; what would be considered a light wind on any other body of water really gets those waves rolling on Nipissing!
In this article, I will break down the lake into its many different sections and offer pointers about fish species, boat launch locations, and the many lodges and guide services to choose from. I hope you get to enjoy every section of this lake as I have. Exploring new waters can be very challenging, but also very rewarding. Up until this year, I had fished only Callander Bay and West Bay waters, and have now fished every section described below.
North Shore (North Bay)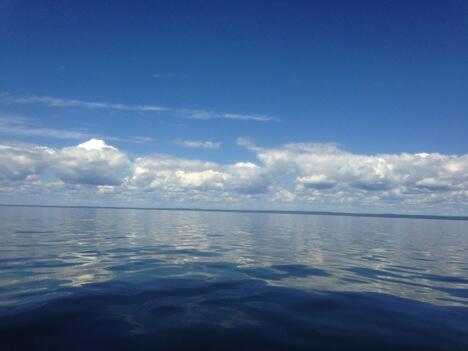 The North Shore is the most populated waterfront on Lake Nipissing extending from Dokis Point across to the La Vase River. This is a vast area of many sandy flats with rocky outcrops and scattered weed beds. There is a lot of fishing pressure in this area for walleye and perch in both the summer and winter months. The majority of this shoreline is occupied by the Nipissing First Nations and residents of North Bay.
Springtime is often busy out from the La Vase River launch where you can drift and catch countless numbers of walleye from buoy to buoy. The Waterfront Marina located in downtown North Bay also provides convenient access to the lake in both summer and winter months. Many people target walleye, perch, and northern pike in these areas. In the winter months, this is a hub for many ice fishing anglers and their snowmobiles.
Accommodations:
Cache Bay / Sturgeon River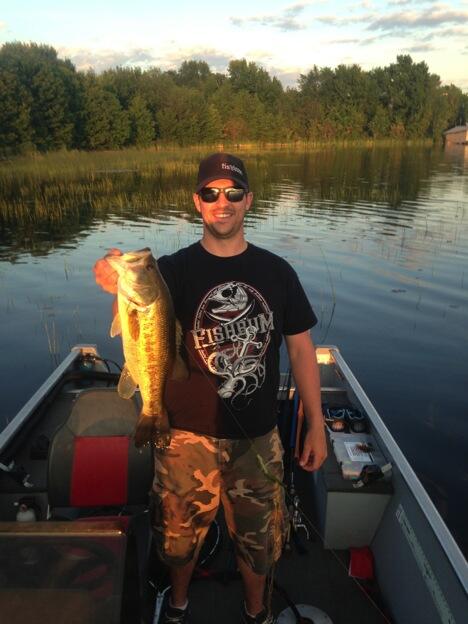 Cache Bay is a northern pike and largemouth bass angler's paradise. The pencil reeds and submerged weeds provide endless opportunities to throw spinner baits, frogs, and plastics all year round. This is a main destination for many tournament stops throughout the year with some big money to be won.  A trophy fish can be caught on any cast at any time!
The Veuve River flows directly into Cache Bay providing a constant and steady supply of feed for all species to gorge on. Cache Bay accesses Lake Nipissing at the southeast end of the bay where many smallmouth bass, walleye, and muskie opportunities await. Once at the mouth, the Sturgeon River, which can be accessed to the east, runs all the way up to the town of Sturgeon Falls. The river holds many different species of fish at any time of the year and can be fished on any day no matter what the conditions on Lake Nipissing.
Be very cautious travelling through Cache Bay as this area has a number of shoals, stumps, and rocks that can end up causing a very costly error. Always navigate with electronics when available and keep your eyes peeled.
Lake access can be found in Sturgeon Falls at the Minnehaha Bay Marina and at Cache Bay Tent and Trailer. Both are great launches and have a large area for parking. If the Sturgeon Falls Marina is your choice, don't forget to run in and grab yourself a Twiggs Coffee at the beautiful waterfront location.
Tournaments:
Callander Bay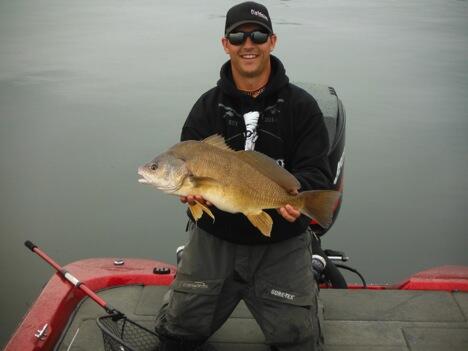 Callander Bay is located on the east side of the lake with the picturesque town of Callander populating most of its shoreline. This is a very popular fishing destination for both locals and North Bay residents as it is fairly sheltered from the big winds and waves that the main lake is known for. Smaller aluminum boats are able to fish this area and be able to find shelter all times of the year.
Many different species can be targeted in these waters, such as walleye, perch, northern pike, muskie, smallmouth bass, and largemouth bass being a few. I have also hooked into sheepshead and white bass while targeting other species. Many tournaments are also held on these waters for both northern pike and bass. The ice fishing community is strong on this bay as a small civilization populates the frozen surface from January to March every year.
The lake can be accessed from the public marina, which has a great launch and docking facilities, while many lodges have launches, and there's a launch at the north side of the public beach and waterfront area.
Accommodations:
French River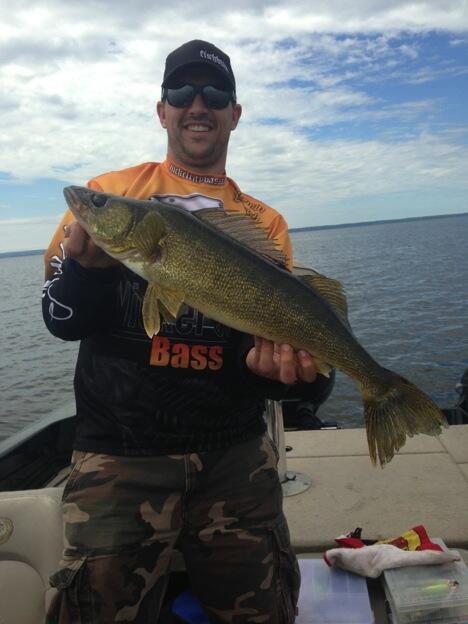 The French River is an absolutely gorgeous area with unbelievable vistas and jaw-dropping landscapes at every turn. This part of the river system runs from Dokis Dam all the way to the mouth of Lake Nipissing and is protected by Burnt and Sandy Islands. It could take you a full summer to learn this section of the lake in order to thoroughly fish it. If you are the adventurous type who loves the outdoors and are willing to explore, these waters are for you – the possibilities are absolutely endless!
Every species imaginable can be found within these waters, all capable of reaching trophy stature! The depth and current flows available in the French River grow large and strong fish. Muskie, walleye, and both smallmouth and largemouth bass can be found at any given turn and off any island in this system.
There is an abundance of lodges and facilities in this area to choose from and any one of them will ensure that your vacation is one to remember. Most feature boat access and the Dokis First Nation has many launches to choose from to start your adventure.
Accommodations:
South Bay/South Shore
Spanning from Cross Point to the mouth of Callander Bay, the South Bay and South Shore offer many opportunities for anglers targeting any species during both summer and winter seasons. These areas are filled with various islands, rocky shoals, and points, along with many different contours that all hold great fishing opportunities. Many online publications and television shows claim that this area potentially holds the new world record muskie.
Muskie, smallmouth and largemouth bass, northern pike, and walleye roam these shorelines, islands, shoals, rocky points, and weed beds throughout the entire year. If you want to experience some incredible fishing, this end of the lake is the place to look. Guiding services have been thriving in this area for many years and the quality of fish directly relates to their continued success.
Hunters Bay is in the heart of South Bay and is one of the larger boat dealers in the province. This facility is host to countless tournament series and has exceptional on-the-spot customer service. A fully operating marina and launch are available at this location. Other launches in the area include the Waltonian Inn and Wade's Landing.
Accommodations:
Northwest and Hay Narrows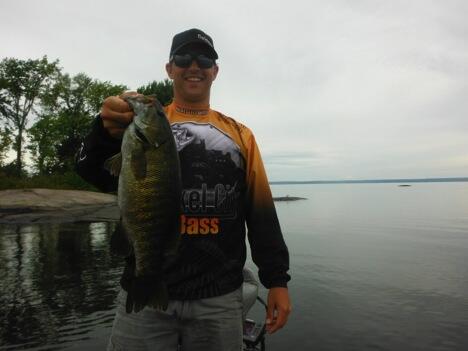 The west end of Lake Nipissing is a world all on its own, filled with a countless number of islands and bays surrounded by rocks, shoals, and weed beds.  This end of the lake has an average depth of 12 feet or less and a shoal could be around you at any given time.
Be cautious navigating these waters, and if electronics are available, have faith in them and your charts. There is no need to rush when fishing in this area as a lot of the fish holding structures have multiple similarities. Most fish species like to roam in search of a meal and this part of the lake is perfect for that. Covering water is a great way to find numbers and trophy-sized fish.
The northwest bay can be accessed from the town of Lavigne where multiple boat launches can be found off Highway 64. You can choose from a variety of private and municipal launches. The town has many restaurants to choose from along with a vast number of lodges and campsites in the area.
The Hay Narrows are located where Lake Nipissing and West Bay meet. This, along with the French River, are the two outflows of the lake, both draining into Lake Huron. West Bay eventually becomes the well-known area called the West Arm. Launching opportunities are available at Sucker Creek off Highway 64 and the West Arm Lodge off Highway 535, south of St. Charles. Smallmouth and largemouth bass, northern pike, walleye, and muskie predominantly occupy these waters and in large numbers.
Accommodations:
-----------------------
We hope this breakdown of Lake Nipissing can be a useful tool in your future fishing adventures for years to come. The beauty of a lake this size is that it takes a lifetime to cover all the water and shorelines it has to offer. Take your time and get to know each section of the lake and you will never complain about the wind again.
I fished all of these areas out of a 14-foot aluminum boat with a 20-hp tiller motor. Check your wind directions and hit the highway until you can make it to one of the great locations Nipissing has to offer. As always, stay safe out there and don't be scared to try out something new. Who knows? You may catch a fish of a lifetime!