Georgian Bay Coastal Route is the Must Ride (or Drive) Trip of the Summer
This scenic route winds through some of Northeastern Ontario's most beautiful landscapes.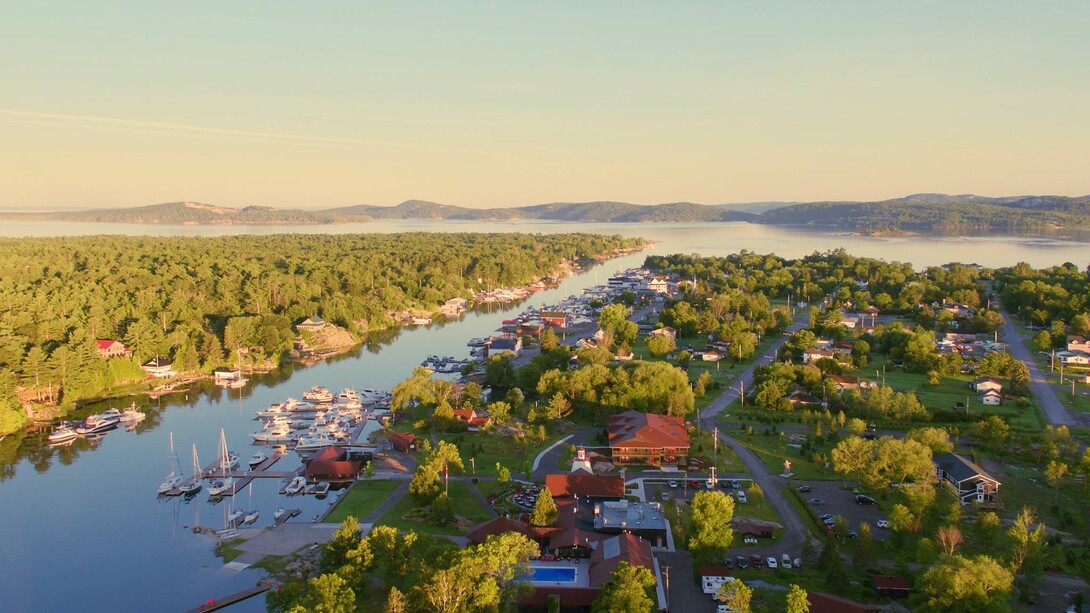 By car or RV, by bike or motorcycle—the Georgian Bay Coastal Route has quickly become one of the must-ride or drive routes in Ontario. But what makes it so special? And what can visitors expect while touring through Northeastern Ontario?
Often mistaken for an extra Great Lake, Georgian Bay is in fact a pristine body of water that juts off the side of Lake Huron. With deep, crystal clear waters, rocky shorelines and islands, and a unique ecology, a visit to the shores of Georgian Bay is relaxing, memorable—and for me, inspiring.
For more information on the entire 1,350-km route, visit the Georgian Bay Coastal Route website.
Your Route – Your Choice
Whether you're coming from Southern Ontario, Quebec, the United States, or another destination, one of the beauties of this loop tour is its accessibility. Hop onto this route at any point, and you'll find yourself on a 1,350-km (840-mile) tour that takes you through Ontario's heartland to some of Georgian Bay's most iconic stop-offs, including Manitoulin Island, Sudbury, Killarney, the Bruce Peninsula, and Wasaga Beach.
You can travel this route clockwise or counter-clockwise; the choice is yours. We've chosen to move through the route as if you were coming from Southern Ontario via Tobermory.
Tobermory to Manitoulin Island – 45.3 km (28 miles)
The world's largest freshwater island also happens to be the home of excellent beaches, a thriving Indigenous cultural landscape, a healthy offshore salmon fishery, and a developing restaurant and brewery scene. Depending on your direction of travel, you'll arrive by the MS Chi-Cheemaun Passenger Ferry at South Baymouth or the Little Current Swing Bridge via Highway 6.
While there's enough on Manitoulin alone to keep you busy for weeks, highlights include stopping at the Ten Mile Lookout, booking a guided cultural experience with Wiikwemkoong Tourism, grabbing a brew and a burger at Manitoulin Brewing, touring art hotspots such as the Ojibwe Cultural Foundation, and hiking trail systems such as Misery Bay Provincial Park and the Cup & Saucer. 
You'll find a range of accommodation options on Manitoulin to choose from. Ranging from options such as the cozy Meldrum Bay Inn & Restaurant; the Manitoulin Hotel & Conference Centre in Little Current; or a range of private campground and cottage rental options scattered throughout the Island.
Note: If you're a cyclist visiting Manitoulin Island, you'll want to check out Manitoulin Cycling Advocates (MICA) for guided packaging options, special events, and detailed information geared towards cyclists.
Manitoulin Island to Sudbury – 123 km (76 miles)
Northern Ontario's largest city is more than just the junction of Highways 17 and 69. Known for the iconic Big Nickel photo op, Greater Sudbury is also the perfect place to stop off for the evening, grab a bite, and walk the Ramsey Lake and Science North boardwalk through Bell Park.
Sudbury is also a city of festivals! Plan on timing your visit in order to take in one of the many food and/or music festivals that take place each summer, displaying the city's unique cultural mosaic, developing music and film scene, and a population that truly adores food. 
Spend the night at one of Sudbury's brand name hotels scattered throughout the city. The TownePlace Suites by Marriott, the Travelway Inn next to Science North, the Holiday Inn & Suites on Regent Street, and the new Microtel Inn & Suites by Wyndham on the Kingsway are all accessible options depending on your entry point to the city. Motorcyclist travellers may also want to consider the Moonlight Inn & Suites, offering quick access to the Highway 17 Bypass with motel-style suites.
Plan your time in Sudbury by visiting Tourism Sudbury.
Sudbury to Killarney – 109 km (68 miles)
To truly experience the "Georgian Bay vibe," take a detour off of Highway 69 down secondary Highway 637. With its twists and turns, the road alone will be attractive to motorcyclists who seek out the "twisties," but no matter the type of tourer you area, Highway 637 to Killarney is a pathway to a different world away from the hustle and bustle.
Hike, snack, chill, or a combination of all three—that's what you'll find at the end of Highway 637. To fully take advantage of the experience, we recommend booking in to one of a number of accommodation options in the area from the luxurious Killarney Mountain Lodge or the Sportsman's Inn Resort & Marina; off-grid cabins at the eco-minded Avalon Eco Resort; or a night or two camping in Killarney Provincial Park.  
Regardless of where you choose to spend your time, you'll find yourself in a rugged landscape that once inspired the Group of Seven, and continues to inspire a new generation of artists, outdoorspeople, and Great Lakes goers. Highlights include hiking the iconic "Crack" hiking trail, renting a canoe or kayak for the day and paddling to the local lighthouse, and of course, stopping at Hebert's Fish & Chips for your afternoon or evening meal.
Killarney to The French River – 97 km (60 miles)
As you return to Highway 69 and continue your journey south, you'll find yourself passing through the famed French River region.
Whether you're spending the night or spending a couple of hours, make sure to stop in at the French River Provincial Park Visitors Centre (a gem amongst visitors centres), stretch your legs on the roughly minute hike to the historic Recollet Falls, and snap a picture of the meandering French River. For those with a sweet tooth, a stop at the French River Trading Post for their well-known fudge bar and gift shop is a must.
A 70 km waterway system sourced from Lake Nipissing and with outlets to Georgian Bay, this region is dotted with fishing lodges and resorts that offer a non-traditional experience for those accustomed to booking in at hotels or bed and breakfasts. Often equipped with full-service kitchens, canoes and kayaks, and a range of activities to keep children and adults alike busy, consider booking some R&R time with one of the numerous operators in the region.
Closing the loop
The beauty of this 1,350-km loop is that it takes you through various regions and geographies of Ontario, allowing you to see numerous parts of this giant province! For more information on the rest of the Georgian Bay Coastal Route, visit the website here.
------------------------------
Tag us on Instagram on your Northeastern Ontario expeditions using #neontario. Happy road tripping!