Non-Motorized Trails in North Bay
The best ways to take in the beauty of North Bay this winter.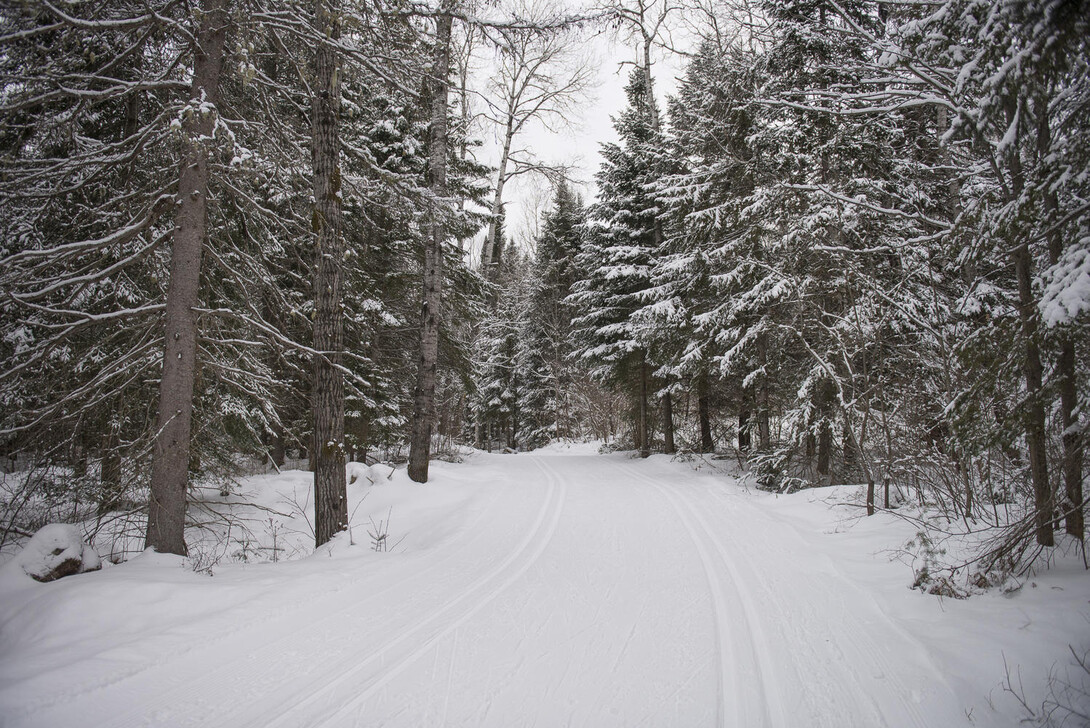 With many different multi-use trail systems in the North Bay area, it is clear that this is one of the best destinations for winter non-motorized trails in Northeastern Ontario.
Here, we will break down the wide variety of multi-use trails in North Bay, highlighting cross-country skiing and snowshoeing. There are also lots of trails that are perfectly fine to hike on with no need for snowshoes. We weren't able to include all the trails from North Bay, so please check out this resource for a list of them all.
There are plenty more amazing things to do in North Bay this winter, which we have outlined in this top 5 winter activities article.
Cross Country Skiing
Over 50 km of clearly marked trails make the North Bay Nordic Ski Club the premier location for Nordic skiing in the area. With so many different trails, there is something for every level of skier and trails are groomed for both classic and skate skiing. This club also puts lots of effort into the development of the sport by offering multiple youth programs and hosting events throughout the year. Check their website for current information on rates and for details on rentals.
Just South of North Bay, closer to Callender, sits Wasi Cross Country Club. This club has 43 km of professionally groomed ski trails spread across a beautiful landscape. Day passes can be purchased on location and include access to all trails. 
Located just behind Nipissing University, this is a shorter and easier to get to trail system covering just 3.5 km. The trails will take you through scenic wooded areas, and the potential to see impressive wildlife is high in this area.
snowshoeing
Since the club adopted the idea of snowshoe trails in 2007-08, it has been a great success, and they've maintained three main loops, offering different challenges and terrain. Day passes are available, and the club also offers snowshoe rentals, so this is a great spot to give snowshoeing a try. A heated chalet and snack bar promises a fun day for the whole family, no matter what the weather is like.
Besides the top-notch Nordic ski trails that this club has, they also offer 7 km of marked snowshoe trails. Day passes are to be purchased and start at $3 for children and $8 for adults; these passes allow access to both ski and snowshoe trails. Wasi provides a heated chalet and outhouses as well as a warm-up hut with a wood stove to ensure you stay warm and comfortable throughout the day.
11.6 km of great snowshoeing trails that are very convenient to access making it easy to squeeze in a walk after work or whenever you have some free time.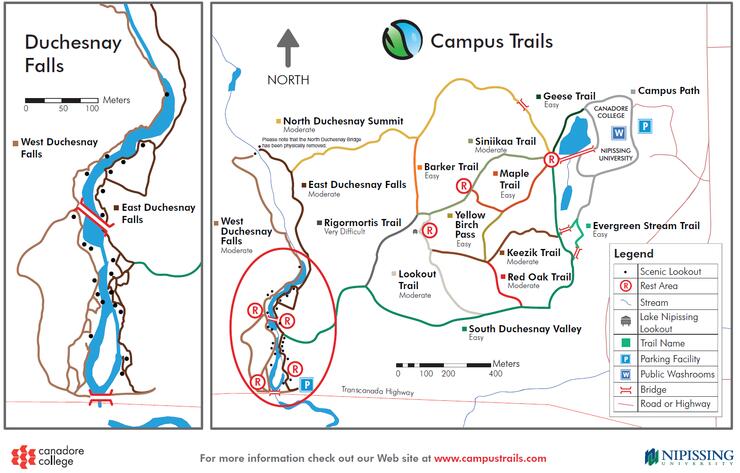 Multiple trails lead away from the Laurentian Ski Hill, giving visitors a great view of the city. People are more welcome to pop into the ski chalet to warm up or grab a snack!
With over 10 km of trails covering some of the most scenic lands around, this trail system offers some great opportunities to view wildlife and the unique upland forest.
This is a not-for-profit organization that works to promote the public's use of the many trails across Northeastern Ontario and works with quite a few partners in North Bay. They provide helpful information and details on the non-motorized trails mentioned here, as well as the others that we weren't able to cover. For more information on all the non-motorized trails in our region, find details here.