Non-Motorized Trails: Where to Ski, Snowshoe, and Fat Bike in Greater Sudbury
Sudbury is home to some of the best non-motorized trail networks in Northern Ontario. Fat biking, cross-country skiing, and snowshoeing are great ways to take in our beautiful environment!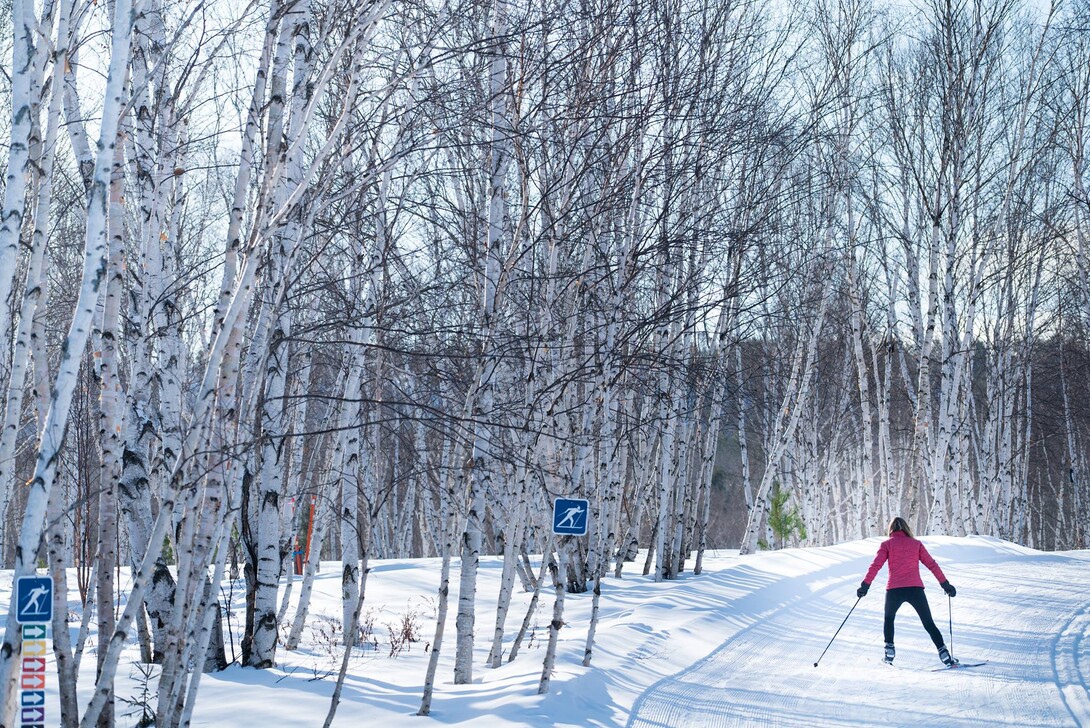 To round out our series of articles highlighting non-motorized trails in Northeastern Ontario, here is our feature on the City of Greater Sudbury. We have also created guides for North Bay and Timmins.
The City of Greater Sudbury is blessed with some of the best non-motorized trail systems in Northern Ontario. There are three main trail networks in this area specializing in winter activities.
Kivi Park is relatively new to the City of Greater Sudbury, but it is growing rapidly and quickly becoming a premier destination for outdoor activities and adventure in Northern Ontario. Founded in 2016, this park offers year-round trail access focusing on hiking and biking trails in the summer months and boasts some of the best cross-country skiing, snowshoeing, and fat-biking trails in the winter.
Information on ski, snowshoe, and fat bike rentals can be found here. The rentals are all made possible by a strong partnership with Adventure 365, which have a pop-up location on-site and will help you get set up for a great day out on the trails!
There are two organizations operating in the Lake Laurentian Area offering fantastic cross-country skiing and snowshoeing trails.
With over 9 km of groomed trails for both classic and skate skiing, this network has something for everyone, with marked trails ranging from easy to difficult. Laurentian Nordic Ski Club offers many programs aimed at developing the sport. There are separate programs for youth ranging from ages 4-13. LNSC promotes a friendly learning environment helping people enjoy the winter season while staying active.
Find all information on rentals and day passes here.
This trail system is developed on a series of "nested loops" created with the goal of maximizing trail distance in the area. There are over 17 km of professionally groomed and clearly marked ski trails. At each junction throughout the trail system, there is a big grey post with information to aid navigation and provide an emergency locator number that should be used if you need to make a 911 call and give your location. Also part of this club's trails offers a dedicated 5-km trail for snowshoe enthusiasts.
There are approximately 20 km of professionally groomed trails for both classic and skate skiing at the Walden Ski Club. A very unique aspect of this trail system is a lit 3-km loop that provides the special opportunity to enjoy cross-country skiing at night. Snowshoeing at the Walden Ski Club is very popular with over 10 km of marked and maintained trails. Everything you need to know about fat biking at Walden can be found here.
This is another organization that works hard to offer great programs to help grow the sport of cross-country skiing. Four youth programs have been created for children of all ages, and there are also adult programs offered and private lessons are available upon request. Facilities are top-notch at the Walden Ski Club with a heated chalet, free Wi-Fi, washrooms, and a heated waxing hut.
Equipment and gear rentals for skiing, snowshoeing, and fat biking are available on location and trail passes are to be purchased from the chalet.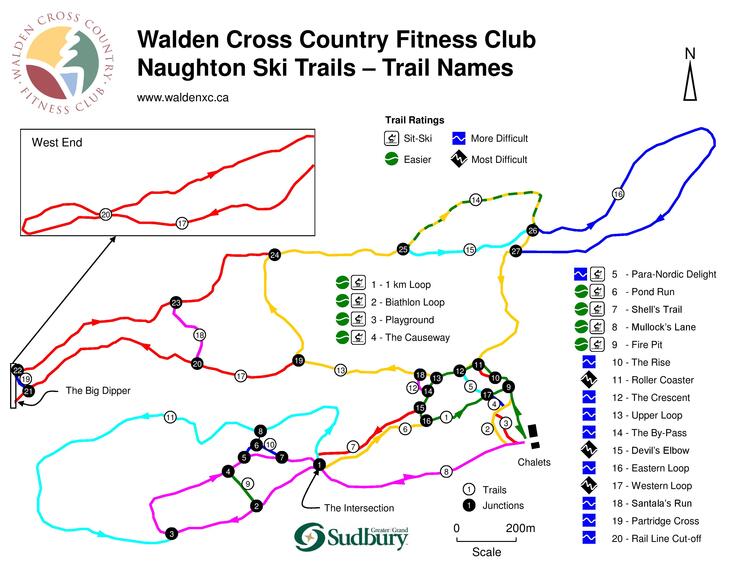 Other trail networks