The Northern Lights Trip Planner
Thinking about a Northern Lights road trip? Here are 3 itineraries to follow.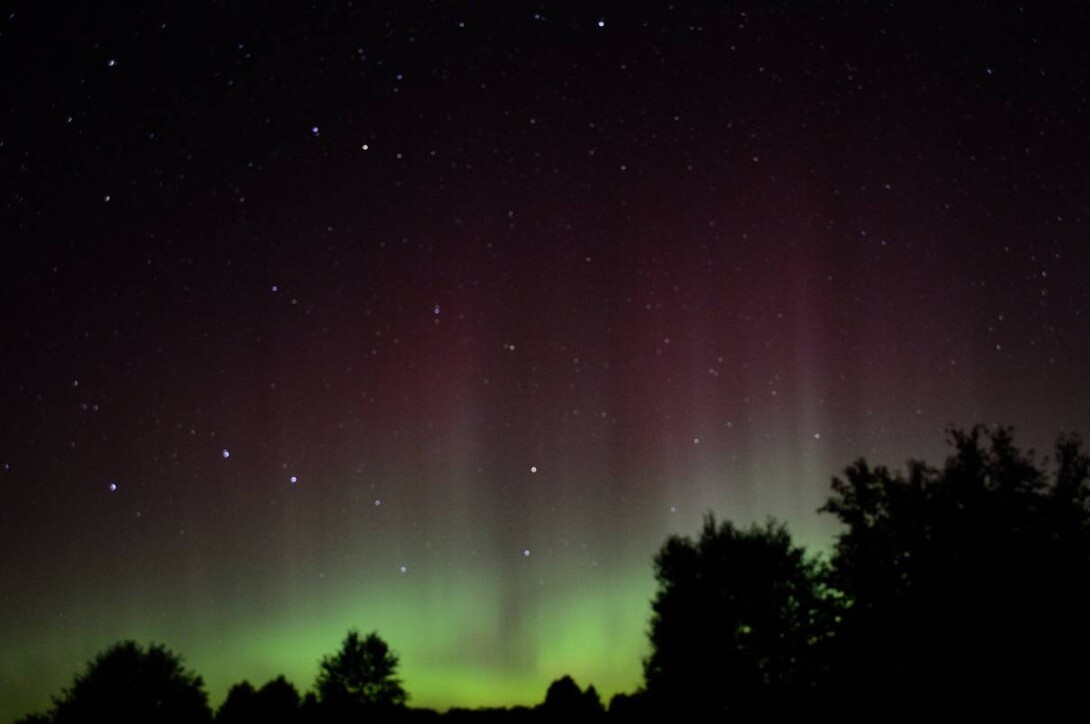 It was an unusually cold Friday night, on March 9th, when I was driving from North Bay to Temagami to enter the MCTV Lions Club Ice Fishing Derby the next morning.
When I got onto Highway 11 N, I realized the snow was blowing fiercely. In true Canadian fashion, I decided to travel on. The roads were slick, and soon there was a line-up of 10+ cars going 60 km an hour in a 90-km zone. Just past Tilden Lake, a small community 20 km north of North Bay, I ran into car trouble and pulled over. The truck immediately behind me did the same. The driver, a friendly young guy, parked in front of me and jumped through the snow to see if he could help. It was clear I needed a tow truck, so he offered to let me sit in his truck while we called one.
I had the pleasure of meeting Scott, his girlfriend Michelle, and their husky pup. They were traveling from Barrie to Temagami for only one reason: to see the Northern Lights. That night just happened to be a peak time for viewing the aurora, according to SpaceWeather.com. 
And so, I often think of the intrepid couple who were willing to travel over 350 km after work, at night, for a chance to see the elusive Northern Lights. Seeing them is never guaranteed... but should that stop the adventurer in all of us from attempting to catch a glimpse of such a soulful display of colour? 
It's clear you can't schedule a viewing of the lights, but you can increase your odds if you make the right considerations, like coming at the right time of year, paying attention to the moon phases, using one of the Northern Lights Forecast tools, and booking a vacation in the right place.
I've put together three suggestions for an unforgettable trip to get you started on your Northern Lights expedition in Northeastern Ontario. These trips are designed to make the journey itself part of the experience.
northern lights itinerary 1
Dark Skies, Short Drives 
Beginner
This loop will bring you through the wonders and wilds of Northern Ontario, in the quickest way possible. It's best ventured if you have a weekend to spare.
DAY ONE
Spend your first night at North Bay's Pinewood Park Resort & Conference Centre, where you have the option of spending the night by the outdoor terrace and pool overlooking the onsite golf course. A perfect opportunity to test the waters in the heated pool, and adjust your camera settings.
DAY TWO
Your next day will be spent travelling up Highway 17 E, toward Mattawa. During the summer, I suggest stopping at Algonquin North Outfitters if you're interested in a hike or canoe day-trip. They will happily hook you up with ideas and equipment. In the winter, recently renovated and reopened downhill ski and snowboard resort Antoine Mountain will provide powdery slopes and fantastic views. 
Your second night can be spent at the Canadian Ecology Centre in Samuel De Champlain Park, where you can rent a cabin and experience the brand new night-sky observatory there. 
DAY THREE
At daybreak, sleep in, because you just spent two nights on the hunt for Northern Lights. When you're ready to embark, take Highway 533 and 63 to North Bay, where you can enjoy a hearty brunch. I suggest Arugula, a great Italian restaurant! If you find you have the time, consider taking a tour through North Bay's downtown core.
Accommodations
Guides
northern lights itinerary 2
Georgian Bay Dreaming (Summer)
Intermediate
This route has some of the most unique landscapes and darkest skies in Ontario. Hugging the northern portion of Georgian Bay, it's an education-rich route, recommended for the whole family. 
DAY ONE
Rest easy your first night at Killarney Mountain Lodge in Killarney. The lodge is perfectly situated on the shores of Georgian Bay. You need only look out your front balcony to catch a glimpse of the night sky. You might also consider visiting Killarney Provincial Park, which has a dark sky observatory. 
DAY TWO
If you find the will to leave the beautiful town of Killarney by morning, head north on Highway 69 toward Sudbury. The day can be spent visiting Science North and the space department there. While you're there I encourage you to talk to a Science Communicator at the Planetarium about what causes the Northern Lights. There are many hotels within walking distance of Science North, and I'd recommend Travelway Inn. Also nearby, you'll find the dark night skies you crave at the Laurentian Conservation Area. 
DAY THREE
Make the drive to Manitoulin Island by heading west, on Highway 17, until you reach McKerrow, where you'll turn left toward Espanola on Highway 6. Once you cross over the bridge into Little Current, you'll realize why the island is famous for dark skies and starry nights. There is little to no light pollution anywhere on the island. Before nightfall, make sure to check in to Gordon's Park Eco Resort. Why? It's Northern Ontario's first dark sky preserve, with programs dedicated to viewing the Northern Lights. Spend the night searching for the elusive Northern Lights with a group, or on your own. 
DAY FOUR
Your last day on the island can be spent at the park's interpretive centre, learning about earth and space. If time permits, explore the natural sights nearby; the Cup and Saucer hiking trail in M'chigeeng, Bridal Veil Falls in Kagawong, or the white sand beaches in Providence Bay are all good ways to spend an afternoon before a ride home. 
Note: The Chi-Cheemaun Ferry runs between Manitoulin Island and Tobermory early May to late October. Make sure to check the schedule, and book ahead. 
Accommodations
Guides
northern lights itinerary 3
Travel North, Young One
Advanced
If you're serious, and you'd like to radically increase your odds of viewing the northern lights, travel north. I mean as far north as you can possibly go. This route brings you through the arctic watershed to the mysterious James Bay coast, by way of Cochrane and Moosonee.
DAY ONE
You'll want to travel to Cochrane during the day. It can be a long haul, depending on whether you're coming from Highway 11 N or Highway 144. If you choose to take Highway 11 N, I recommend following the weird attractions tour along the way. Check into Best Western Swan Castle Inn, directly across from the station where you'll be boarding the Little Bear/ Polar Bear Express train on Day Two. To search the night sky, you need only take a five-minute drive out of town to escape the big city lights of Cochrane.
See our full guide for planning a trip to Moosonee here!
DAY TWO
Wake up bright and early to catch the Little Bear train at 9 am. The five-hour train ride has sweeping views of boreal forest and fleeting sights of mighty rivers. There's also a restaurant car toward the back of the train where you can have a hot meal or play cards. A friend of mine told me that once you pass the Moose River bridge, which is impossible to miss, you have one hour to go. You'll know when you've arrived in Moosonee because everyone is quick to get off the train.
In Moosonee, if you haven't been able to get a room at a private Bed and Breakfast accommodation, check in to the Wyndham Super 8 on First Street, just minutes from the train station.
DAY THREE
This would be the perfect day to link up with a guide. If you're interested in learning about Cree culture, I suggest meeting with Kim Cheechoo at the Cree Cultural Interpretive Centre. If you're enticed by the idea of exploring Moose River, and even dipping a toe in Ontario's only sea coast at James Bay, I recommend touring with Nolan Tozer at Moose River Tours. Nolan grew up exploring the area and he is the son of William Tozer, a legendary bush pilot, trapper, and inspiration for Joseph Boyden's 2008 Giller Award-winning novel, Through Black Spruce. He will also know where to look for glimpses of the lights for Day Three of your hunt.
DAY FOUR
Sleep in! it has been a four-day hunt packed with travel, clean air, and long nights. After having breakfast in the restaurant, you may want to take a walk/ ride up Riverside Dr. to discover Moose Factory's historical sites, like Ontario's oldest church, Hudson's Bay Company Staff House, and remnants of homes from the 1800s. To catch a boat taxi back to Moosonee, you'll need to go to the docks near the hospital, on Center Rd. The train departs the station for Cochrane at 5 pm and it's best to be 15-30 minutes early.
Once you arrive in Cochrane, I recommend another night's stay at the Best Western so you can awake rested the next morning, for the drive home.
Note: Little Bear train times vary, and booking in advance is encouraged. 
Accommodations
Guides
Happy Hunting! And remember, even if you don't catch a glimpse of the Northern Lights on your journey, you'll still be looking in the right direction... up :)