Painting the North Channel
Landscape painter Victoria Ward explores the La Cloche mountain range and the North Channel in pursuit of unique and inspiring landscapes.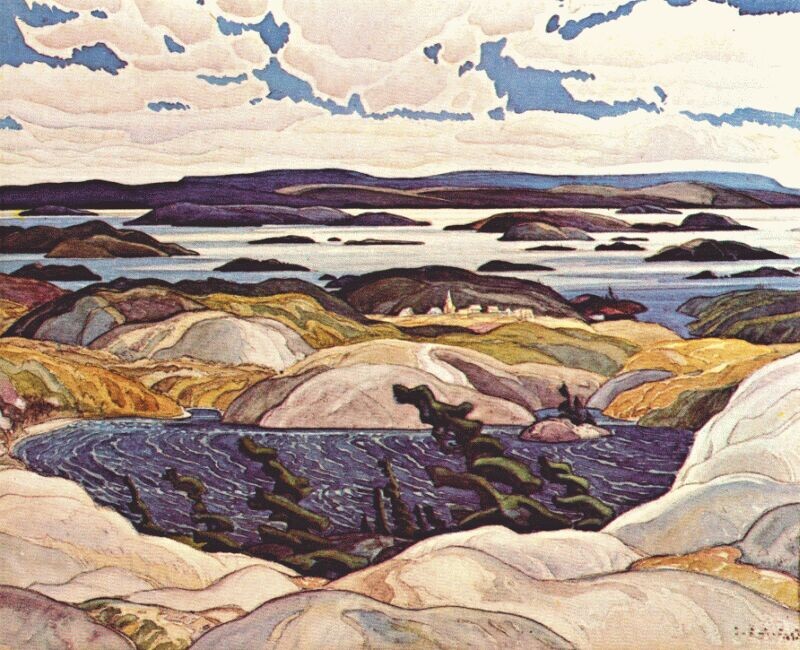 The North Channel in Northeastern Ontario has long been a captivating landscape for artists. The area is pristine and extraordinary and has been considered one of the top five places to cruise in the world. Located along the north shore of Lake Huron, the Channel is formed between Manitoulin Island in the South, Georgian Bay in the East, and St. Joseph's Island in the West.
The North Shore, or mainland, is home to the La Cloche Mountain range, which runs perpendicular to the North Channel. Once taller than the Rockies, the mountain range offers glimpses of the Channel from the Trans-Canada Highway that runs between Sudbury and Sault Ste. Marie. Various members of the Group of Seven captured this beautiful body of water and the surrounding rugged landscape. The epic landscapes of Franklin Carmichael and A.Y. Jackson have inspired and thrilled people for generations.
There are many public access points to the North Channel in the communities of Whitefish Falls, Spanish, and Little Current, just to mention a few, but we accessed the waterway through Sagamok First Nation, just south of Massey. If you're attempting this route, it is important to get permission from the community first before venturing out. We did this by asking a member of the community in town, but plan ahead by contacting them through their website first. We found this to be an easy and friendly way to explore the shoreline.
It was the hottest summer on record for the entire planet. Espanola, Massey and Spanish had Toronto-like scorching days when we visited with temperatures reaching 33° C, but in this part of Ontario you can cool off almost anywhere with so many fresh lakes and rivers. Humidex aside, the people who live on the shores of the North Channel are some of the most accommodating and kindest you are likely to meet.  We camped at the Chutes Provincial Park, a tiny but special provincial park in Massey. It's a gem, with a gorgeous rock cut waterfall and Eden-like swimming, rapids and the sound of Ontario's glorious water shooting through the Precambrian shield. It was nirvana.
Cooling off aside, we were there to paint. Painting outdoors—or plein air painting, as it's mostly known—comes with a lot if worthwhile challenges and cautions. Extremely hot weather translates to:  wear as little clothing as possible, carry the least amount of materials you can, and bring loads of water (and I mean loads), as hydration should be your mantra. We found an extraordinary area for painting with an amazing view of the Channel. While not exactly what Carmichael or Jackson would have done, we decided to take advantage of our modern smartphone, take some pictures and get back to our campsite to paint.
We had painted in the La Cloche Mountain range years ago. The name is derived from French—the Bell (apparently, when struck the rock makes a bell-like sound). The mountain range is a composite of quartzite rock, so it's white—brilliant, translucent white rocks with pine trees dotted about. Together this combination becomes the kind of thing plein air artists faint over. It's beautiful, sure. It is also unique—and plein air artists LOVE unique landscapes. You can see the La Cloche range from many different places around the North Channel.
I often think about the Group of Seven and how they came up here from Toronto with no modern conveniences. They had to figure out every aspect of this experience—there was nowhere for them to buy clean drinking water, nor any taps easily accessible. They traveled via the railway and they relied on local logging roads, mining expeditions, and local people to take them into their sites to find the vistas they so gloriously interpreted. Finding subject matter and then creating something from it takes an enormous amount of time and energy. Being able to return by car, to a campsite with a drinking water tap and a cooler full of cold beer seems luxurious when compared to the struggles those intrepid artists must have faced.
Artists have been making the pilgrimage to the Group's famous vantage points for decades. I once got our car stuck in a sand trap in an attempt to see how Harris saw and created his masterpiece, Pic Island. Keep in mind that you'll probably spend more time finding the spot "where Carmichael sat" on Cranberry Lake than actually painting it. I've now come to the conclusion it's just better to find your own vista than scurrying about. Just get on with painting because time can be an enemy to a plein air painter. Once you factor in all the elements at play—cloud cover, possible rain, wind, and maybe a few bugs—you tend to make quick decisions about your painting that you might linger over in your studio.
Dealing with these challenges in the field is why the Group of Seven were such remarkable painters, and why their influence on making the North Channel a great destination so significant. There is nothing easy about painting, especially if you're doing it outside. The artists were able to capture the area so profoundly, in such a modern and edgy way (the Group was once considered quite avant garde) without any prior understanding or knowledge of it. They continue to inspire our love of the Canadian wilderness, and possibly one of the reasons why the area has so many wonderful protected parks.