Winter Ice Safety – A Must-Read for Anglers!
With hard water season quickly approaching, here's what you need to know to stay safe on the ice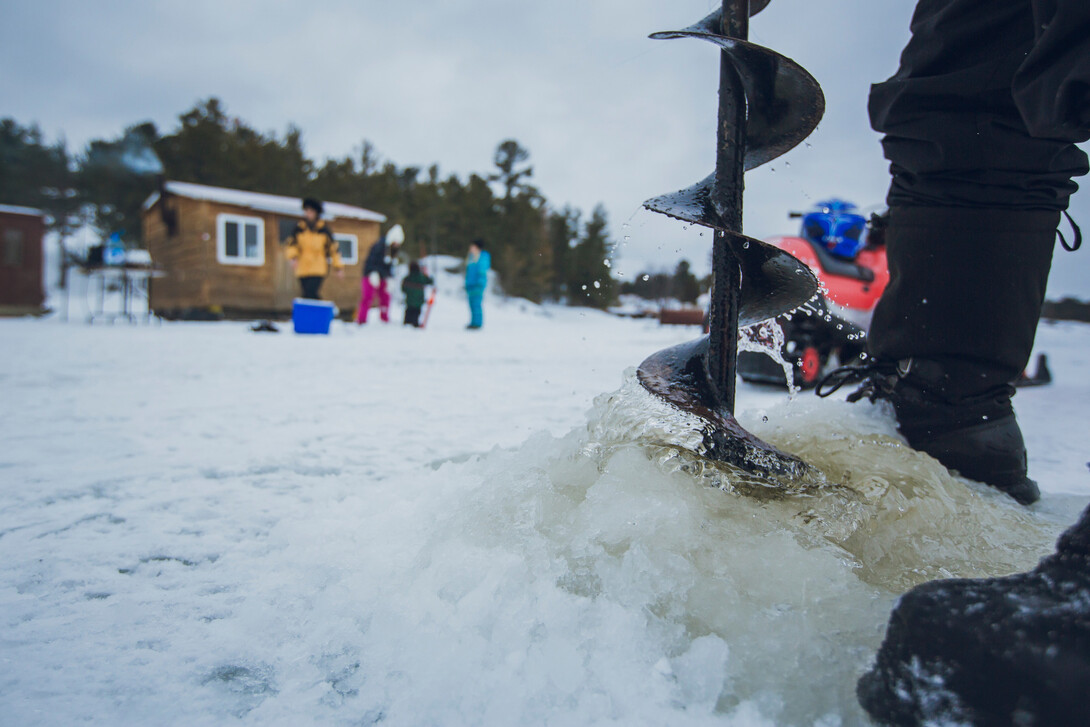 Winter is approaching quickly in Northeastern Ontario, and this has many anglers excited for the upcoming ice fishing season. While we're looking foward to hard water season, early ice conditions can be unstable, and safety precautions should always be followed. In this article, I'll go over a few things you should think about before heading out on early ice. 
Testing the Ice
When accessing a lake for the first time, test holes should be drilled to ensure safety—ice thickness can change at any time as ice does not freeze at a uniform thickness. Thickness on its own isn't always an indication of safe ice as near-shore ice is often much thicker and safer than further out, especially early in the season.
Be cautious of ice that has formed over flowing water, springs, pressure cracks, old ice holes, or around mouths of rivers and streams as it can be much weaker than the surrounding areas. Mouths of rivers and creeks should be avoided during most times of the hard water season as they can cause slush and unsafe ice conditions. If fishing these areas, park your snow machine or vehicle away from the area and walk in to test the conditions by drilling some holes. The ice is always thinner in there!
Clear blue or black ice is ideal as this indicates that the ice formed at a uniform rate without any weather disturbances. Slush and snow create a white, cloudy opaque colour and is much weaker—this can be unsafe as there are many seams and imperfections that can fail under load. Heavy snowfalls during the initial ice formations can also have a negative impact on the quality of the ice. The snow acts as an insulator, protecting the water from the cold surrounding air temperatures.
The following guidelines are a safe bet to follow when accessing a lake with different transportation methods. This guide is based off of clear blue or black ice, and relates to the weight distributed in each transportation method. If white or opaque ice is present, the following thicknesses should be doubled. Always check the ice as stated above to ensure your safety all the way to your final destination.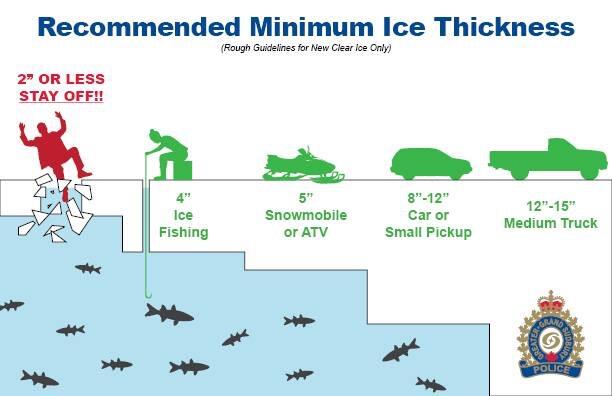 Added safety precautions can always be taken when heading out on the water and these include floatation suits, ice picks, and throw bags with floating rope. All of these methods are great items to have and should be consider next time on the water. Ice picks should always be packed and worn for every trip out on the hard water.
Dressing for Success
Dressing for the weather conditions is highly recommended, as a cold day on the lake can ruin what could otherwise be a great day. Layering is the best method in keeping warm for changing conditions. High quality base layers with moisture wicking properties are a great start. Layers should be applied thereafter for keeping in warmth with a high quality sweater or hoody to cap it off. Try to use wool or synthetic fibres as they don't absorb moisture.
Don't be cheap with your socks, as your feet will control your day on the ice. Wicking socks with an additional pair of thick wool socks will keep them cozy. Make sure your winter boots are waterproof and not too tight—tightness can cause restrictions in blood flow to your toes causing them to get COLD!! Your outerwear should have high quality water/wind protection as there is minimal shelter from the elements. Most floatation suits are made of water and wind resistant materials.
Let your body dictate your layers. If you're warm or starting to sweat, remove layers—especially if you're hiking in to your favorite fishing hole. If cold, add a scarf or balaclava, as this will help keep wind from going down your neck and out of the body's core area. Always have a toque handy since the head is where the body will lose most of its heat.
Know Your Lake(s)
Never head out on the water without a plan and knowledge of your surroundings. It is better to be over-prepared in all scenarios. Know lake access points, areas of interest, the closest towns, and local weather patterns and conditions. Always ensure someone knows where you're heading and make sure to stay safe. You can always inquire at local bait shops about access points, ice conditions, and the hot bait.
Ice fishing isn't a sport to take lightly—harsh conditions and the consequences of being unprepared to deal with them can be severe. Make sure you are always prepared and plan ahead: be proactive not reactive, and you won't regret it.
Northeastern Ontario has endless angling opportunities, but being impatient and taking a risk for early ice is never worth it; the fish will be there for many years to come. If your community doesn't have safe ice conditions, it's the perfect time to call around and take a trip North to pursue new lakes and species. You could end up finding your new favourite fishing hole!