8 Must Try Food & Drink Spots For Your Sudbury to Manitoulin Island Road Trip
From paninis to fresh local trout, hawberry ale to jelly pigs—now is the time to sample them all!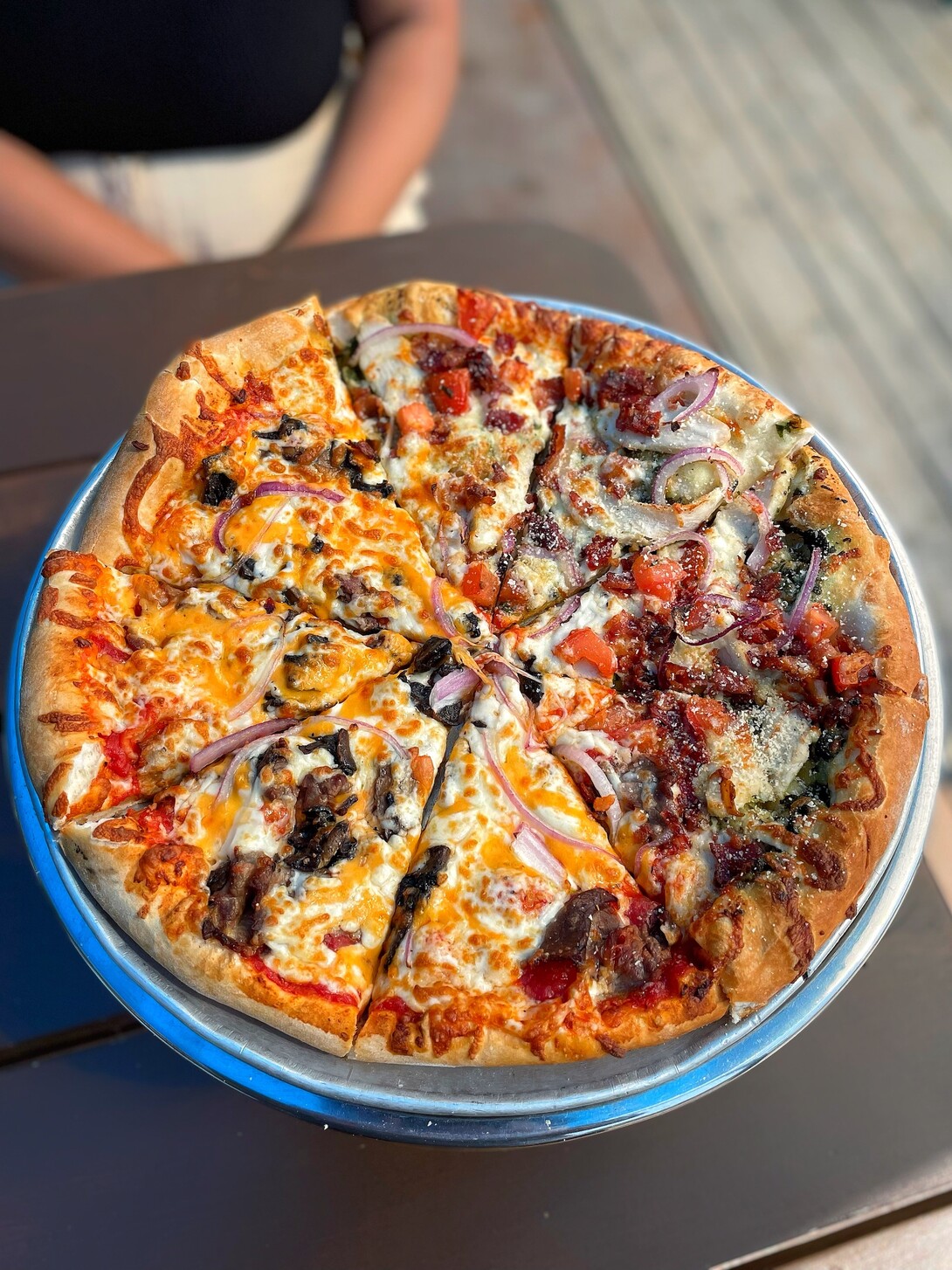 My partner and I routinely dream up island vacations around the world from our Toronto condo—from Vancouver Island to Santorini. Little did we know, there was an island gem in Ontario just waiting to be discovered all along. Enter Manitoulin, the world's largest freshwater island. Upon finding out about this spot, we immediately planned a road trip, choosing Northern Ontario's largest city, Sudbury, as our pitstop.
Food is our priority when travelling and both locales offer their own flavour of culinary tourism. Sudbury is home to several iconic foods and long-standing institutions, alongside a wave of newer community gathering spots. Manitoulin Island is coming into its own as a culinary destination, where everything from breweries to homestead restaurants feature the island's natural bounty on their menus.
Here's eight of our favourite spots from this road trip!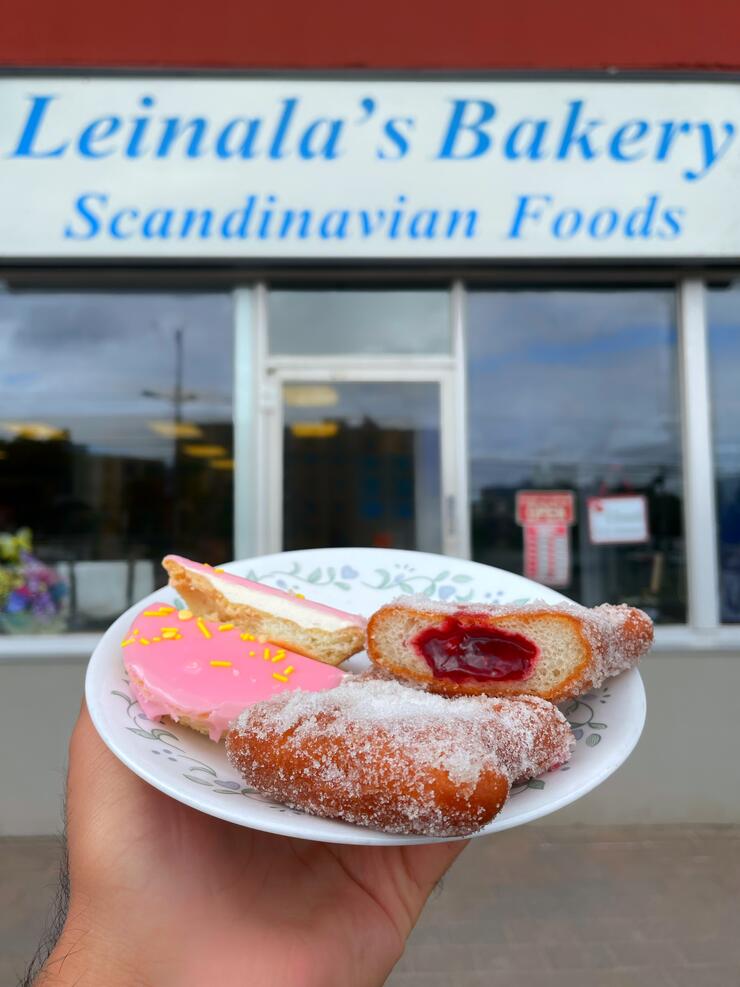 Leinala's is one of the last remaining Finnish food businesses in Ontario, and its famous jelly pigs are a big reason they have continued to thrive. Imagine a raspberry jelly donut, shaped like a pop tart with two little pig ears on one side, and you have a jelly pig. They sell up to a hundred dozen per day. It has everything you want from a jelly donut—fluffy dough, thick raspberry jelly, and the perfect sprinkling of sugar. The killer recipe is courtesy of current owner Erika Laaks' grandma, who baked for the Finnish army in World War 2 before immigrating to Canada.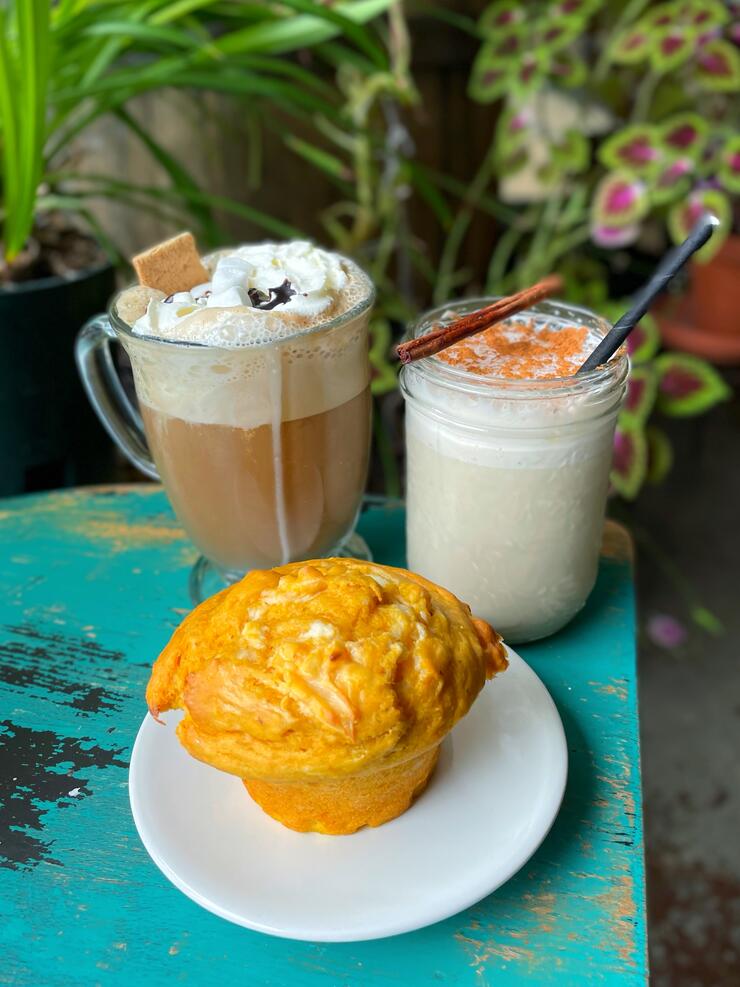 A downtown cafe that serves as a living canvas for the community. It's outfitted with patchy concrete flooring and scattered church benches, but is really brought to life by plants and artwork, many of which have been donated by regulars. They're known for their muffins and drinks, making it a perfect pick-me-up. Here's a pro-tip: order their roasted marshmallow latte and ask their friendly baristas to smores-ify the drink with a graham cracker and chocolate syrup. Then, complete your pretend fall campfire with a jumbo pumpkin cream cheese muffin.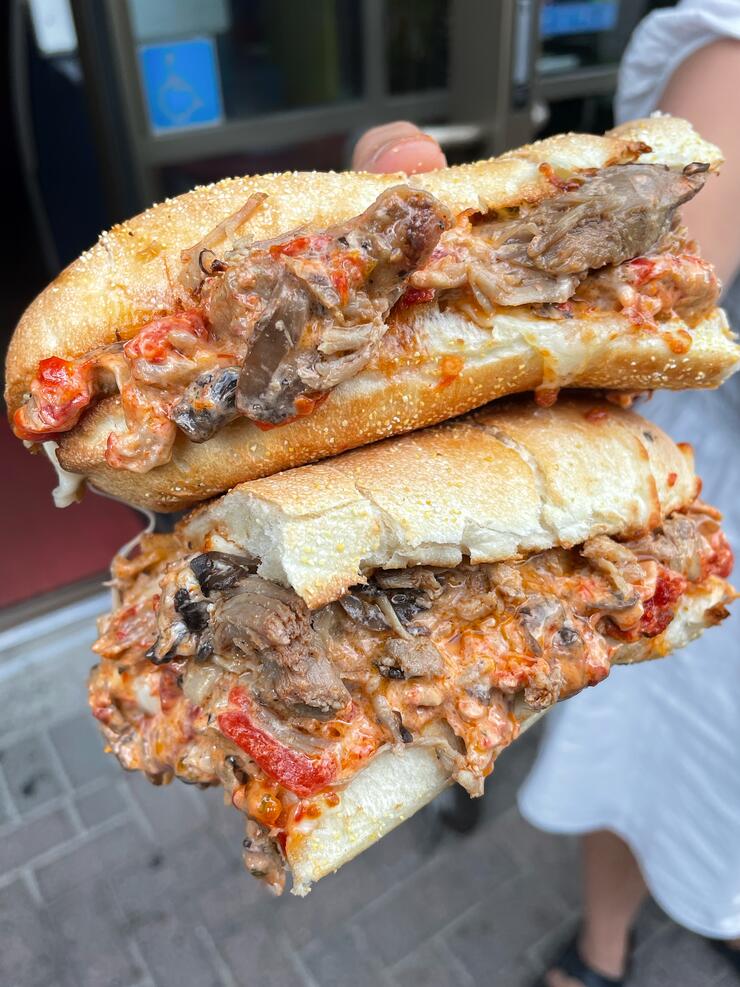 Sudbury is hog wild, or more accurately, wild for hogs. Porchetta is another favourite amongst locals...or should I say porketta? Yes, only in Sudbury is there a longstanding debate about how to spell this Italian pork roast dish. Peppi's is a local favourite for gigantic porchetta sandwiches, and they spell it with a "ch". The panini is a flavour bomb, with sweetness from sundried tomato paste and roasted red pepper, and earthy umami from mushrooms. The key is the beautiful crunch from the Calabrese bun.
P.S. in case you're wondering what Peppi means, that's the name of owner Julia's late family member, who was once in the mafia. Knowing this makes the giant Tony Soprano mural at the back wall of the restaurant much more understandable.
When planning the trip, we kept seeing recommendations for both P&M and Kouzzina for a nice sit-down dinner. Only later did we realize that they are one and the same—P&M, aka Pat & Mario's, is the older name for Kouzzina that locals just won't give up. It was a full house on a Friday night, and most tables were enjoying a drink from the excellent wine list. We had a drive ahead of us, so we skipped straight to food. Their specialty is roasted red pepper and tomato soup, and it delivered on the hype big time. We went with the daily feature for our main and had no regrets, enjoying perfectly al dente penne pasta in a marsala cream sauce, with beef tenderloin and cremini mushrooms. If only we had Kouzzina in Toronto!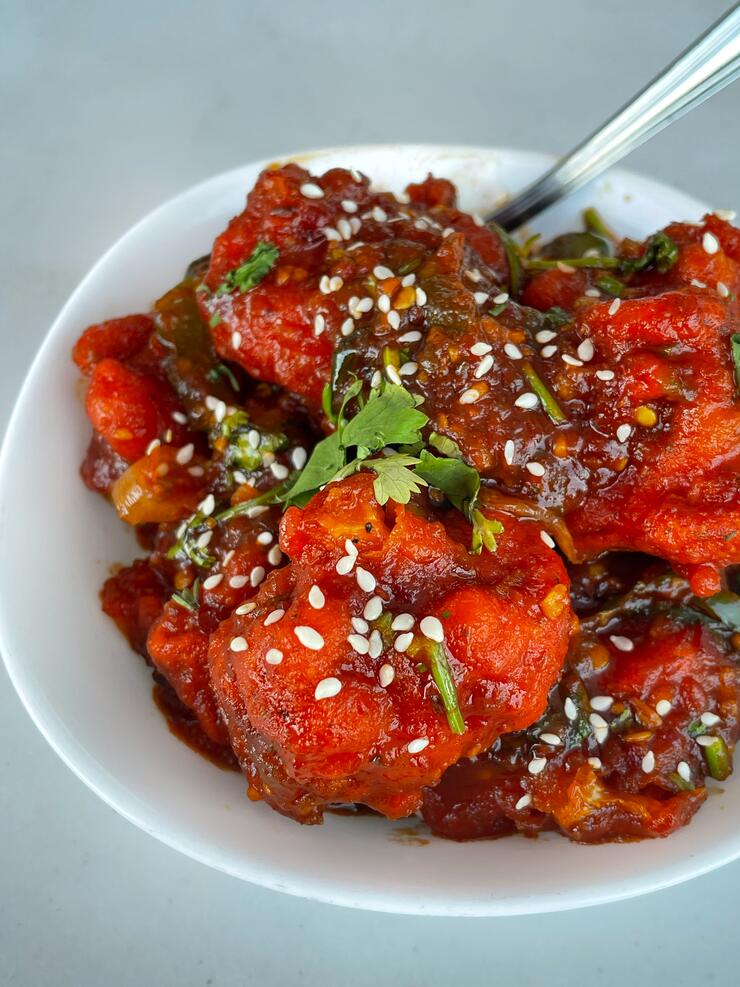 On the drive from Sudbury to Manitoulin comes the small town of Espanola, an unexpected setting for the excellent Indian restaurant Sukhdev. Owners Amrit and Harpreet chose Espanola as their Canadian home because it reminded them of their quaint, rural life in India. They serve Punjabi fare, think naan made in a real tandoor paired with favourites like kadhai paneer or butter chicken. I suggest an order of their gobi manchurian to start, a spiced fried cauliflower dish with an optional kick if you ask for it.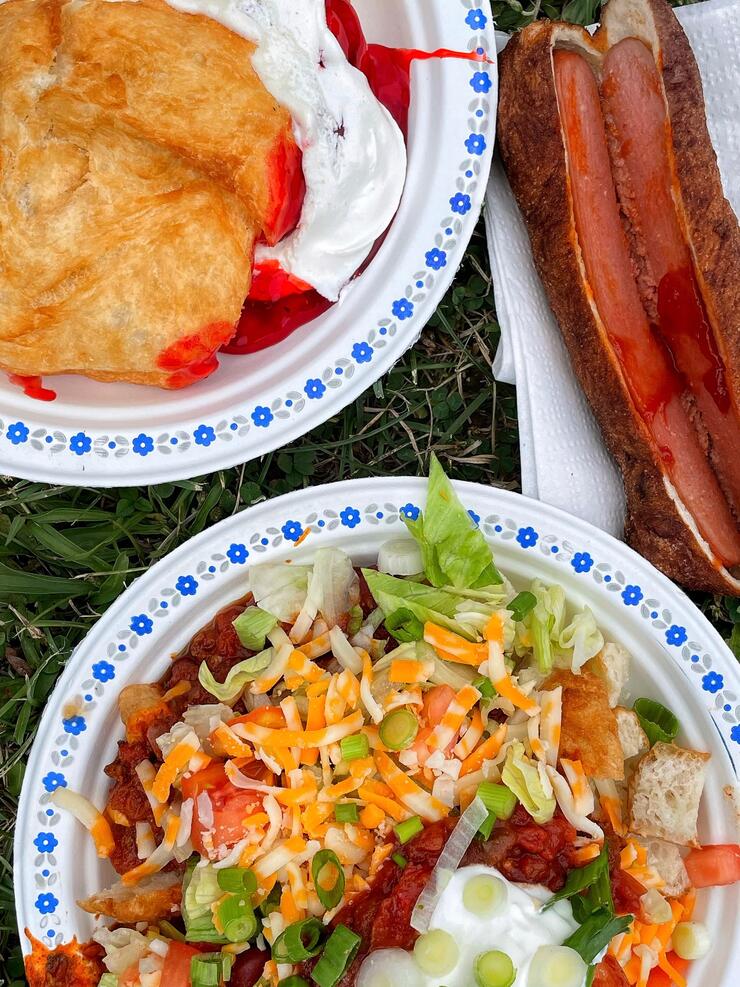 Every Civic Day Weekend, the Wikwemikong First Nation hosts one of the largest powwows in North America on its unceded territory, located on the Northeastern tip of Manitoulin. In addition to watching inter-tribal dances, we were able to try three different Indigenous frybread dishes from the row of vendors onsite. Perhaps the most well-known is the Indian taco, where crispy frybread is topped with chili, lettuce, cheese, salsa and more.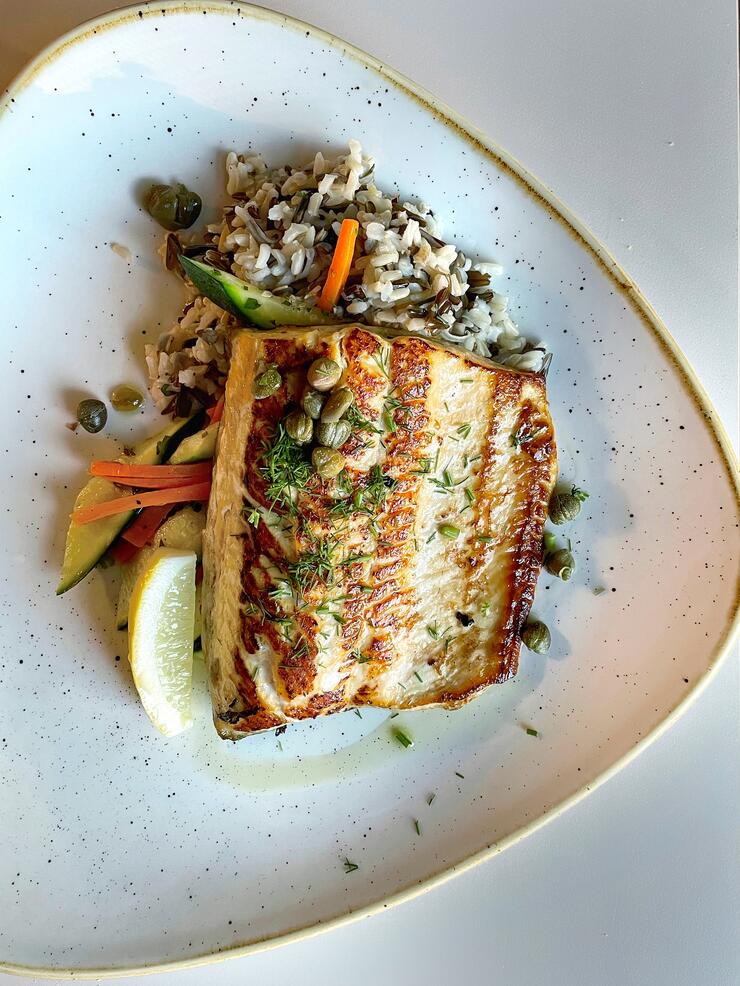 What happens when you take two chefs from London, Ontario and plop them onto an island with an abundance of wild and farmed ingredients? A beautiful farm-to-table restaurant called Garden's Gate of course. Sheina, one half of this culinary couple, started us off with homemade sodas from locally foraged ingredients like bee balm and cedar. Kevin, the other half, perfectly cooked locally sourced trout and served the filet alongside wild rice and seasonal vegetables. This is a must on the island, just don't forget to call in and reserve a table in advance!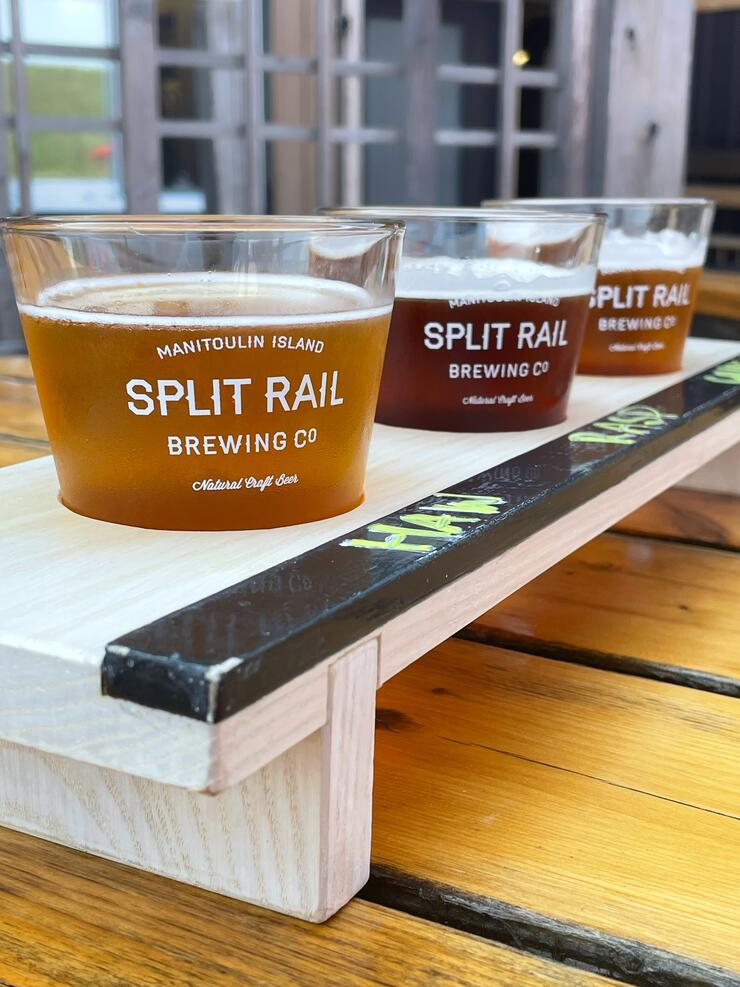 Gore Bay is a sleepy retirement community on the island, but there's two places that make it a tourist favourite. First is Buoy's Eatery, which has been serving the best pizza on the island since 2009. I'm salivating just thinking about "The Max", their pizza topped with shaved roast beef, garlic butter, fried mushrooms, red onions, marble cheese and a healthy dose of steak spice. Wash down the doughy goodness across the street at Split Rail Brewing. Grab a flight and maybe even a post-pizza nibble to enjoy on their large patio. A must is their hawberry ale, made from the berry that grows around the island and even lends itself to the term for a Manitoulin local, a haweater.