The 5th Annual Watabeag Laker Ice Fishing Derby
Come out and join us on March 9, 2019. Last year's derby winner offers insider information on the tournament and keys to his success!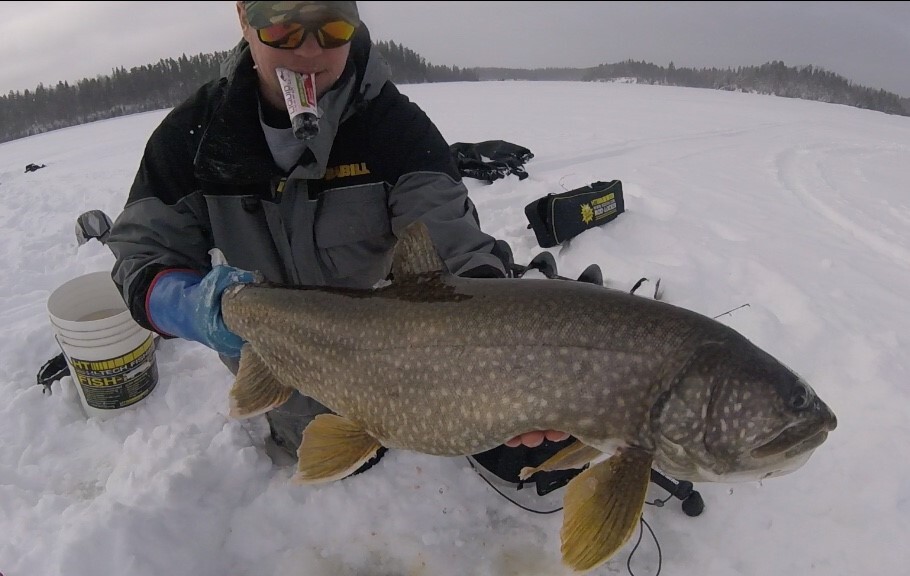 The annual Watabeag Laker Ice Fishing Derby is a one-day, privately hosted event filled with fun, family, friends, and fishing! The event is very affordable at only $10 an entry for an adult and free for children, with the potential to take home a big payday and many other great draw prizes provided by their numerous local sponsors.
wat-a-bea-utiful area
Watabeag Lake is located on Watabeag Road in Northeastern Ontario in between the bigger town centres of Kirkland Lake and the City of Timmins. Other smaller towns located nearby include Matheson, Ramore, Kenogami, and Matachewan. This area is a snowmobiler's paradise!
Being conveniently located in between all these areas offers anglers many options to visit, stay, eat, and enjoy the area.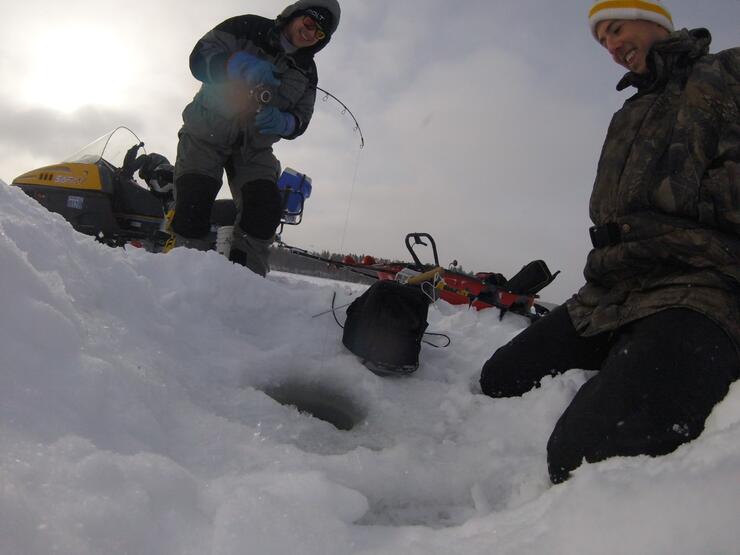 a lake for lakers
Watabeag Lake has a surface area of 2267.1 hectares with a maximum depth of 120 feet and an average depth of 32 feet. Included in this large, deep secluded body of water are underwater humps, steep drops, and troughs, making it an excellent place to catch yourself a trophy lake trout.
Last year, the event brought in 191 adult anglers to this beautiful back lake, paying out 100% of the entry fees to the overall big fish champion. The rules for the event are simple: have fun, bring your own cider mug, obey and follow all provincial and independent zone fishing regulations, must be willing to brag, final weigh in will be at 4 pm sharp, only lake trout will be accepted for the big fish, and register before the start of the tournament.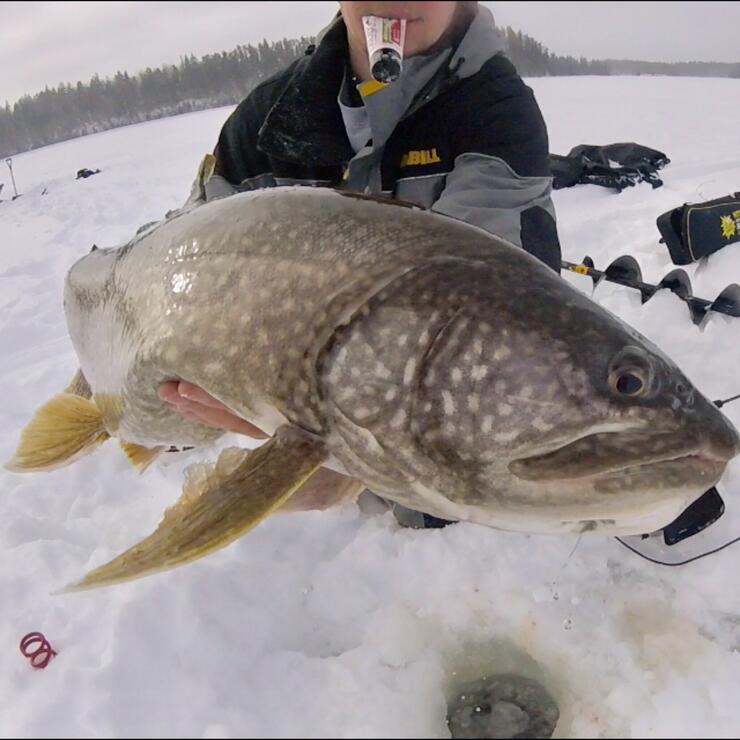 The tournament is also very conservation-based, promoting catch and release of all fish species and having tournament officials make regular rounds to tell competitors of the current leader so smaller fish can be released quickly. To further promote catch and release, there is a secondary draw prize for anglers who can prove that they caught a fish and released it via a photo with a time stamp or with a tournament official as a witness. Catch and release is recommended but not mandatory at the derby.
I was fortunate enough to be the 2018 Watabeag Laker Derby winner catching a 13-pound Lake Trout in the first hour or two of fishing. In 2017 Tim Purdy held the title, catching a 9-pound Lake Trout in some very tough conditions.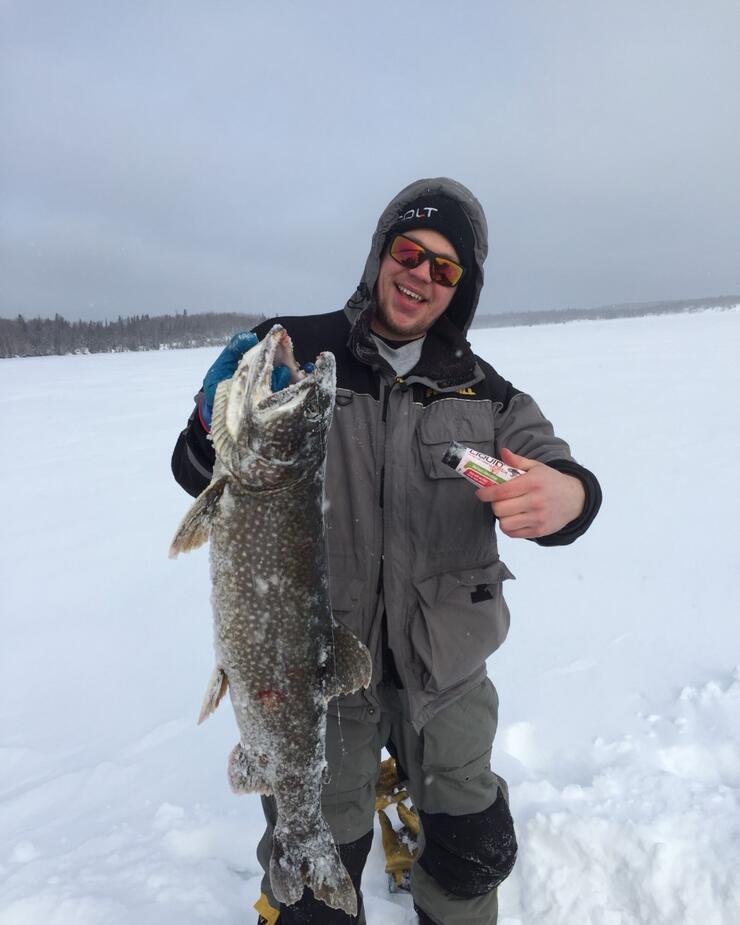 keys to success
A couple key things that I believe helped me to catch this fish on top of having some good luck that day were:
A Fishfinder with built-in flasher: The fish surprisingly followed my lure up and down (jigging) without biting for upwards of 15 minutes before actually inhaling my bait. If I hadn't had the fishfinder, I truly believe I would have never coaxed that fish into biting, in fact I never even would have known it was there. 
 
Jigging,rather than still fishing or setting a still line, can make a big difference to a fish that isn't super aggressive, or maybe just doesn't have an interest in a bait that's not trying to escape from it. I think pulling the bait away from the fish and making them have to chase it can be a key to getting a bite, rather than just a bait in a stationary position.
 
Strong Scent: Since I was using a jig head and artificial plastic grub rather than live bait, I applied an attractant to my bait called Liquid Mayhem in the Garlic Shad Scent, adding a strong smell to give myself a bit more of an advantage to getting a bite, as well as removing any potential harmful scents I may have accidentally had on my hands (gasoline, for example).
 
A good fishing buddy: To help land the fish, and in my case maybe even provide transportation (snowmobile), and also help with setup, drilling holes, etc.
So if you want to experience a great event, with the chance of maybe even taking home some cash or prizes amongst great people in Northeastern Ontario, then you should check out the Watabeag Lake Trout Derby—it's worth it!