Fall for Sault Ste. Marie
From urban cycling to boreal hiking, fall fishing to gourmet cuisine, this vibrant waterfront city has it all. We've rounded up the best experiences to have in the Soo this autumn.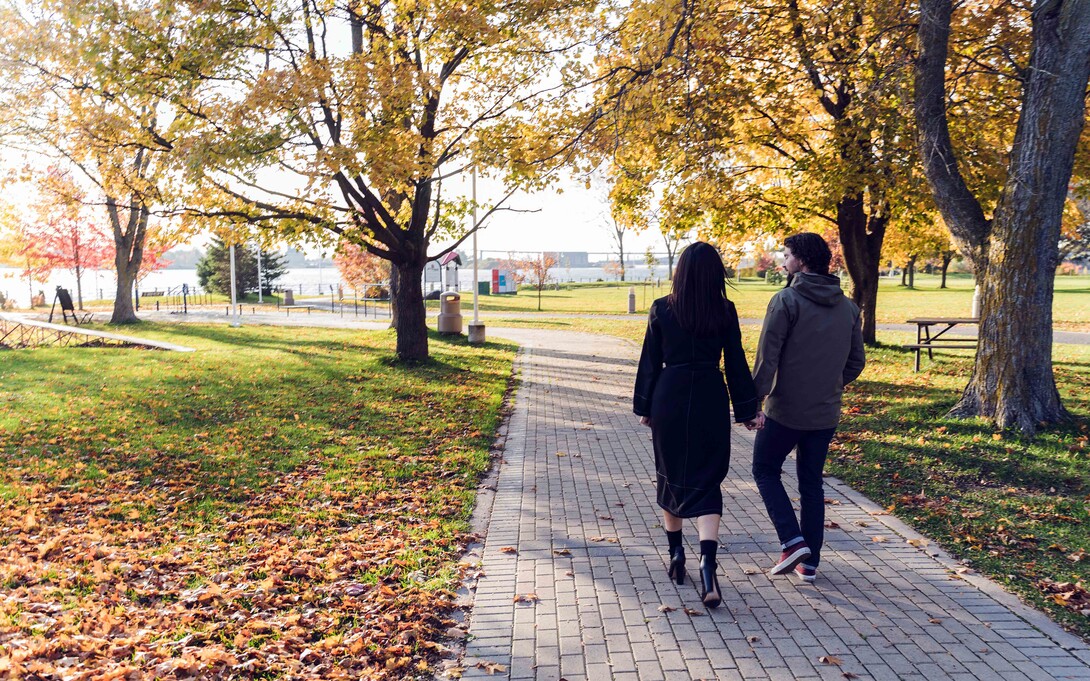 The city of Sault Ste. Marie, set on the St. Marys River just north of Michigan, a few hours west of Sudbury, and a scenic day's drive from Thunder Bay, offers an ideal balance of urban energy and awe-inspiring outdoors. A vibrant Northern Ontario hub, it boasts plenty of cultural and historical attractions while serving as the perfect gateway to some of North America's most incredible natural sights. And there may be no better time of year to enjoy all of these than during the fall. As leaves start turning and the temperatures cool down, travelers will be well rewarded by making their way straight to "The Soo." Here are a few fall experiences that await visitors.
See the Hiawatha Highlands and Kinsmen Park on Two Wheels
The Hiawatha Highlands offer the perfect backdrop for an exhilarating bike ride. The 31-kilometres of single track offers a variety of terrain—through trees or along rivers, smooth beginner trails or fast-moving downhills that will get any biker's blood pumping. The trails will take you across the picturesque outcropping of the Canadian Shield and old-growth pine forests of the surrounding area. With the fall breeze keeping you cool, it's a great way to immerse yourself in the area's exciting outdoors. For expert biking advice and guided tours for every skill level visit Red Pine Tours. Whether it's a 2-hour tour or a full day excursion you're looking for, the friendly staff here will help. 
Take a Brewery Bike Tour Through Downtown SSM
For those who enjoy more cosmopolitan sights, an urban cycling experience through downtown Sault Ste. Marie will let you survey this city's wealth of cultural and culinary offerings from the comfort of your bike—and allow you to make plenty of stops to explore. Follow the 25-kilometre John Roswell Hub Trail along the shores of the St. Mary's River to enjoy a self-guided craft-brewery tour. Enjoy a Rabbit's Foot India Pale Ale at Outspoken Brewing's tree-covered patio or a pint at Northern Superior Brewing Company where you can get a bit of history with your brew (drawn from century-old recipes). Wrap up your day with a salad or signature pizza at Fluid Boardwalk Patio and Grill, gazing out on the river watching the boats go by.
Take a Hike Up Robertson Cliffs
North of Sault Ste. Marie stands the stunning Robertson Cliffs, easily accessible via the Robertson Cliff Trail. Follow the path for a few kilometres and you will be treated to views of the largest freshwater lake in the world and the rolling hills of the Algoma region. The five-kilometre hike is family-friendly and a great option for intermediate-level hikers seeking an energizing trek. You'll trek past waterfalls, wildflowers and through peaceful forest areas up to a natural lookout 150 metres above the lush boreal forest, providing you with an incredible view of Lake Superior and the surrounding region, and a moment for reflection before you head back to the base.
Celebrate the Group of Seven
The Soo's natural surroundings proved a source of endless inspiration for the Group of Seven artists of the early 20th century and visitors can enjoy a road trip through many of the places they captured in their heyday, which have lost little of their visual splendor 100 years later. The downloadable app from Moments of Algoma can provide an ideal guide. But to enjoy much of the destination's artistic splendour, visitors need not set a foot out of downtown. The Art Gallery of Algoma has built a permanent collection of more than 5,000 works, focused on Canadian and regional contemporary art, including many from the Group of Seven. Those who prefer something a bit more contemporary can just take a look around as they stroll—a number of works of street art have been popping up as part of The Downtown Mural Project in just this past year.
Dine Around the Soo
Sault Ste. Marie offers some outstanding dining options for a wide range of tastes, so make a point of stopping in at a few of the top culinary spots in the city. Start the day with breakfast at Scott Coffee Co. or at local staple The Breakfast Pig. Lunch at Ernie's Coffee Shop is a must, serving up diner classics and a great cup of coffee. Stop at one of several restaurants in The Machine Shop, a former paper mill that's now been reimagined as a hip event space. Work off that lunch with a round of golf at Crimson Ridge, the city's premier golf course, which also has an elegant steakhouse on site: Embers on the Ridge. To end the day with a fine-dining flair, make a reservation at Big Lake Cabin, where they serve up favorites such as pan-seared hanger steak and handmade flatbreads in an elegant atmosphere.
Fans of Italian can try the takeout menu from Marconi Event Centre, which features tasty options such as chicken ballotine (chicken stuffed with aged pecorino and wrapped in prosciutto then pan seared) or the pancetta salad. Other Italian favorites include Giovanni's and Sandro's. 
Go Fishing on the Soo Rapids
But a trip to the Soo is hardly complete without a fishing expedition. Just a few minutes from downtown, the Soo Rapids, below the river's exit from Lake Superior, provides terrific fishing in the shadow of the commanding International Bridge. A visit to the rapids requires passing through Whitefish Island, an important Indigenous site and a National Historic Site of Canada. The island has been an important gathering place of the Anishinaabe people of the Great Lakes for thousands of years–in large part due to the plentiful fish found in the rapids.
St. Mary's River has been named one of the 10 best rivers for trout fishing in the province and has earned a reputation as a world-class destination for fly fishing. But while the St. Mary's is a prime fishing location year-round, the fall is a great time for those partial to steelhead and Atlantic Salmon—with a pleasing backdrop of an autumn sky and changing leaves.
Whether a fan of art and culture or lakes and waterfalls (or all of the above), Sault Ste. Marie is an ideal destination for fall travel. Visitors of all interests are likely to find something special in this Northern Ontario city.