Sault Ste. Marie By Bike
From fat bikes in the highlands and city cycling along the historic waterfront, discover the endless biking options in the Soo.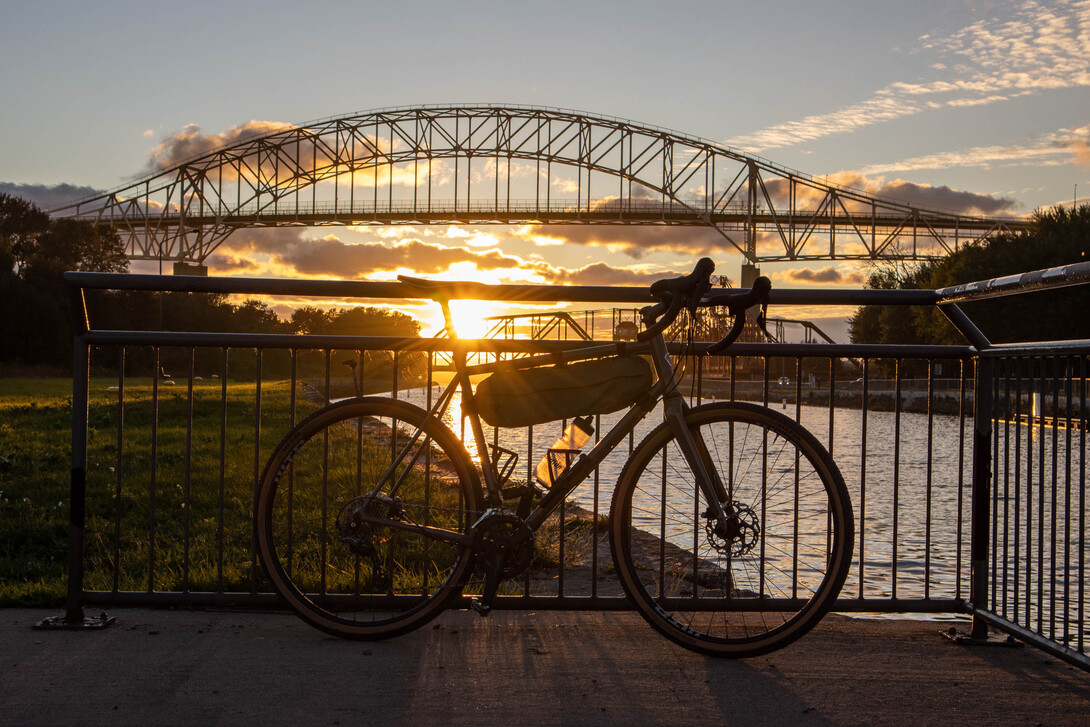 Choosing a cycling destination in Ontario is no easy task with so many options. So it speaks volumes that my northern pilgrimage from southern Ontario to Sault Ste. Marie has become an annual cycling tradition. Up until recently, the cycling adventure involved mountain bikes and fall colours, two things that Sault Ste. Marie and the Algoma region can deliver in bulk. But spend enough time anywhere, and you are bound to discover more than expected. In the Soo, those discoveries were made in perhaps one of the best cycling communities anywhere. Friendships and new experiences mean that my annual biking journey around Sault Ste. Marie now includes a mountain bike and a gravel bike—and there is never enough time to get it all in.
where to stay while biking in the soo
I set up a home base within eyesight of the St. Marys River at the Days Inn and Suites in the heart of town. I favour the downtown location as it provides access to all things need. I can walk or bike to all of life's necessities, food, drink, attractions, and the waterfront. From here, Sault Ste. Marie is my cycling playground—let the good times roll. Rest assured the city offers a host of hotels, motels, and campgrounds for visitors to choose from—with amenities to suit every taste and budget.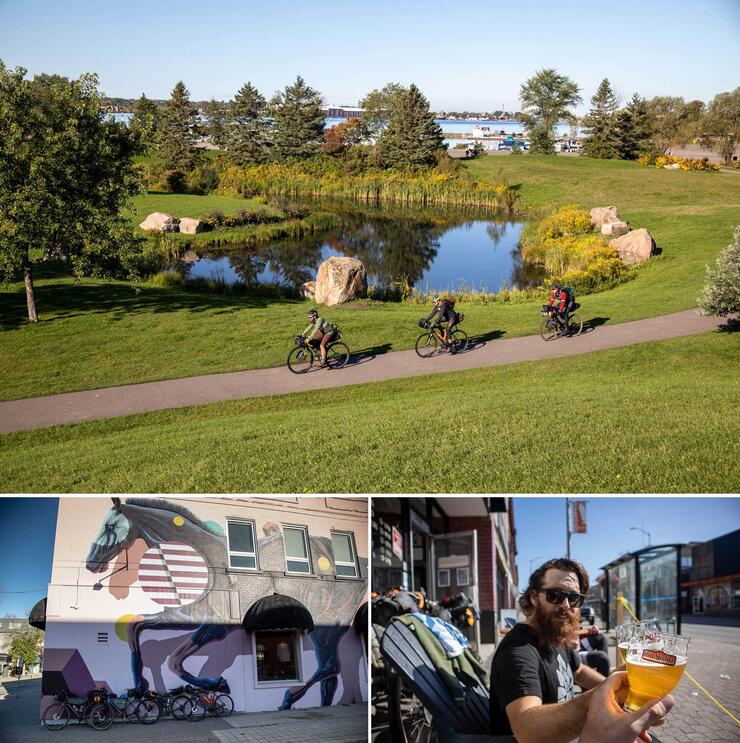 biking Around town in sault ste. marie
With bike lanes and paths aplenty, exploring Sault Ste. Marie by bike is just fun.
Follow dirt paths on Whitefish Island to the edge of the rushing St. Marys River.
The Canadian Bushplane Heritage Centre, the Art Gallery of Algoma, restaurants and craft breweries are all accessible by bike along the historic waterfront.
For a more extended excursion, hop on the Hub Trail, a 22.5-kilometre non-motorized trail that circles the city. There are markers placed along the route every 0.5km that help direct riders and point out upcoming landmarks. Diverse neighbourhoods, forest paths and bridge crossings high over lush ravines are all part of the experience.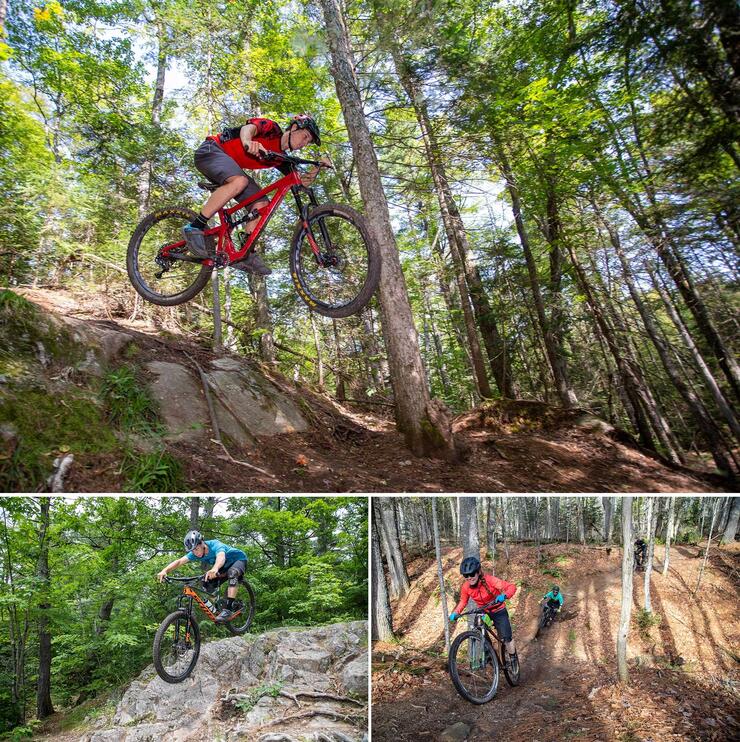 biking On the trails in sault ste. marie
When it comes to mountain biking, you will be hard-pressed to find a more fun trail system than the Hiawatha Highlands. Located within city limits, the collection of winding trails has been the local cycling community's pride and joy for decades. Already providing something for every skill level, things are about to get even better. With funding confirmed and new trail already being added, the master plan is to take Sault Ste Marie's mountain biking scene from great to epic.
For the more adventurous, located roughly 20 minutes north of the Soo, the Bellevue Valley Trail system offers thrills for those with the skills. The expectations here, both on the ups and downs, favour fit experienced riders; if you qualify, you will definitely be back for more.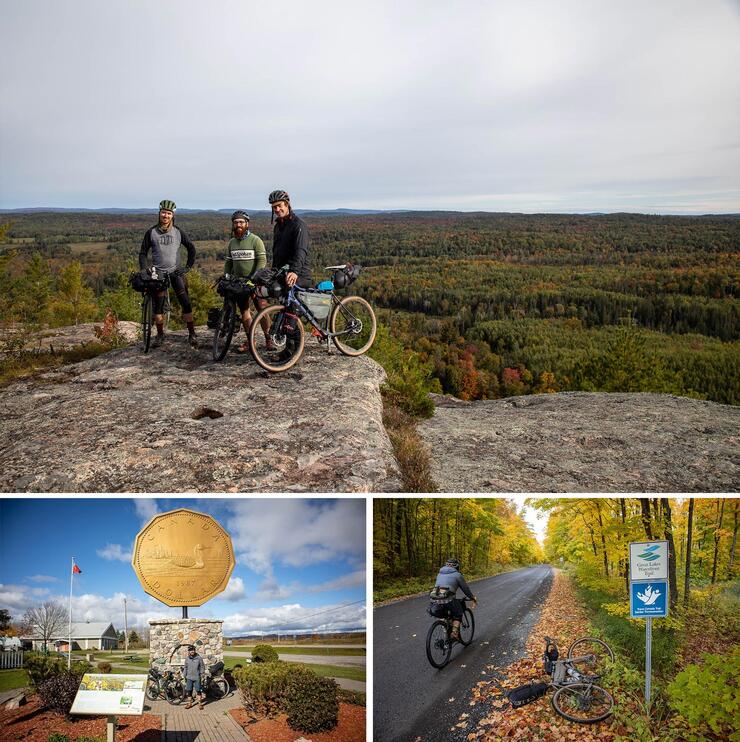 biking Beyond city limits, welcome to Algoma
With steady growth in the popularity of gravel or all roads bikes, the Sault Ste. Marie cycling experience has become more complicated in the best possible way. Beyond city limits lie endless opportunities to explore a landscape that is Algoma. Roads from paved to gravel to tracks in the forest are perfect for the adventure cyclist as you head out for a day or a few.
Bikepacking routes are in the works for those ready to explore, but if you prefer to follow a guide, the crew at Red Pine Tours are happy to show you the area's best.
Then there is the Great Lakes Waterfront Trail, the 3600km signed route connecting 155 communities and First Nations along the Canadian shores of Great Lakes, including the Sault Ste Marie waterfront. Ride your bike along the trail west to Lake Superior's shores, or follow the signs east along quiet country roads, the coast of the Lake Huron North Chanel and beyond.
Whether you are a serious cyclist looking for a challenge or thrills on the trails, or maybe your bike is just a part of a more substantial northern Ontario adventure, Sault Ste. Marie and its cycling opportunities will leave you wanting for more. In fact, an annual pilgrimage is not a bad idea.