The Ultimate Caboose Camping Experience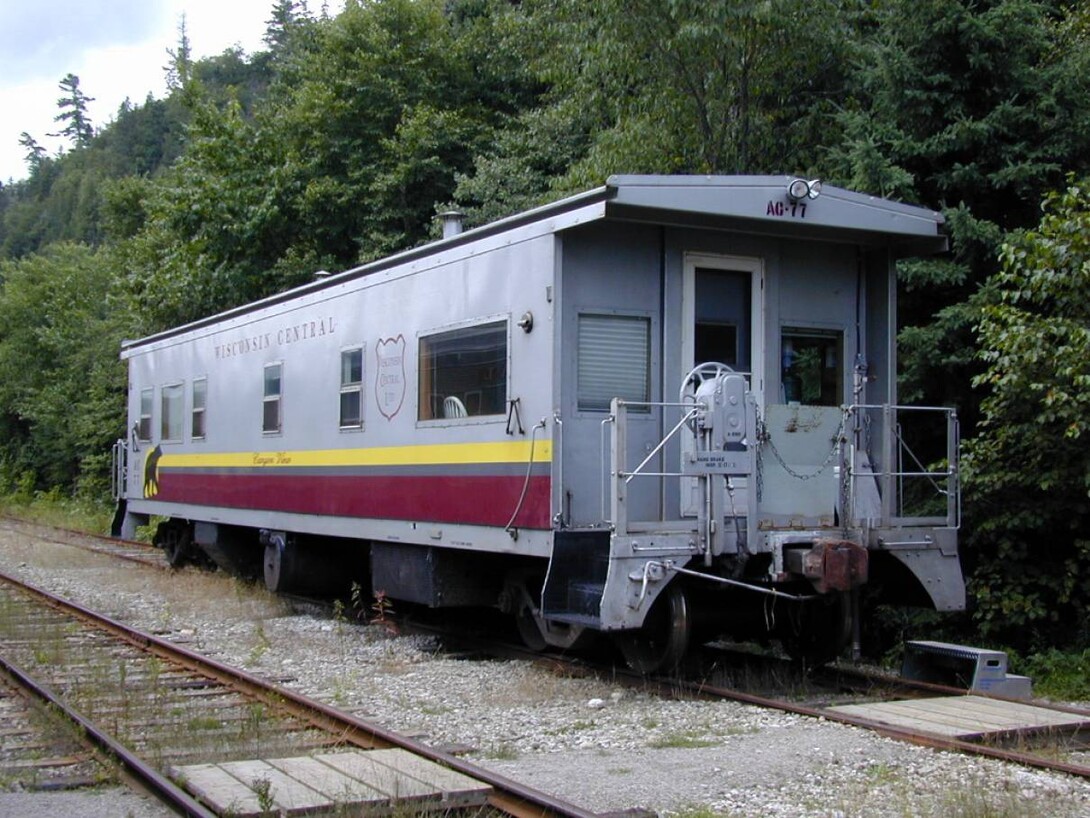 Ontario's northland is entering its most spectacular season, splashing the dense forests with the colors of the rainbow.

It's a great time to go camping deep in the woods, far from civilization with only the sound of a loon calling from a small unnamed lake, the distant bellow of a bull moose, the screech of a hawk soaring overhead your crackling bonfire – and the occasional freight train rumbling through your campsite.

But that's a small price to pay – plus $1,755 – for the superb comfort that same railway provides you out in the unforgiving wilderness.

Algoma Central Railway rolls north out of Sault Ste. Marie, Ontario – across the seaway locks from Sault Ste. Marie, Michigan – and specializes in railroading through Ontario's northland. It'll take you camping in a luxury caboose for a week of penthouse living deep in the woods.

A freight train pulls your caboose 114 miles north of the Soo into the Agawa Canyon and rolls it onto a siding where you'll somehow have to cope with hot showers, comfy beds, flush toilets, a galley kitchen, a lounge, electricity and air conditioning. It's a tough life.

The caboose also comes equipped with two canoes, paddles and life vests. Waiting in the woods beside the rail siding will be a screened-in dining tent, picnic table, gas barbecue, lawn chairs; and if the north woods sees enough rain over the next few weeks, there'll also be stacked firewood and a fire pit (Currenlty, as of June 2013, open fires are banned in Ontario's northland.)
You'll be surviving in Agawa Canyon, one of Ontario's most isolated beauty spots. The only way to get here is by riding a train for three hours, or three days of hiking.

The caboose sleeps four and is equipped with all the amenities you expect at home – such as dishes, linens, bed clothes, even a beer fridge in additional to your kitchen fridge. This caboose doesn't look like those traditional cabooses we used to see rolling through our towns until that tragic day when they were no longer needed. This camping caboose is longer and has no viewing platform protruding from the roof.

For many years it brought up the rear of freight trains rumbling through Wisconsin on the Green Bay and Western Railway line. The GBW was absorbed into the Wisconsin Central Railway in 1993. WCR owned Algoma Central until it was absorbed by Canadian National Railways.

Australians who have chartered the camping caboose call it a "guard van," but most go home calling it a caboose. It has screened windows because it starts rolling into the bush in May – black fly season. The camping service is available until Canadian Thanksgiving (Oct. 10), but Ian McMillan, director of tourism in Sault Ste. Marie, hopes to see the camping caboose experience a Northern Ontario winter, as well.

"We could replace the canoes with skates and a snow shovel," says McMillan. He claims during his test run of the camping train that he barely got his fishing line wet in the Agawa River before pulling out a trout. The river runs beside the campsite.

Getting there involves riding on one of the continent's most spectacular train rides, particularly at this time of year. A milk-run passenger train pulls out of Sault Ste. Marie each morning heading for Hearst and it serves as a taxi service for adventurous cottagers who have built cabins deep in the woods beside the rail line.

The train stops at their front doors to unload passengers and supplies and it can be flagged down by anyone out wandering in the wilderness that needs a lift back to civilization.

Caboose campers need to bring only their food and toothbrush. Two park rangers get you set up and explain the workings of the caboose before they drift off into the woods. And if you get lonely in your wilderness camp you can always walk 300 feet down the track and talk to a couple of hundred visitors from round the world.

They arrive each day at noon aboard the famous Agawa Canyon Tourist Train for a 90-minute visit to the canyon before heading back south to civilization.

For more information, go to http://www.agawacanyontourtrain.com/ or call 1-800-242-9287. 
Visit www.saulttourism.com for more information on things to see and do in Sault Ste. Marie!