Fly Fishing the Rapids
"The best rainbow trout fishing in the world is in the rapids of the Canadian Soo"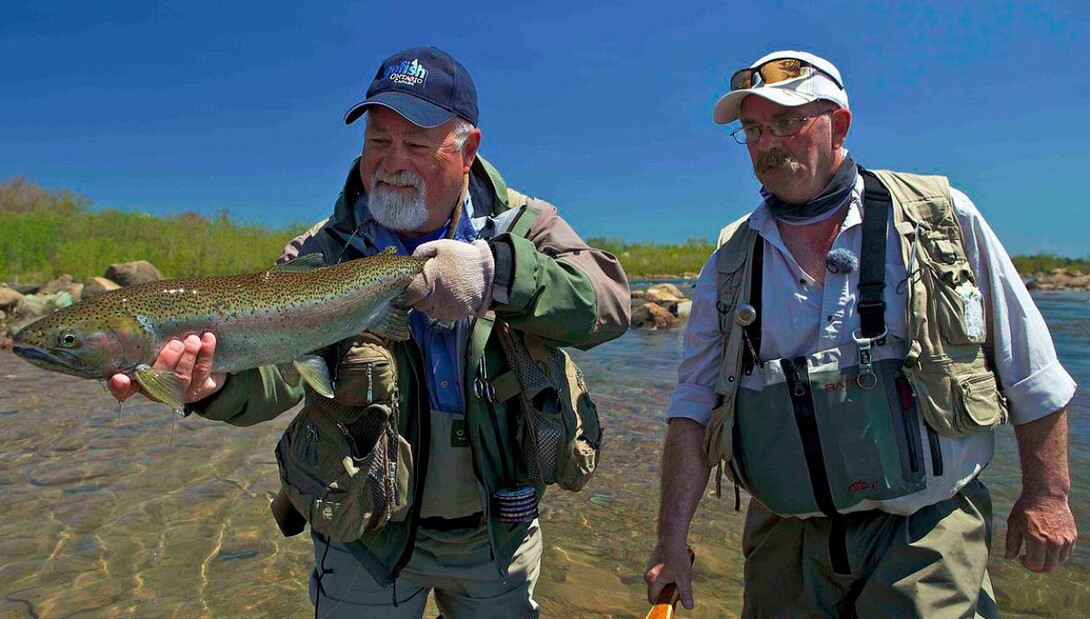 Author Ernest Hemingway once said "....the best rainbow trout fishing in the world is in the rapids of the Canadian Soo..."
If you fly fish, spin cast, bait fish, ice, wade or boat fish, there are opportunities all year long in Sault Ste. Marie! Some of the best stream, river and lake fishing for both cold and warm water fish are plentiful within the city and the Algoma region. An interview with one of the best guides in the business, Brad Hodkinson, owner of Soo North Fly Shop, confirms that the St. Mary's Rapids are becoming known as one of the premier fly fishing destinations in North America!
Soo North Fly Shop was established in 2008 in downtown Sault Ste. Marie by owner Brad Hodkinson. Brad spent many years guiding and fishing across Ontario and decided to move to Sault Ste. Marie to begin a new chapter of his life and opened a full service fly shop, specializing in guided tours.  The guiding component of the business is a large part of the businesses success and offers some of the best guided experiences available in Northern Ontario. The business prides itself in offering all aspects of fly fishing such as traditional fly casting, spey casting, small streams fishing, and guided experiences on lakes and bigger water systems. Soo North Fly Shop loves to teach their guests everything they know about fishing to give them the best experience possible; whether a veteran or beginner.
Rated as one of the top ten trout fishing rivers in Ontario, the St. Mary's River is also becoming known as one of the premier fly fishing destinations in North America. St. Mary's River is truly unique because fishing is accessible during all four seasons and plentiful with many different species of fish. From acrobatic Atlantic Salmon to explosive Steelhead, this river has so much offer. Soo North Fly Shop understands St. Mary's River and how to have the best fishing experience. With an overlap in when the species run, fishing in the rapids is only limited by what time of year you decide to cast your line!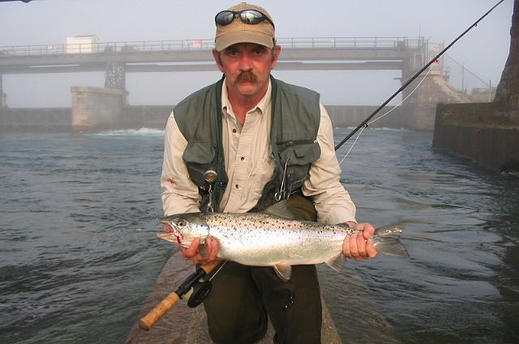 Here is a list of the species available in St. Mary's River and the approximate times of year they are available:
Atlantic Salmon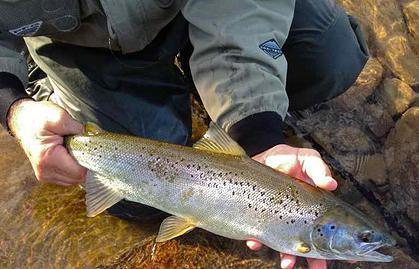 There are large runs of Atlantic Salmon that come into the St. Mary's River. These incredible sportfish come readily to the fly from mid-June thru to November. These are a great species to spey fish for or even use traditional fly fishing methods. Soo North Fly Shop will also take people out in their boat to catch Atlantic Salmon with streamers - this is some of the most explosive and exciting fishing to experience! Preferred times for this type of salmon fishing are July thru to mid-August.
Coho & Chinook Salmon
These species are popular with most anglers. The Chinooks run from the last week of August thru to the end of October. Coho Salmon usually run from mid-October to December. If presented right, all of these species will readily come to a fly. They can be caught on either spey or traditional fly rods.
Pink Salmon
Traditionally the Pink Salmon arrive in the river between the end of August and run until the end of September. Depending on the year-class, they will vary in size from 1 1/2lbs to 5lbs. Great sport on a fly rod in the 5-6 weight size.
Steelhead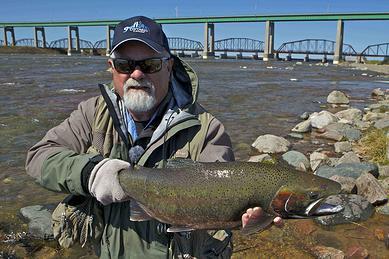 St. Mary's River is one of the best places in the Great Lakes to catch Steelhead. There isn't a stocking program so these Steelhead's are wild! An average fish runs 5-7 lbs, but much larger specimens are caught from time to time. These great fighting fish can be caught all year long, but there are specific windows with the best opportunities to catch them on a fly.

Guide Service

The staff at Soo North Fly Shop prides themselves on the quality of their guided services. They offer a diversified range of fly fishing options throughout the year from Spey fishing on the St. Mary's Rapids to small stream fly fishing for Brook Trout. They will help make the most of your time in Northern Ontario and provide a unique experience, one you will remember for many years. This region is blessed with incredible species including: Steelhead, Atlantic Salmon, Pink Salmon, Chinook Salmon, Coho Salmon, Brook Trout (Specks), Resident Rainbow Trout, Northern Pike, Smallmouth Bass - and you can catch them all on the "Fly"!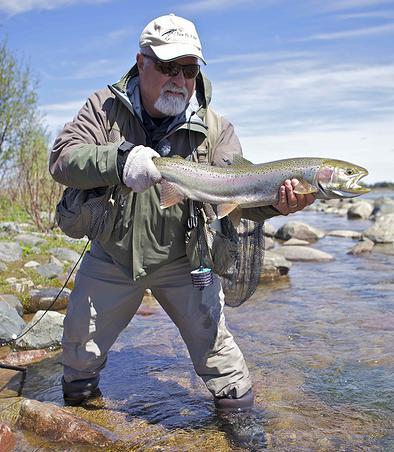 Soo North Fly Shop offers different guided services for Sault Ste. Marie and surrounding area in the Algoma Region. 1/2 and full day trips are available on the St Mary's Rapids and 2-3 day outfitting trips where guests will be fishing several different waters and camping overnight are also on the menu of options. These packages are offered in late May and dependent on the water and weather conditions. A maximum of three of these overnight trips are planned each spring for Brook Trout, so don't miss out on booking your adventure early. A back drifting Atlantic Salmon guided trip casting large streamers for aggressive and hard-hitting salmon is another adventure you will talk about for years to come. These trips tend to book up quickly so call in advance to confirm your spot for next year!



Most guided trips are limited to 1 or 2 people, but accommodations are made for small groups as additional full-qualified guides are available. Soo North Fly Shop also guides on several smaller rivers and lakes for wonderful one day adventures where you will go out fishing for big Smallmouth Bass and Northern Pike!
Guiding Option Summary
1/2 day guide trip
full day guide trip
overnight guided trip (Brook Trout)
small lake guided trip for huge Smallmouth Bass
 
You can call Soo North Fly Shop 1-705-987-1745 to learn more about the incredible fishing opportunities that are available here in the Algoma Region and on the St. Marys Rapids!
A couple great locations outside the city limits!
If you want to explore other locations besides the St. Mary's River city waterfront, head up Highway 17 to Lake Superior and its watershed or try the inland lakes of the Lake Superior Provincial Park. Here are a couple of options to try:
Chippewa Falls
The Chippewa Falls are just a 52 km/32minute drive from uptown Sault Ste. Marie, Ontario. This location is known for rainbow trout, especially in during the Spring.
Lake Superior Provincial Park
Lake Superior Provincial Park offers one of the best Brook Trout fisheries in North America. Four types of trout are found within Lake Superior Provincial Park:  Brook, Lake, Rainbow Trout and Splake. The clean and cold water provides the perfect habitat for these beauties. Lake Superior Provincial Park has some limitations on what you can bring into the park, the use and possession of live baitfish like live minnows and crayfish are strictly prohibited as well as the in the park and no motorized water craft are allowed except on Lake Superior.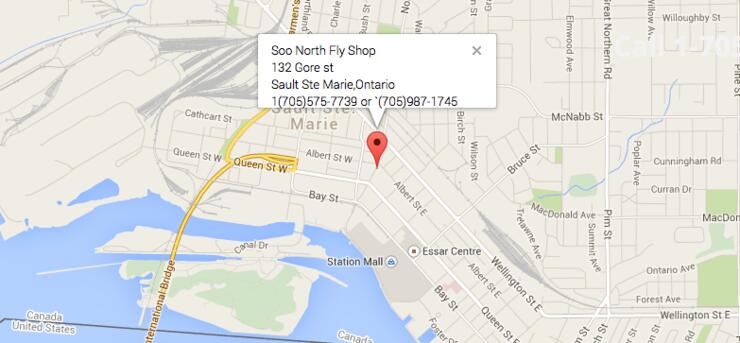 Soo North Fly Shop
132 Gore st
Sault Ste Marie, Ontario
(705) 987-1745 or
(705) 575-7739
www.soonorthflyshop