10 Mistakes Snowmobilers Make
Making one or more of these mistakes as a snowmobiler could result in the end of your snowmobile season—and potentially your life! 
Welcome to Ontario snowmobiling. There is a tremendous amount of great trail riding ahead of you and I want you to be around for many seasons to come. I've prepared these 10 snowmobiling tips to guide you in this new adventure. These will ensure you have the best experience possible—we're all a part of making snowmobiling great here in Ontario and that Is exactly why I hope you will take this advice seriously! Your actions will not only impact your own experience but potentially the riding experiences we all will have.
Here are 10 mistakes snowmobilers make—read up on what not to do!
1. Squeezing the Throttle
It's the beginning of the season, you've read my 2022-2023 winter forecast and that first big snowfall of the season has arrived as predicted. The fresh snow is intoxicating, it's beautiful, and you've got the snowmobilers itch. All snowmobilers dream of this day for months, and you can't take it any longer! But is it really the time to squeeze the throttle? Or is it too early in the season?
Think carefully about this first rip—a vast majority of snowmobile incidents occur during the pre or early season. This is because there are often unknown hazards under that fresh blanket of snow. Plus, your local trails are more than likely still closed, and for many good reasons. Your local snowmobile club works hard to ensure that all requirements are met before opening a trail—requirements including landowner permission, signage, and of course, maintenance and grooming to ensure an ample base is built and the trail is free of hazards.
With that in mind, snowmobiling is an unpredictable activity that occurs in an ever-changing environment, so before you squeeze the throttle be sure to check the OFSC Interactive Trail Guide, know where you are riding, and ensure that both you and your sled make it through that first ride without incident.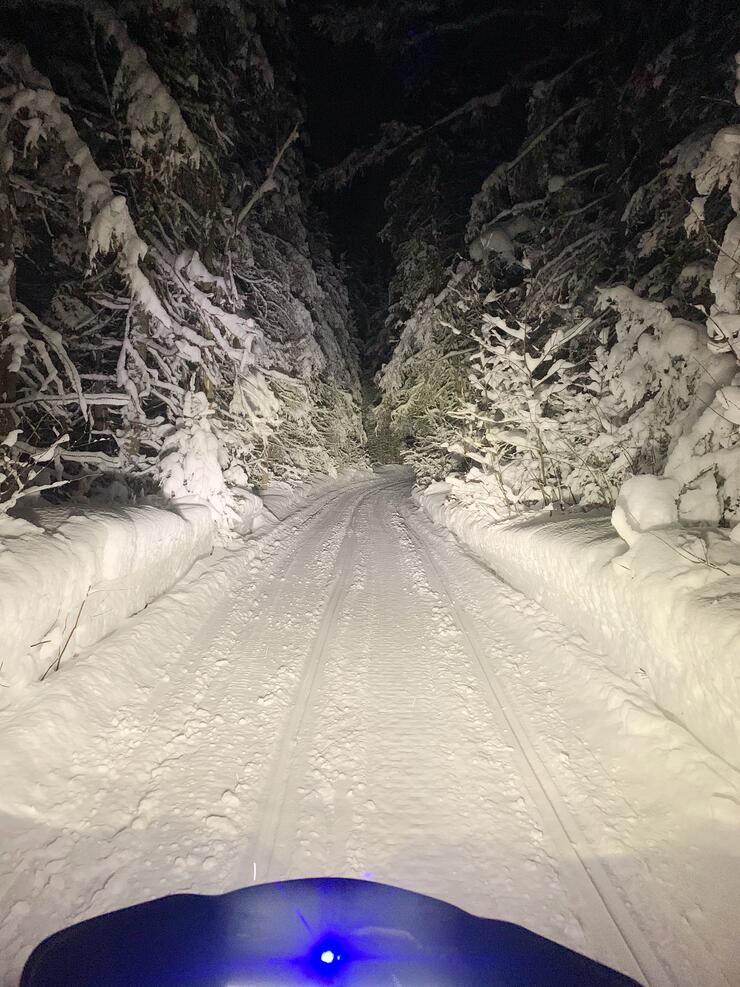 2. going off-trail and ruining it for the rest of us
Do you know where you can and cannot legally ride your snowmobile? Are you committed to staying on the trail? Trespassing off the marked and groomed trail can be a major issue not only for your safety but also for the longevity of trail access. Trespassing is the number reason for loss of permission from landowners—do you really want to be the snowmobiler responsible for the loss of a key segment of trail in your area or for the destruction of a farmer's crop that they rely on for their livelihood? Please think twice about trespassing, cutting corners, or zipping across someone's property. Your decision impacts us all—we are all in this together, so your actions affect other snowmobilers as well as yourself.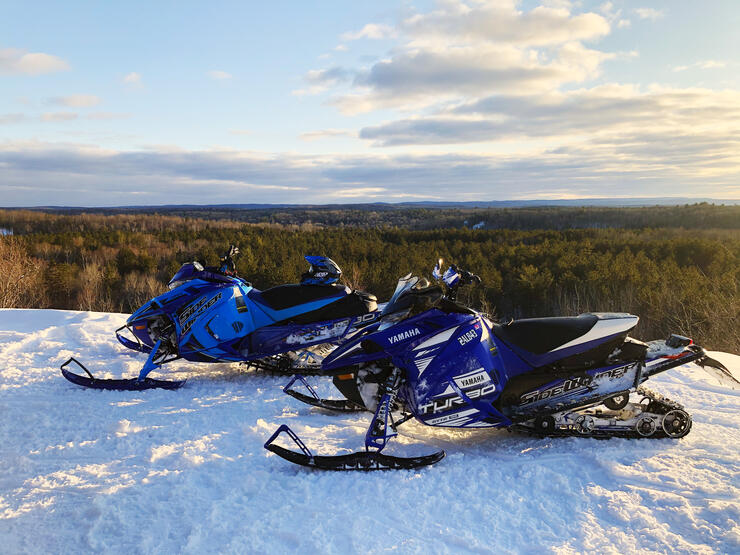 3. sledding on Thin Ice
Lakes and rivers in Ontario are more plentiful than anywhere else in the world, and with over 200,000 of them it's only a matter of time before snowmobilers encounter a crossing. Know before you go! It's incredibly important to verify ice conditions yourself before venturing out. Staying on the stake lines installed by clubs will only aid in your safety. Just because you see tracks does not mean they are on safe ice or lead to safe ice conditions. Do not become a statistic and take the extra minutes to verify all ice conditions. If you are unsure, uneasy, or just simply do not know, turn around and stay on hard ground.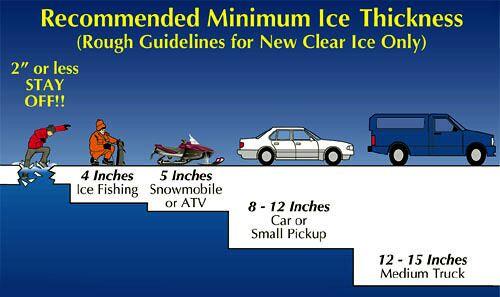 4. operation Lightspeed: overriding your headlights
There's a certain fantastic ambiance to riding through the forest at night—the shimmering white snow sparkles with a glint unlike during the day. However, when you're riding at night it's important that you do not override your headlights (i.e. ride faster than the lights can illuminate the trail ahead of you). It's all too common to hear about incidents that occur at night where a rider has misjudged their speed and ended up in trouble. Do not override your headlight and ride according to the conditions.
5. having "Just a Few"
Operating a snowmobile while intoxicated is illegal. There is zero acceptance or tolerance for intoxication while riding, whether that be alcohol or some other substance. Be mindful that any loss of judgment or reaction capabilities severely impacts your snowmobile control abilities. Again, I can't stress it enough, zero tolerance! They say in boating, "water on the water & beer on the pier," so how about we just go with ethanol and snowmobiling don't mix! Get it? Save the bevies for the garage, cabin, cottage, or when the sled keys are put away.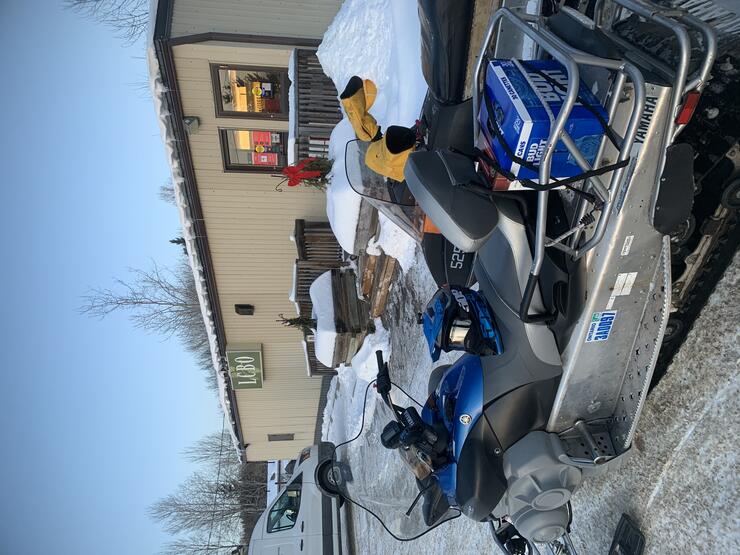 6. crossing the yellow line: not staying on Your Side
Unlike the paved roads you may be used to driving in your car or truck, snowmobile trails do not have a yellow line down the middle to separate lanes or oncoming traffic. It's incredibly important that you ride your side of the trail—this is especially important when taking corners. As a groomer operator and snowmobiler, I've witnessed and can tell by the snow track in the corners that all too often snowmobilers are taking the same line through a corner. Please be mindful to ride to the right of the trail and always stay on your side. If you find yourself driving into the center or left side of the trail while taking a corner you are going too fast and need to slow down.
7. reckless riding through a Snow Globe
it's the best type of dust—snow dust! However, it can be potentially blinding and greatly reduces your ability to react to trail conditions and other riders! When riding keep your distance between other snowmobilers allowing time for the dust to settle. This will increase your visibility and ability to react and stop should you need to.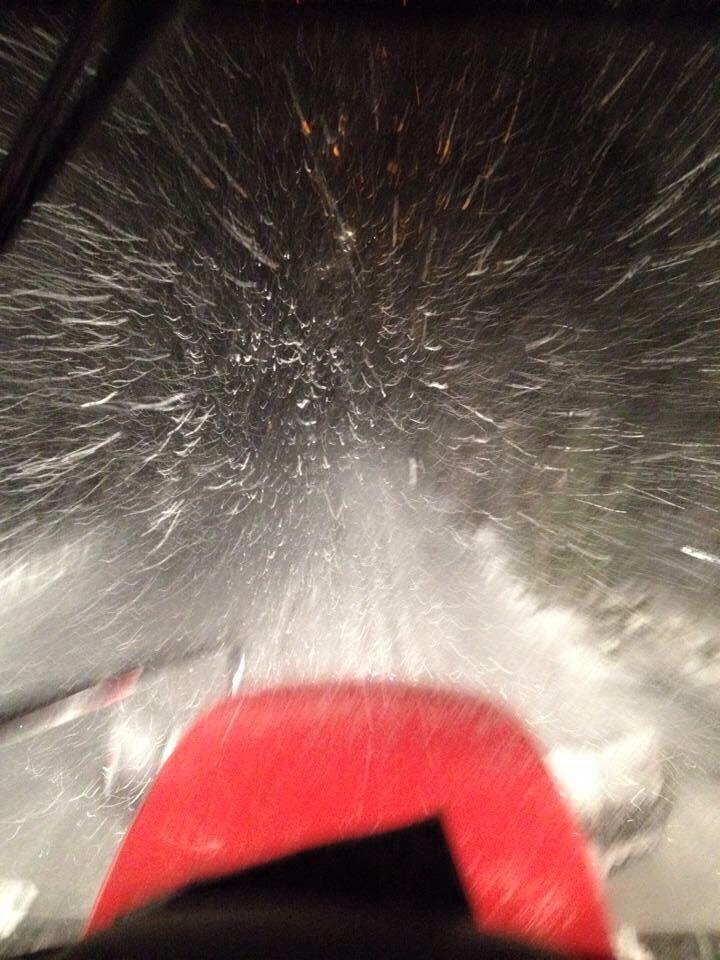 8. not carrying a spare
Snowmobiling takes you to some of the most remote and amazing places—many of them can only be reached by snowmobile during the winter! As a new snowmobiler do you have the necessary key items in your sled? It's incredibly important to always carry a spare belt, safety kit, tow rope/strap, and if you're on a two-stroke, a spare set of spark plugs. You do not want to be back in the bush with an in-operable snowmobile just because you didn't pack a spare belt or plugs.
9. Not gassing up when you have the chance
Whenever you can get fuel, take the opportunity to top up your tank. There are many reasons for this beyond just extending your riding day or enabling you to take the long way home! You could potentially find yourself having to double back or take a different longer route than originally planned or even in an emergency having to tow a fellow rider, this all consumes extra fuel.
10. falling for a deal
Did you buy that helmet and gloves because it was the best deal you could find, or did you make the purchase because they were the perfect fit and style for your riding? My advice here is not to cut any corners on these two pieces of snowmobile gear. Having a quality helmet and good pair of gloves or mitts will mean the difference between a frustrating ride and a great one! Having a proper fitting helmet that does not ice or fog up and a quality pair of gloves or mitts that keeps your hands warm and dry is worth the investment!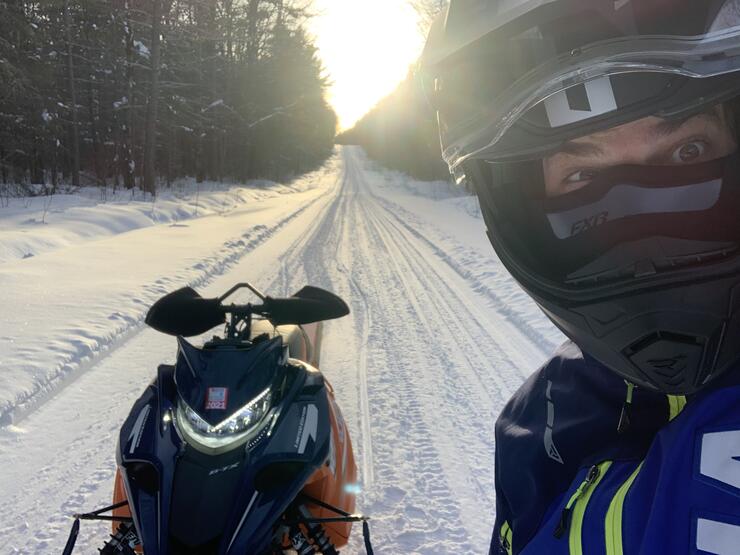 There you have it, ten key tips from an experienced snowmobiler. Take note of each one of these common mistakes and you will have a better snowmobile experience—which means we will all have a better snowmobile experience. See you on the trail.