An Unearthed Gem in Mattawa
After being shuttered for 20 years, this classic Canadian outpost is once again open for business. Meet the Mattawa River Resort: Ontario's newest snowmobile destination.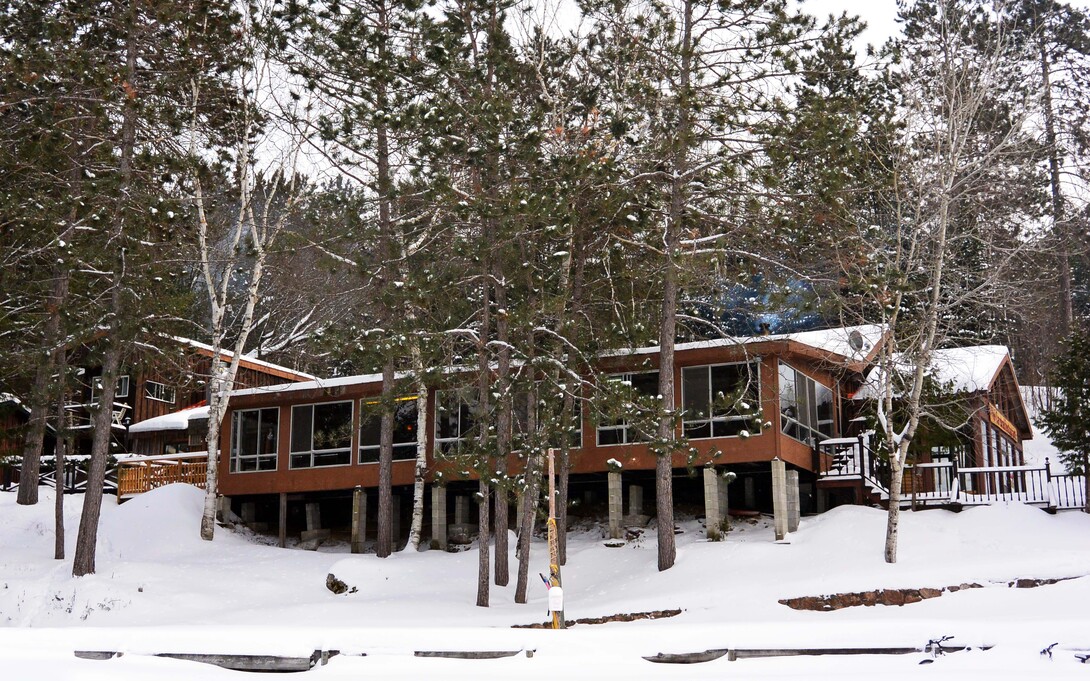 Snowmobilers now have a new destination in Mattawa Voyageur Country. At the beginning of February, I had the honour of visiting and staying at the newly reopened Mattawa River Resort with our What a Ride and Ontario Tourism team. Motivated new owners bought the resort in the spring of 2017 and are completely renovating absolutely everything. This is the first winter it has been open in over 20 years and it is perfect for snowmobilers.
Mattawa River Resort offers their own private groomed snowmobile trails as well as being located right near the A112A OFSC trail in Mattawa. That means easy access to all the OFSC trails to the greater North Bay area, the RAP tour around Algonquin Park, and destinations beyond. They welcome snowmobilers and offer special packages to accommodate including lodging with towels and bedding, and a meal plan with three meals from their Cardinal Restaurant: breakfast, a packed lunch if desired, and a three-course dinner.
The lodging at the resort consists of 12 separate cottages and cabins of various sizes, which sleep two to 12 people—and they are very cottage-chic!
Amenities include a full kitchen, propane barbeque, wood burning fireplace, dining and living space.
The cottages on the lower level are all connected by a wooden pier boardwalk with riverside views of the Mattawa River and the Laurentian Mountains—absolutely picture perfect.
The Cardinal Restaurant is set to open March 5, 2018, as they are currently finalizing all the last details. Nothing beats homemade and that is evident in their menu and food.
While we stayed at the resort the restaurant wasn't open to the public but we got to try out some of their fresh, handmade menu items including a lumberjack style breakfast, charcuterie boards, homemade bread and buns with Romanian ketchup, grilled steak (cooked to your liking), and a decadent chocolate turtle brownie dessert, to name some. Trust me, you won't leave hungry!
The Cardinal Restaurant will be open year-round to guests and the public, making it a dining destination for everyone. Their claim to fame, hence the name, is Cardinal, a Canadian crime drama television series which was filmed at their resort in the spring of 2017.
Besides being a snowmobiling destination, in winter there is also ice skating on the river, so bring your skates; you can also enjoy some cross-country skiing, including rentals.
Upcoming projects for the resort include opening a spa and offering dog grooming (they are already pet-friendly). They will also be offering live music and performances in the lounge—check out their activities calendar for upcoming dates. Spring, summer, and fall at Mattawa River Resort are all spectacular too, with their pristine waterways for swimming, boating, and fishing; forest hiking trails, and lots of ways to just get away and relax.
While I was in Mattawa for this snowmobile trip we took in a variety of things to see and do. We rode the OFSC District 11 trails to the Mica Mine on the A112A, about 32 kilometres north of Mattawa. The massive icicles at this trailside stop are a must-see. Amazing! Marking Canada's 150th anniversary, a newly carved statue of Big Joe Mufferaw was erected in downtown Mattawa to replace the previous one—he was a legendary lumberjack in the Ottawa Valley in the early 1800's and his real-life story became that of folklore even inspiring a Stompin' Tom Connors song. Mattawa is once again known as a ski town with the reopening of Antoine Mountain Ski Resort in 2015, and trust me, the views of the Ontario/Quebec border from the top of the ski hills are breathtaking. 
Besides eating at the Mattawa River Resort, I also had lunch at Valois' Motel and Restaurant. It's an icon of the town, established in 1934 on the shores of the Ottawa River—they have hearty, home-cooked meals to satisfy your appetite and 42 rooms to house snowmobilers because they're more than welcome in the winter.
It was great to finally meet Brian Dykstra, the owner of Valois'—he's very involved with the Mattawa and Area Snowmobile Club, promoting and maintaining trails. Mattawa's District 11 snowmobile trails are vast, with expansive lookouts, rolling hills, winding forests, high-speed lakes, and rail beds all groomed within the network.
The next time you're looking for a great snowmobiling destination, consider Mattawa River Resort and Mattawa Voyageur Country. You won't be disappointed by the hospitality, opportunities for adventure, views, or food!