Why I'll Be Using the Polaris Ride Command App this Winter
This app bridges the gap between trail maps and social media making it easier to stay in touch while out riding Ontario snow trails.
Snowmobiling wouldn't be as awesome as it is without getting to enjoy it with friends and family, and meeting new people too. Over the years, cell phones and social media have made it a lot easier to make plans to meet up and ride. In a world of continuous innovation and instant information at your fingertips, it may not be entirely shocking that an app that makes it even easier to connect with others on the trails has been developed. Polaris has created just this: the next generation of snowmobile trail mapping communication for use all across North America. It's called the Polaris Ride Command app, and here's the best part—it works amazingly. 
The Polaris Ride Command App has been available in app stores for a few years and I've had it on my phone since it first came out. As an Ontario trail rider, I've always been biased to use the OFSC Interactive Trail Guide App for checking trail conditions and closures across Ontario. I was reintroduced to the Ride Command app this fall by my friend Ryan Tarrant, who told me I'd want to check out all of the recent changes and updates. 
How it works
What I noticed first is that Polaris has integrated all trail networks across North America. My favourite place to ride is Northern Ontario and from there it lets you see how those trails connect to destinations like UP Michigan, Wisconsin, Quebec, and Vermont. It enables you to track your rides to see where you've been, as well as add waypoints to where you'd like to go. Just like the OFSC Interactive Trail Guide App, the Polaris App allows you to view riding conditions as coloured points: green for great, blue for okay, and red for closed.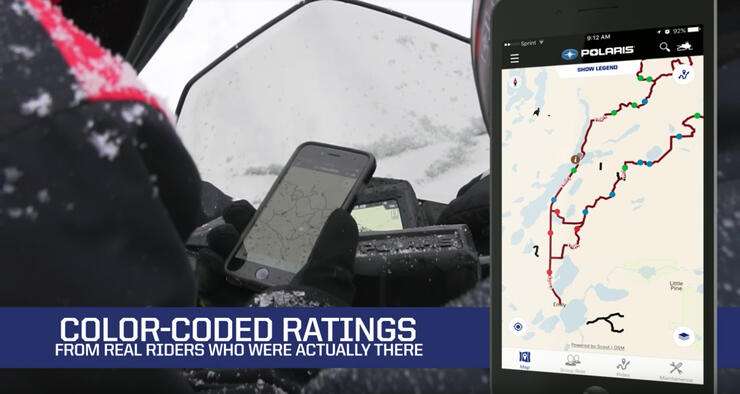 Within the trail riding conditions, users of the app can report their own riding conditions and opinions at their current location—these reports are then live for 24 hours to inform other riders in that area of the conditions.
To me, the best part of the app is the group ride setting. You're able to create a group with your friends and see everyone in your group's locations on your map. When logging onto the app, you need to register for a free account with your email address and cell phone number—you can even add the sled you ride to your profile. In case of an emergency, all of your group ride friends have your contact information and location. The map settings in Ride Command are very informative too. Beyond the option of seeing a satellite map, you're able to track weather radar and check the snow depth—this will be very useful for backcountry and mountain riders.
The Polaris Ride Command will definitely make my winter more enjoyable, interactive, and social. I'll also add that the Ride Command App is available in off-road mapping, not only snow. This app is not just for Polaris riders, it's for every rider, and I highly encourage anyone who rides to download it now.