Outdoor Adventure in Ontario's Northern Paradise
The beautiful town of Kenora on the shores of Lake of the Woods is a haven for golfers, anglers, and hikers. Check out our round up of essential spots to explore this fall.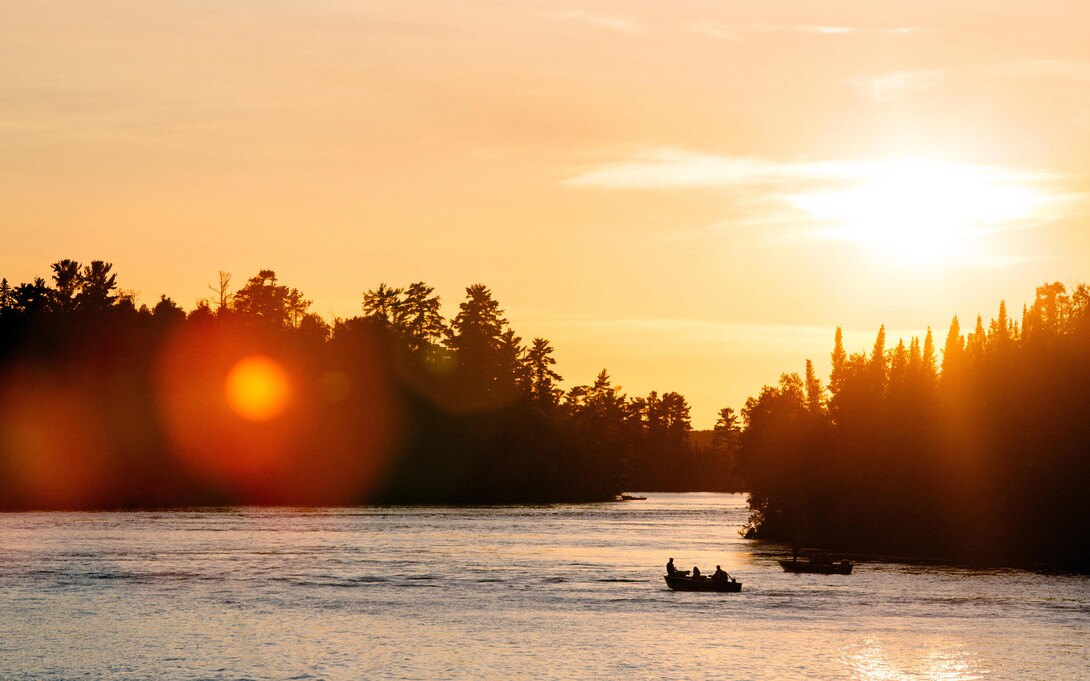 Kenora, Ontario offers an incredible variety of outdoor places to explore. Its location on the shores of the beautiful and vast Lake of the Woods and the rocky hills and forests of the Canadian Shield means that you have your choice of places to play, just 2.5 hours drive from Winnipeg and 5.5 hours drive from Thunder Bay. Here are some top options for golfing, fishing and hiking. 
There are two golf courses in the area–and both offer incredible Northern Ontario scenic views. Kenora Golf & Country Club is found right on Lake of the Woods, and even includes an option to boat-in with your clubs if you wish! (Look for the Kenora Golf & Country Club sign at the docking space on Golf Course Bay.) This challenging 18-hole course (par 72 women, par 71 men) offers a variety of terrain, from hilly to flat, with water features on seven holes and attractive mature trees throughout. From the higher holes you can enjoy stunning views of the lake, and wildlife sightings, including fox, deer and bears are often just part of the experience.
You'll find an equally appealing course at Beauty Bay Golf Course, tucked onto the shores of Black Sturgeon Lake, about 15 minutes northeast of downtown Kenora. Thanks to the rolling terrain of the boreal forest and frequent water hazards, golfers of all abilities will be able to test their skills, as well as take in views of the lake and striking fall colours at this par 72 course.  
Be sure to contact each club directly for up-to-date information on 2021 procedures, rentals, tee times, and food and beverage availability. 
Kenora is known for lots of lakes, lots of fish, and lots of sport fish varieties (walleye, pike, musky, small mouth bass, perch, crappie, and lake trout) which all add up to an unforgettable fishing experience. If you have your own watercraft, launch at one of the area's many boat launches and marinas to try your hand at some world-class fishing. Boat rentals are also available from a number of local outfitters. If you're looking for the wisdom and experience of a local guide as well as all the gear you need, there are a number of excellent options as well, for both Lake of the Woods (more than 100,000 km of shoreline!) and other bodies of water like the Winnipeg River, Shoal Lake, and Black Sturgeon Lake. For example, Green Adventures has kayak and fishing combos available, complete with guide and an unforgettable shore lunch. The Fishin' Magician Brent Kruger is a tournament pro angler as well as a guide, with plenty of insider knowledge on the best places for fishing, photography and spectacular scenery.
Exploring the area's hiking trails is an exhilarating way to spend an hour or two, or the whole day, and fortunately Kenora has lots of trails to choose from. Take a look at both the Lake of the Woods trail guide of natural areas as well as the network of urban trails. 
One local favourite is the Tunnel Island Trail (also known as Wass'say'Gaa'Boo) just a few minutes' drive west of the city. For thousands of years, this has been considered a special site. The total distance of trails is 10 km, but you can divide that into shorter loops. The terrain starts out gently but has challenging areas and is rated "moderate to difficult," although you'll find trail runners and mountain bikers as well as fellow hikers. (Dogs are welcome, but please keep them leashed.) Tunnel Island Trail offers beautiful views of the Norman Dam and Winnipeg River, towering pine trees, lookouts and great wildlife viewing opportunities—you may be able to spot a fox, eagle or pelican. 
Rushing River Provincial Park, about 20 km southeast of Kenora, is another great destination for a day trip or multi-day camping getaway. It has several gentle hiking trails like the 1.1 km Beaver Pond Trail loop (watch for great blue herons and other shorebirds) and the 1.8 km Lower Rapids Trail loop (which traces what's thought to be an old portage trail). For a little more of a challenge, check out the 2.7 km Granite Knoll Trail loop along the shores of Dogtooth Lake, granite hills, and jack pine forest.
The trails of the Vernon Nature Area about 12 km southwest of Kenora are popular with visitors and locals alike. All of the trails are fairly short—none more than 1.4 km—so you can mix and match for a customized hike that lets you discover the natural diversity of the area. Find soaring red pine and possibly a great horned owl on the Lookout Trail, a huge 300-year-old white pine and lush leafy ferns on the Fern Trail, and intriguing vegetation (thanks to two rock faces that never receive direct sunlight) and wetland species (hi turtles!) on the Wetland Trail. 
Pack a picnic
Looking for some easy to-go meals and snacks for your outdoor adventures? Kenora's many eateries, coffee shops, and cafes have you covered. Stop by The Supper Fairy (walk-up window or pre-order services available) for delicious hot and cold entrees, snacks, salads, baking, wraps, and more.
Another yummy option is Gropp's Grab N' Go Meals, also offering choices like locally famous wraps, tacos, subs and sandwiches. 
Kenora, Ontario offers a plethora of amazing outdoor adventures. No matter which autumn experience you choose, the opportunity to create incredible memories in Northwestern Ontario awaits.