Fishing Trip Planning 101
Ontario's Sunset Country is often referred to as 'God's Country'. The fantastic fishing is just one of the many reasons we are called that.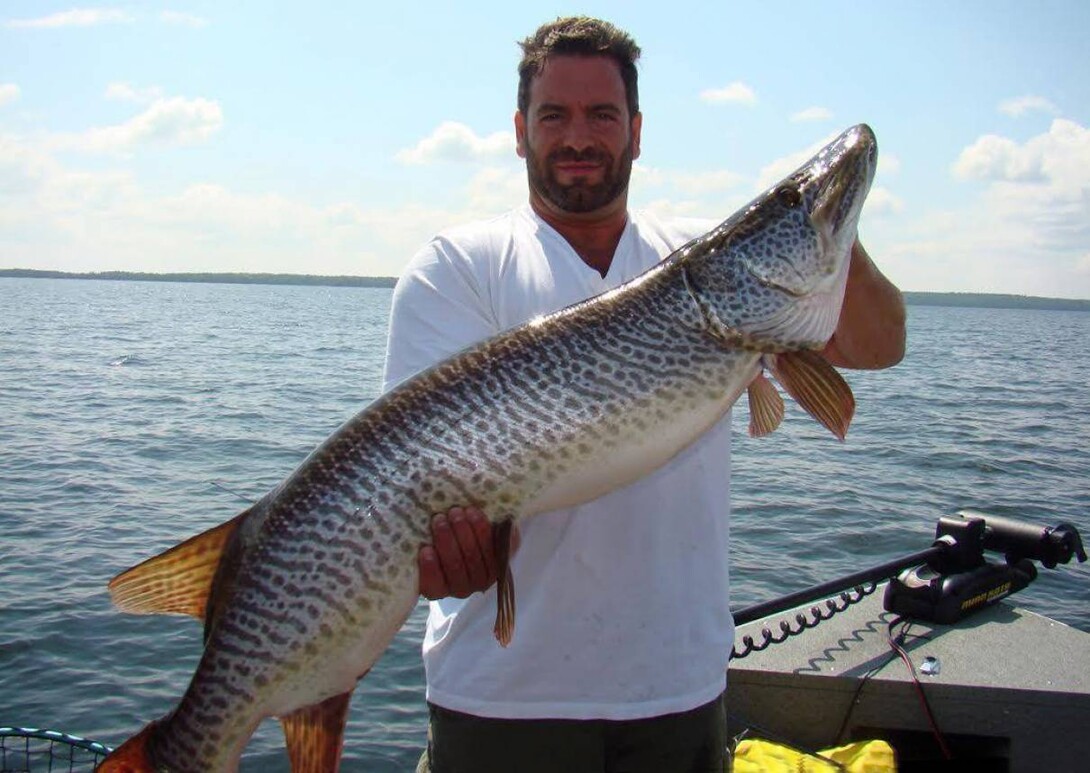 Whether you are a Canadian, American, or from abroad, there are certain things you should know about when planning a fishing trip to Ontario, Canada. In the northwest corner of the province of Ontario, we have over 70,000 lakes and rivers, many of which are fishable. There are probably more lakes than people in Sunset Country, and there are definitely more fish than people, that's for sure!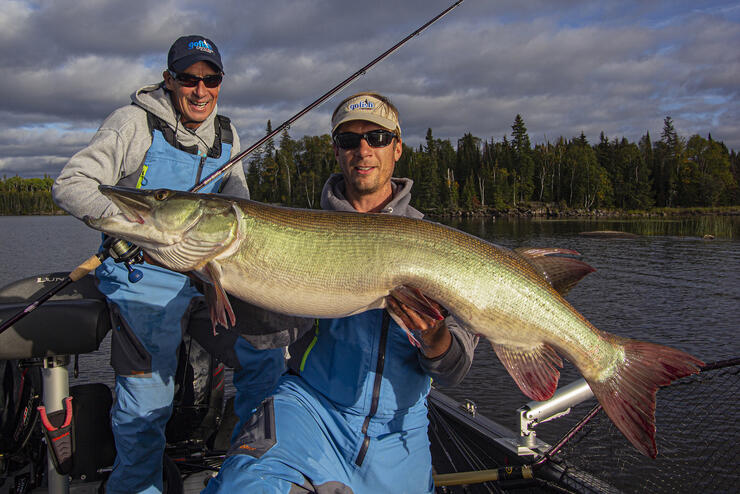 What Can I Fish For?
Ontario's Sunset Country is renowned for its fishing, not only for the sheer number of lakes and rivers to fish but also for the variety of fish on each lake. The 'big five' species are found on many of the lakes. These are walleye, muskie, northern pike, bass, and lake trout. Many lakes also have crappie, perch, brook trout, whitefish, and other pan fish.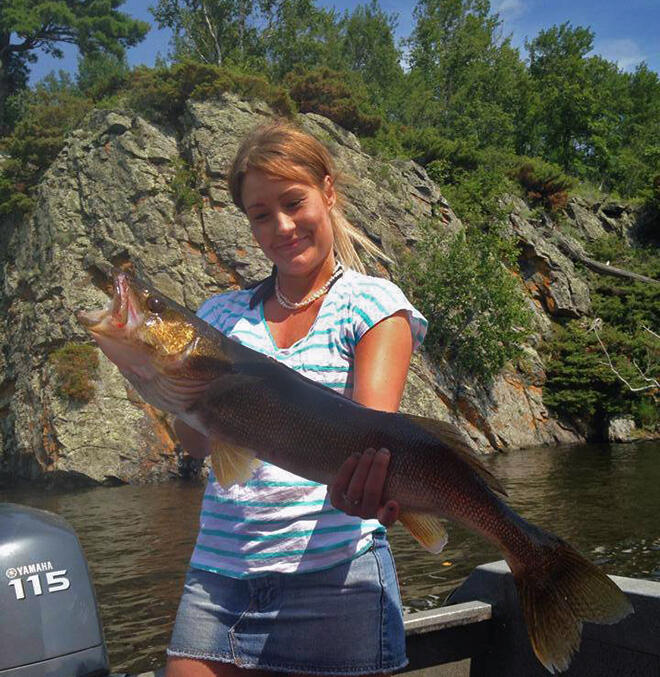 Arguably the most tender, tasty fish, walleye are found on the vast majority of the lakes in Northwestern Ontario. Many a fisherman come up to fish each year and enjoy the taste of fresh walleye every day while they are here. Generally, the smaller walleye are eaten and the large trophy fish are put back.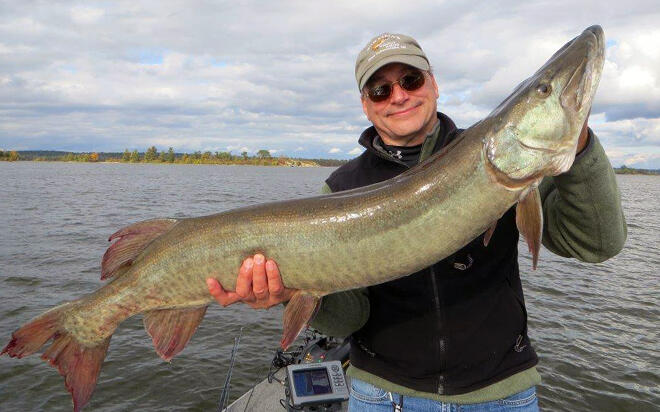 The 'fish of 10,000 casts' goes to the elusive muskie. The patient muskie angler is often rewarded with huge muskies pushing 50" plus. Lakes such as Eagle Lake, Rowan Lake, Pipestone Lake, Lac Seul, Little Vermilion, Maynard, Lake of the Woods, and many others have these big girls roaming the waters. The average size may be slightly smaller than those in other regions of Ontario, but the numbers of muskies are often higher in Northwest Ontario (plus a 50"+ muskie is nothing to sneeze at!).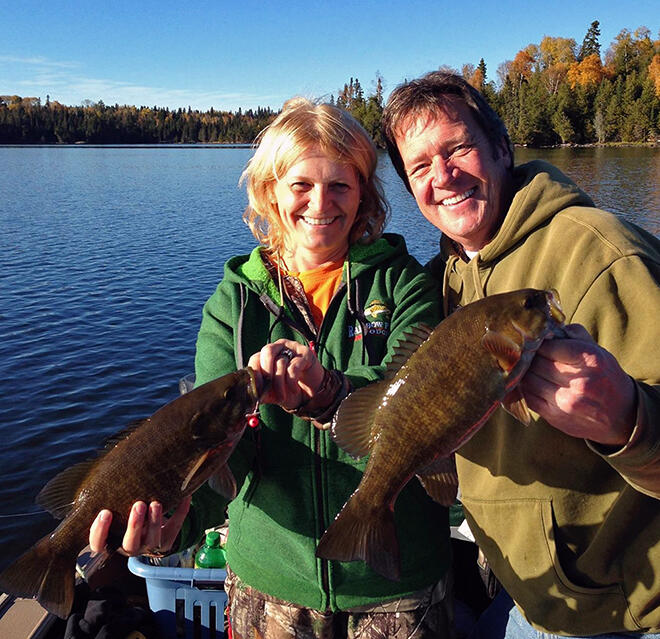 Pound for pound, bass are the feistiest fish to reel in. Many of our lakes in the southern half of Sunset Country have small or largemouth bass. They prefer warmer rocky lakes with lots of shoals and reefs. We are also home to some of the biggest bass tournaments in Canada such as the Fort Frances Canadian Bass Championship on Rainy Lake and the KBI on Lake of the Woods. 
Want a trophy northern pike? Northerns are found in most lakes around here with many trophy pike to be caught. Pike will go after just about anything thrown at them and can reach upwards of 45" and 30 lbs.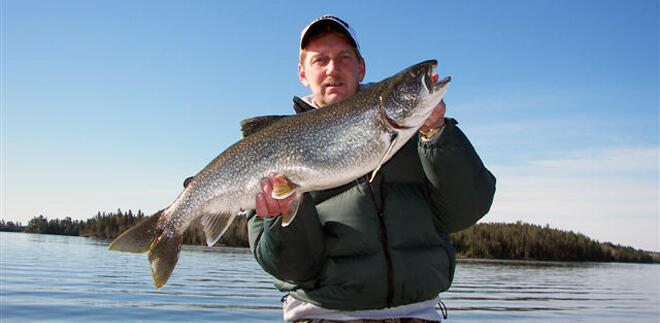 Many of the lakes are deep, cold clear lakes, which are perfect conditions for lake trout fishing. Lake trout fishing opens up January 1st for some of the zones and many fishermen are chomping at the bit to go hard water fishing for trout. Ice-out trout fishing is also fantastic. Trout fishing is closed from October 1 to either January 1 or February 1 depending on the fishery management zone. Brook trout are often found in cold rivers such as the Albany, Attwood, or Sutton Rivers.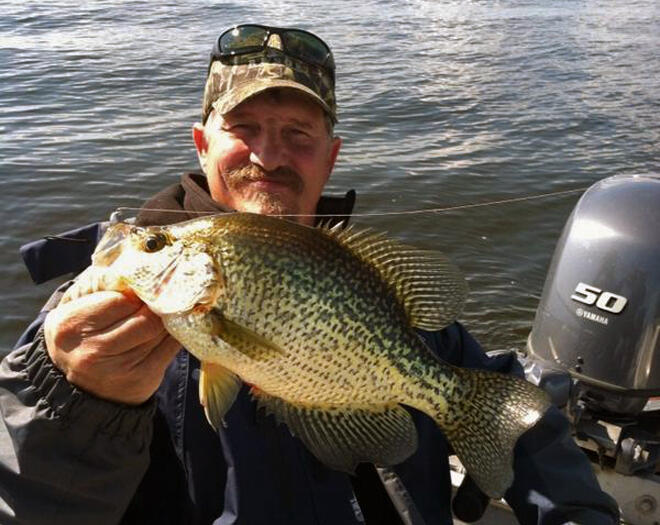 Ontario Pan Fish Fishing
Crappies taste great and are available year-round. They are abundant and some say they are just as tasty as walleye. Perch can also be caught in most lakes in Sunset Country. While not as sought out for as the big five, whitefish can also be found. 
Where Can I Stay?
In Sunset Country, the fishing resorts are generally divided up into lodges that are drive-in accessible, boat-in (island resorts that are more remote but you don't have to fly into), or fly-in only outpost cabins or fly-in American Plan lodges. Each type has its own benefits and it's really a personal preference. You can also choose between an American Plan Package where it's more of an all-inclusive resort including your meals or a housekeeping package where you rent a cabin with kitchen facilities and you make your meals.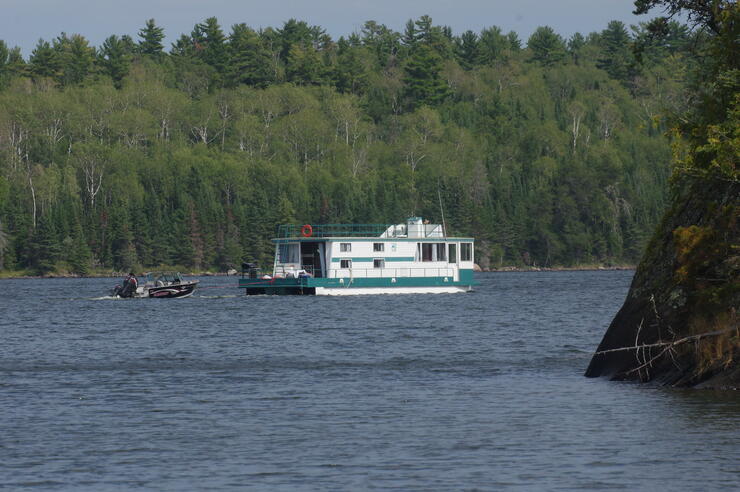 For a unique fishing adventure, you can rent a houseboat and stay where the fish are! There are also campgrounds including private campgrounds, Provincial Parks and many of the resorts also have a campground in addition to their cabin rentals. These are great as you can use the lodge's boat launch and docks, boat rentals, and fish cleaning houses.
You can also go on a wilderness canoe or kayak fishing trip through the remote parks or waterways in Northwest Ontario.
The view from one of Slate Falls Outposts fly-in camps!
What Are the Fishing Regulations?
Sunset Country falls in the fisheries management zones 2, 4, 5 and 6. Each zone has its own set of regulations as well as its own set of exceptions. It's important you are familiar with the regulations for the lake you are fishing. You can download a copy of the Ontario Fishing Regulations ahead of time so you are familiar with the rules. Read this MNR article on fishing limits, size restrictions and catch and release fishing in Ontario for more detailed information.
You will need to buy an Ontario Outdoors card as well as an Ontario Fishing license. For more information or to buy a fishing license online, visit the website for an Ontario resident, a Canadian resident or a non-resident of Canada respectively. 
What Do I Need to Know About Crossing the US/Canada Border? 
You need a passport to get back into the United States after your Canadian fishing trip. Luckily, it's easy to get a US passport and they last for 10 years. For more information about crossing the border, please read this article called Everything You Need To Know About Visiting Canada or visit the website usborder.com.
There are also certain things you can or cannot bring into Ontario. You cannot bring any live bait into Ontario. There are also certain regulations when transporting fish. Watch the following video for more information or read this article about packaging, transporting or exporting fish.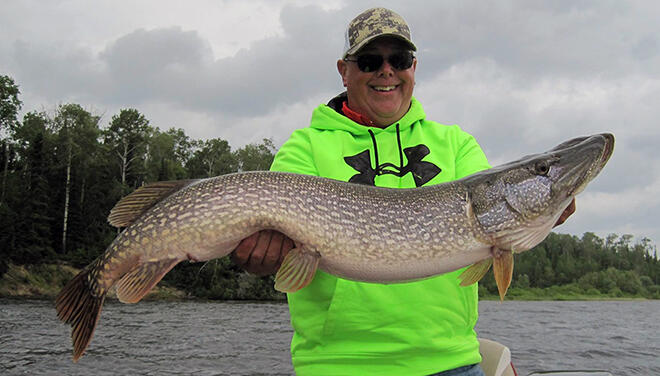 Can I Expect to Catch a Trophy Fish?
The Ontario Ministry of Natural Resources has carefully managed our fishery for many years with limits and slot sizes. As a result, Ontario has some of the best fisheries in the world with many trophies to be caught. Some of the resorts even have a no-fish out (other than shore lunch) policy which ensures the fisheries are not only sustainable but also are getting better as a result. Muskies up to 54" are not unheard of and I saw many Facebook posts last summer of 33" walleyes. Fred's northern pike shown above, which was caught on Lake St. Joseph, is a whopping 46"! So, the answer is 'yes' you can catch trophy fish.
What's the First Step in Planning a Trip?
The Ontario Sunset Country Travel Association produces an annual Travel Guide & Fishing Map. You can order one for free online. The 80-page guide lists important information like helpful hints when crossing the border, events, things to do and of course a list of fishing accommodations in Northwest Ontario. The pull-out map (which some anglers keep for years!) shows over 200 lodges, RV parks, hotels and houseboat operators. On the back is a fantastic directory which shows the amenities each lodge offers and well as their contact information, The front side of the map dots all the locations of the tourist operators. Order your Ontario Sunset Country Travel Guide & Map today for free.
When Can I Fish?
With certain exceptions around break-up and freeze-up, we can almost fish year-round in Northwestern Ontario. While you can fish for walleye, panfish or crappies in December, ice fishing generally heats up after January 1st when lake trout season opens on many lakes and when the ice is thick and safe enough to go hard water fishing. Ice fishing continues sometime into March until the lakes are not safe to venture out on anymore.
Walleye season closes for the spawn and reopens the third Saturday in May which is when many resorts that were closed for the winter reopen to guests. Muskie fishing season opens the third Saturday in June and goes until December 15th. Northern pike, perch, crappie, whitefish, and bass are open all year. Bass do have certain restrictions depending on the time of the year. Lake trout opens January 1 (some lakes are February 1st) and runs until September 30. Brook trout varies depending on the fisheries management zone.
These above dates are subject to exceptions. It is imperative you check with the Ontario Fishing Regulations for the exact limits, seasons and exceptions for the lake you are fishing on.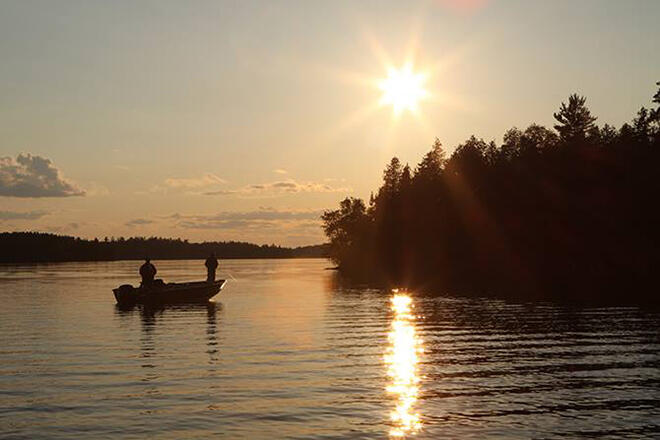 Do you have any other questions about fishing in Sunset Country? Give us a call at 1-800-665-7567.